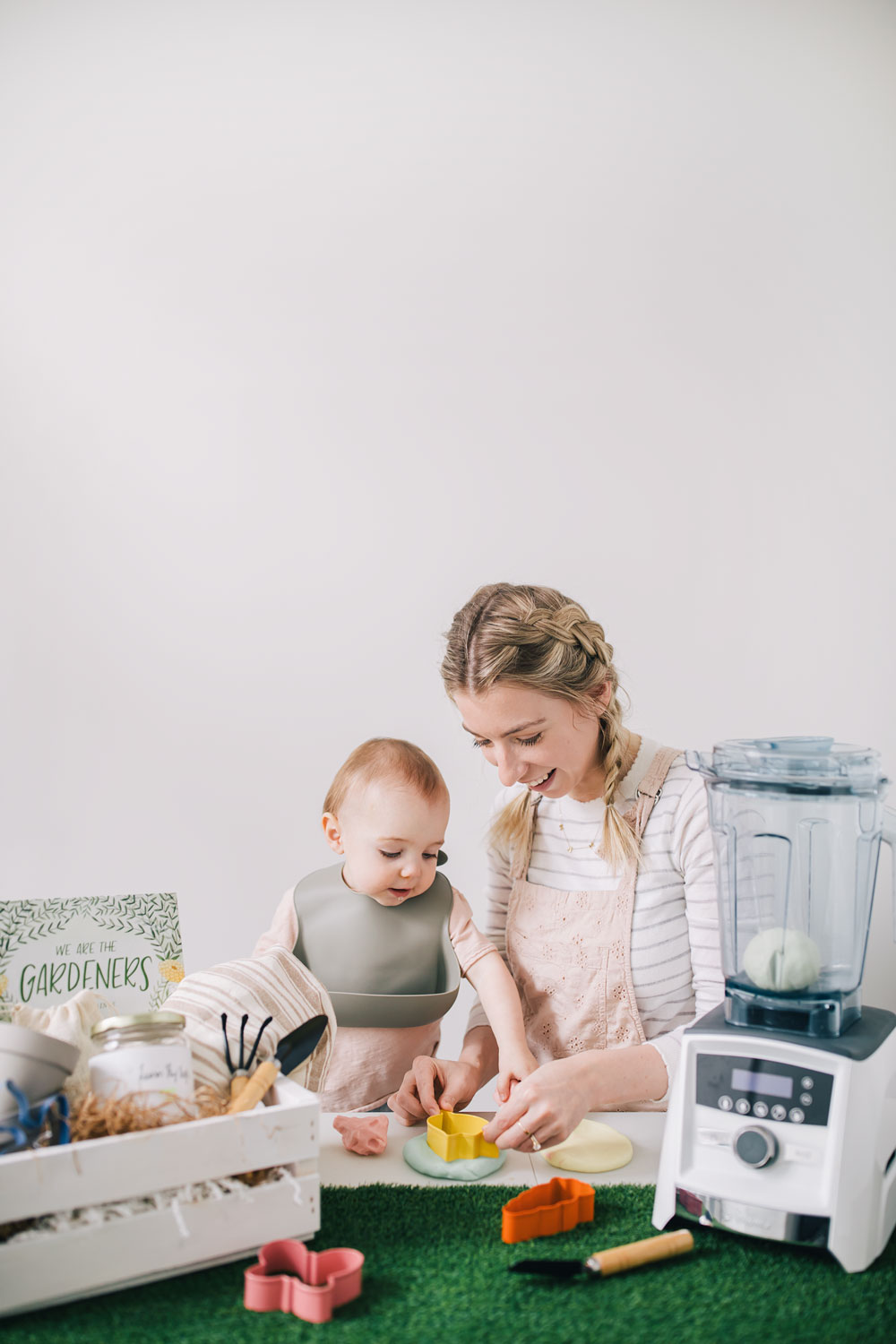 Earlier this week, I shared Edwin's Easter basket with you in hopes that it would inspire you to make a more curated Easter basket with items purchased from smaller businesses. While I loved sharing his basket, I also realize that I may have posted it a little late since we can only online shop at the moment and for some, spending extra money isn't really an option right now. With that, I wanted to come up with an Easter basket made with items from around the house that focused on both a DIY and craft element. Enter the DIY playdough and gardening basket. This basket is perfect to gift for Easter or to use as a project to do with your kids while they are being homeschooled. I was lucky in that I have so many crafting items already at home, but I encourage you to simply use this basket as inspiration and get creative using whatever you have and make it your own. The playdough in and of itself is such a fun craft to make with the kids and only took minutes in my Vitamix A3500 Ascent Series Blender (with about an hour of curing time) to make. With this basket, I was inspired by the book We Are The Gardeners so I included it and thought for older kids, it would be a great learning activity to read the book first and then get into the playdough gardening activity. Any kids outdoor/garden book would work! I hope you find this little basket inspiring and have a wonderful Easter even though it will likely be a little different this year!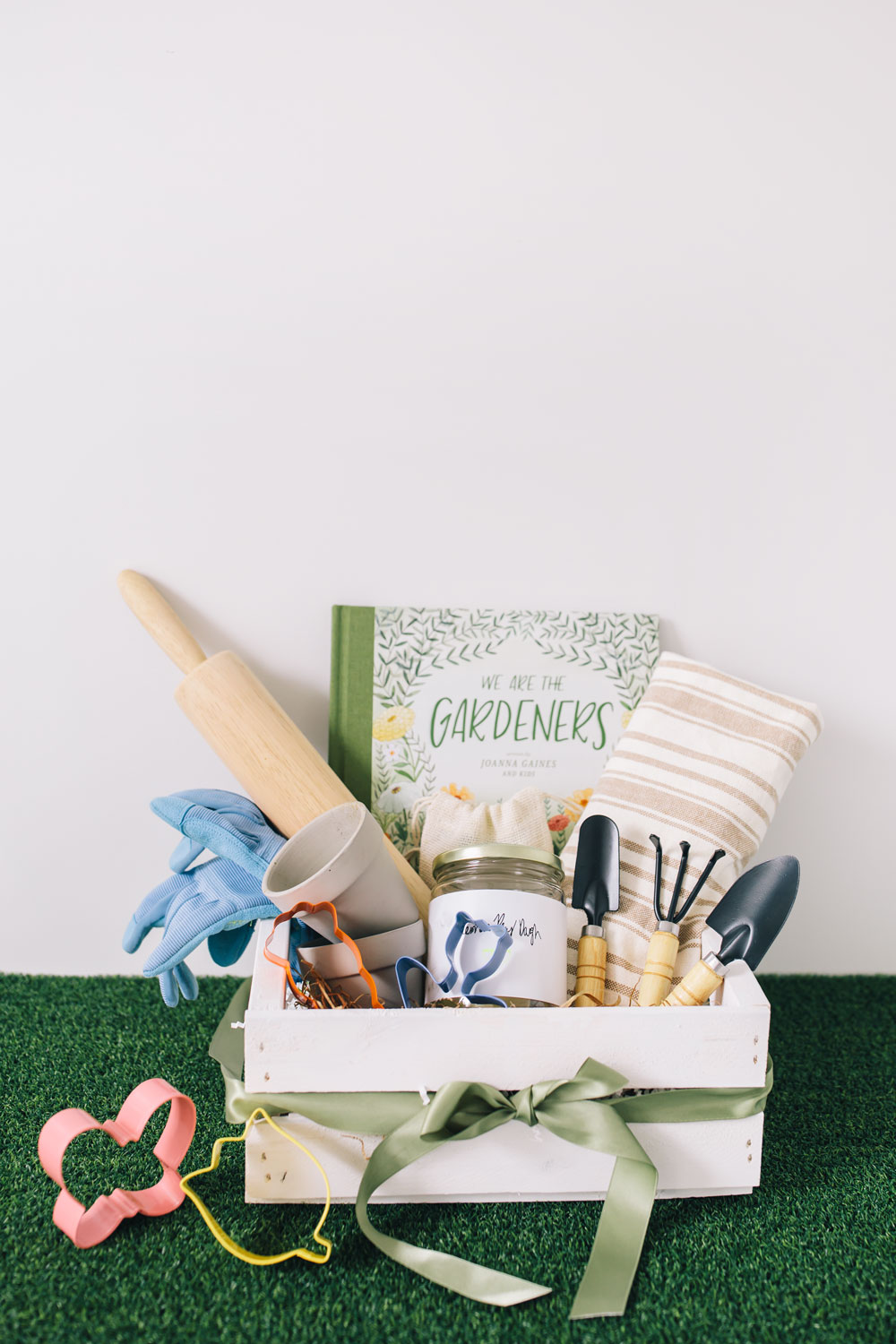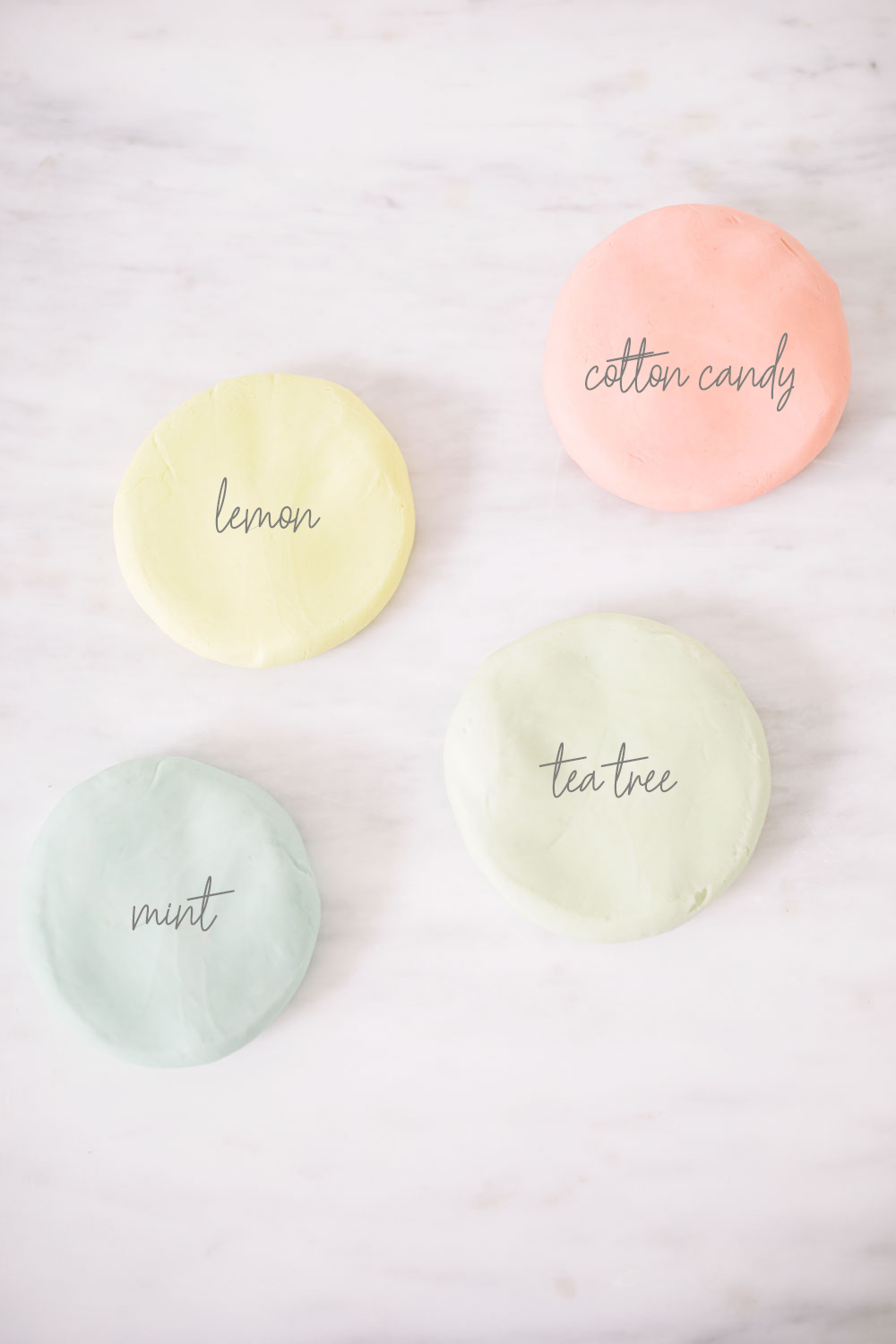 I made 4 kinds of playdough with the one recipe: lemon, cotton candy, mint and tea tree.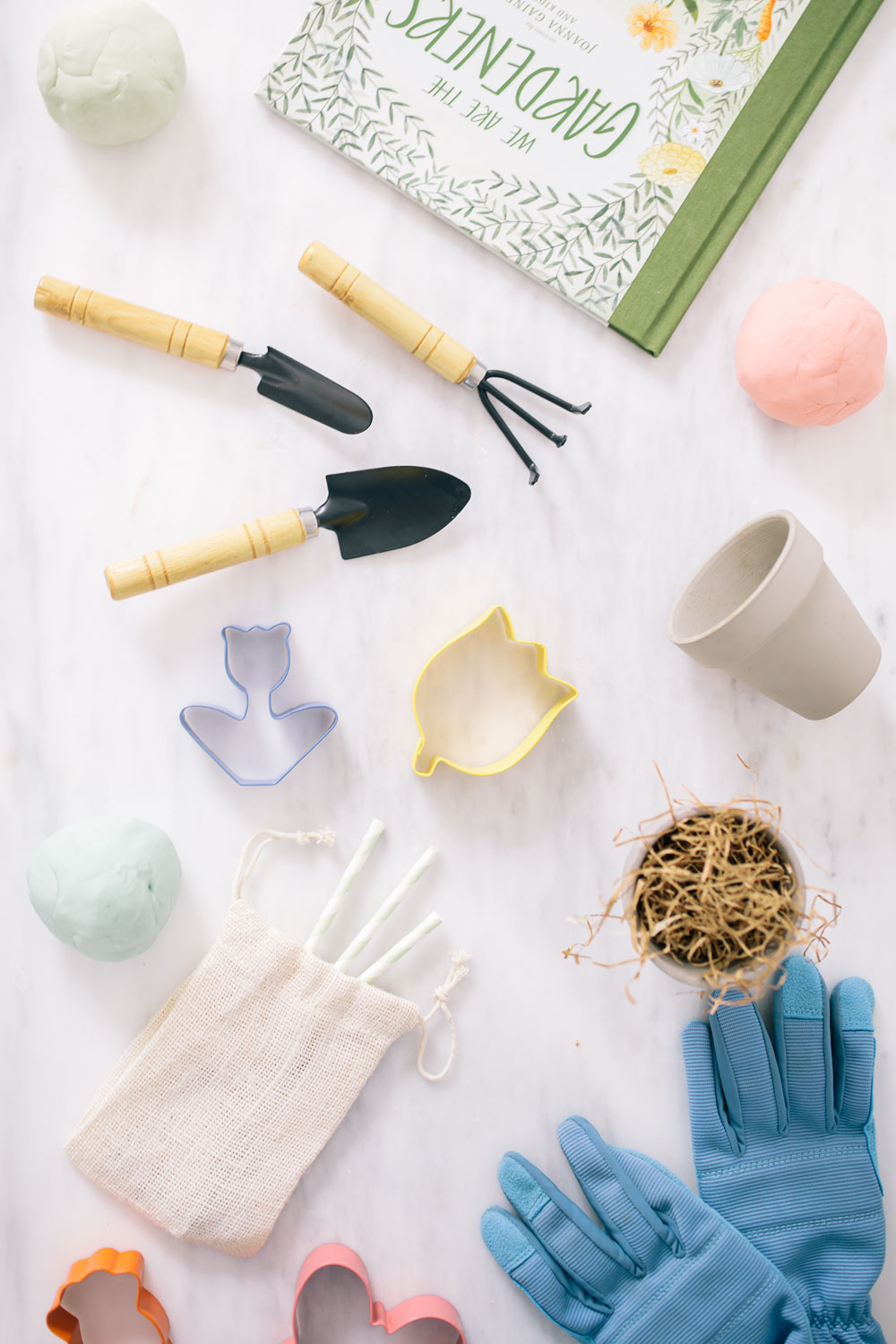 For the Basket:
This is everything I used but please feel free to get creative and use things you already have at home. I didn't order a thing for this basket and just happened to get lucky with what I already had.
-Crate (I spray painted white a long time ago)
-We Are the Gardeners Book (I think it's a great idea to read this with your kids first and then do the play dough activity)
-Gardening gloves
-Cookie cutters (I used flowers, carrot and butterfly that I already had)
-Apron (to wear to protect clothing)
-Rolling pin (small rolling pin would be better for little hands, but I only have a big one)
-Gardening tools (found at the dollar store years ago),
-Small plant pots
-Paper straws cut in half (to hold playdough flowers up but you can use a wooden dowel, skewer, etc.)
-Brown shredded paper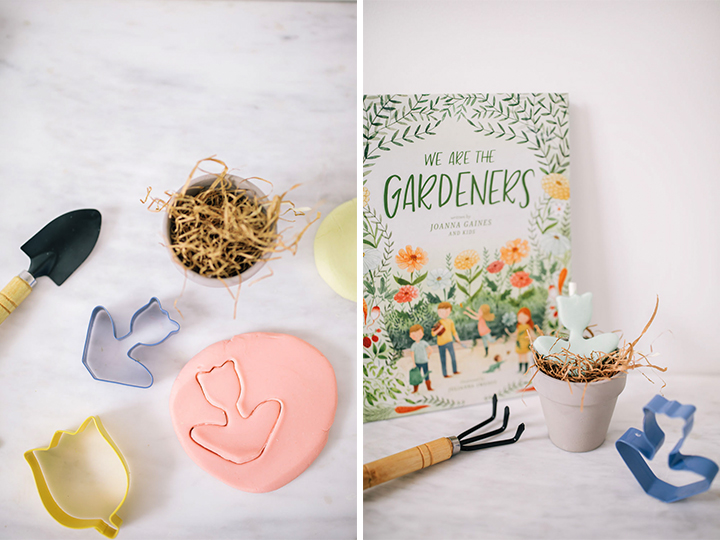 To make the potted playdough flowers, simply fill up your pot with some shredded paper, cut out a playdough flower with your cookie cutter and attach it to a paper straw thats been cut in half. Insert it into the pot and voila!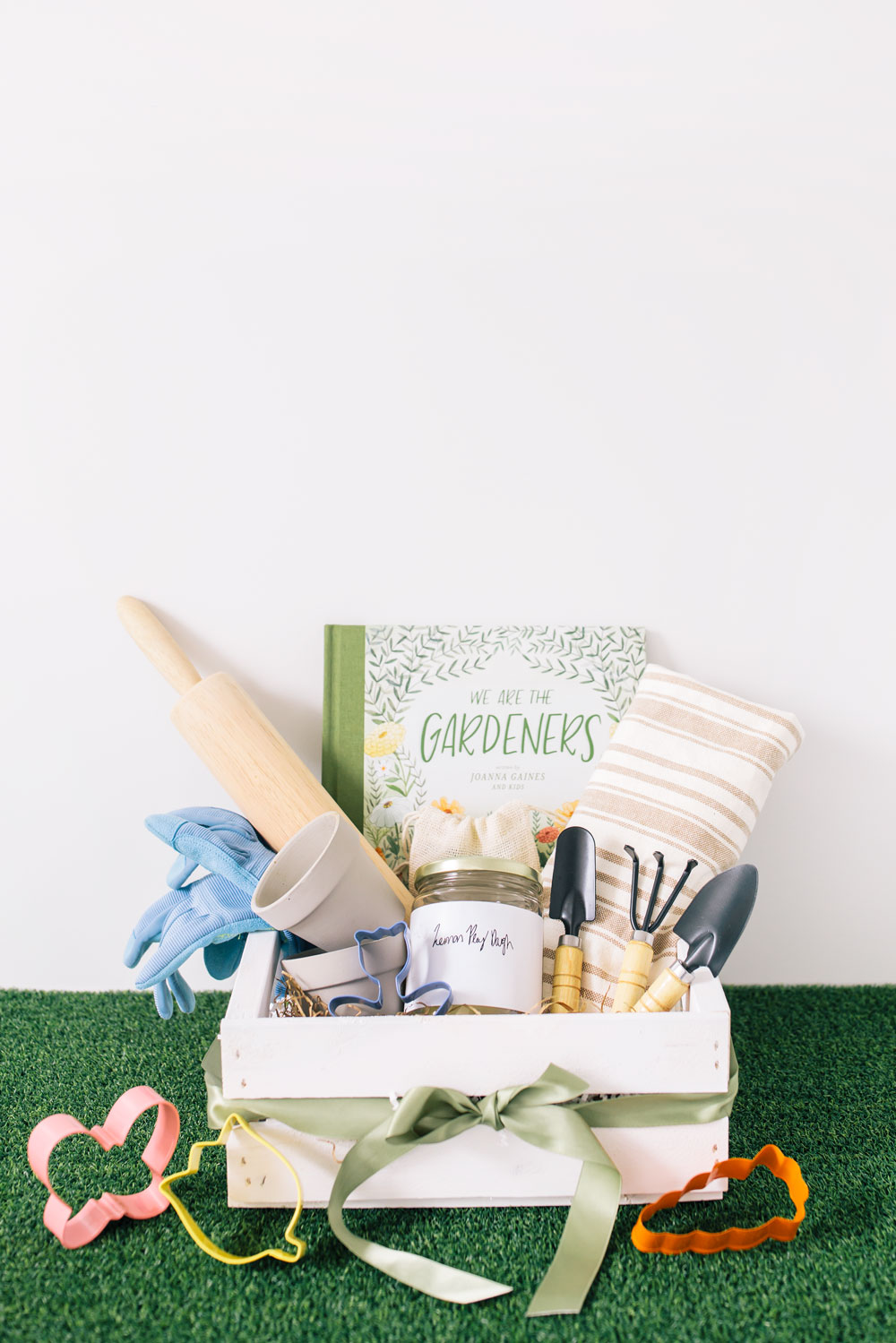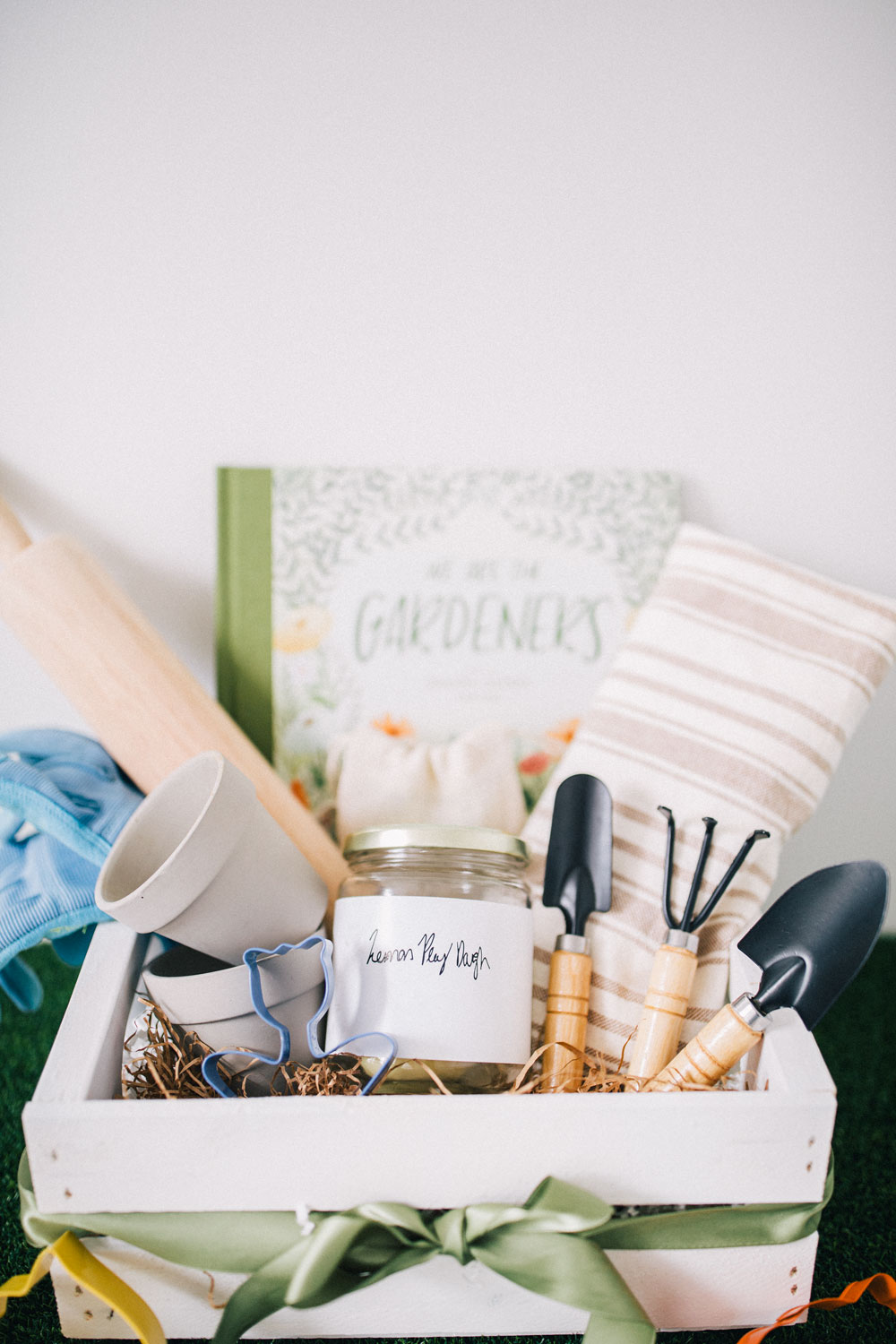 Homemade Playdough
INGREDIENTS
-2 cups warm water
-2 cups all purpose flour
-2 teaspoons cream of tartar
-2 tablespoons vegetable oil
-Food colouring (I used 2 drops red, 2 drops green, 5 drops yellow and 2 drops blue)
-Essential Oil* or Food Extracts (I used 1 tsp cotton candy extract, 3 drops lemon essential oil, 3 drops mint essential oil, 3 drops tea tree essential oil)
-Plastic storage containers
DIRECTIONS
-Place all ingredients into the Vitamix container in the order listed and secure lid.
-Select Variable 1.
-Turn blender on and slowly increase speed to Variable 10, then to High.
-Blend for 2 minutes.
-Scoop out immediately and divide into 4 containers (about 1 cup per container).
-Clean your Vitamix before moving onto the next step.
-Add in your food colouring and essential oil or food extract into each container and mix until combined. My playdough was still a liquid consistency at this point, so I knew I needed to add more flour.
-Start with 1 tbsp of flour for each container and mix until a dough ball forms. You may need to add more than 1 tbsp so if you need it, continue adding flour in 1 tsp increments until your playdough is no longer sticky but still very pliable.
-Roll into dough balls, wrap in parchment paper and stick your playdough in the fridge for about an hour.
-Remove playdough from the fridge and enjoy! You can store the playdough in an airtight container to enjoy for months.
Notes* do not use more than 3 drops of essential oils for each playdough scent as they are quite strong
and can cause irritation if used in excess.