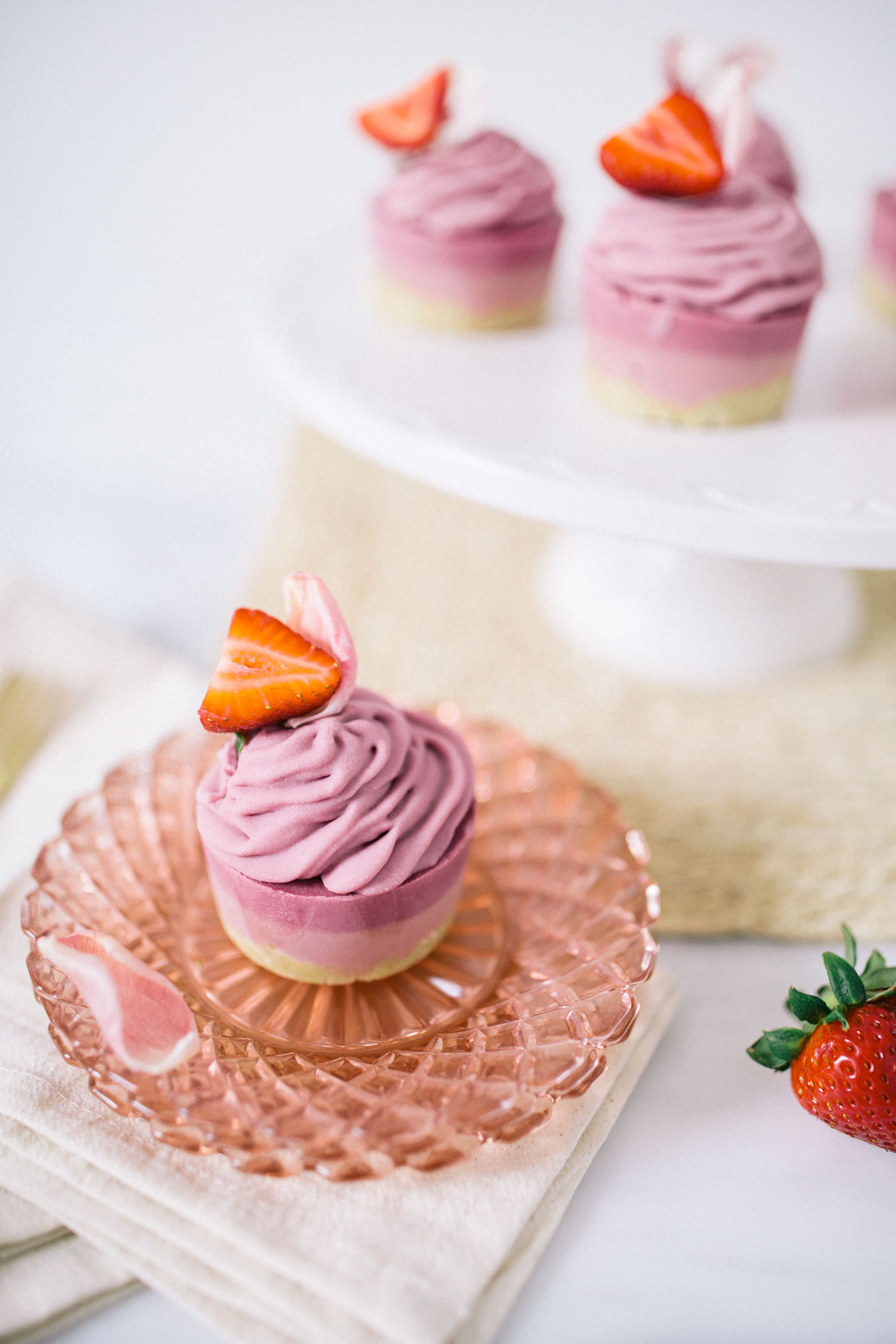 Who else has been diving into their snack stash a little too often during this time at home? I've found myself reaching for all sorts of things from chocolate (thanks, Easter Bunny!) to chips. I've also been baking up a storm these past few weeks, so I figured it was due time to make something that looks and tastes indulgent and is actually quite healthy. Enter these Raw Strawberry Beet Cups. Made from the freshest California strawberries, which are in peak season and readily available right now (and when our local strawberries are off-season), this raw dessert is packed full of sweet strawberry flavour and lots of texture (a crunchy, sweet almond crust, creamy frozen centre and nice cream-esque swirled top). While these cups look extra fancy, they're surprisingly simple to put together! Using only a few raw ingredients like California strawberries, beet (solely for colour), cashews and coconut milk. Everything can be added into a blender and mixed up and the presentation can't be beat beet.
My son, Edwin is also a HUGE fan of California strawberries and gobbles up about 4 big strawberries after every meal…he just can't get enough. I love that he can also enjoy this dessert that offers him the benefits of strawberries like vitamin and fibre. I myself love snacking on strawberries alone or in baked goods. I typically eat about 8 California strawberries (1 serving at only 50 calories) as a mid-morning snack while Edwin naps and I work. They offer me a boost of natural energy and simply taste so good!
Whether you are a novice navigating the baking world or an at-home pro, CaliforniaStrawberrieshasdelicious recipes like theseRawStrawberryBeetCups and so many more treats for at-home at californiastrawberries.com.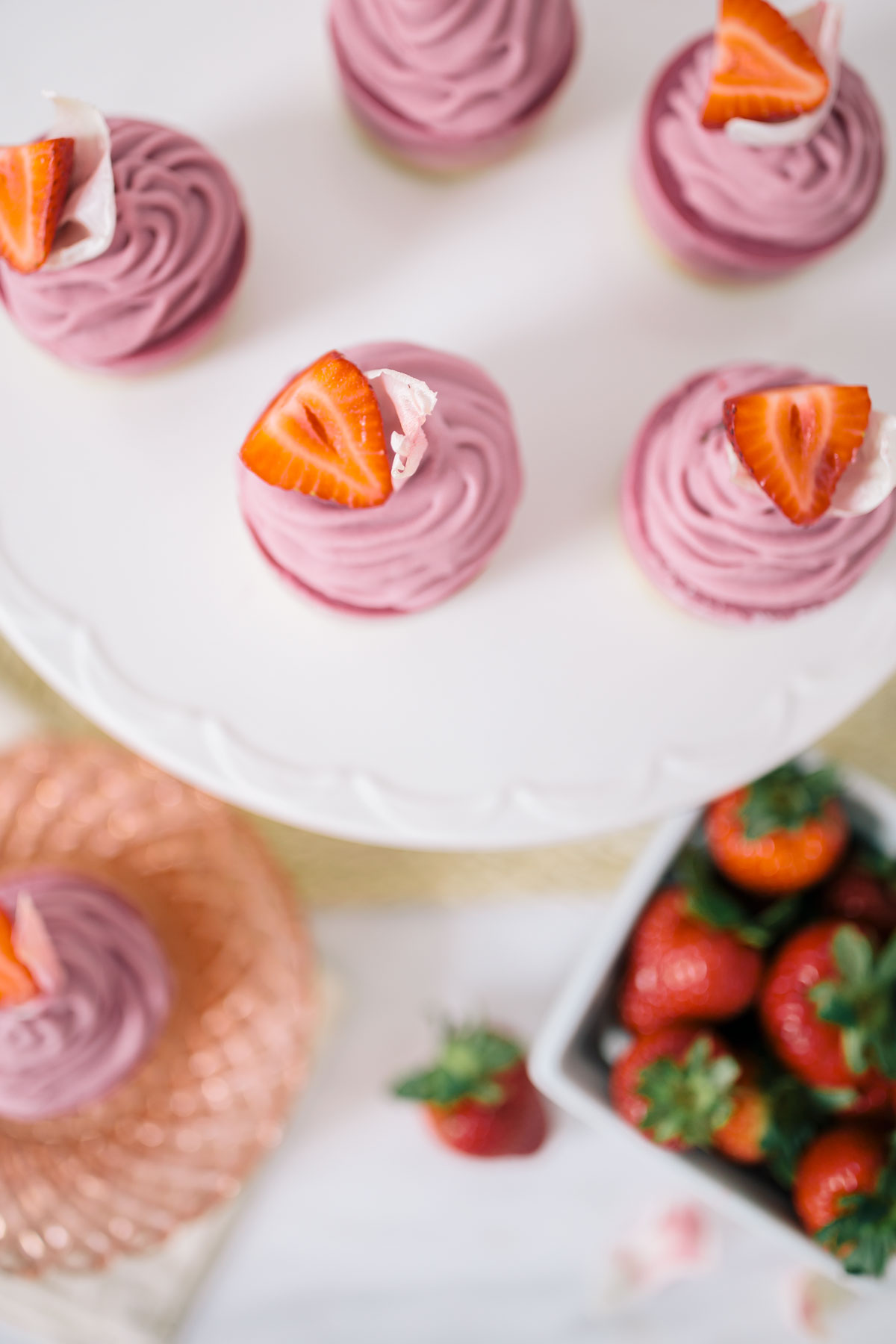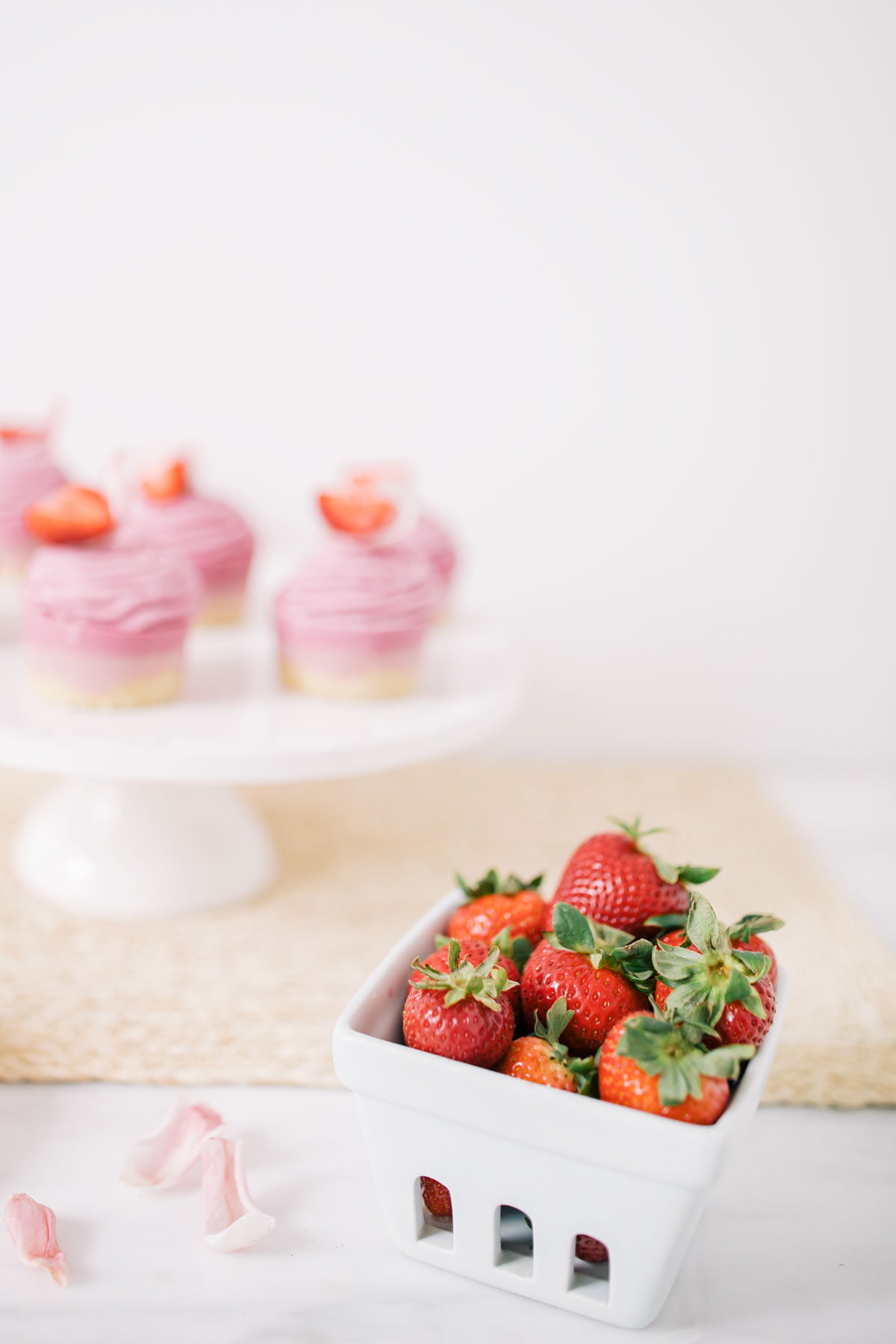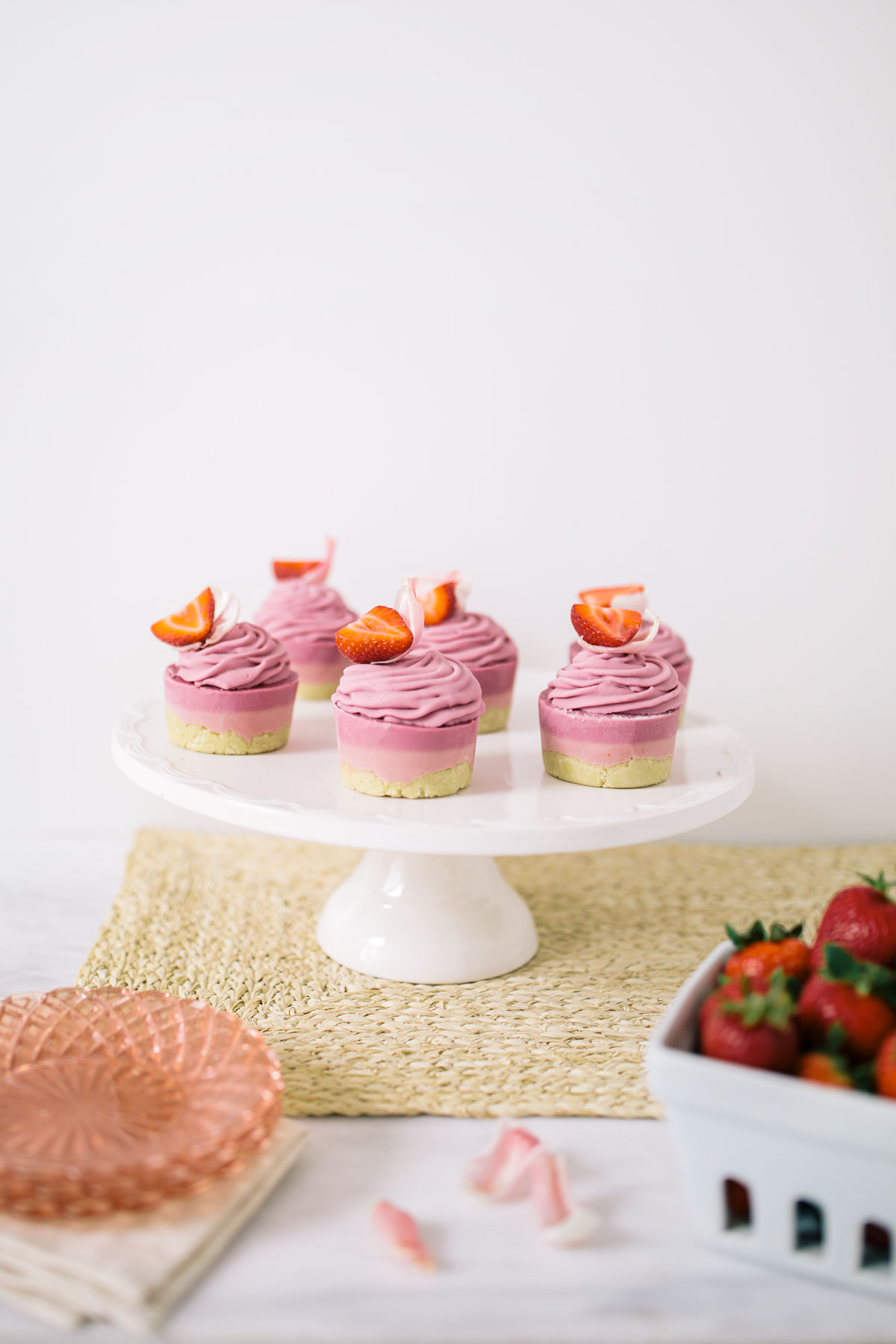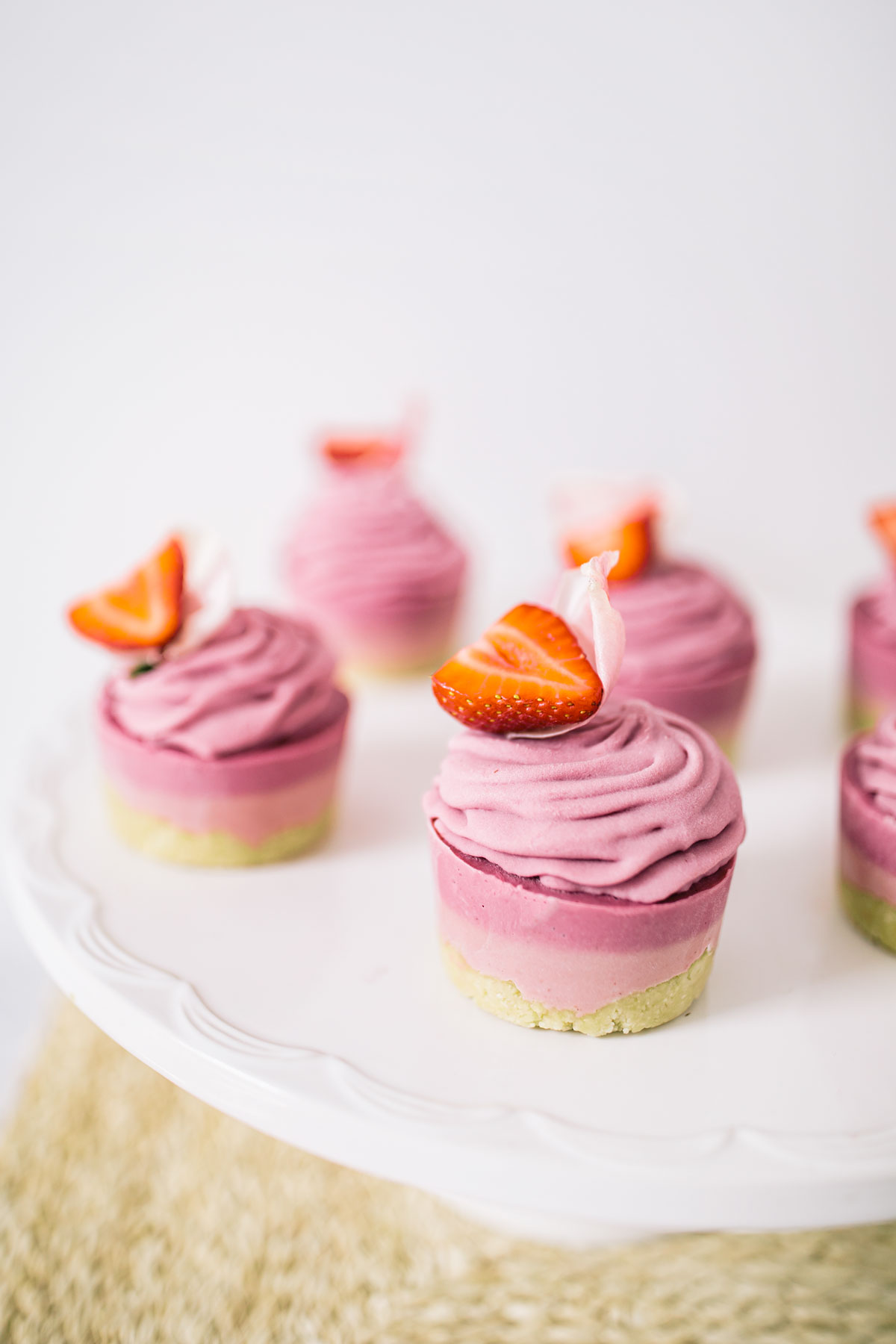 Raw Strawberry Beet Cups
TOTAL TIME:
3
hours
45
minutes
EQUIPMENT
High-speed blender, Silicone/brioche molds
Ingredients
FOR THE CRUST
1

cup

ground almonds

2

Tbsp

coconut oil

melted

1

Tbsp

maple syrup
FOR THE FILLING
1

lb

California strawberries

chopped (about 3 cups)

1

cup

raw cashews

soaked in 2 cups of boiling water for 10 minutes

½

cup

maple syrup

1

cup

canned

full fat coconut milk, divided

¼

cup

peeled

chopped raw beet

Strawberries and edible flowers for garnish

optional
Instructions
To make the crust, combine almonds, melted coconut oil and maple syrup in a small bowl. Have ready 12 silicone/brioche molds on a baking sheet. Spoon about 1 tablespoon of mix into the cavity of each mold. Press down with fingers to make an even layer.

For the filling, place strawberries, soaked cashews, maple syrup and 1/2 cup coconut milk in a high-speed blender. Blend until smooth and creamy.

Spoon about 1½ tablespoons into each cavity.

Add beets to blender and blend further until smooth; gently spoon 2 tablespoons on top to create last layer. Place molds into the freezer.

Add remaining 1/2 cup coconut milk to leftover beet mix in blender and blend until mixed through. Scrape mix into a resealable plastic bag and freeze flat for 2 hours.

Once frozen, break up into small chunks and blend in the blender to the consistency of soft serve, stopping to stir and scrape down sides as needed. (Ensure there are no lumps as it will be difficult to pipe.) Scrape mix into a piping bag fitted with a large star tip. Remove frozen molds from freezer, and working quickly, pipe a rosette onto each cup. Return to freezer for 1 more hour before serving.

If freezing overnight, serve unmolded out of the freezer or let sit unmolded in fridge up to 5 hours for a softer texture.

Garnish with strawberries and edible flowers if desired just before serving. The cups will remain in their shape for approximately 20 minutes at normal room temperature.
This post was proudly brought to you by California Strawberriesbut all opinions are my own.