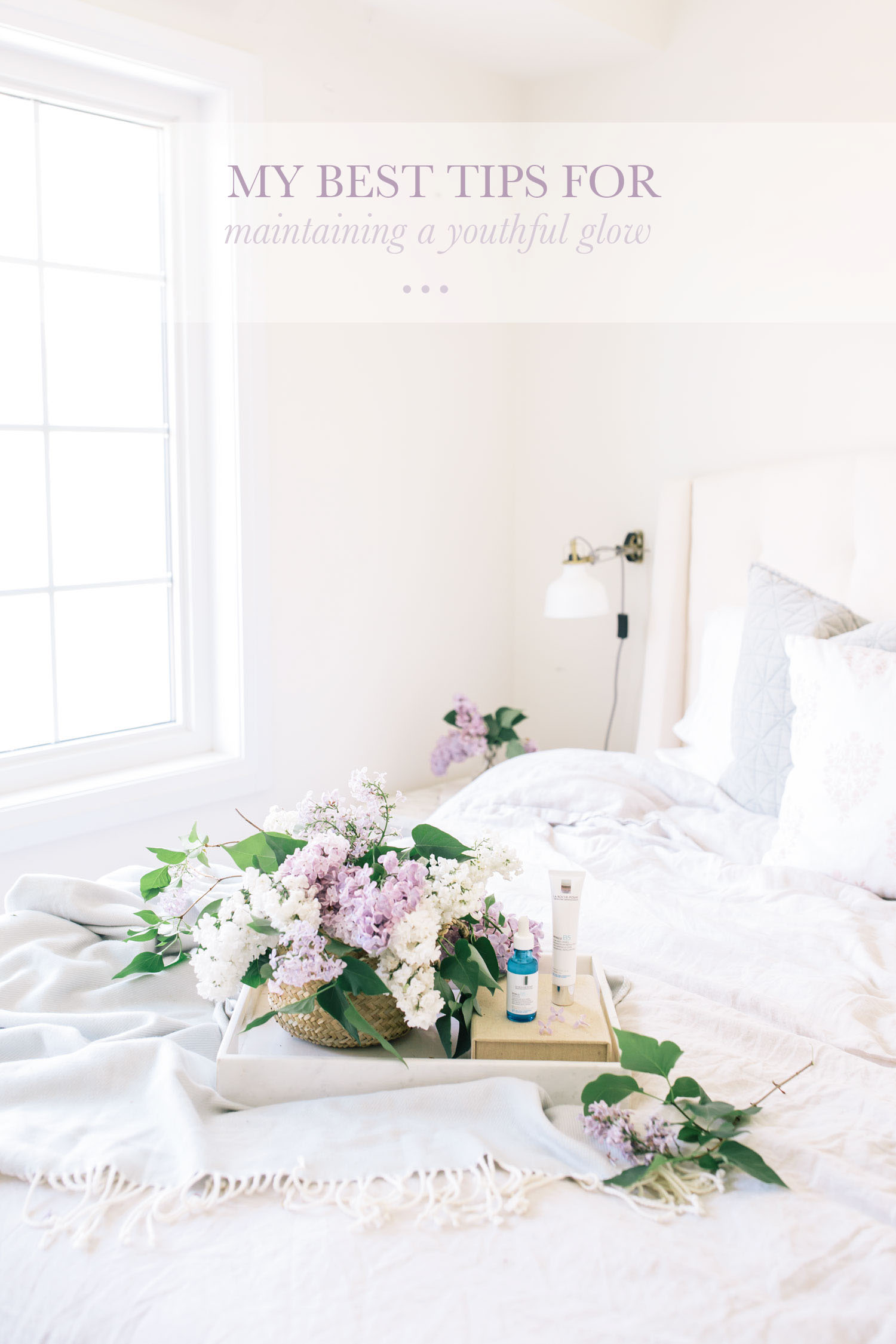 There are a lot of wonderful things about heading into my late twenties. I feel sure of myself and the woman I have become, I have a healthy, balanced diet and workout regimen (with the occasional indulgence) and I feel independent, which is something I think everyone in their late twenties strives to be. There truly are a whole bunch of wonderful things that come along with aging, but one thing is for certain…That baby soft, luminous skin that was once available to me with little to no work at all, needs a little more attention these days.
Admittedly, I've noticed that if I have an extra drink on a night out, or if I'm not getting enough sleep, my skin suffers and tends to lose its plumpness and volume. I've also noticed in general that my skin feels less bouncy than it did in my early twenties.
I'm all for aging gracefully and am excited about growing old and adding a few wrinkles along the way. However, I do think that it's important to take steps now so that my skin looks healthy, plump and glowing throughout every phase of my life. So, today, In partnership with La Roche Posay, I'm excited to share the 7 things I do, including using La Roche Posay's new Hyalu B5 collection, to keep my skin plump and glowing now and for years to come.
Ps: be sure to tune into Canadian Living & La Roche-Posay's Derm Class via Facebook Live today (June 14th) at 4pm (EDT) to learn everything you need to know about aging skin from a registered dermatologist. You'll also have the chance to win 1 of 100 bottles of Hyalu B5 Serum.
1. Drink a lot of water, and then drink more: You've heard it before and you'll hear it again so I think it's time to face it…you need to drink more water! Water hydrates your body from the inside out, flushes toxins out of your system and even helps your brain to work better. If those aren't reason enough to drink more water than I don't know what is, ha! But seriously, when it comes to having plump, glowing skin I always start with upping my water intake. I aim for 2, 2 litre bottles of water a day, finding that if I have a bottle beside me that it becomes easier to remember to drink it. Once I finish my 2-litre water goal I'm thrilled, but if I do happen to go over it, I feel extra hydrated.
2. Use La Roche Posay's Hyalu Collection: As much as drinking water, getting enough sleep and eating my leafy greens aids in keeping my skin glowing and youthful, there's definitely something to be said about a great skincare regime. La Roche Posay has been a brand I've used on-and-off since high school and I was thrilled to be reintroduced to them recently when they launched their new Hyalu collection. Hyalu B5 is made from two dermatological molecules (hyaluronic acid and vitamin B5) which, together, help even the most sensitive skin with plumping, correcting and boosting.
Targeting wrinkles, loss of volume and elasticity, tired and dull skin, Hyalu B5 is a unique pro-skin recovery formula that instantly offers plumping and correcting benefits.
The Hyalu B5 range includes one serum and one daily care that I've been using in unison. The serum is the first dermatological anti-wrinkle solution that plumps and repairs skin and it's formulated for tolerance on all types of skin, including sensitive skin (which I fit into the class of).The Hyalu B5 daily care is a unique hydrating, replumping formula with two types of pure hyaluronic acids, vitamin B5 help plump and repair skin's barrier
3. Get a good quality sleep: I look and feel at my very best when I've had 8 hours of GOOD, restful sleep…Anyone else with me? It's so important to make time for your sleep to reinvigorate your mind, body and plump up your skin. While it can be hard to find time to enjoy good sleep, especially in today's crazy world, I think sleep should be a top priority. I'm going to be writing a comprehensive post in the next few weeks on my tips on how I get a good, restful sleep, so be sure to come back for that. For now, one thing I'd suggest is to spend at least 20 minutes winding down before you turn in for the night. For me, this means giving myself a mini facial before bed wherein I'll give my skin a light massage with La Roche Posay's Hyalu B5 Serum.
4. Find a good highlighter to achieve that glow from within: I will forever be a fan of skin being the first thing that I show to the world over a face full of makeup. However, I still love playing around with makeup and feel better when I have at least a base on to cover up discolouration and blemishes. One thing I always feel makes my skin look youthful and glowing is a highlighter. Highlighter simply enhances my glow (especially in the summer when my skin is bronze) and aids in that youthful glow that I always want to achieved. I find that when my skin is already looking plump and hydrated (thanks to my other 6 tips) that a bit of highlighter on my cheekbones, cupids bow and down the bridge of my nose looks extra good. The highlighter I've been using lately is from RMS and it's a must have in your beauty kit!
5. Surround yourself with people who make you SMILE: I'm not sure that this point is scientifically proven, but I felt like I had to add it into my list regardless. For me, I look and feel my best when I'm surrounded by people I love and who make me laugh and smile. There's really something to be said about those feel-good endorphins released after a good laugh and hanging out with those who simply make you smile. Trust me, you'll be looking glowy and youthful in no time!
6. Eat Lots of colourful foods: Berries, spinach and carrots, oh my! Be sure to eat a rainbow of different fruits and veggies if you want to achieve glowing skin. Foods like berries, spinach and kale are chalk full of antioxidants and carrots have beta-carotene, known to help skin look great. If you have a hard time getting fruits and veggies into your diet than I would suggest making things like smoothies and soups to sneak them in!
7. Break a Sweat: Just like drinking water is an obvious way to achieve glowing, plump, youthful skin, so is releasing water in the form of sweat. Working out makes you feel good from the inside out and helps get your skin glowing! I'd say aim for a workout that makes you sweat at least 3 times a week but if that's not possible, get your body moving by going for a nice brisk walk around the block.
This post was proudly brought to you by La Roche Posay