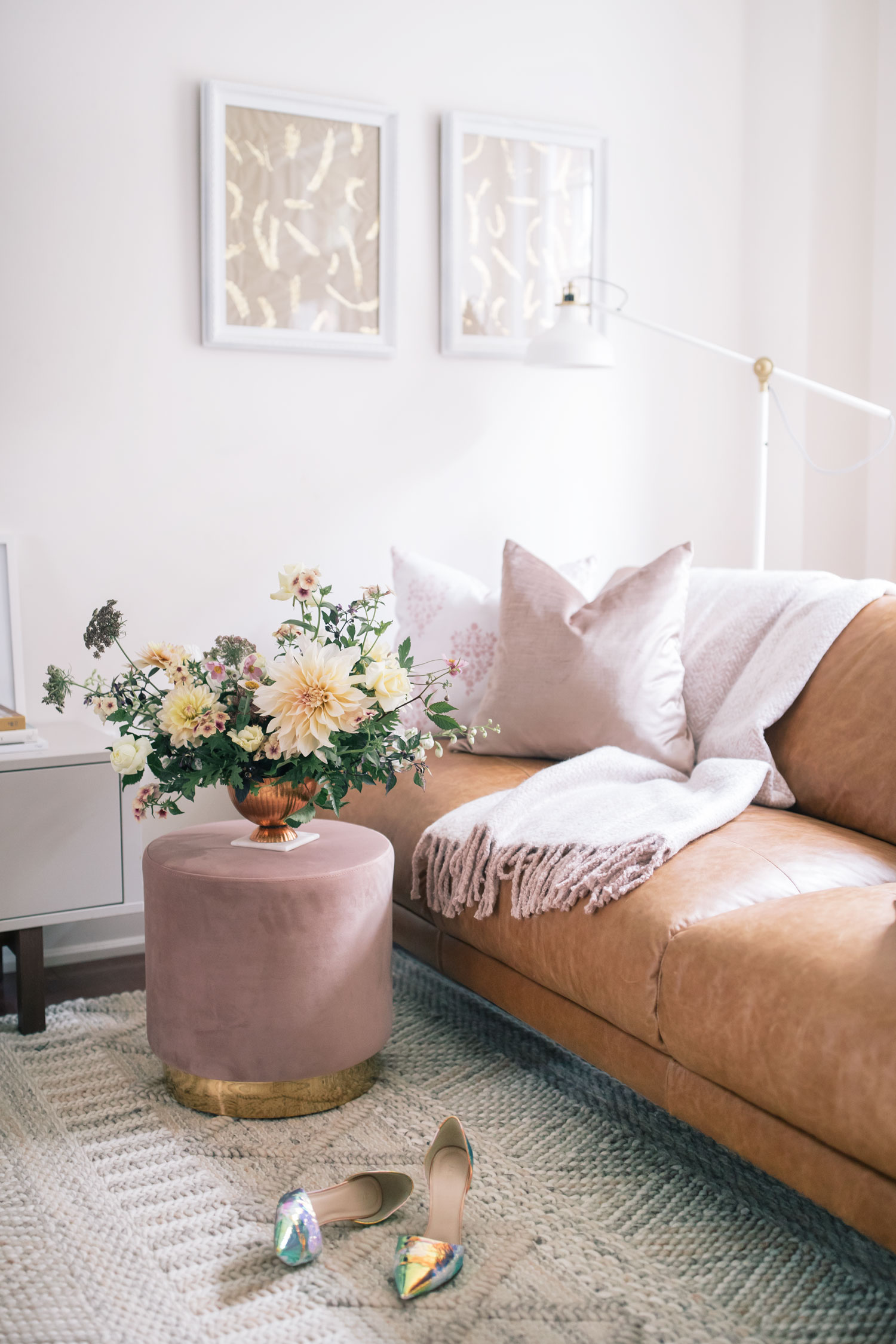 Working from home has its perks. I can stay in my pajamas all day if I desire, Milo is always around to snuggle up with, and of course, making my own hours is pretty sweet. However, there are definitely those times where I find myself falling into a case of cabin fever, especially if I've been indoors a little too long. With that being said, it has always been a priority of mine to make our home feel like a calm, serene place where I feel productive yet relaxed at all times. Here are my 5 tips for how I make our living area feel like a sanctuary so that hopefully, yours can feel that way too!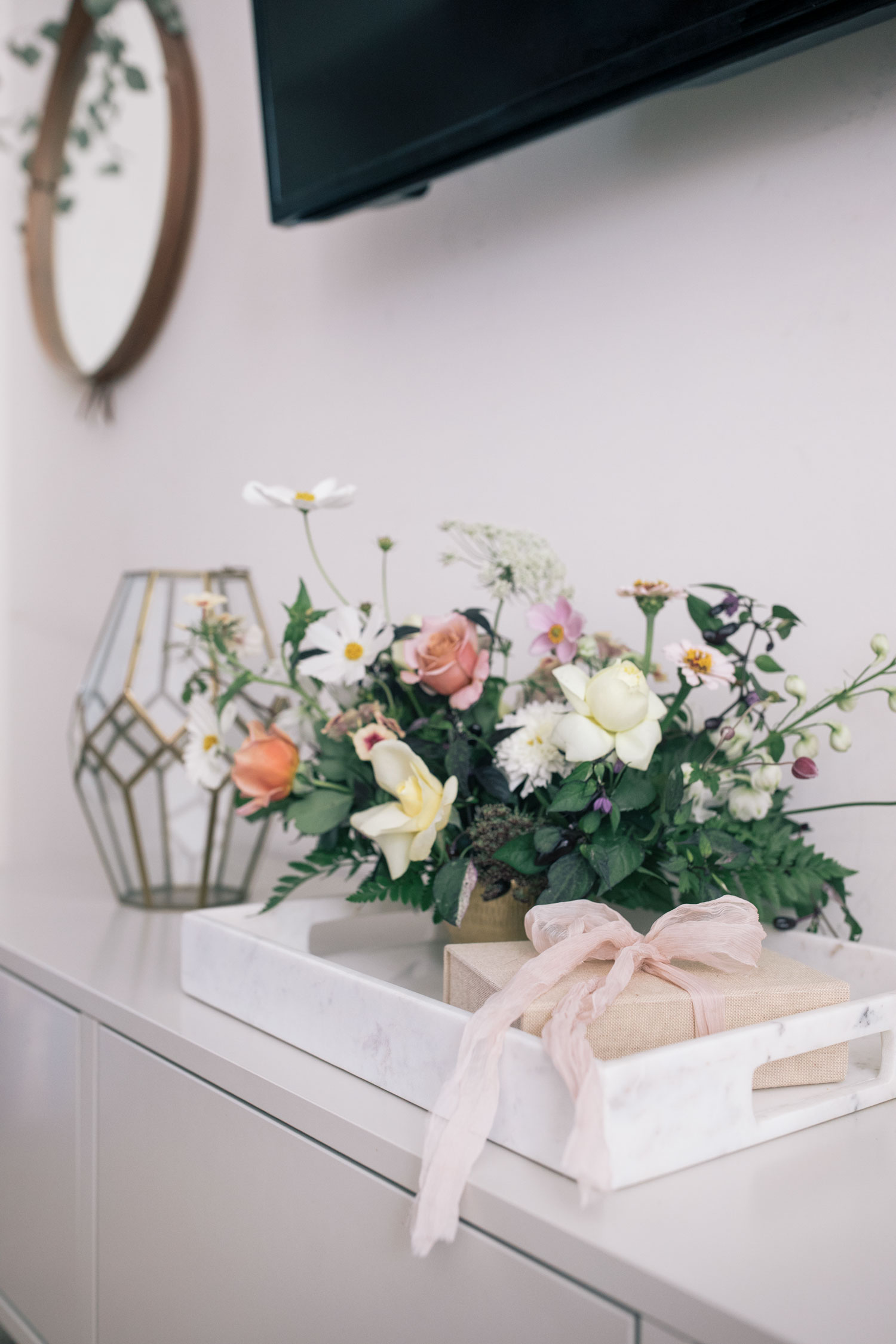 FRESH FLOWERS
I know that flowers can't always be as beautiful as this stunning arrangement from Wild North Flowers (perks of a photo shoot) but I think there's something to be said about having fresh flowers in your house regularly. I love filling our house with fresh flowers whenever possible and I try to pick up flowers and greenery from the local markets once a week. I typically stick to one variety of whatever flowers I love that are in season and mix them free-flowing greenery. It always ends up looking more professional and is more affordable than mixing and matching a bunch of varieties. During the summer, I love picking up flowers at the Toronto Flower Market and can't wait until it's back again this year! Having something living in our home always makes it feel that much more serene so even if you don't have time to pick up fresh flowers, I'd suggest having a plant or succulent you love sitting pretty in your living room.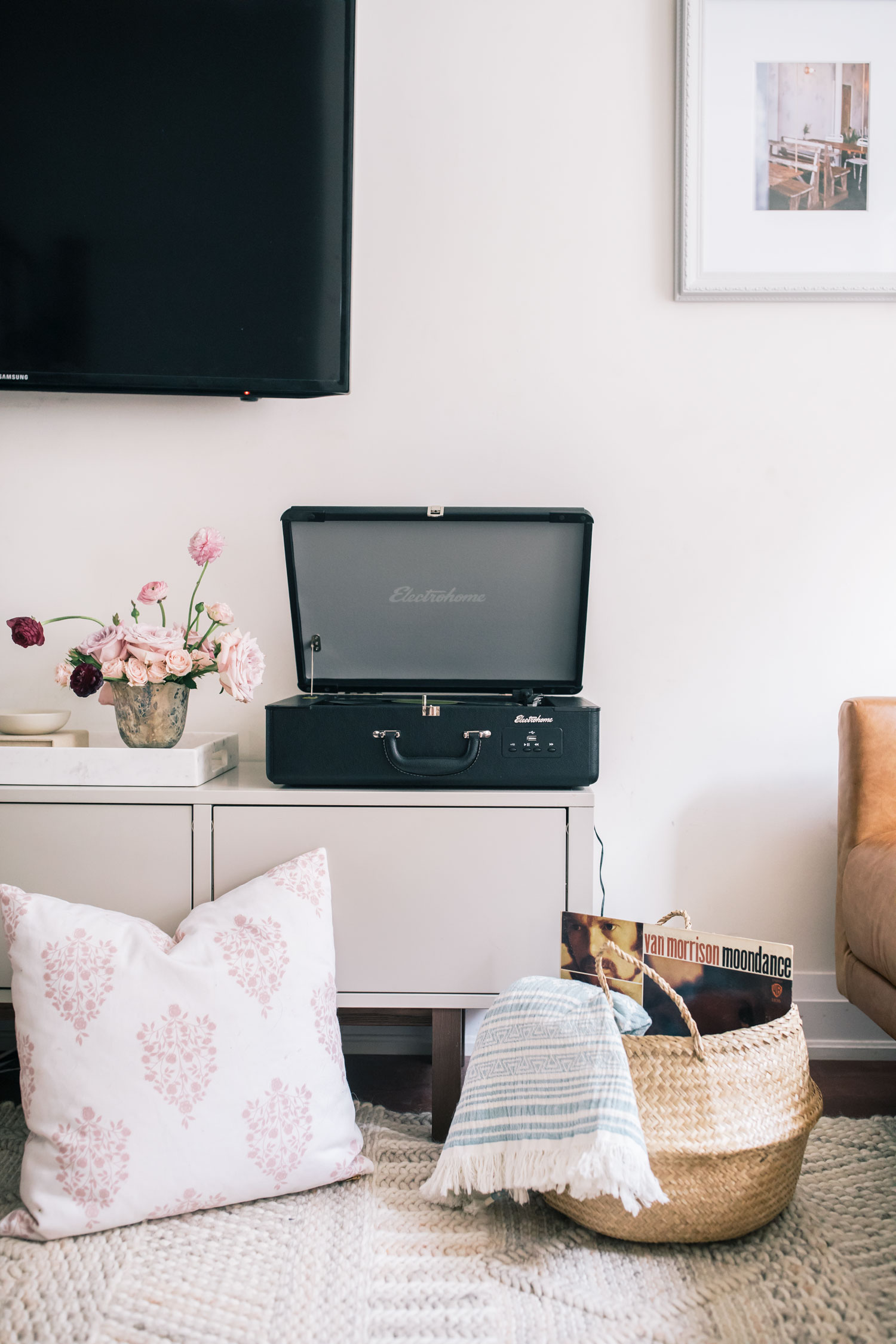 YOUR FAVOURITE MUSIC CLOSE BY
After Jamie gifted me this record and record player in the photo above for our 10th anniversary, I realized how nice it is to have music at your disposal (especially when it's vinyl). Not that I only listen to music on vinyl (I have a Spotify account that I frequent when cleaning or cooking) but there is something so darn calming about putting on an old record and simply chilling out. I've since purchased quite a few records and can't wait to grow my collection even more.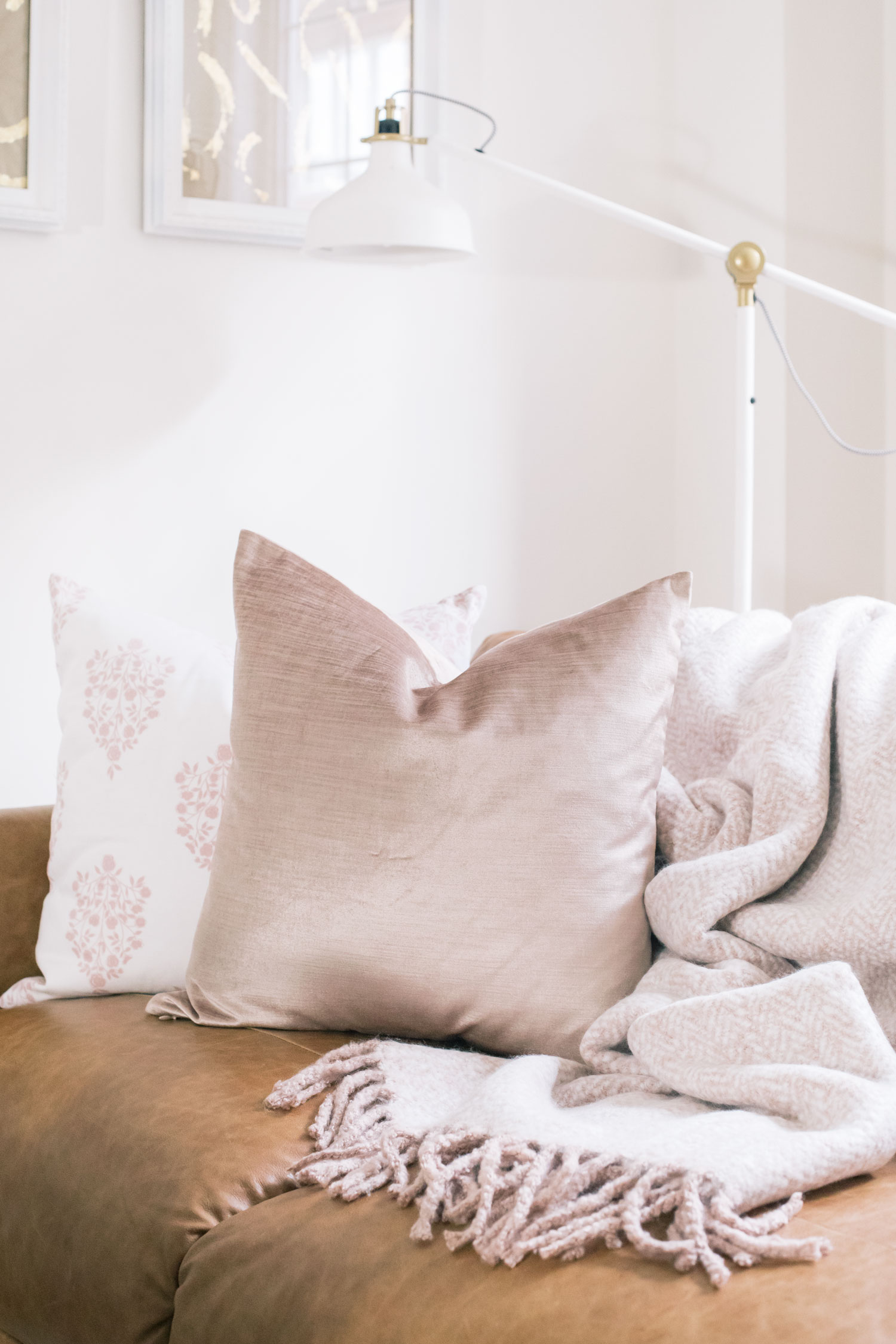 COZY THROWS BLANKETS AND PILLOWS
When it comes to making our living room feel cozy and comfortable, the more throw pillows and blankets the better! I love mixing patterns and texture to add interest and layers to our sofa, and they also don't hurt when you're curled up in front of a movie on a Friday night! I always make sure to have extra throw blankets on hand when guests come to visit, so they too can feel calm and cozy. You can bet that if you come over, you'll find throw blankets in baskets all over our house!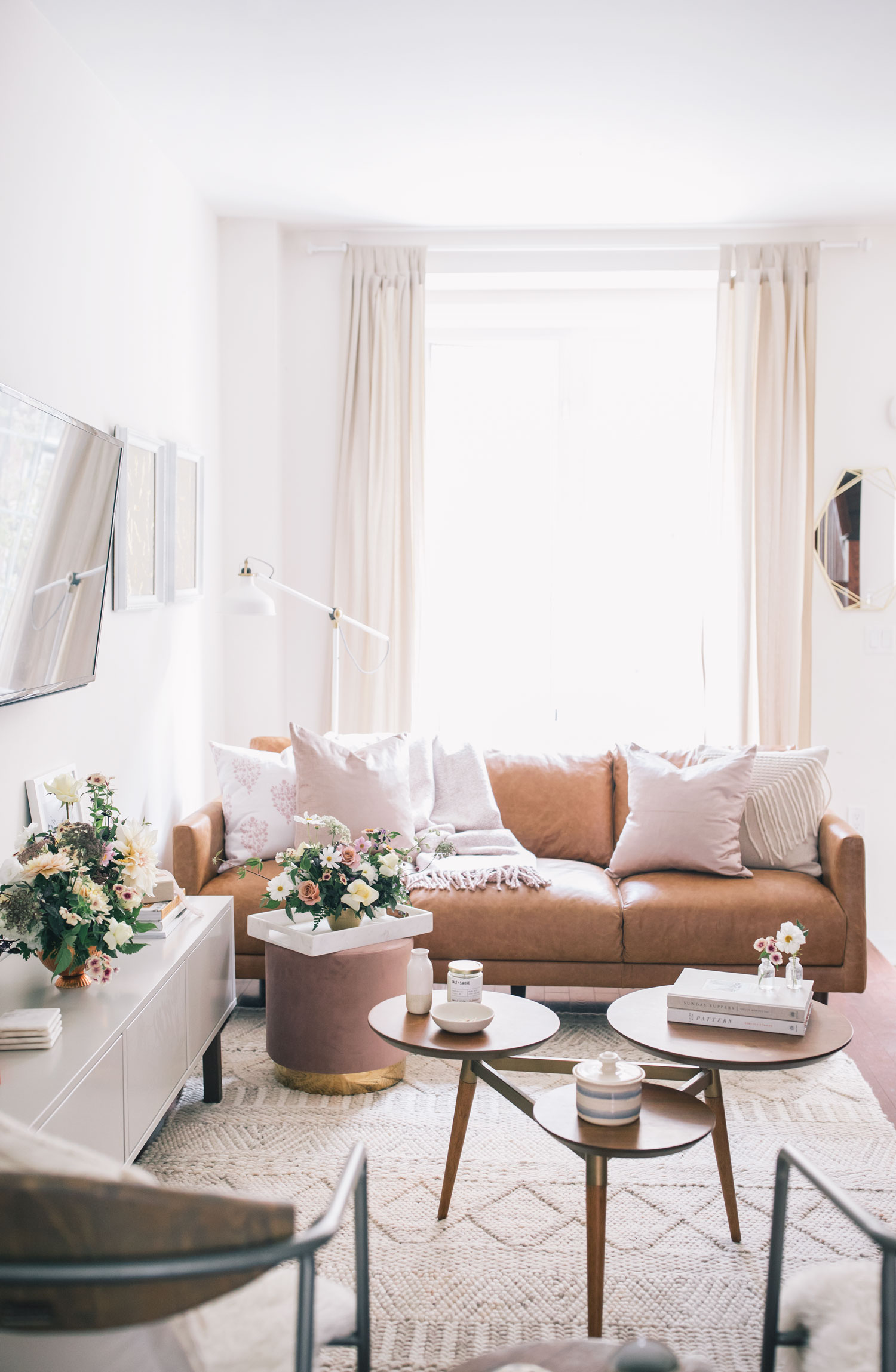 CALMING COLOURS
In our household, no two days are ever the same. We're either all over the place attending press events and working on creating content, or we're at home working away on our computers. Because we're at home quite often (and when we're not, things are quite hectic) I wanted our living room to offer an all-around calming atmosphere. When designing our living room I stuck with accents in calm colours like white and blush pink. Our couch is a tan leather, and our coffee table and tv stand are also light in colour. Choosing lighter colours for furniture feels less harsh than say black or dark brown which aids in a light, calming effect. Stick to pastels, whites, light greys and you'll be feeling calm, cool and collected in no time.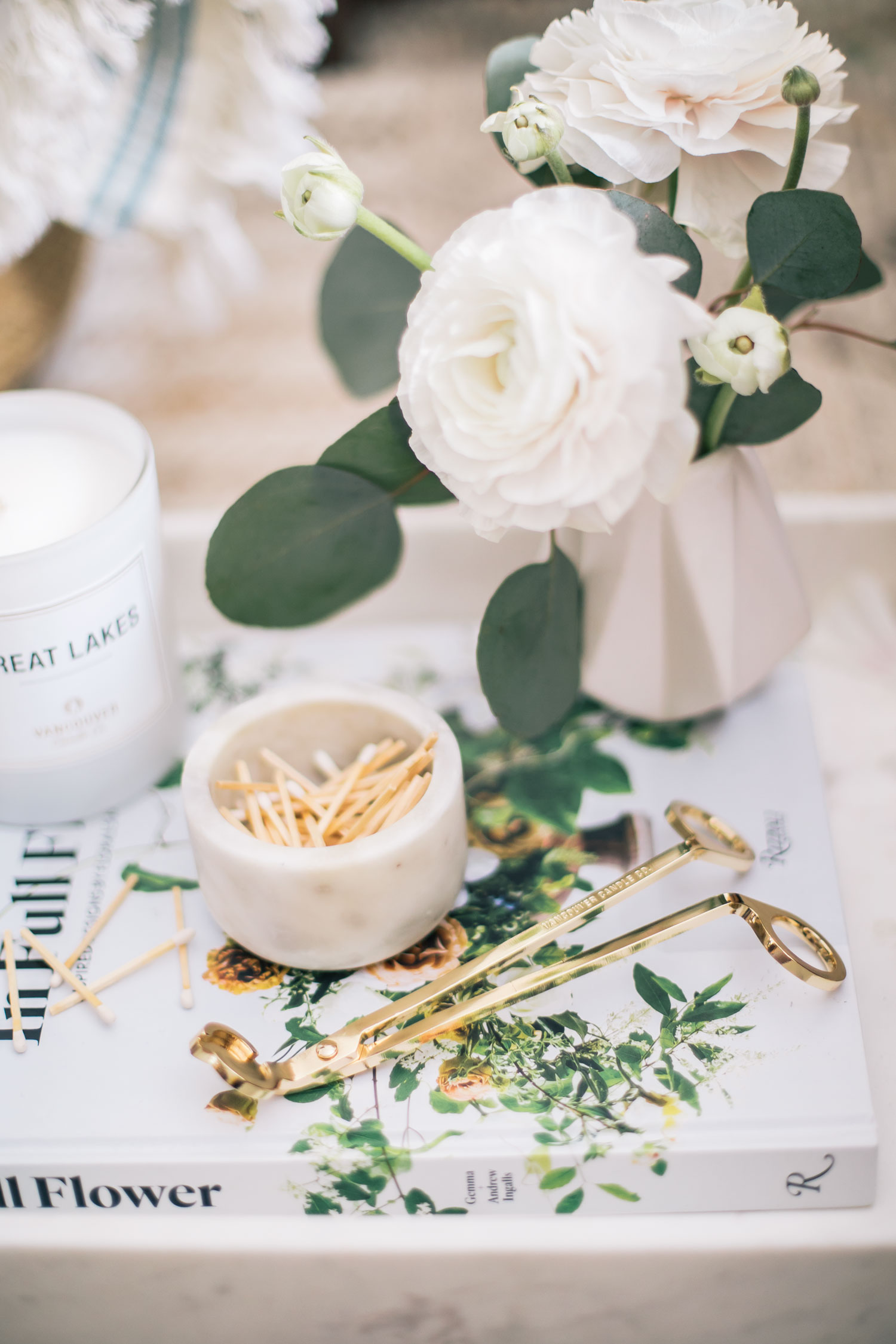 RELAXING CANDLES
Is there anything more calming than lighting a candle? I think not. There's truly nothing I love more than the ritual of striking a match and lighting my favorite candle before winding down for the evening. Some of my favourite candles to light in the evening offer aromatherapy like lavender and eucalyptus (Saje makes some great ones) but I also love the candles by Vancouver Candle Co. (Great Lakes has been my go-to lately) and James by Rosie Jane is another favourite of mine.