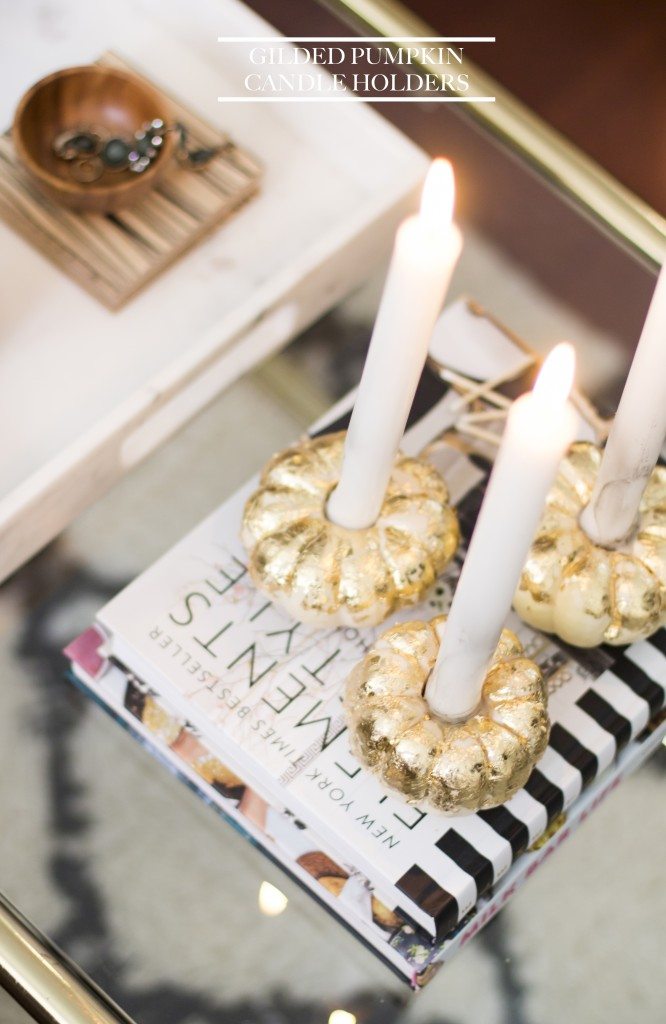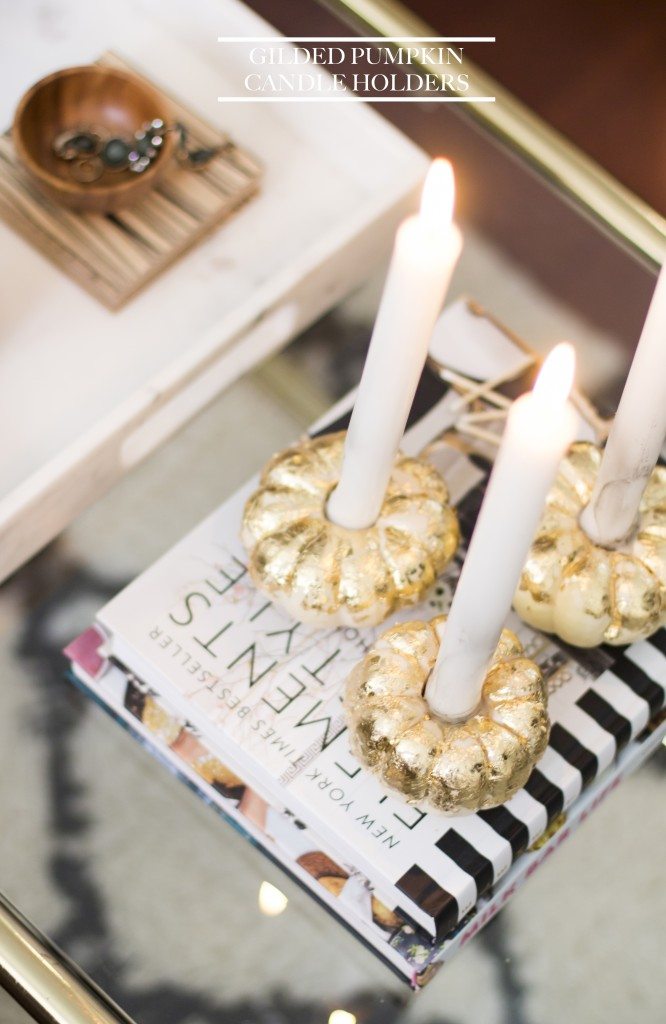 With Thanksgiving fast approaching (I can't believe it's this coming Monday) I wanted to create a simple table setting that would make a big impact. I've seen many forms of gilded pumpkins and pumpkin candle holders before but I'd never seen the two together, and As you have probably realized by now I LOVE anything that's gilded. The holders turned out even better than I had imagined, and although our awkwardly shaped townhouse can't exactly fit a formal dining table, my elegant gilded pumpkin candle holders are looking beautiful on top of a couple of coffee table books in the living room.


What you will need:
1. Small white pumpkins
2. Gold foil
3. Gilding adhesive (not pictured)
4. Gilding brushes
5. Drill & 3/4-7/8 spade drill bits
6. Candle sticks


Step 1: I removed the stem of the pumpkin by holding it firmly and simply pulled it off. Once the stem was removed I inserted my 3/4 inch drill bit into my drill and began drilling a hole in the center of the pumpkin, making sure to be gentle as to not drill through the bottom of the pumpkin. I stuck my candle in the pumpkin to make sure it fit with that size hole. I ended up going back over the 3/4″ hole with a 7/8″ as I found my candles were too big for the 3/4″.
Step 2: I cleaned all of the seeds out of the pumpkins by using a butter knife and my fingers (you need to get a little messy). Once the seeds were removed I inserted some paper towel into the pumpkin just to make sure it was throughly clean. I then removed the paper towel and inserted my candle sticks. I found that the 7/8″ drill bit was a bit too big so I used a lighter around the bottom of my candles to melt some wax so that the candles would adhere to the pumpkins better.


Step 2: I sprayed a very light layer of gilding adhesive on the top of the pumpkins and then placed a sheet of gilding foil over top. I gently patted the gilding sheet down with a gilding brush and then brushed away the excess particles.