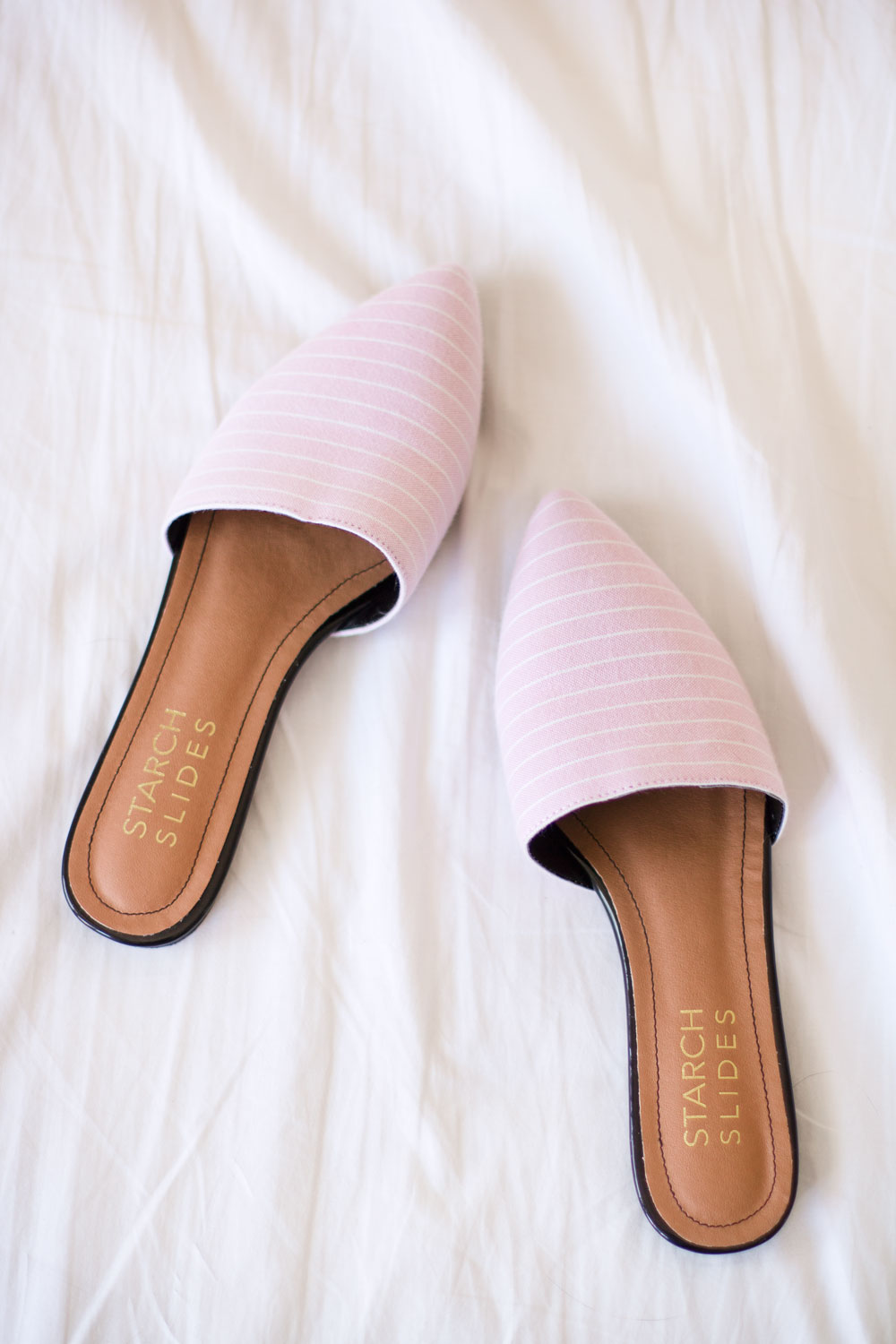 Originally I had wanted to keep this series to strictly Toronto based features. Then I decided I'd open it to all of Canada, and now I've realized that there are just so many great brands out there and I don't want to pigeon-hole myself. I've decided to open up my Spotlight Series to any brands that I feel that immediate connection with, which is why I'm so happy to introduce you the Brooklyn based brand Starch Slides.
I quite literally found Starch Slides while I was perusing Instagram (as you do) one day. I've said it before and I'll say it again, I have a serious penchant for shoes, so soon as I landed on the Starch Slides page I had one of those OMG I need all of these moments. I messaged Shannon (the super cool owner) on Instagram about 10 minutes after scrolling though the SS Instagram and website and was thrilled to hear she was interested in being featured.
Starch Slides are made from used button up shirts and vegan leather which makes them a sustainable yet fashionable choice. Each shirt that is used makes 4 pairs of slides (1 small 2 medium, 1 large) so you can be sure that what you are getting is pretty original to you. All I'm saying is that if you love a pair you better snatch them up! Slides are a very a on-trend shoe right now, but I have been a fan of the style for years. They are easy to throw on and go, comfortable (especially for walking) and just make a really cool statement. I absolutely love the print varieties that Starch Slides offers and I can only imagine myself gathering quite the collection of these guys throughout the years.
I asked Shannon a few questions about the brand and herself so make sure to read on through to learn more about Shannon and the Starch Slides brand. I hope you love it as much as I do!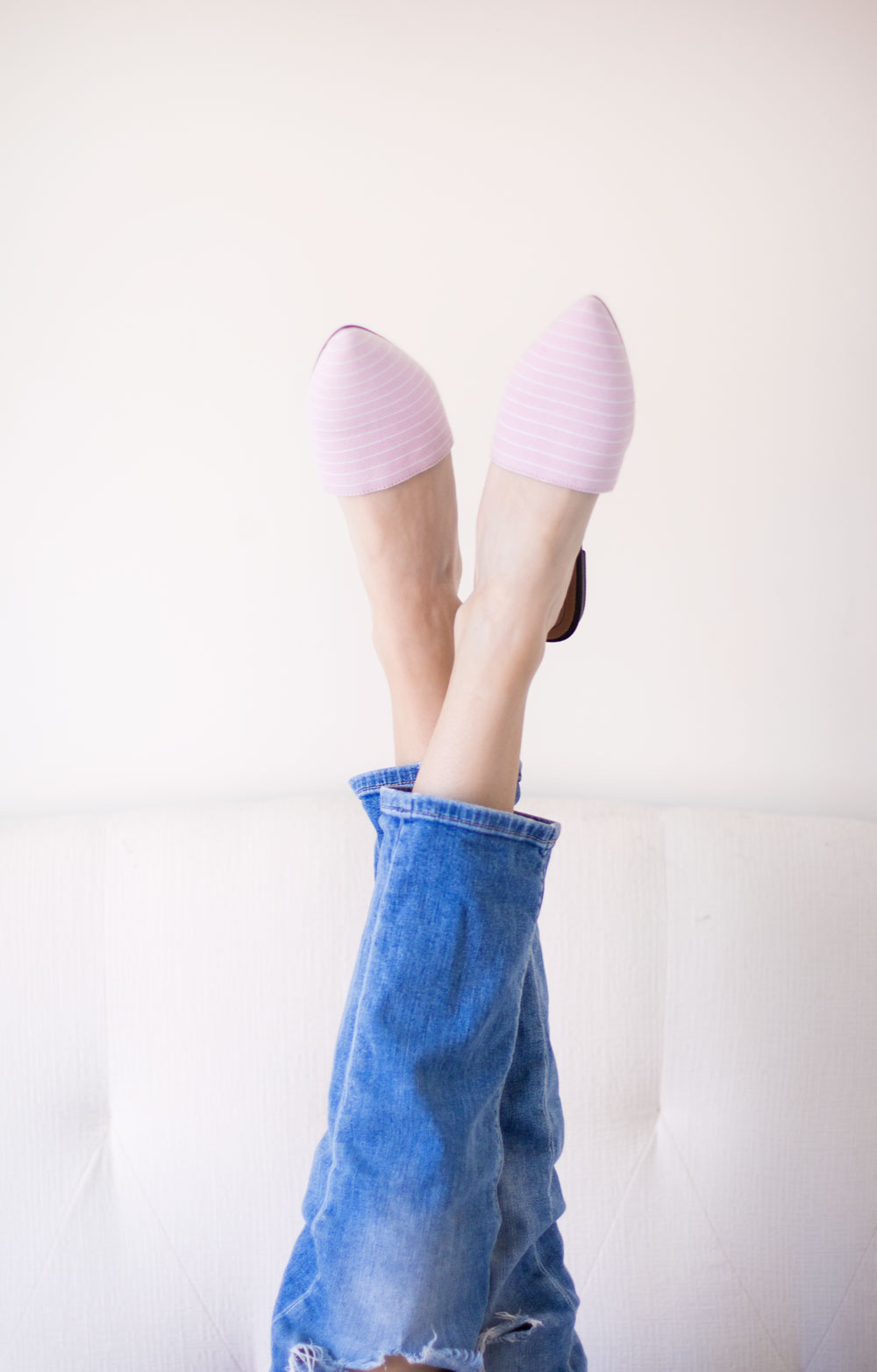 Kaylee: Hi Shannon, thank you so much for taking the time to answer a few questions for The Blondielocks. I'm wondering, Did you go to school for design or do you have a design background?
Shannon: I got my BA in Marketing but always related my projects towards fashion. I ran a modeling agency through college so it was nice that I could do an advertisement for school and turn around and use it for the agency, getting published in our local paper the next day.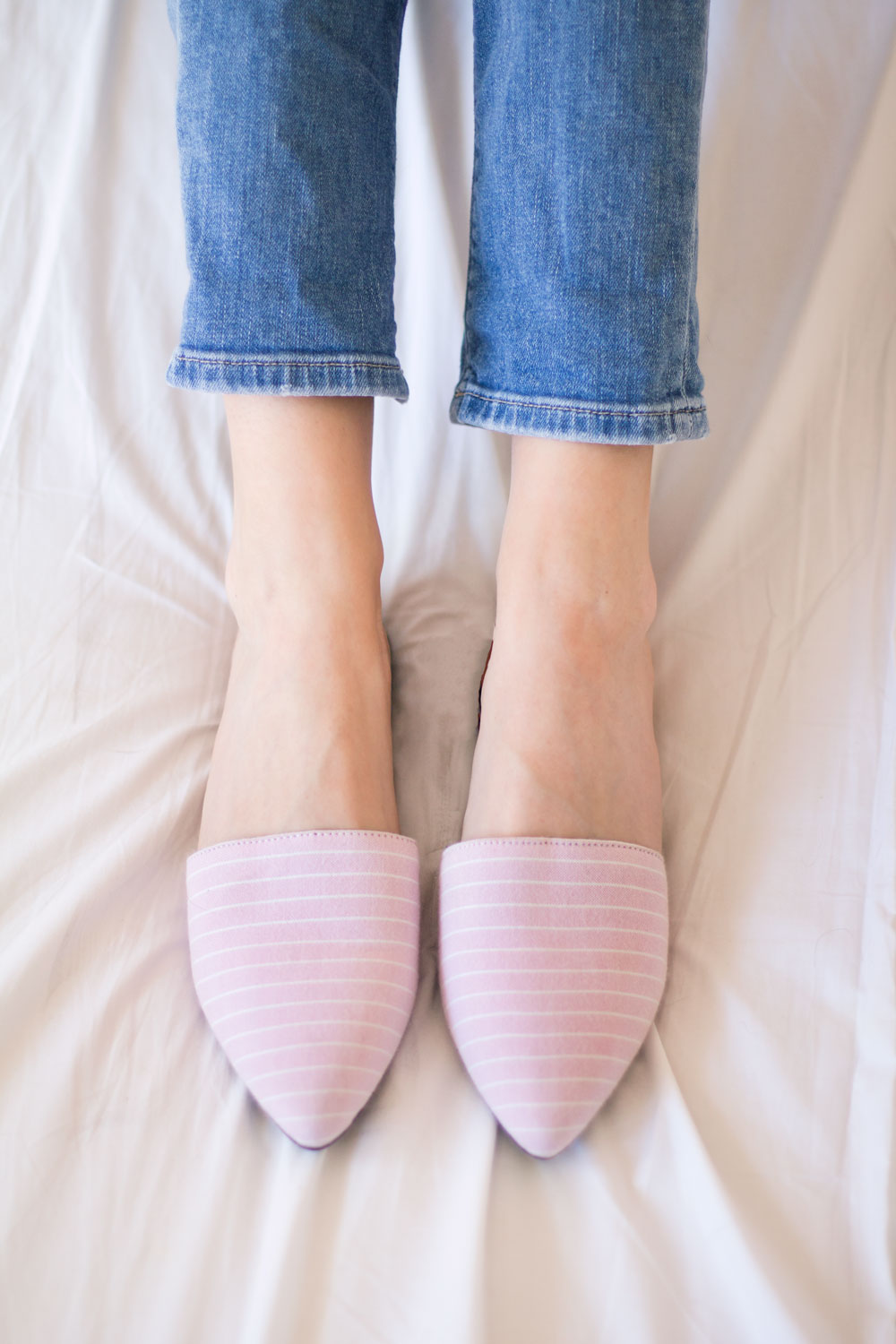 Kaylee: I love that you use old shirts to create your slides? What gave you the idea!?
Shannon: I have always been inspired by mens' shirts, whether it was me tying them around my waste to give myself that cool tomboy vibe or trying it with a pair of boyfriend jeans. The patterns have stayed so classic and everyone has some sort of attachment to the patterns. I love that each slide has a story. I built Starch Slides as a brand people can grow with. I want you to be proud to share the story of Starch Slides when someone says "cool shoes".
Kaylee: What is the reasoning behind naming your slides after bands and musicians?
Shannon: Every new collection I get inspired by new ideas. This one was music based, I am driven by people who put themselves out there. People who want to share their thoughts and emotions and leave themselves very exposed to criticism. I want to celebrate people who are brave and deserve to be celebrated. This time was music, who knows what is next 😉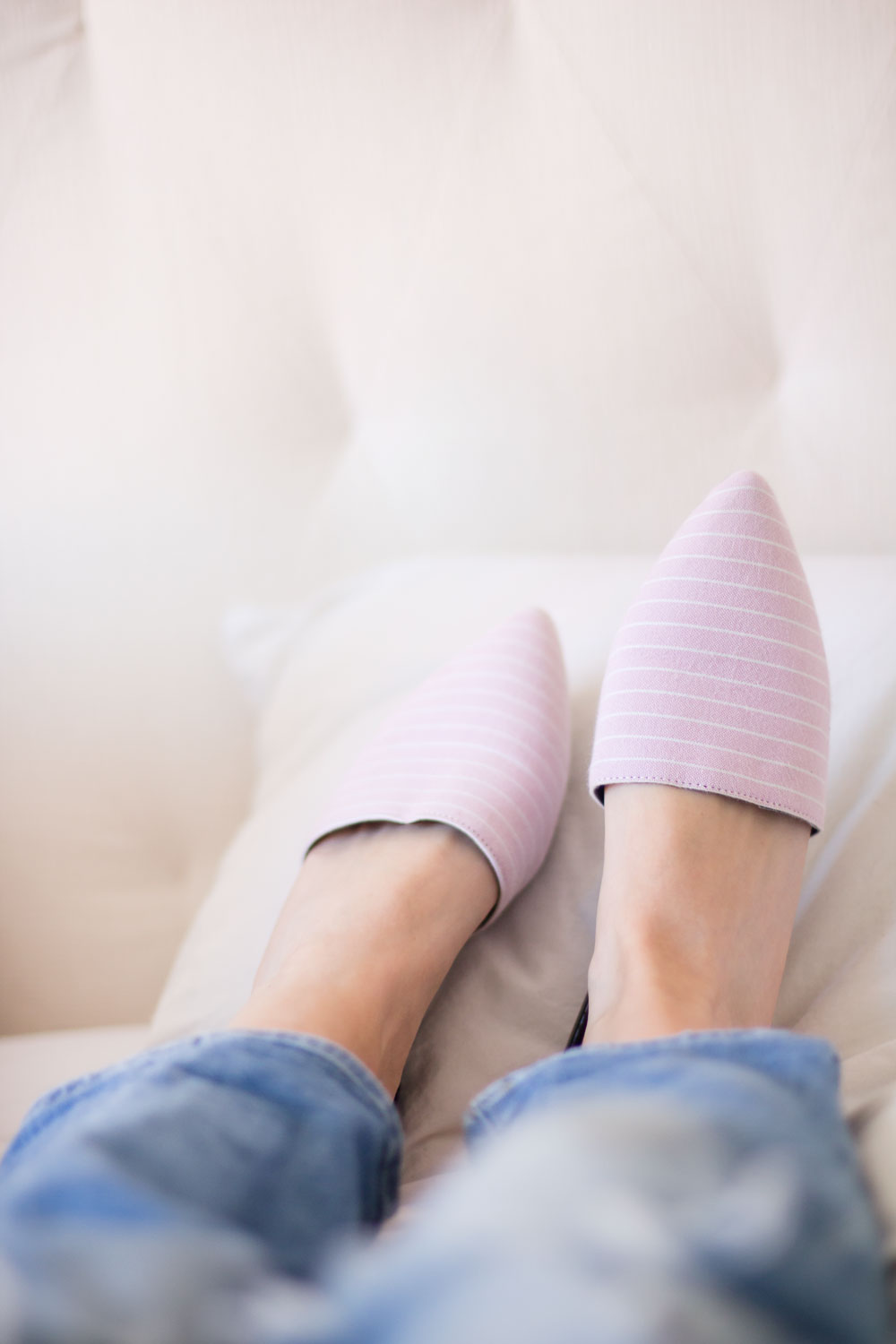 Kaylee: What are your favourite pairs of slides available right now?
Shannon: Oh god, this answer changes every day. Today, I am all about the Tylers, I love the terra-cotta color, pair with jean shorts and a white tee and a leather jacket for the prefect spring look.
Kaylee: Are there any you have sold but wish you kept for yourself, haha!
Shannon: Honestly, no. It is my favorite thing seeing how other girls wear the Slides. I would choose to see someone else rocking Starch Slides then myself. I get so inspired seeing others in them. But trust me, it is hard not to keep one of every pair!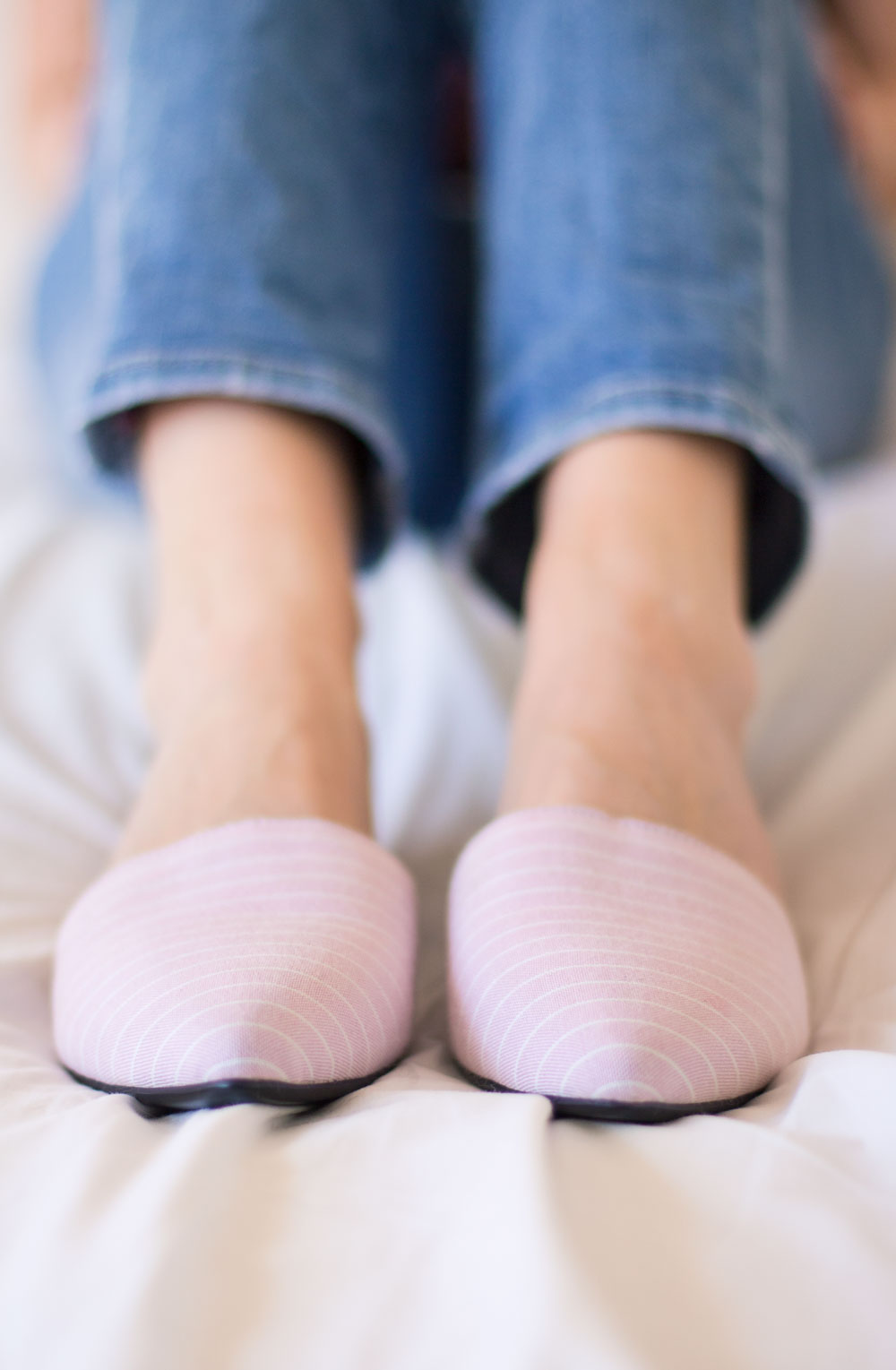 Kaylee: Can you tell me 3 local beauty or fashion brands that you love?
Shannon: I love watching what ReDone has done with up-cycling. They are building a really cool, fashionable company out of up-cycling Levi's. Each pair is one of a kind and I love to see how big they have grown.
Brother Vellies has such a strong vision. They do beautiful shoes and I always love to see what they are creating next. Aurora James had such a strong point-of-view from day 1 and never detoured from that. She is such an inspiration to me.
Ace and Jig does beautiful textiles, they keep the process of their clothes so open and honest that you know you are buying something quality when buying Ace and Jig.Their pieces are so recognizable and I love watching them grow. I feel like the Ace and Jig girl is the Starch Slides girl.