In case you were feeling a little conflicted over what type of cookies to serve to Santa Claus this Christmas Eve, have no fear as I have certainly got you covered. Picture your most favourite chocolate chip cookie recipe, now take it over the top with the addition of crisp coconut chips and PC's new Milk Chocolate with Toasted Coconut Bar. Now my friends, you have got yourself the most decadent, delicious double chocolate chip cookie that Santa will most definitely approve of. Jamie and I recently attended an event with Atlantic Superstore in Halifax where we were treated to this chocolate chip cookie recipe and I legitimately couldn't get enough of it. I'm not usually one who craves chocolate chip cookies but these (especially just out of the oven) are to-die-for. The only tweak I made here was that the original recipe left big chunks of chocolate bar and coconut, which was great, but I prefer a thinner chocolate chip cookie with crisper edges so I mixed in all the ingredients in my stand mixer. I also topped the cookies with a dash of fleur de sel and OMG I can't wait to serve these to Santa this year!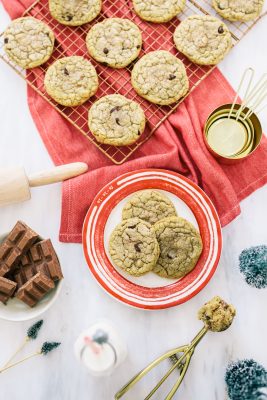 Double Chocolate Coconut Chip Cookies
2018-12-11 06:35:59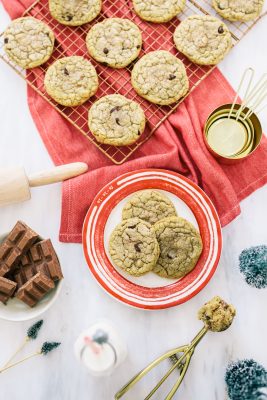 Serves 24
Ingredients
1 cup white sugar
1 cup brown sugar
1 cup butter, melted
2 eggs
2 teaspoons vanilla
2 1/2 cups flour
1 teaspoon baking soda
1/2 teaspoon salt
300g PC® Milk Chocolate with Toasted Coconut Bar
1 cup PC® Coconut Chips
1/2 cup PC® The Decadent Chocolate Chips
Instructions
Mix together sugars and butter.
Stir in eggs and vanilla until smooth.
Stir in flour, soda and salt, mixing until just combined.
Fold in chocolate and coconut. Refrigerate dough 30 minutes.
Preheat oven to 350ºF.
Scoop dough in 2 tablespoon portions into balls onto a baking sheet.
Gently press down just a smidge. Sprinkle with fleur de sel
Bake cookies 9-10 minutes until golden brown but still soft. Let cool 5 minutes before serving.
Adapted from Kathy Jollimore
The Blondielocks | Life + Style https://www.theblondielocks.com/