When planning blog posts for fall this past August, I started thinking about foods that I really love and have yet to try my hand at making.
The one dessert that kept popping into my mind was sweet, spicy carrot cake. Carrot cake has to be one of my most beloved fall desserts, it's sweet but not too sweet, and once topped with cream cheese icing the cake transforms into a whole new level of yummy. Up until a couple of weeks ago I had never made a carrot cake and I'm not too sure why because they're really not that difficult…especially this particular recipe as it's more of a loaf than cake. After all was said and done our house smelled like fall and our bellies were seriously satisfied. I'll admit, we ate this cake in under 2 days.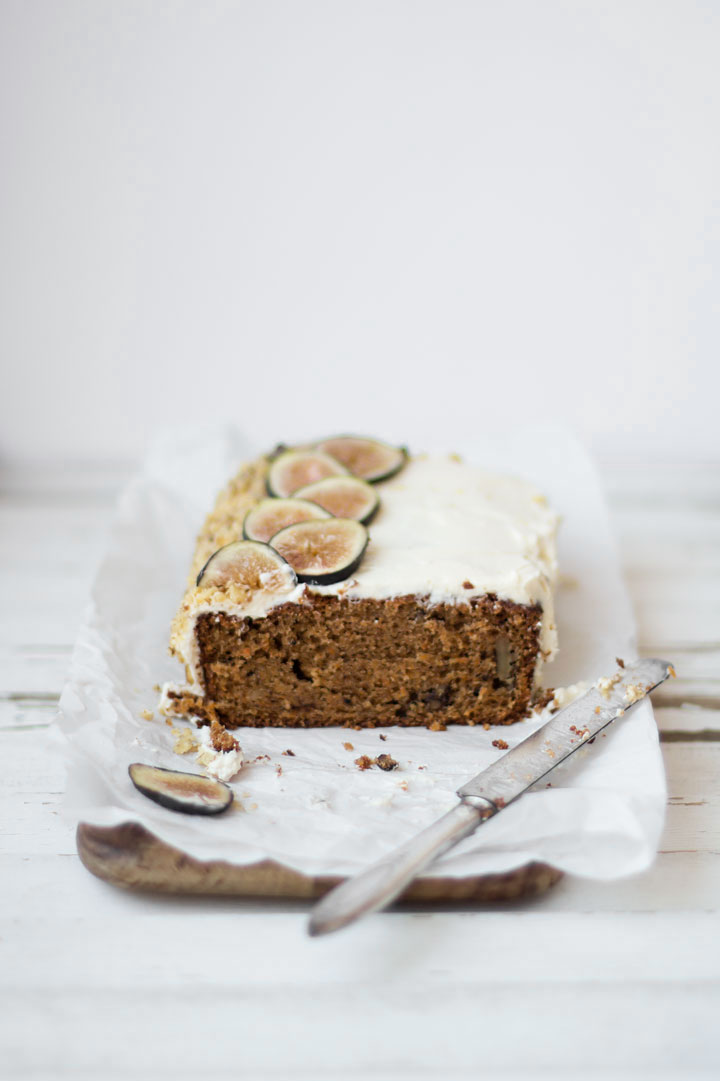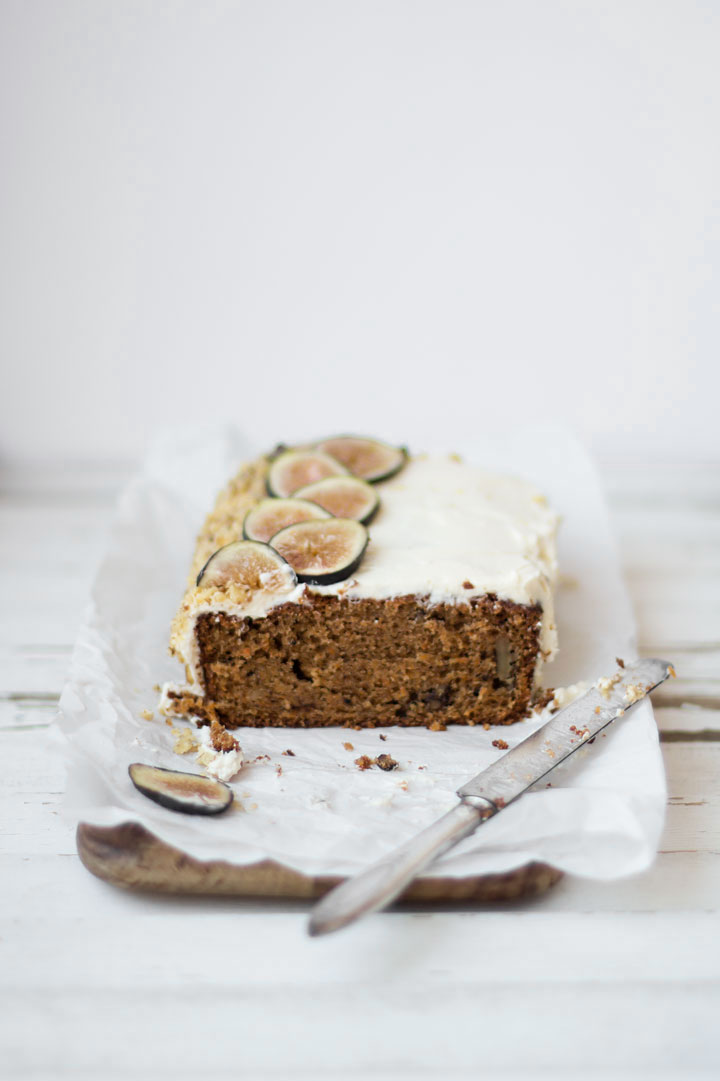 Carrot Cake Load with Fresh Figs
2016-09-19 19:57:41
Ingredients
1 cup (140 grams or 5 ounces) all-purpose flour
½ teaspoon baking soda
1 teaspoon baking powder
¼ teaspoon salt
¾-1 teaspoon ground cinnamon
¼ teaspoon ground nutmeg, optional
⅛ teaspoon ground cloves, optional
½ cup (100 grams or 3.5 ounces) granulated sugar
½ cup (100 grams or 3.5 ounces) light or dark brown sugar
2 large egg
½ cup plus 1 tablespoon (135 ml) canola oil (or vegetable, safflower)
1 teaspoon pure vanilla extract
180 grams (about 2 large or 3 medium carrots or 1 and ½ cups) grated carrots
½ cup (50 grams) pecans or walnuts, roughly chopped
Cream Cheese Frosting
8 ounces (115 grams) cream cheese, softened to room temperature
1/2 cup (55 grams or ½ stick) unsalted butter, softened to room temperature
½ cup (60 grams) powdered sugar, sifted
1 teaspoons vanilla extract (optional)
Toppings
Crushed/Chopped walnuts
2 sliced figs
Instructions
Preheat oven to 350F/180C. Butter a 9×5-inch loaf pan.
In a large bowl sift together flour, baking soda, baking powder, salt, cinnamon, nutmeg, and cloves. Set aside.
In a mixer bowl fitted with paddle attachment, beat together eggs, granulated sugar and brown sugar on medium-high speed until light and fluffy, about 2 minutes. On low speed and with the mixer running, add the oil slowly and beat until combined. Beat in vanilla extract until combined, then turn off mixer. Fold in (by hand) carrots until combined. Fold in dry ingredients just until combined. Don't overmix. Fold in nuts.
Pour the batter into prepared loaf pan. Bake for 40-50 minutes or until a toothpick inserted into the center of the cake comes out clean. Allow cake to cool completely.
To make the frosting
In a mixer bowl fitted with the paddle attachment, beat the cream cheese, butter and vanilla extract on medium speed for 1 minute until creamy and combined thoroughly. Add powdered sugar and beat until the mixture is fluffy and smooth. If the frosting is too thin, add more powdered sugar until desired consistency is reached. You can add pinch of salt or lemon juice to cut the sweetness. Spread frosting over the top of the cooled cake. Decorate with walnuts or pecans if desired.
Notes
*Store cake in an airtight container in the refrigerator for up to 4 days.
*Cake is best served at room temperature.
* Top with crushed walnuts and fresh figs if desired
Adapted from Pretty Simple Sweet
Adapted from Pretty Simple Sweet
The Blondielocks | Life + Style https://www.theblondielocks.com/