I had a 5 am wake-up call for my flight to New York with Old Navy this morning and to say I'm excited would be an understatement. You would think that yesterday I would have spent the day prepping myself and my things but instead, I decided to calm my nerves by baking a pretty impressive if I do say so myself, bundt cake. Sometimes I wonder why I always leave things to the last-minute but there's something about being under pressure that always brings out the best in my creativity and this cake was no exception. Originally I was going to make a simple blueberry lemon bundt cake but the other night I was having one of those evenings where my mind just wouldn't shut off and I couldn't sleep so I ended up dreaming up this blueberry pistachio version with vanilla-bean cardamom whipped cream. Even though I'm only going to be gone to New York for 12 hours, I also thought it would be sweet to leave Jamie with a little treat to enjoy. Though, he insisted I start getting myself organized so he ended up cleaning the kitchen for me which was sooooo thoughtful! If you know me then you know that I am like a tornado when I bake so I'm now considering him a saint after he tackled that mess. But seriously, I think that this cake is one of the best things I've ever baked so if you have a few extra hours this coming weekend I highly suggest giving it a try!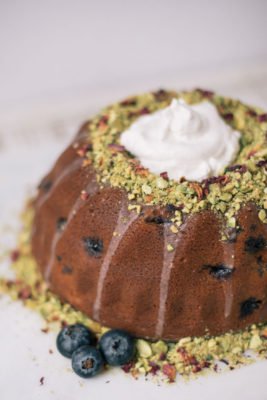 Blueberry Pistachio Bundt Cake with Vanilla-bean Cardamom Whipped Cream
2017-03-27 17:22:36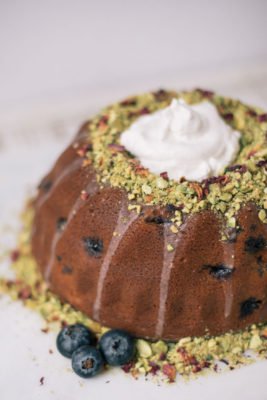 Serves 12
For the Blueberry Pistachio Bundt Cake
2 1/2 cups all-purpose flour, plus 1 teaspoon for blueberries
2 teaspoons baking powder
1/2 teaspoon salt
1 cup (2 sticks) unsalted butter, room temperature
1 cup packed light-brown sugar
1 cup granulated sugar
4 large eggs
1 teaspoon vanilla extract
1 cup sour cream
2 cups blueberries
1 cup finely chopped pistachios
Nonstick cooking spray, for pan
For the Glaze
2/3 cup powdered sugar
4 teaspoons whole milk
For the Vanilla-Bean Cardamom Whipped Cream
1 473ml carton of Whipping cream
2 tbsp granulated sugar
1/2 tsp ground cardamom
1 vanilla bean
For the Blueberry Pistachio Bundt Cake
Preheat oven to 350 degrees. In a bowl, whisk 2 1/2 cups flour with baking powder and salt; set aside.
In a mixing bowl, cream butter and sugars on high speed until light and fluffy. Add eggs, one at a time, beating until incorporated. Beat in vanilla. Reduce speed to low; add flour mixture in three additions, alternating with two additions of sour cream.
In a bowl, toss blueberries with remaining teaspoon flour; gently fold the blueberries along with the pistachios into the batter.
Coat a 12-cup nonstick Bundt pan with cooking spray. Spread batter in prepared pan.
Bake cake on bottom rack of oven until a toothpick inserted into center of cake comes out clean, 60 to 70 minutes. Cool in pan 20 minutes. Invert onto a rack; cool completely, top side up.
For the Glaze
Whisk powdered sugar and milk in small measuring cup or cup with a spout for easy pouring to blend, add more milk by 1/4 teaspoonfuls if you find the glaze is too thick to drizzle.
Place cake on tinfoil and slowly pour the glaze over the cake, allow it to dry and trasfer the cake to a cake stand. Decorate with finely chopped pistachios, dried rose petals and blueberries (optional but it looks pretty!).
For the Vanilla-Bean Cardamom Whipped Cream
Place a metal bowl in the freezer 15 minutes before making the whipped cream
In the mixing bowl add whipping cream, granulated sugar, cardamom and vanilla bean
Whip the cream on a slow speed to avoid making a mess, as air gets incorporated and the heavy cream thickens, you can turn up the mixing speed.
Whip until stiff peaks form and desired consistency has been reached.
Cover and refrigerate any leftovers for up to 3 days
Adapted from Martha Stewarts Blueberry-Lemon Bundt Cake
The Blondielocks | Life + Style https://www.theblondielocks.com/