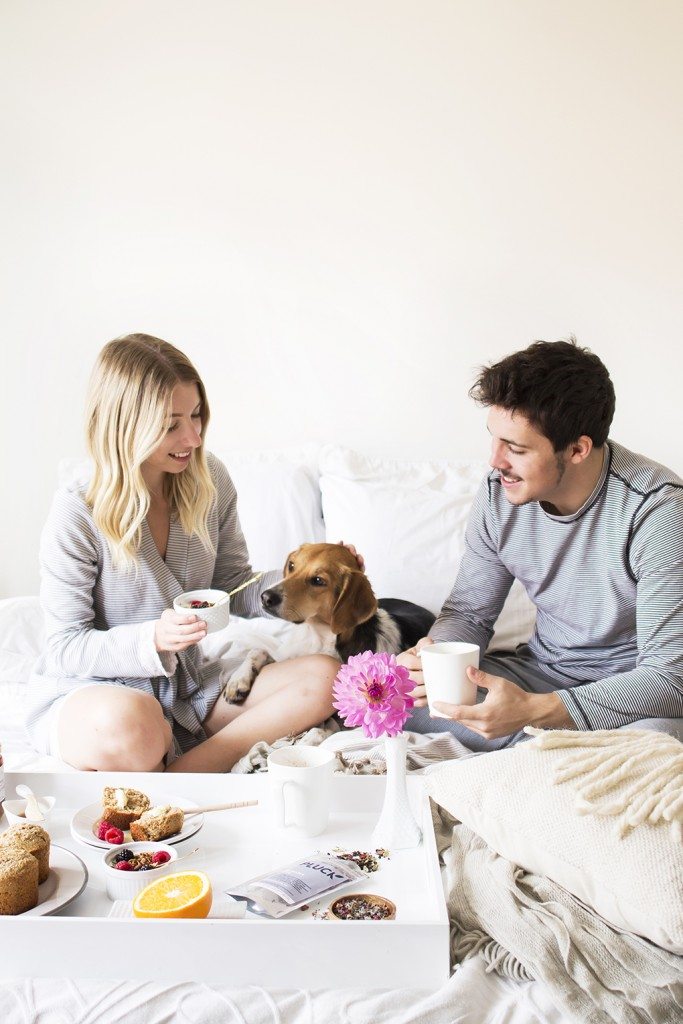 Today Jamie and I are celebrating our 8 year anniversary and one thing that is for sure is that we have experienced A LOT together in the last (almost) 3000 days! Jamie and I are high school sweethearts, which is both crazy and incredible at the same time. We have seen each other through our awkward teenage years straight through to adulthood. We've been through a boatload of emotions together and I for one couldn't feel luckier or more grateful to have experienced so much with him with hopefully so much more to come.Last weekend we decided to have a little pre-anniversary breakfast in bed with the help of Giftagram, one of my favourite apps for sending perfectly curated gifts quickly and easily. I ordered Jamie and I the Breakfast In Bed* basket by simply opening up the free app on my phone and inputting my information. Within two days a beautifully compiled basket complete with muffin mix, granola, chai tea and lavender was delivered to our door. With all of the time I saved on ordering this basket I was able to spend the morning hanging out with Jamie and Milo making and setting up our delicious breakfast (these chai lattes were delicious) in bed. We enjoyed such a relaxing morning full of lots of food, snuggles and love all thanks to the Giftagram app.
PS: Below are are 4 more great romantic ideas from Giftagram that Jamie and I would love to try. From foodie experiences to a couples spa package, Giftagram truly offers a convenient service and special gift ideas for everyone on your list.
The Gift Box ($59) or the Big Gift Box ($119)
Just like our romantic morning spent having brunch in bed a romantic evening complete with Moet champagne, Soma Chocolate and a Malin + Goetz dark rum candle delivered right to our door would be the perfect way to spend our anniversary evening.
Nella Cucina Cooking Class $125/each:
Jamie and I love cooking together, especially when it involves pasta, wine and music. Lately we have both had completely opposite schedules so making time to cook dinner together just hasn't been possible. I love the idea of planning a date night that revolves around learning new cooking techniques as a couple while meeting other like-minded people.
Hammam Spa couple massages $280:
My first couples massage experience was last year in Yorkville when Jamie booked an appointment after purchasing a deal on Groupon. Though his gesture was very sweet and Jamie had an amazing massage mine was literally the most painful massage I'd ever experienced. It resulted in me having to snuggle next to a hot water bottle for two days. I know from experience that the Hammam spa is the ultimate in comfort and relaxation and I would feel 100% confident in going for this couples massage there.
Colette Brunch for Two $108:
Colette is one of the most beautiful café/restaurants in Toronto in my opinion. I've only ever been for coffee and a sweet treat but both Jamie and I have been dying to try their brunch for quite some time. I love the idea of ordering this brunch over Giftagram and heading there on a weekend and pretending that we flew to Paris for the afternoon.
*The breakfast box was a seasonal item and is no longer available via Giftagram
A big thank you to Giftagram for partnering with me on this post.