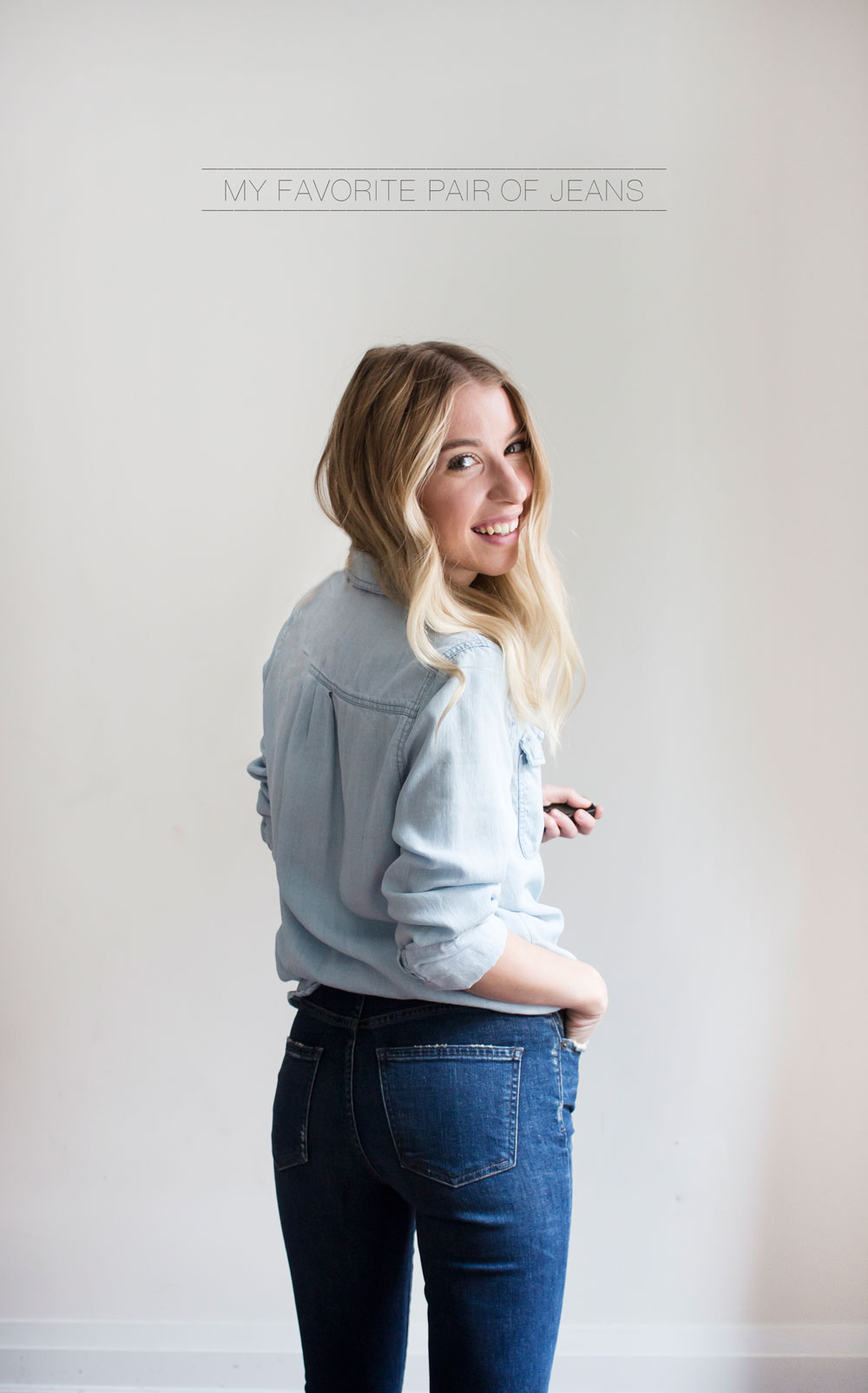 Here's a little background about my personal history with denim. After I graduated high school I decided that it would be best for me to take a year off and work. I didn't really know what I wanted to do but I was pretty sure that I wanted to be in the fashion industry and so I scored an amazing job at one of Halifax's most known clothing boutiques, Envy. It was there that I was introduced to the world of premium denim. At the age of 17 I had a denim collection that most would consider impressive veering on the side of excessive, haha! But with the amazing discount I received in combination with knowing I would soon be away in Toronto I wanted to stock up on the best possible denim I could at the time. Some people will argue that spending money on denim is a waste and that jeans are jeans but through my experience I have to disagree. There is nothing quite like a premium pair of jeans that fit perfectly, don't stretch and will last for years to come. With that said I have literally kept my jeans from Envy for years and Suffice to say, having a pair of jeans for over 5 years that are still wearable is pretty impressive in my mind.
After I was lucky enough to receive a discount on jeans I sort of went through a phase where I never wanted to pay full price for them. Because of this I always picked up my premium denim at stores like Marshalls and Winners which do have an amazing denim selection for a fraction of the price, but they don't always have the exact styles/sizes I'm looking for. Recently by fluke I scored a pair of Citizen Rocket's at Marshalls that quickly became my favorite pair and I have literally been wearing them non-stop (getting complimented each time). I decided that because I loved the rocket's that I found at Marshalls so much I was going to invest in another pair of them at full price, aaaaand que deep breath! I headed into Club Monaco recently and found the perfect pair of high-waisted Citizen Rocket's and dropped my Visa down on the counter. I honestly couldn't be happier with the purchase of these jeans and I am telling you if you're looking for a classic pair of high-waisted skinnies that will last you FOREVER the Citizen Rocket's are the way to go. And If you don't believe me just yet see below for 3 ways to style them…you won't regret it!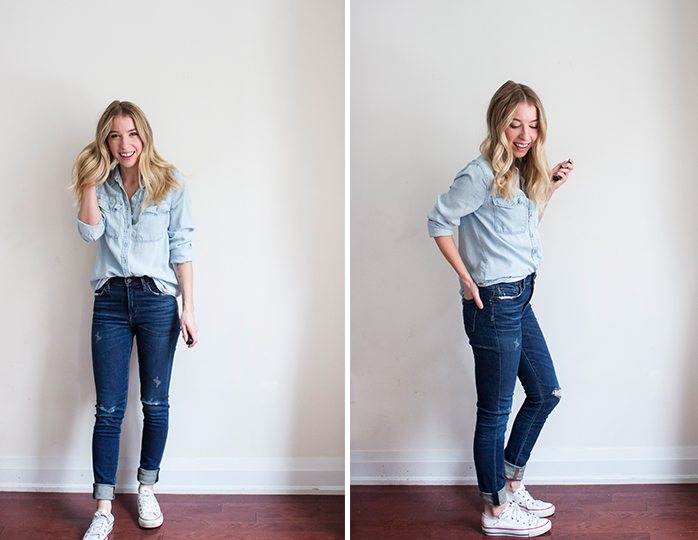 Option 1 Classic Canadian Tuxedo: The classic Canadian tuxedo has been a go-to look of mine for years. It's easy, stylish and quick to throw together when there's a time crunch. I love wearing these dark wash jeans, slightly destroyed jeans with a baby blue chambray button down and Converse sneakers because of the casual/comfy vibe it lends.
Similar Outfit Details: Jeans // Shirt // Sneakers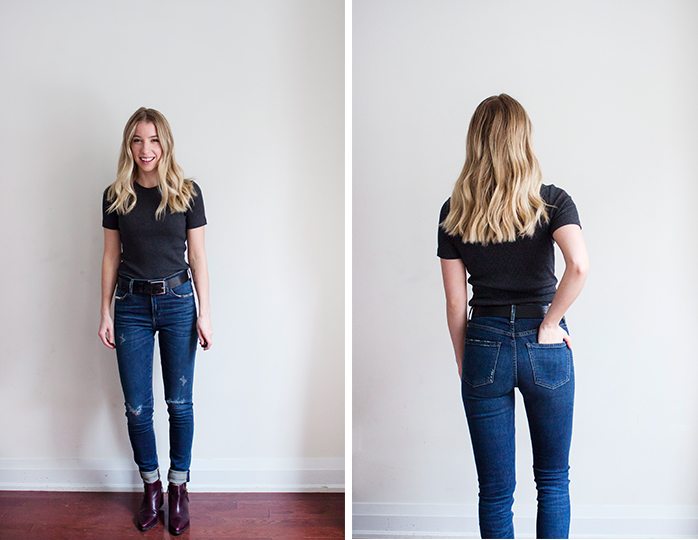 Option 2 Tucked in with a Belt and Boots: These jeans are the perfect jeans for tucking in a tight shirt or bodysuit with. This look is pretty nineties inspired but I love how the jeans make it feel more modern. Not only do these jeans look amazing with a tight shirt and belt, but because they are high waited they suck, pull and smooth everything up giving my body a great shape.
Similar Outfit Details: Jeans // Top // Belt // Boots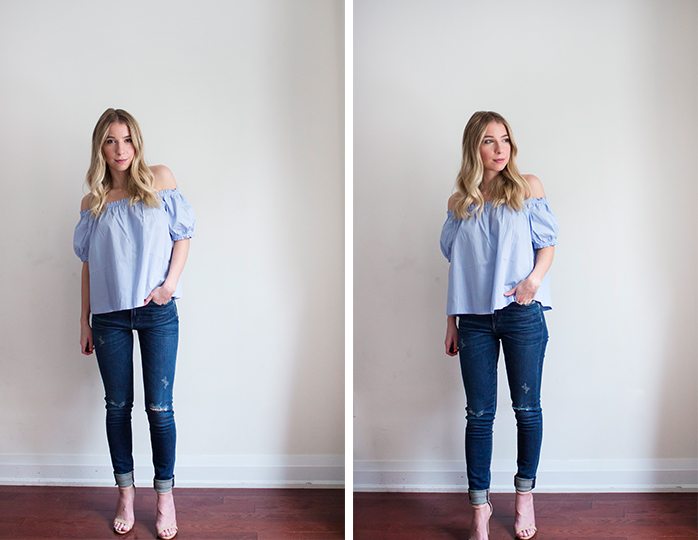 Outfit #3 Off the Shoulder top + Minimal Sandals: The off the shoulder trend is huge right now and it is one of my favorite trends to wear with these jeans (see here with my other Citizen Rocket's). I love that I can wear a more cropped off the shoulder top and not have to worry about my belly being exposed or a longer one because these jeans are just so perfectly skinny so the proportions still look chic.
Similar Outfit Details: Jeans // Top // Heels