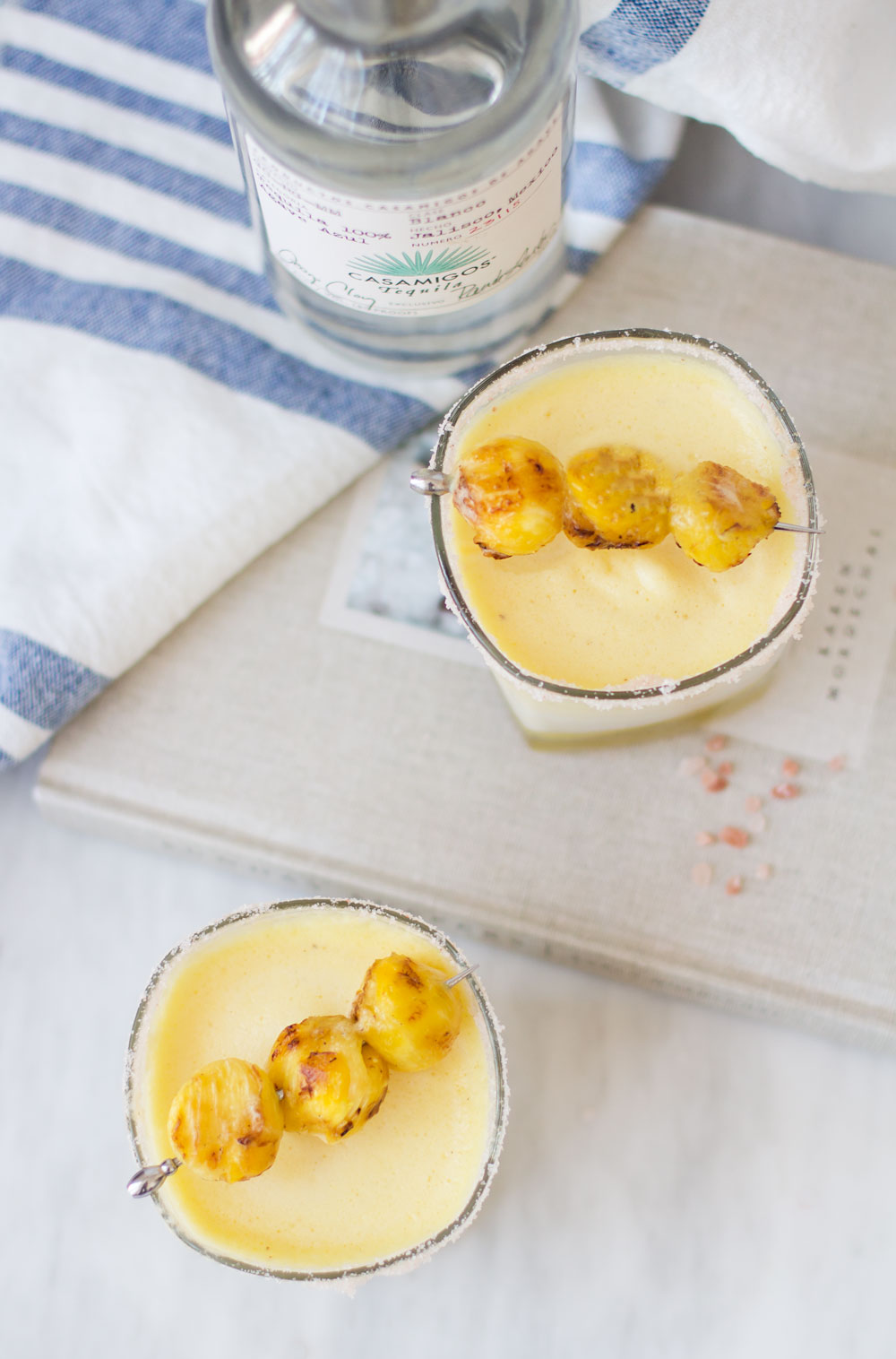 Just because my Cinco de Mayo plans are non-existent this year due to prior commitments does not mean that I can't make an excuse to create a delicious cocktail. Margaritas are my go-to drink in the warmer months, so when Casamigos sent me over a bottle of their delicious tequila the first thing that came to mind was obviously this classic Mexican drink. I love love love the sour taste of a the quintessential lime margarita, but I always add a splash of pineapple juice for a touch of sweetness. For this cocktail I decided to switch up the role that pineapple usually plays in my lime margaritas and decided to use the sweet fruit as the base. To make this cocktail a bit more elevated I tossed the fresh, juicy fruit into the smoker and charred up a few pineapple balls on the barbecue for an unexpected twist on the pineapple margarita, and you guys it did not disappoint!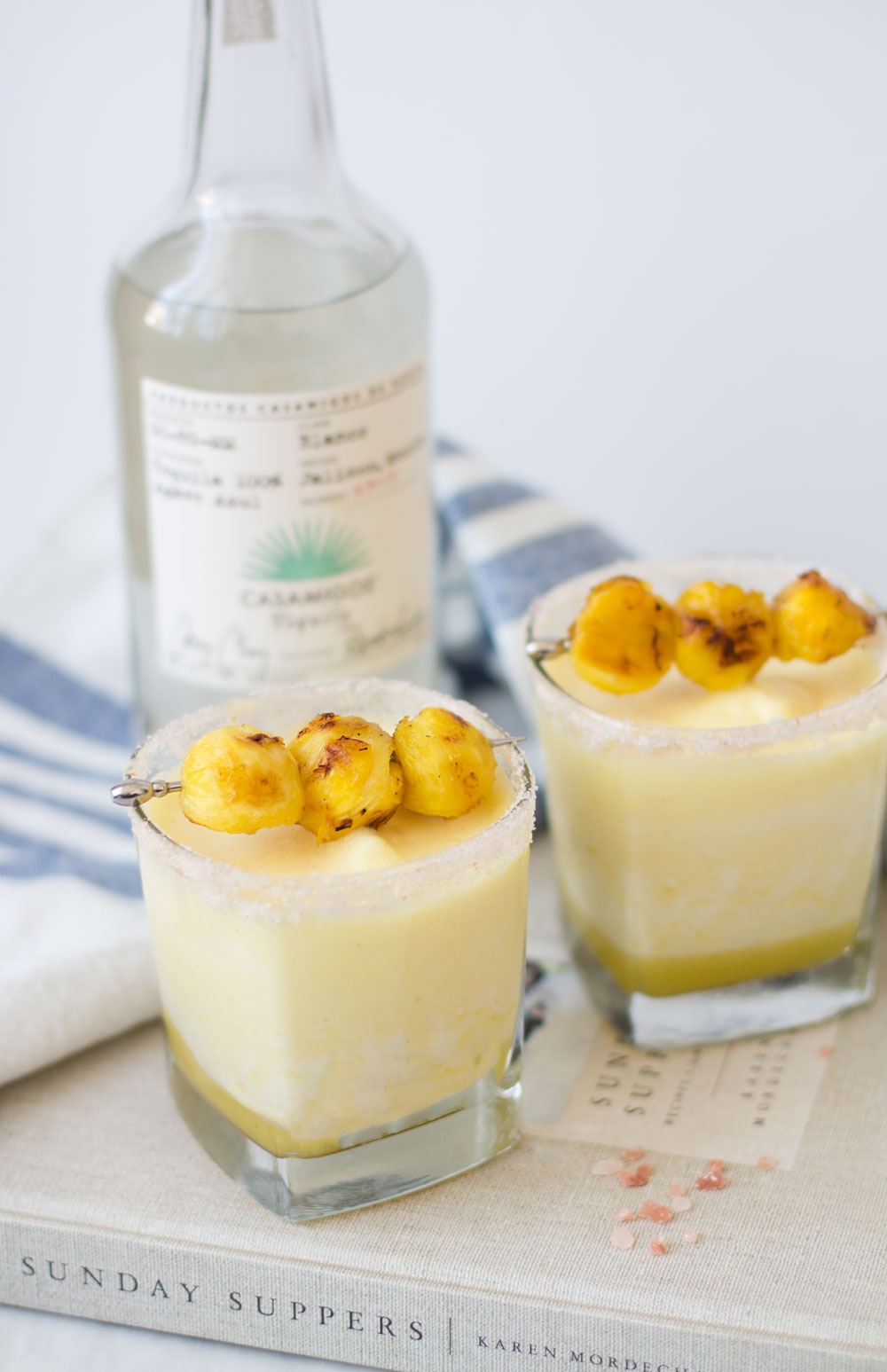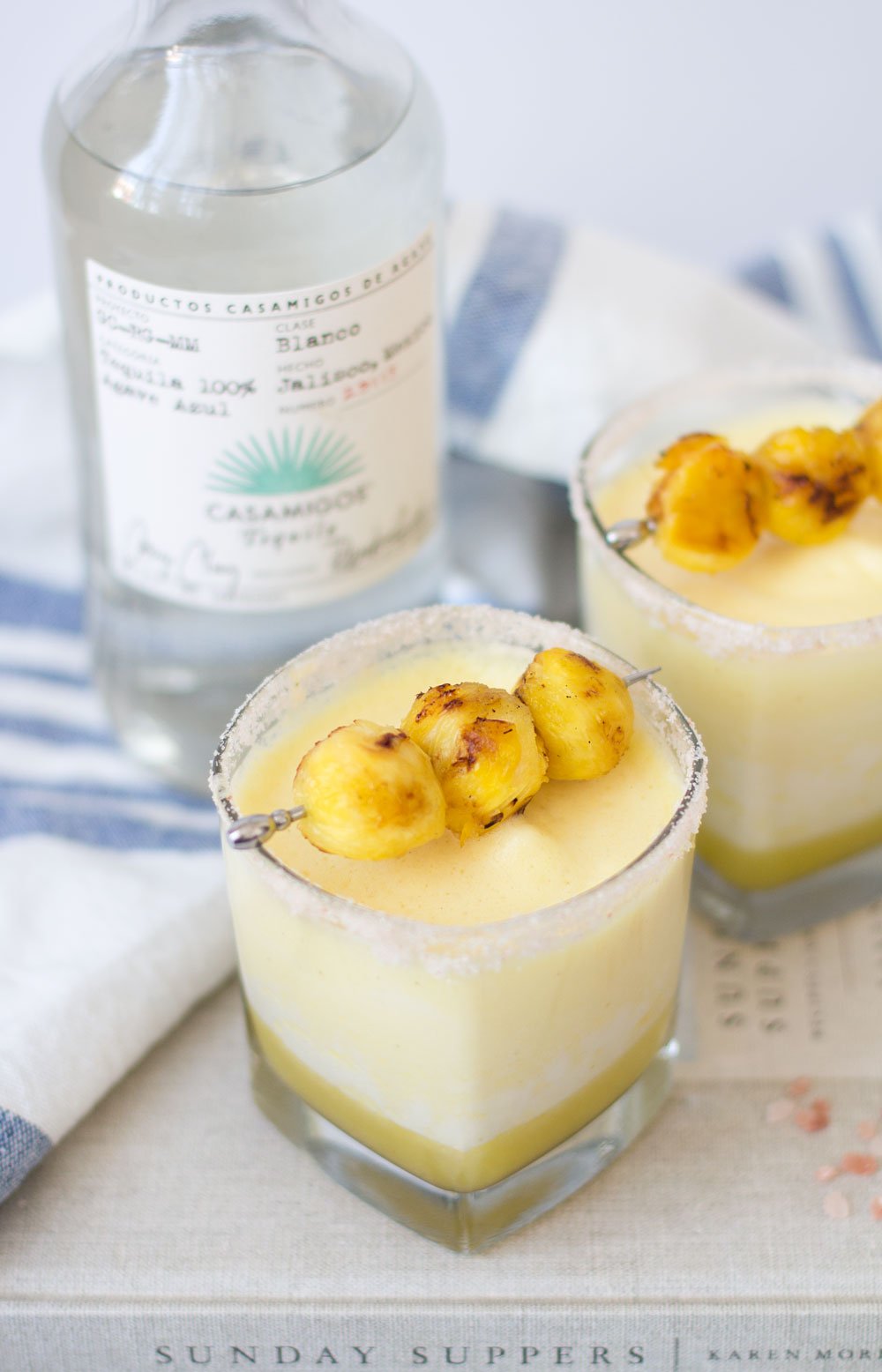 Smoked Pineapple Margarita
2016-05-02 22:40:37
Serves 1
A blended pineapple margarita with a hint of smokey flavour.
Ingredients
Per 1 cocktail
1oz Casamigos Tequila
1/2 Oz Triple Sec
Handful Smoked Pineapple, blended + strained
Juice of 1 lime
Handful Ice
Instructions
If you are making more then one cocktail (I made a pitcher) 2 pineapples will give you about 5 drinks.
Begin by using a melon baller to scoop out a few pineapple balls, set aside.
Cut the remaining pineapple into cubes and if there is a smoker available add your wood of choice and smoke the pineapple for 30 minutes to achieve a subtle, smokey flavour. A smoker definitely works the best for this cocktail but you could barbecue the pineapple to achieve a similar flavour.
Remove the pineapple from the smoker/barbeque and add it into a blender and blend until smooth.
Pour the pineapple through a mesh strainer and add the strained juice into the blender. If you are going to make 1 cocktail fill your glass with the amount of juice you will need first making sure to reserve some room for the alcohol, lime juice, etc and then pour the juice into the blender.
Add ice, tequila, triple sec and lime juice to the blender and blend until to get slushy meets smoothie like consistency.
Rim your glass with lime juice, pink salt and pour your drink!
Garnish with charred pineapple balls and serve.
The Blondielocks | Life + Style https://www.theblondielocks.com/