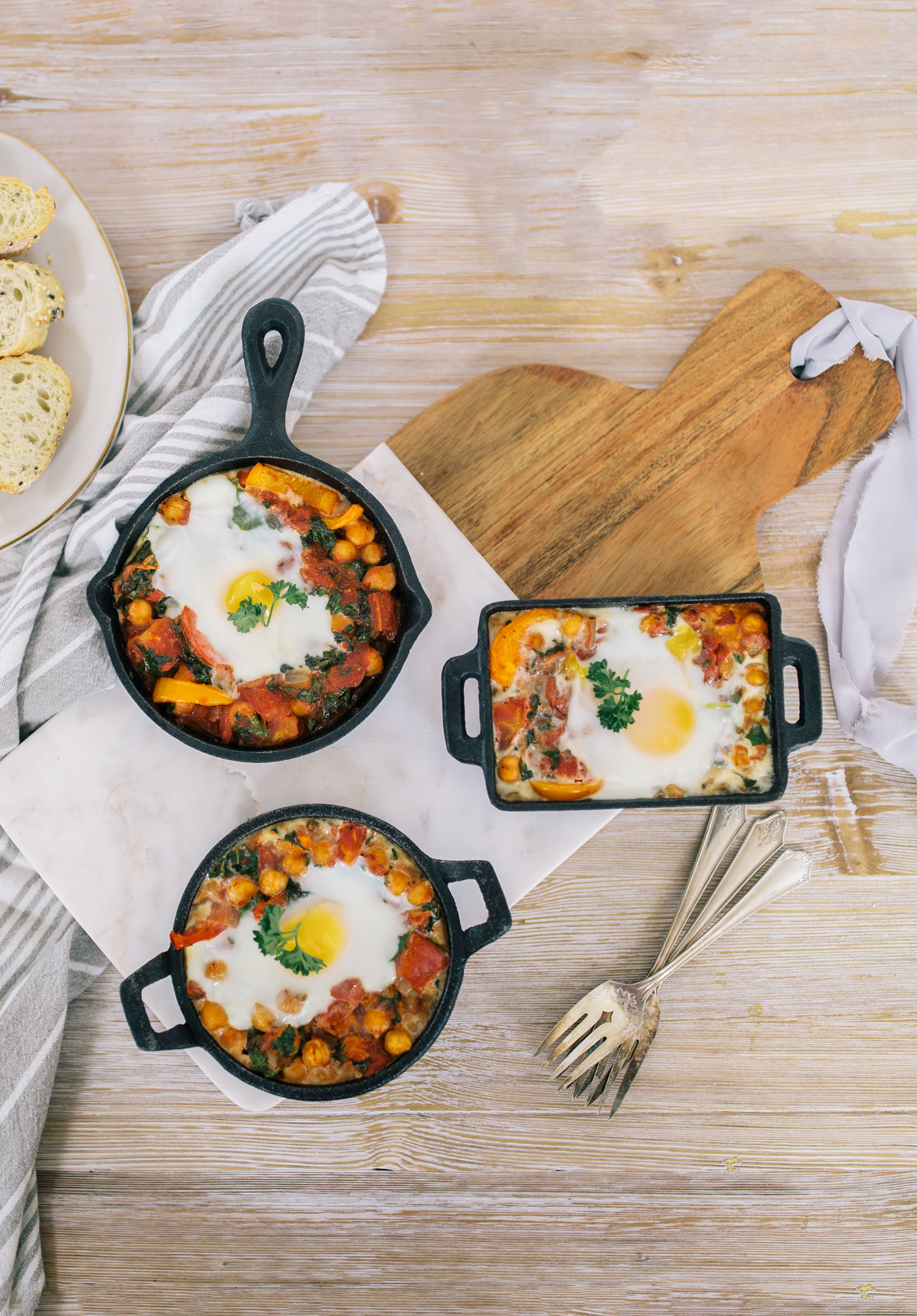 Be it for breakfast, lunch or dinner, Shakshuka is by far one of my favourite dishes to enjoy during the cold winter months. This comforting Mediterranean dish compromised of tomatoes, peppers, eggs and delicious spices sure hits the spot and takes under 30 minutes to put together. When I lived in Toronto, my sister would make this recipe for us often and we all LOVED it…she also recently made this shakshuka for my baby shower and nearly every.single.person in attendance asked for the recipe. I figured that definitely meant I should share it here on the blog (note to those in attendance: I added chickpeas to this recipe). This is certainly a recipe you're going to want to whip up stat…now excuse me while I go grab some leftover shakshuka.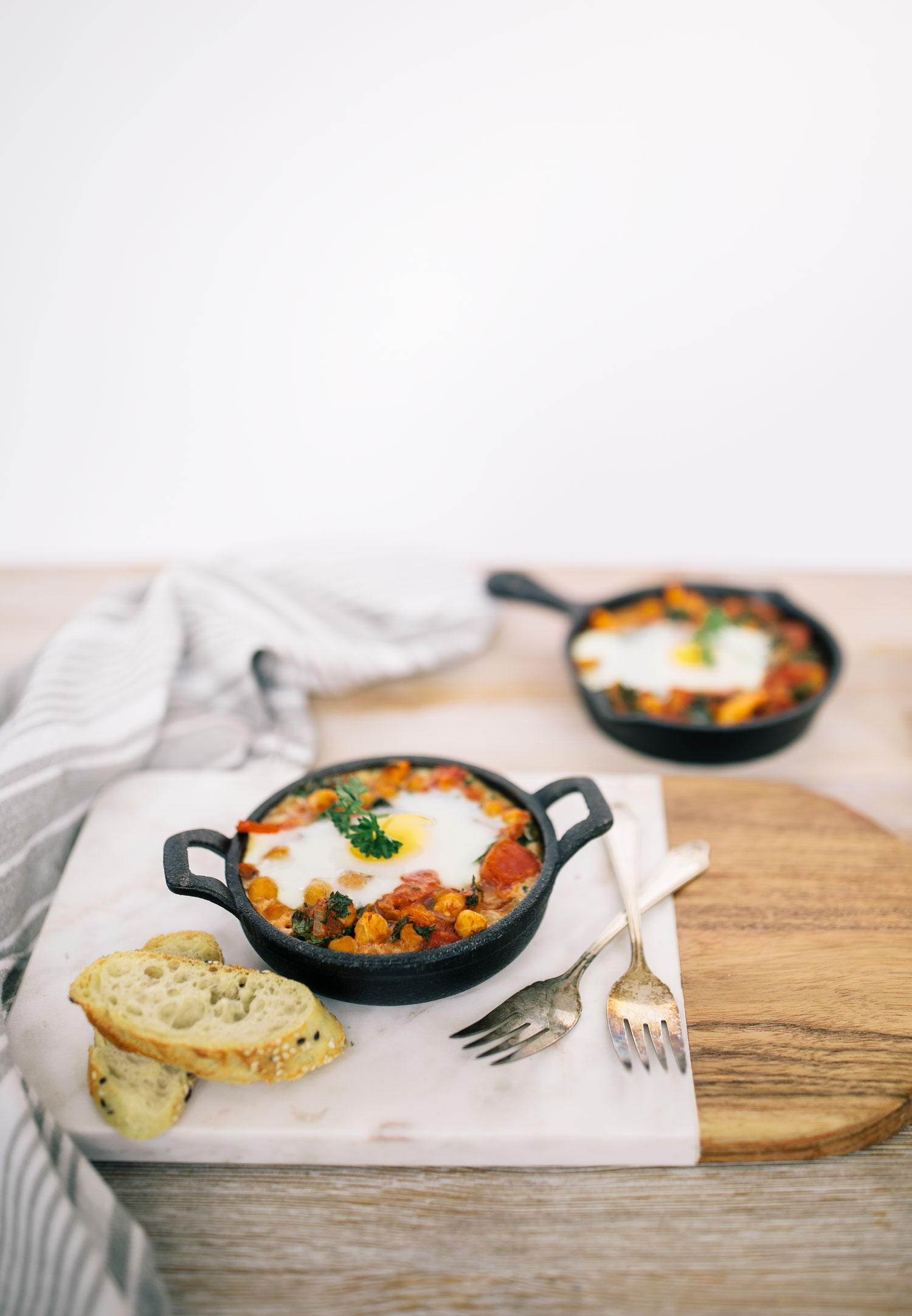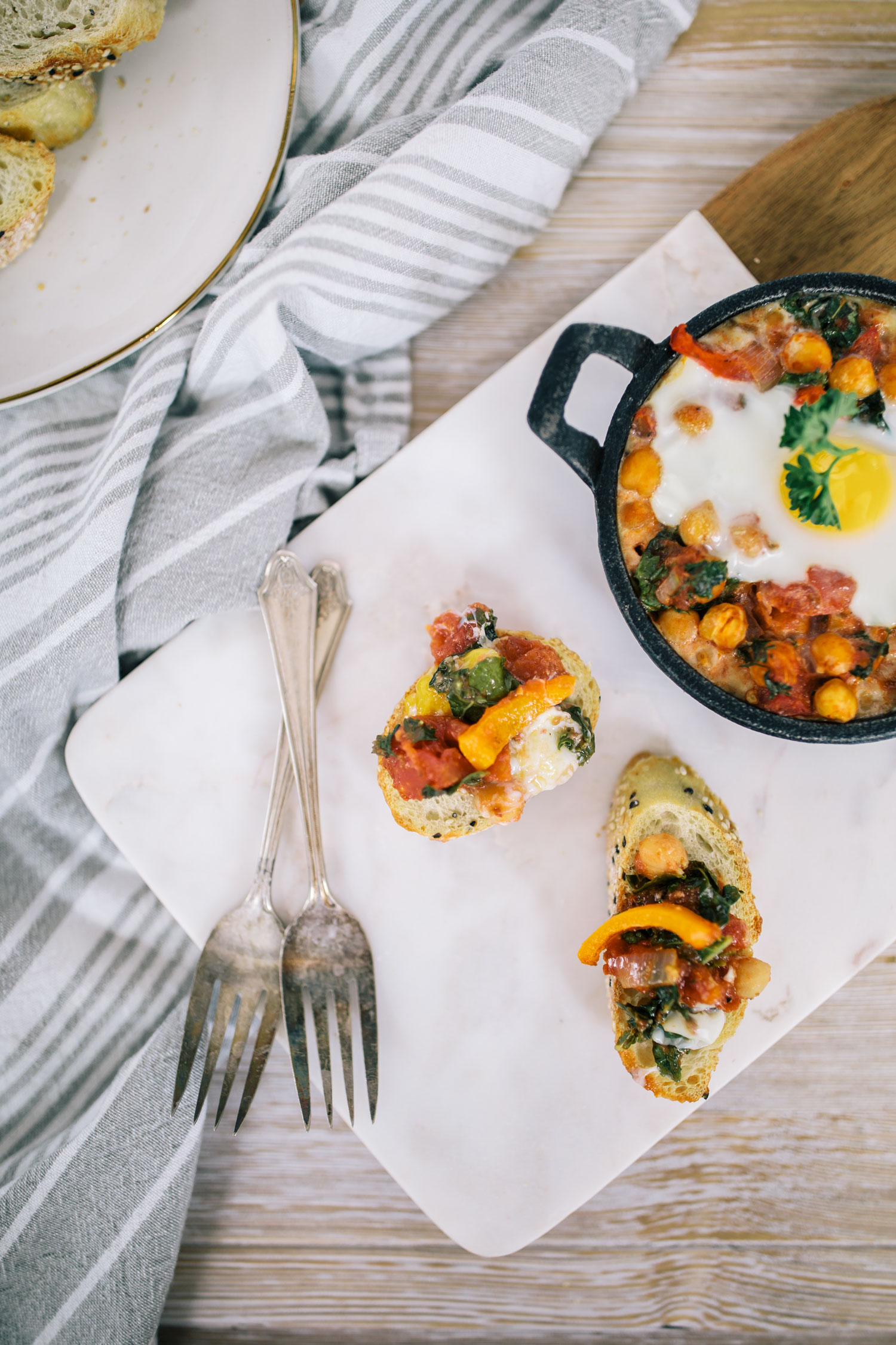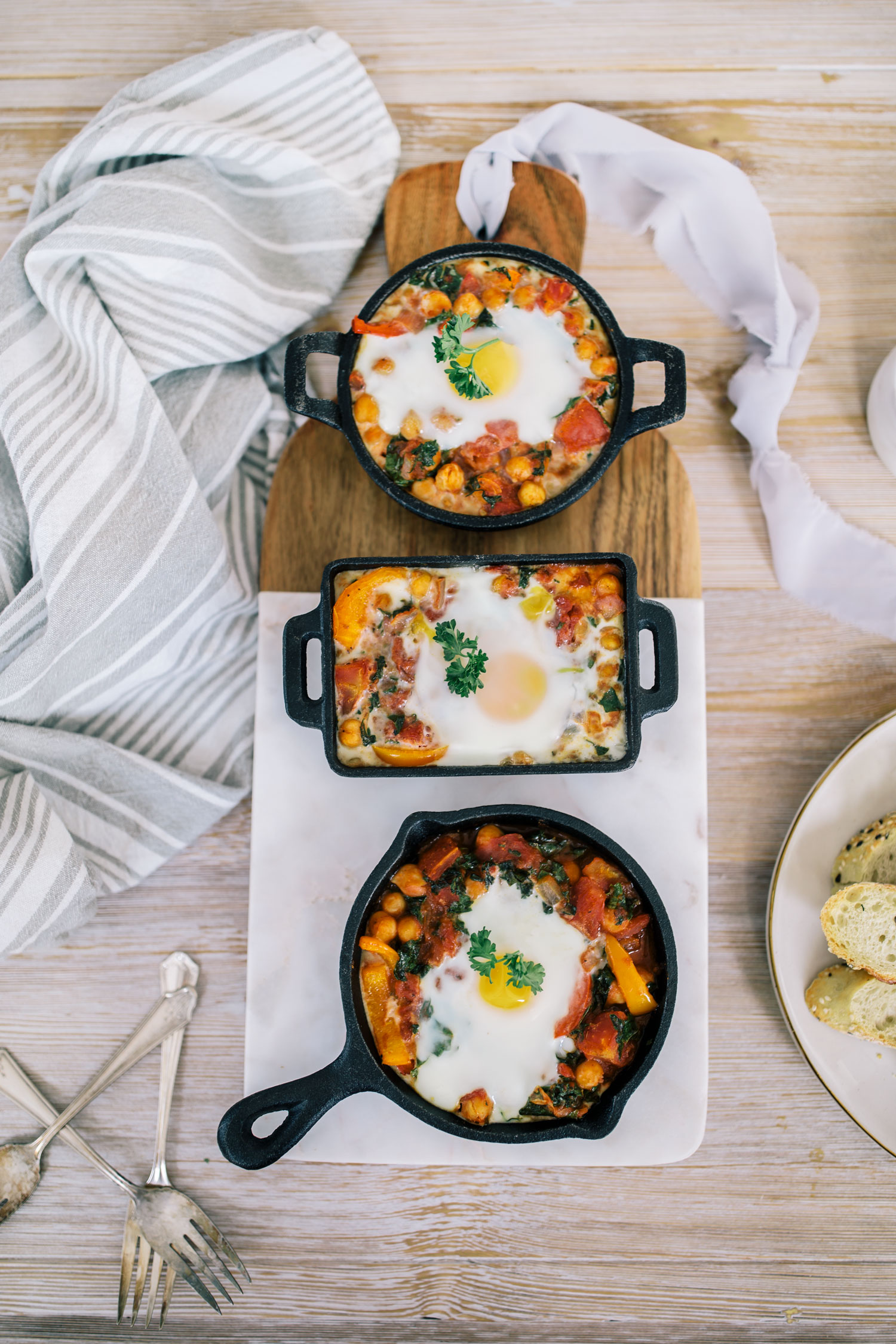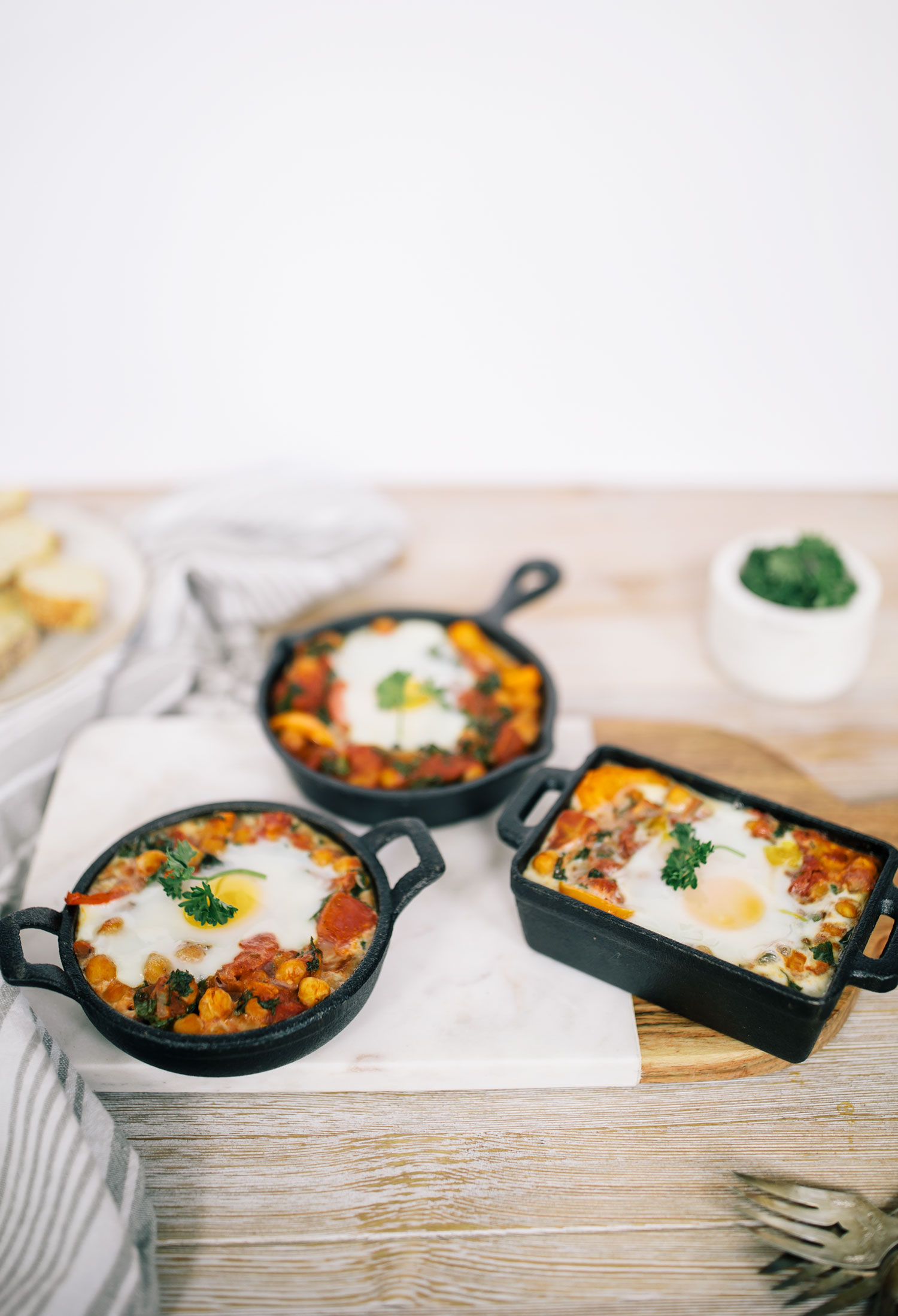 Shakshuka
Ingredients:
1/2 yellow onion, diced
2-3 cloves garlic
1 tsp cumin
1 tsp garlic powder
1 tsp oregano
1/2 tsp red pepper flakes
salt & pepper to taste
1 can organic diced tomatoes
1 can chickpeas
1 red pepper, sliced into thin strips
1 orange or green pepper, sliced into thin strips
1 handful kale, chopped
1 handful parsley, chopped
4-6 eggs
Directions:
Preheat oven to 350 degrees
Add olive oil into In a cast iron skillet over medium heat
Sautee onions and garlic until translucent.
Add spices and sautee for about 60 seconds, until fragrant.
Add tomatoes and chickpeas and let the mixture simmer for about 3 minutes
Add red peppers
Add kale and parsley just before the eggs as these cook quick!
Make small pockets or wells in the shakshuka mixture and crack an egg into each pocket you've made.
Place shakshuka in the oven for about 10 minuites or until the eggs are cooked to your liking (I like mine still runny)
Optional: top with more parsley, feta cheese and serve with garlic or crusty bread…mmmm!