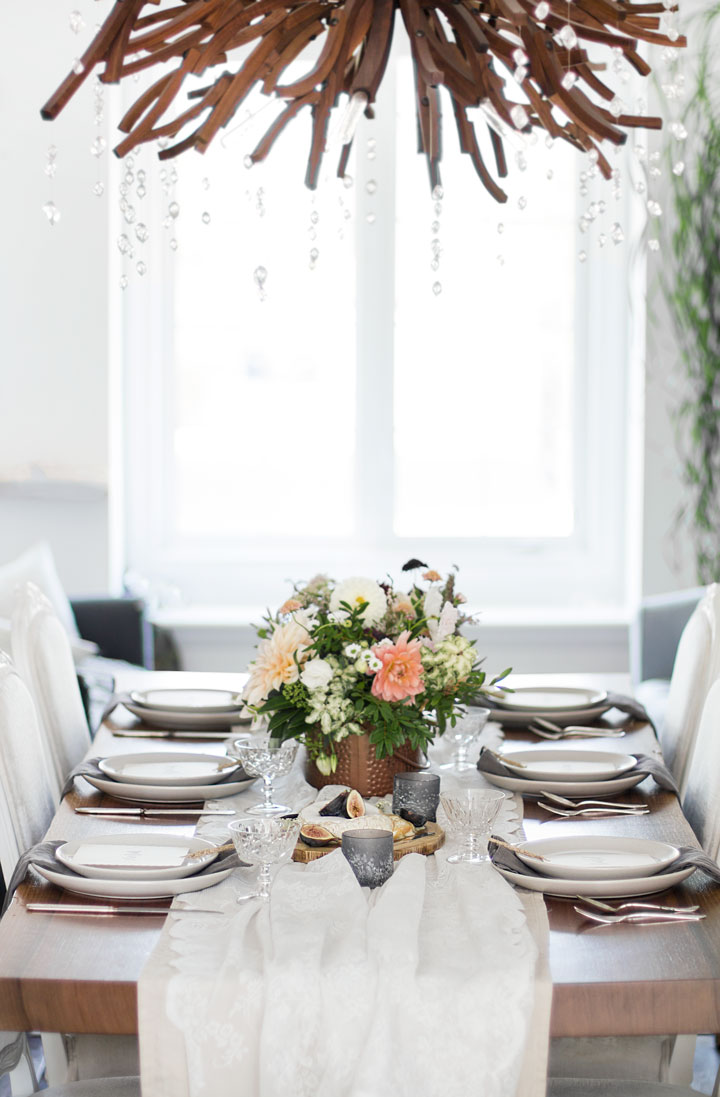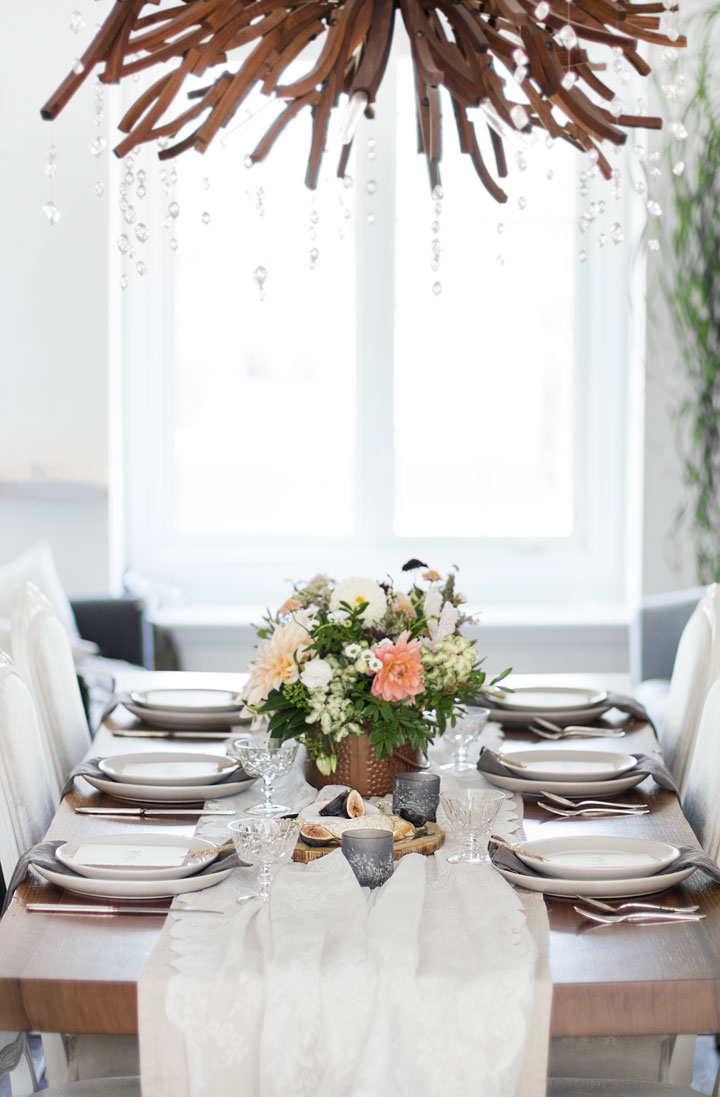 It might be hard to believe, but the first day of fall is next week!
That means it's officially time to pack away the summer clothes, make a pumpkin spice latte (or two) and start transitioning your home to fall (hello cozy knit blankets!). This fall I'm making it a point to take things slow meaning I really want to focus on creating a feeling of comfort and family throughout our home. Thankfully The Home Collection from Real Canadian Superstores has made doing just that easy with their simple, stylish and affordable harvest dining collection.
I recently had the thought to host a little welcoming fall dinner at our home but unfortunately we have a very awkwardly shaped living/kitchen area that doesn't allow for a dining table. I decided to enlist the help of our amazing neighbors, whom have also become great friends, and borrowed their home for the evening (yes, they were invited to dinner too!). I was thrilled to use their home because one of our neighbors Marc is an insanely talented craftsmen and he actually made the live edge dining room table I created this fall inspired tablescape on. I am beyond thrilled with how this rustic harvest inspired tablescape turned out so be sure to keep reading to see how it all came together with the help of Real Canadian Superstores.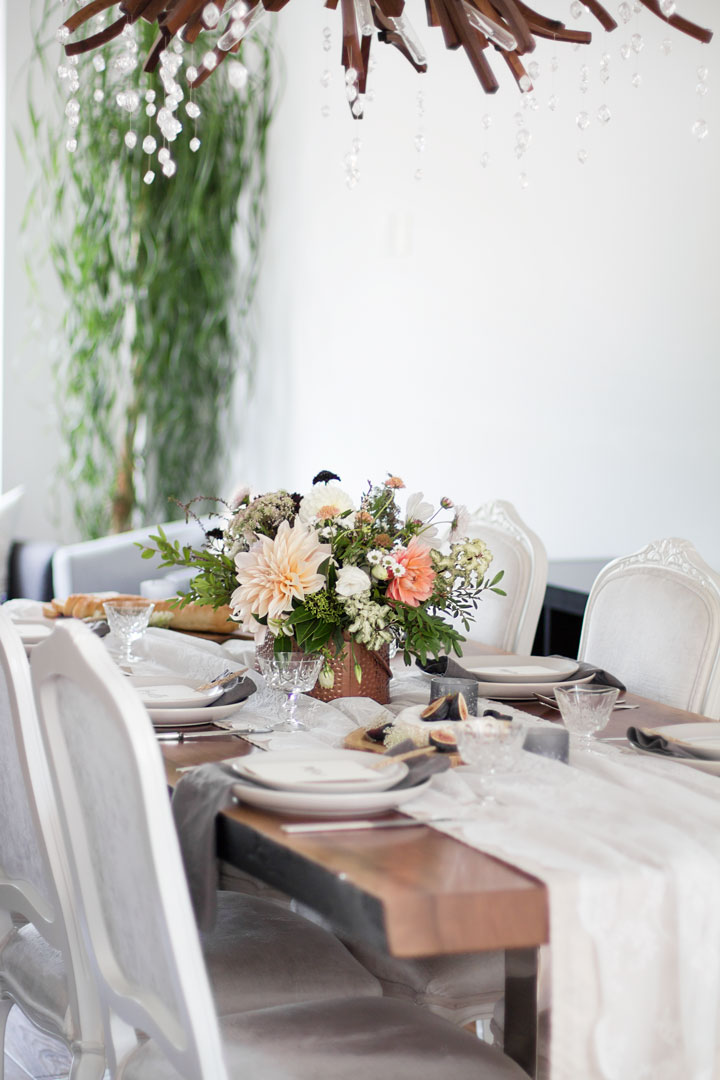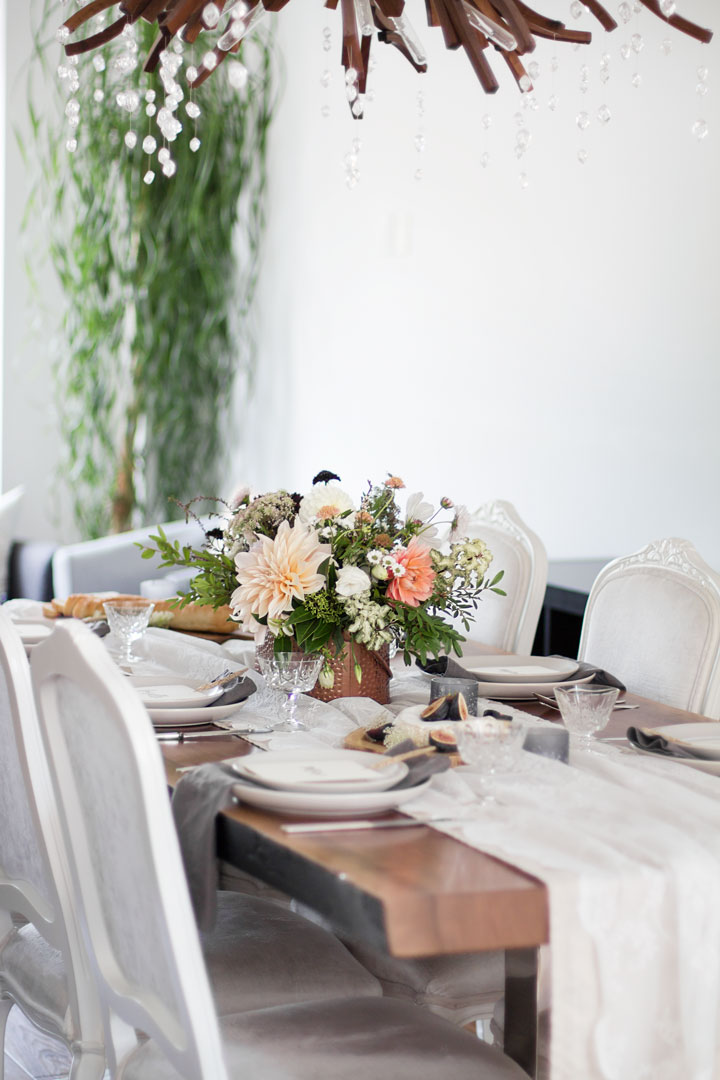 The latest Home Collection from Real Canadian Superstores has quite literally blown my mind with the thought and style that has gone in to it. The PC® Artisanal Collection fits into our home décor seamlessly because of it's muted two tone palette and rustic meets classic design. The dinnerware is simplistic yet feels elevated and classic making it the perfect starting point for this tablescape. Admittedly the plates now have a permanent place in our cupboard because I just love them that much.
To create this tablescape I started by layering a neutral linen table runner underneath a scalloped lace table runner to create a light, airy texture on the wood table.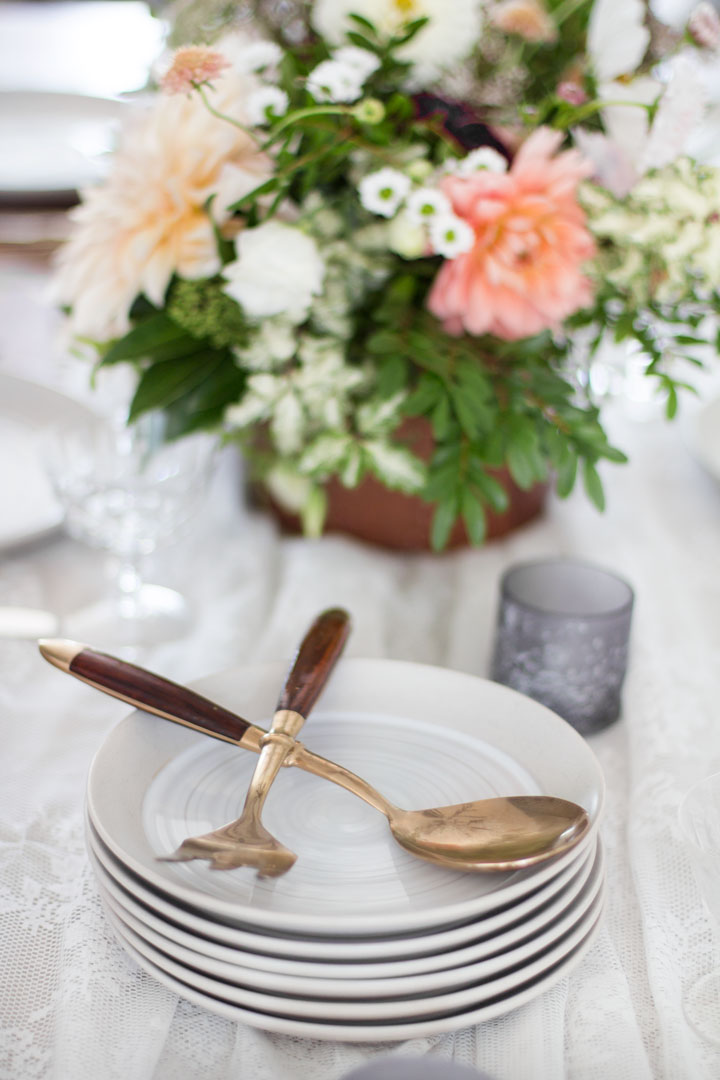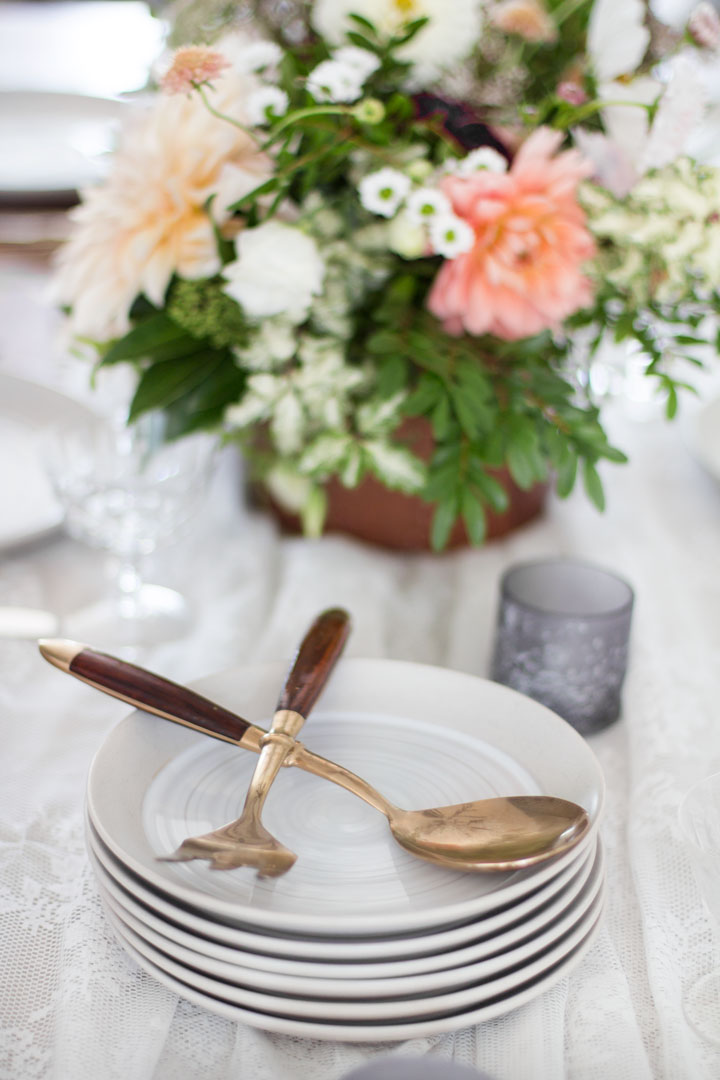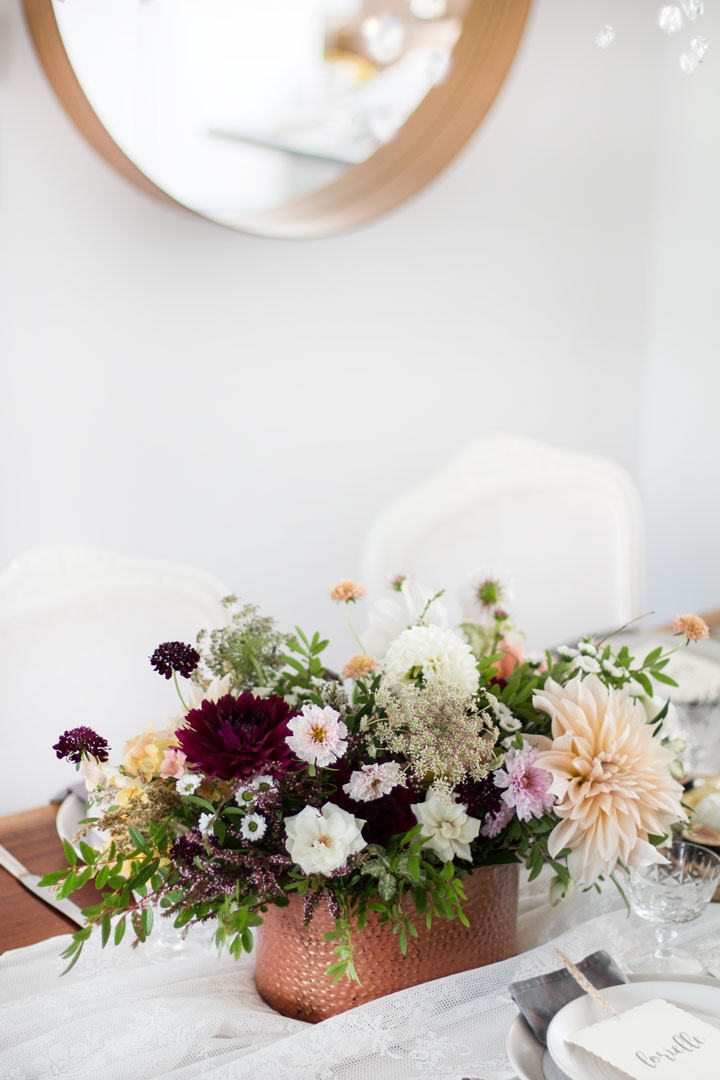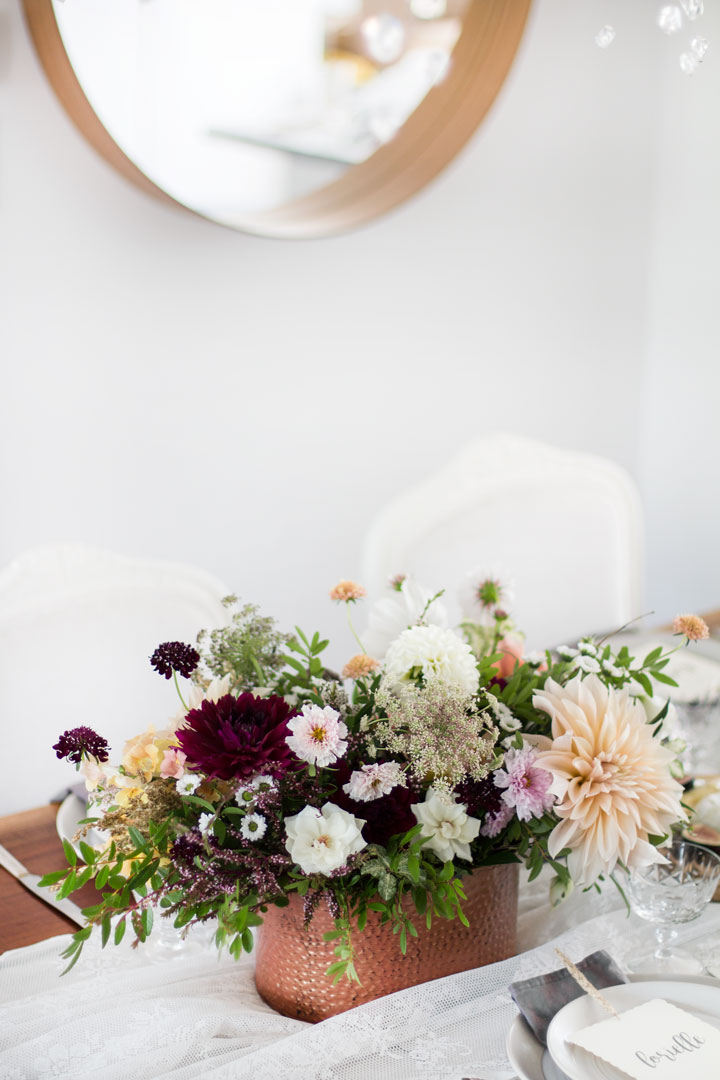 After the table runners were laid, I placed the most gorgeous flower arrangement from Wild North Flowers in the center of the table. For this tablescape I wanted a floral arrangement that made a big impact yet felt natural and garden inspired, and I couldn't think of a better florist to aid in creating that than Wild North Flowers. All of the flowers they use are grown right here in Ontario and I was completely smitten with how this arrangement turned out (just look at those massive dahlias!). The thing I love most about this arrangement has to be the vessel that it was created in. The hammered copper caddy from PC® was actually meant for holding items like utensil's or napkins but as soon as I saw it I knew it would make the most spectacular vase (it's so versatile!). I love the look of hammered copper in the fall as it makes even the most basic of table settings look elevated.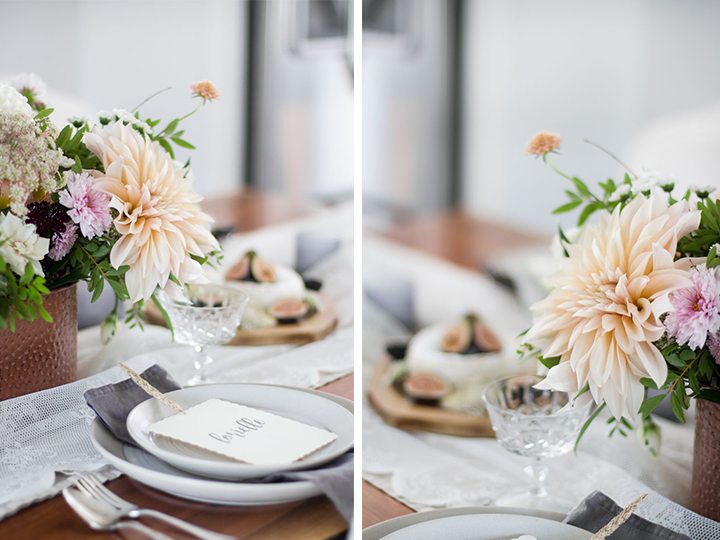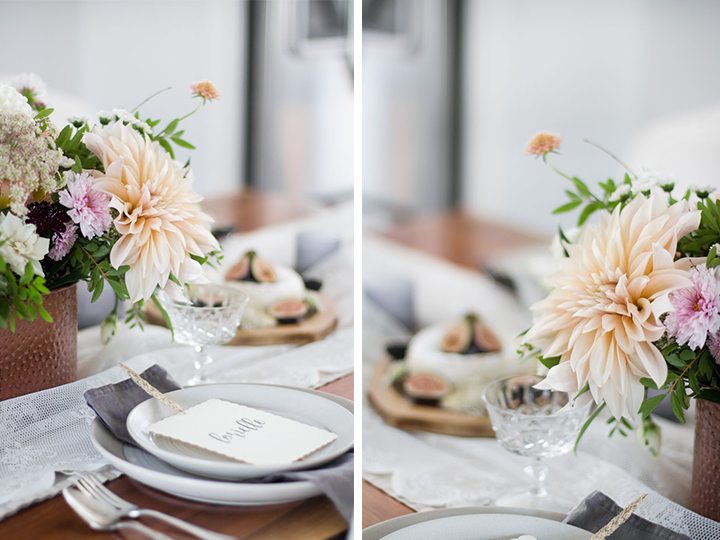 Following the flowers, I pulled out my plates from the PC® Artisanal Collection and got to work. I layered the plates by placing the large plate first on the bottom followed by a grey linen napkin that I folded and then topped it with the smaller dessert plates. I already mentioned how much I love these plates above but I'll just reiterate it again. The two-tone oatmeal colour is beautiful and the quality of them is amazing for the price.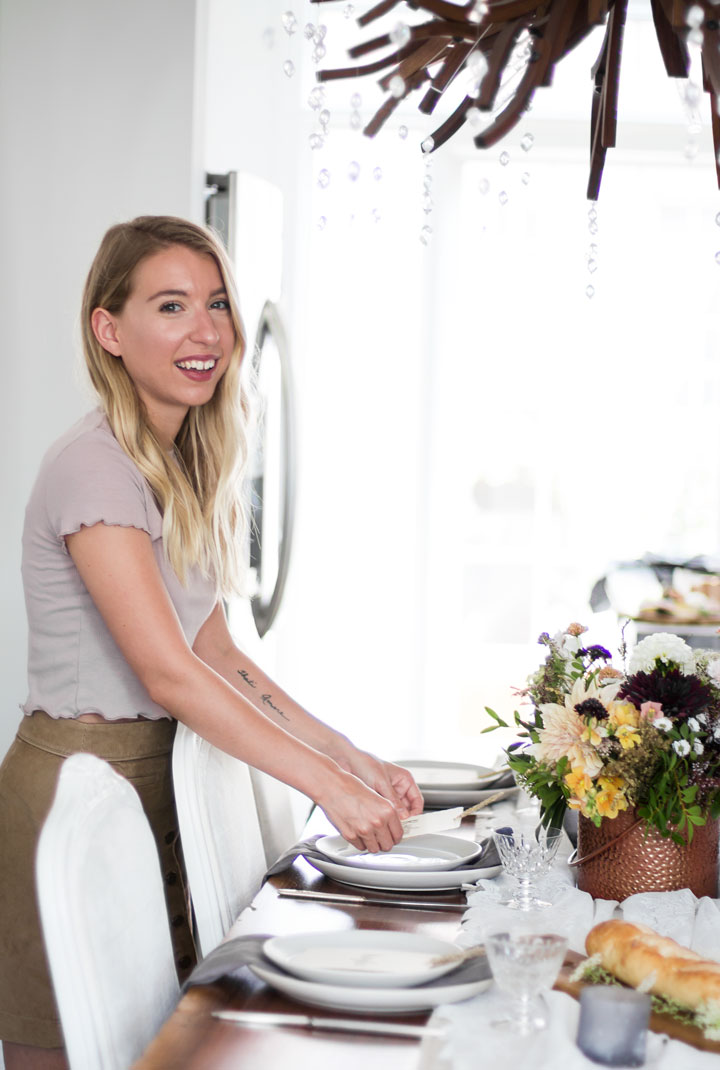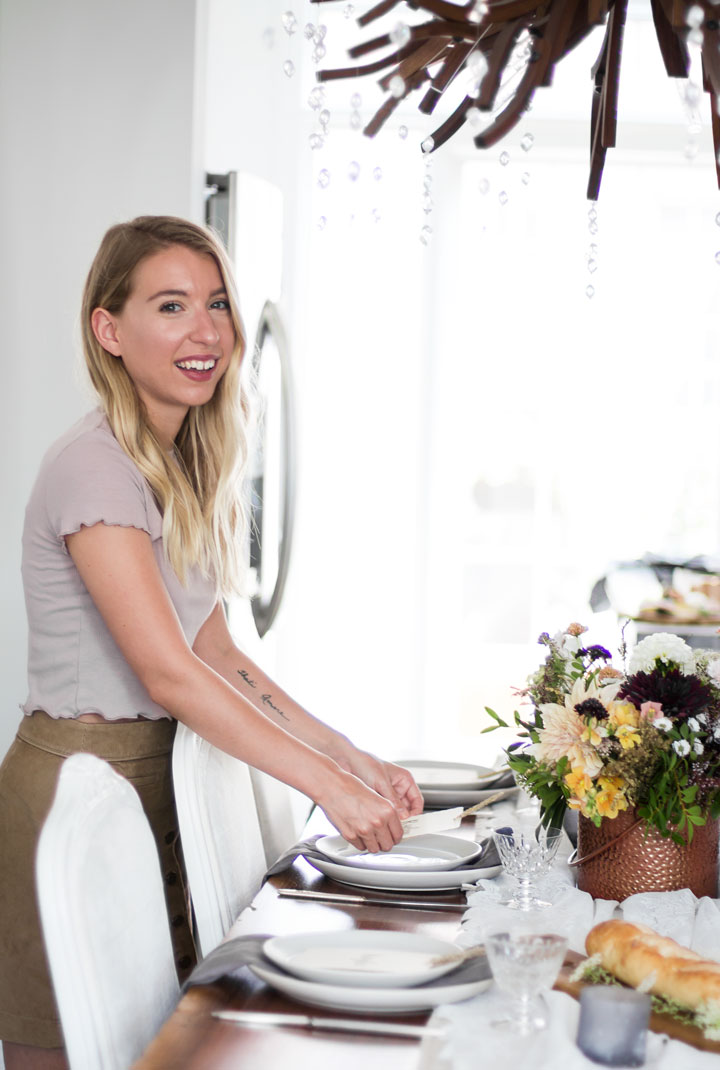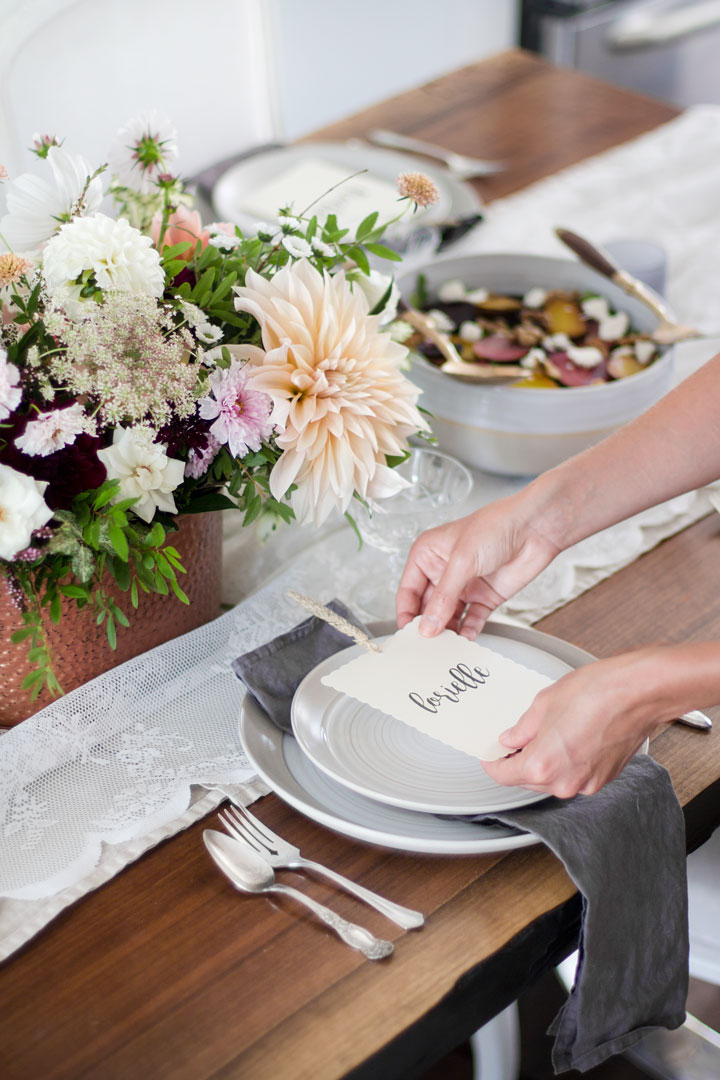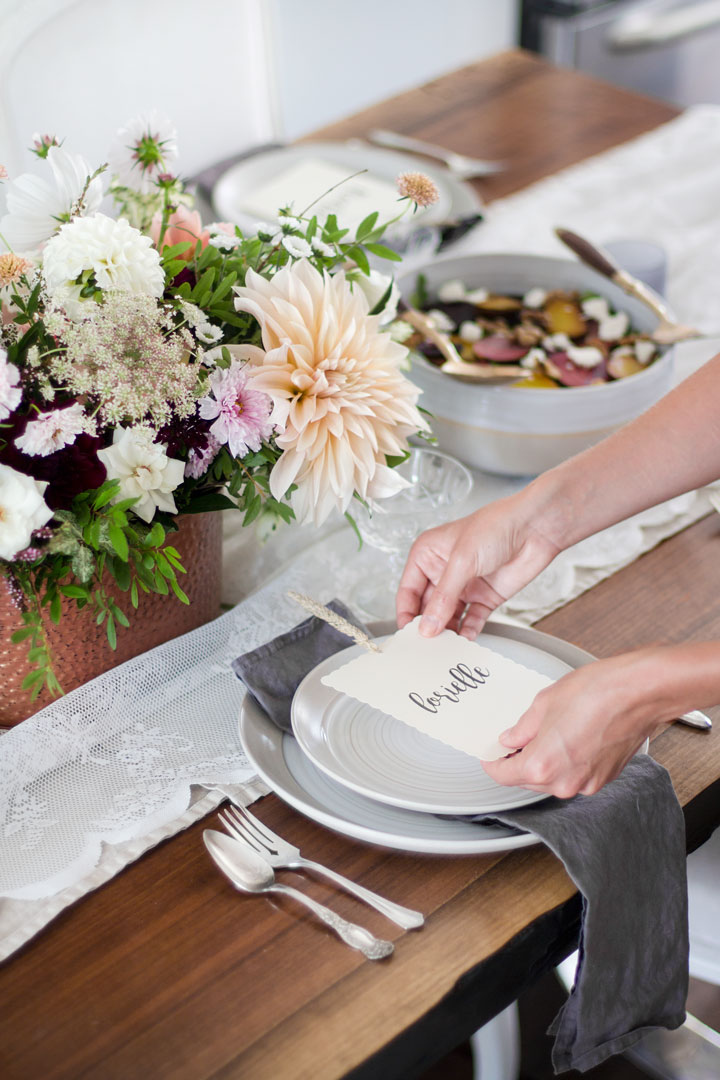 Once the plates were all laid out I placed name card holders that I made on top of each setting. For the name cards I simply found some scalloped letter paper at a local office supply store and printed out each person's name on the card. I then made a small hole at the top of each piece of paper using a hole punch and slid a piece of wheat through the hole. Creating a place cards is a simple yet special way to make your guests feel welcome, plus they look pretty darn cute if I do say so myself!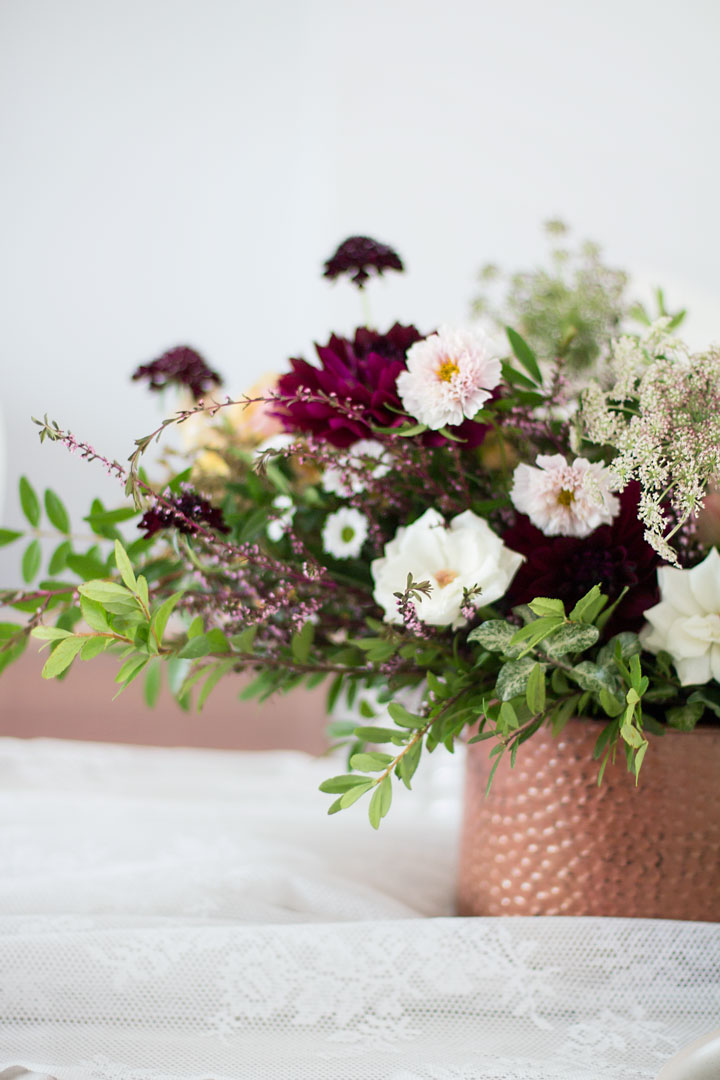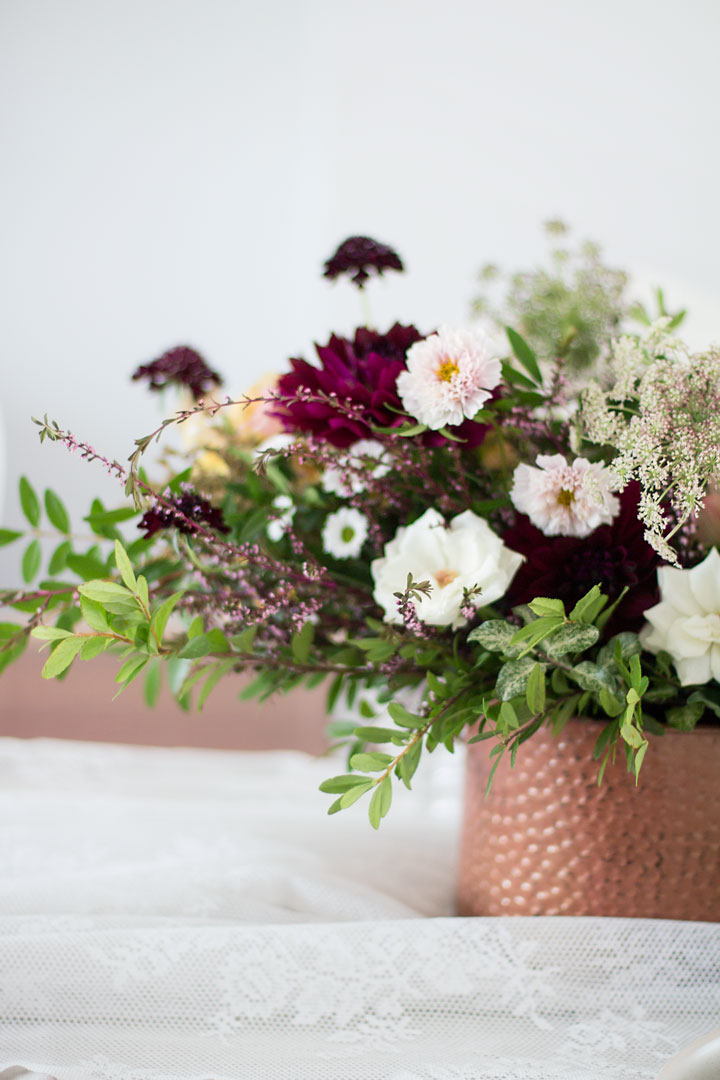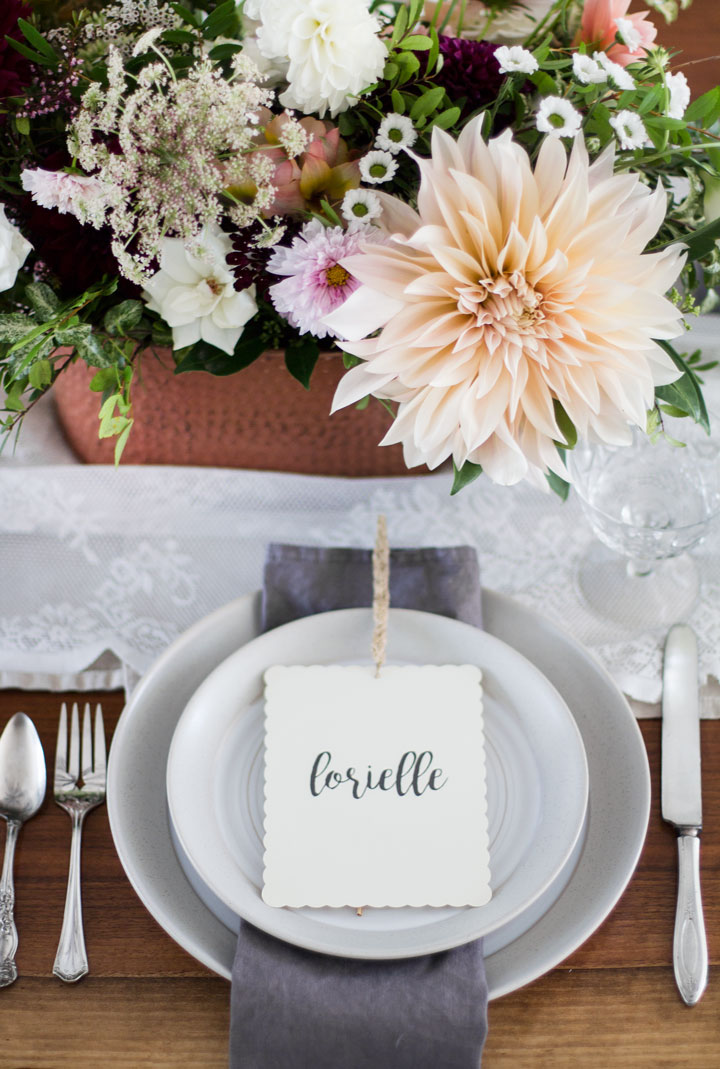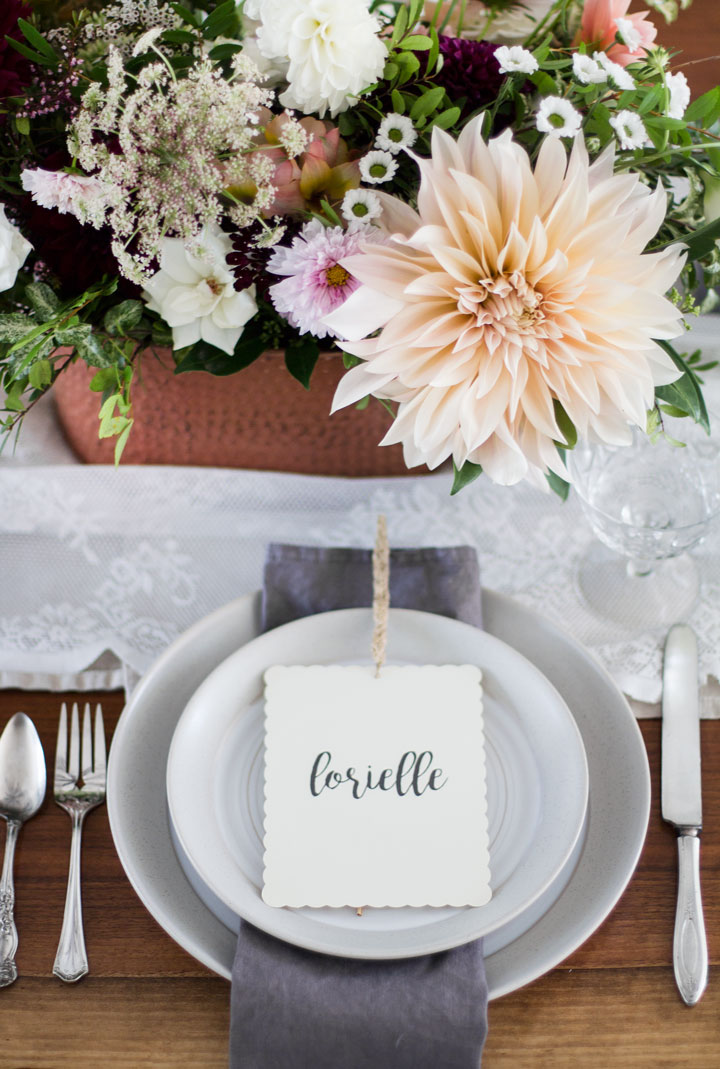 To finish off the place settings, I pulled out some mix and match vintage flatware and glassware that I had around our house to really give that rustic meets classic feeling.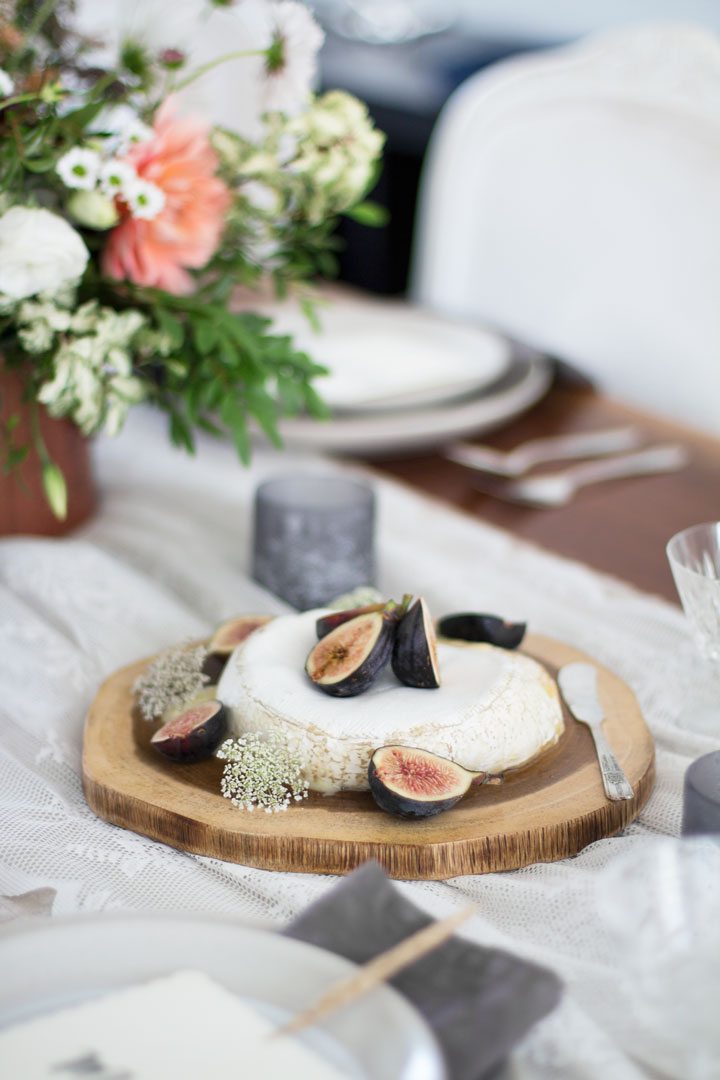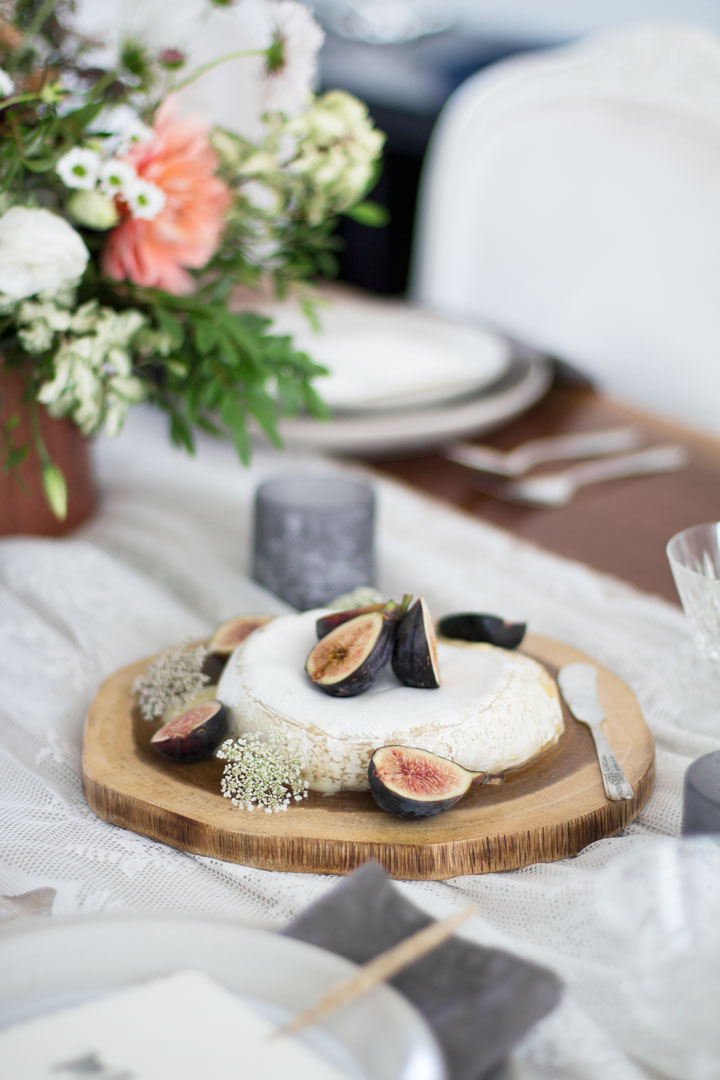 Because we were going to be enjoying a pretty big meal I didn't want to serve anything too heavy before dinner but I also didn't want to waste the adorable serve ware that Real Canadian Superstores sent over. I used the PC® Acacia Bark Rim Paddle to serve a simple baguette (who doesn't love bread) but jazzed it up a bit with some greenery. I also made a baked brie and served it atop of the Acacia Bark stump which really brought the outdoors in. I topped the brie with fresh figs and greenery which made the cheese feel very fall inspired. Finally, I served an easy beet salad in another one of the PC® Artisanal Collection serving bowls.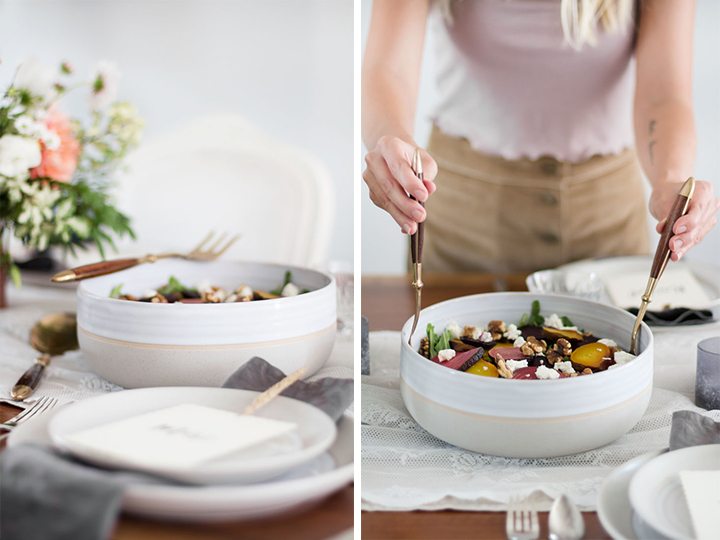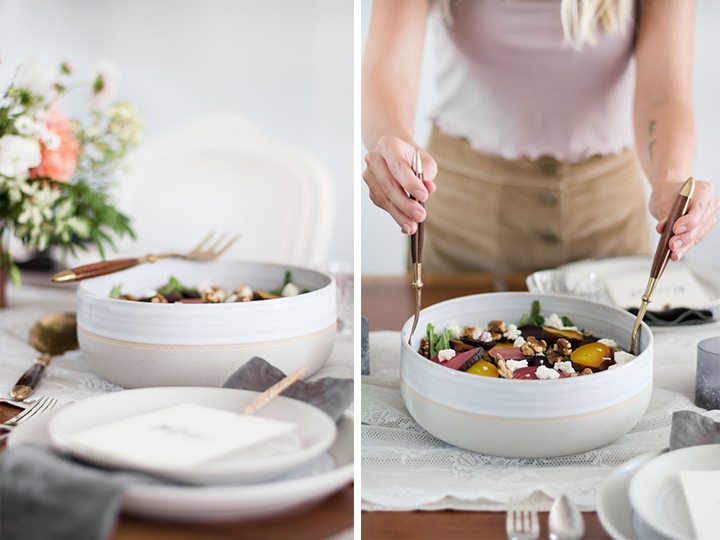 Beet Salad Recipe:
5-7 different colour and size beets (red, yellow, orange)
1 small pre-washed package of arugula
1 handful of candied walnuts
1 handful of goat cheese
balsamic vinegar + olive oil for dressing
Add arugula into the bowl and top with beets, walnuts and goat cheese. Serve the dressing on the side.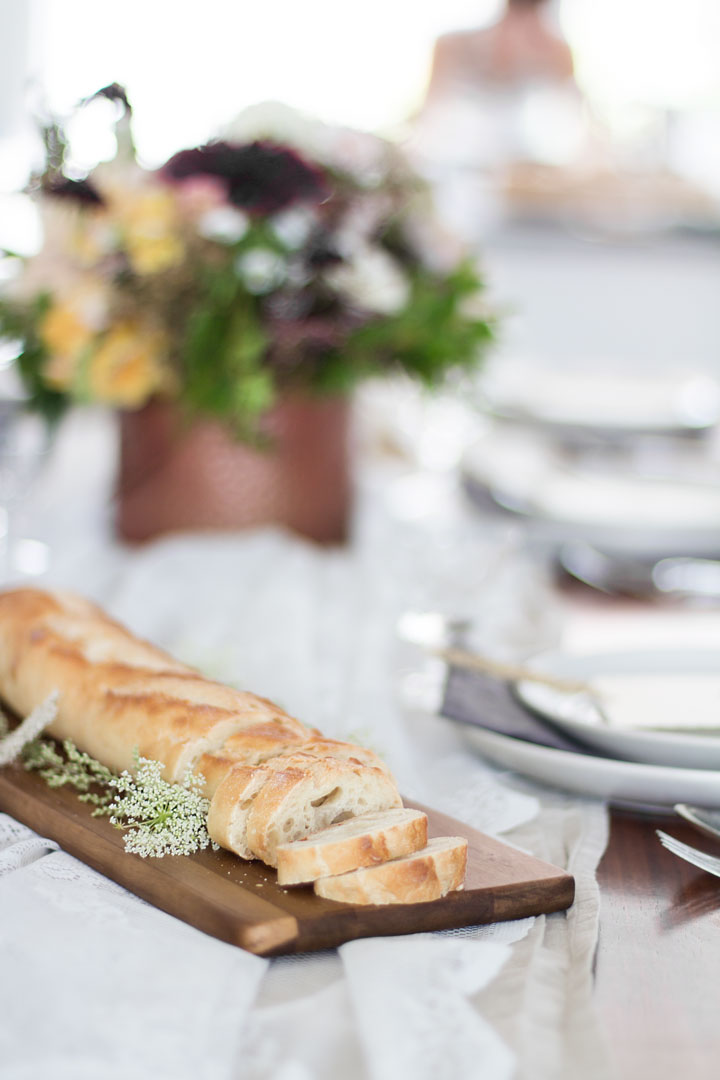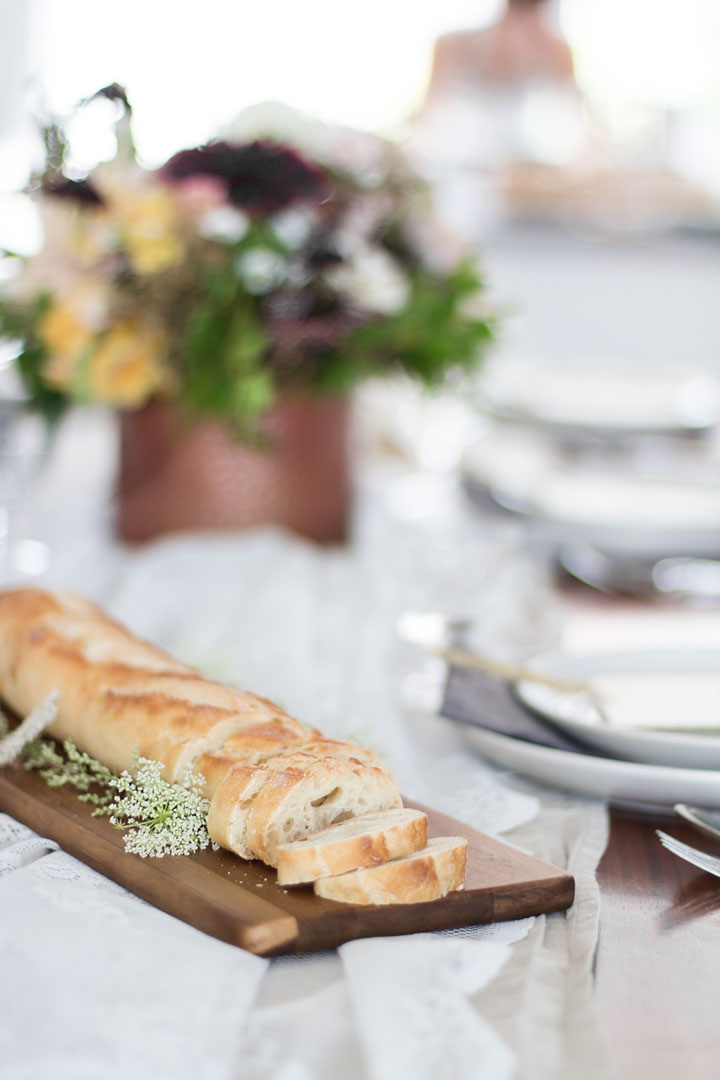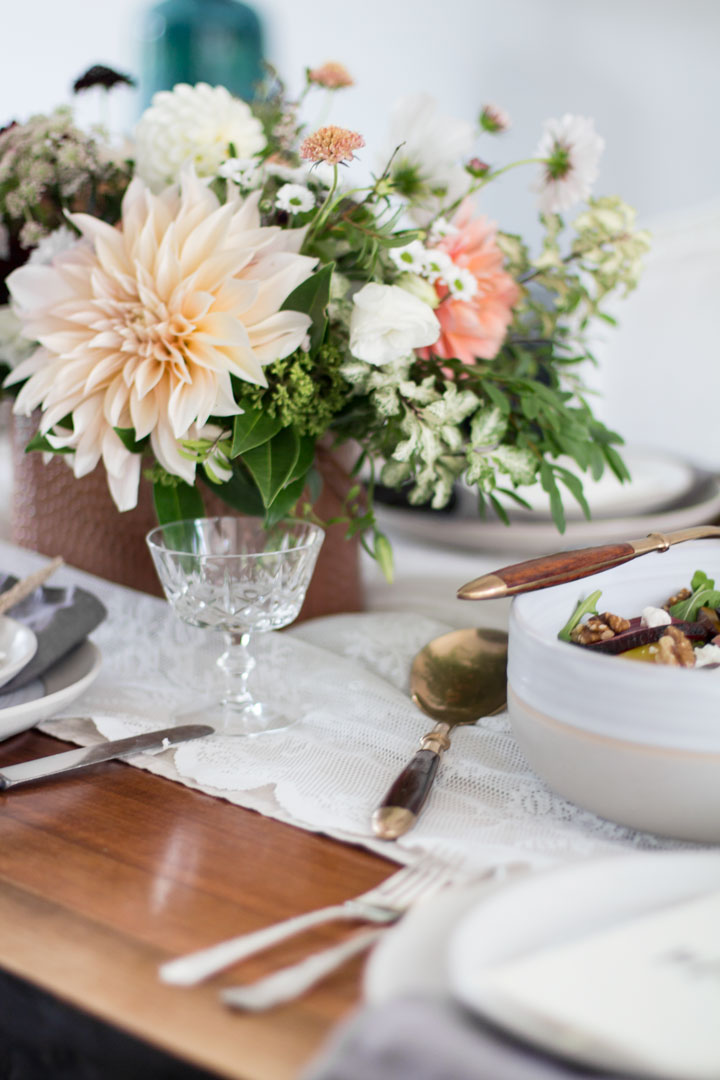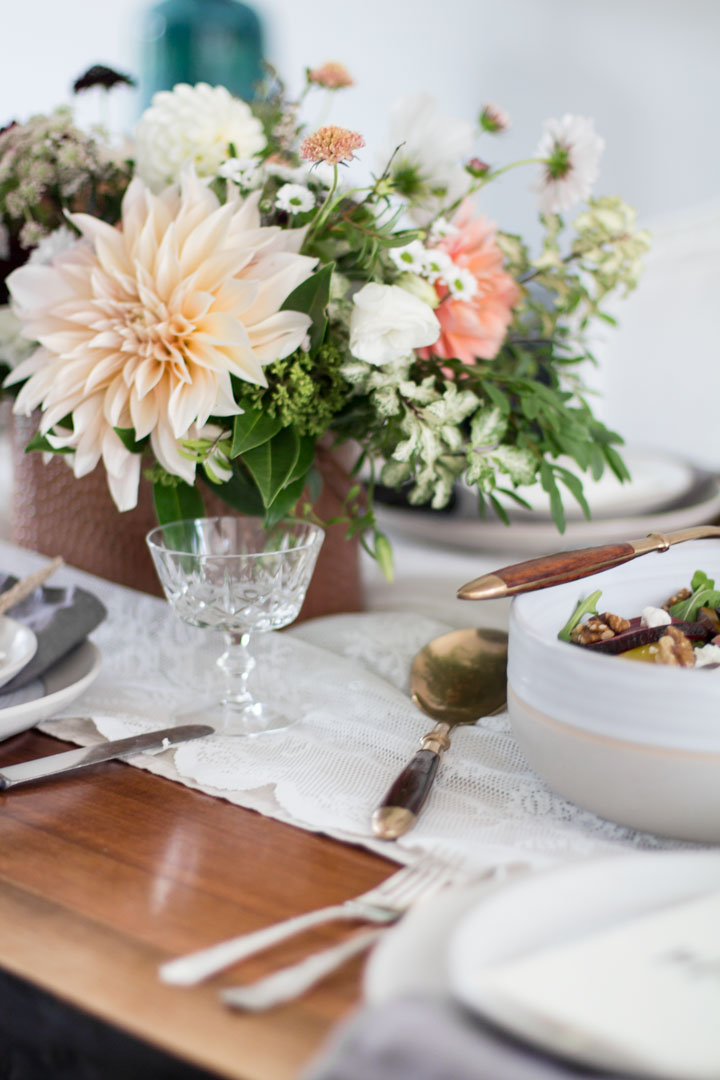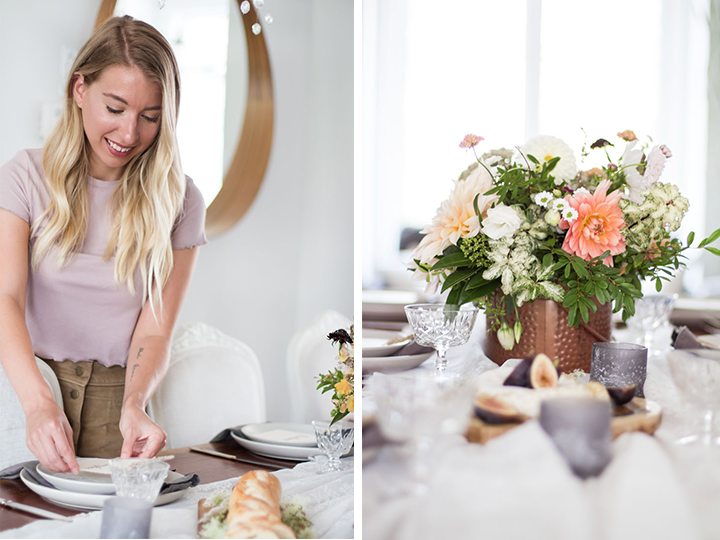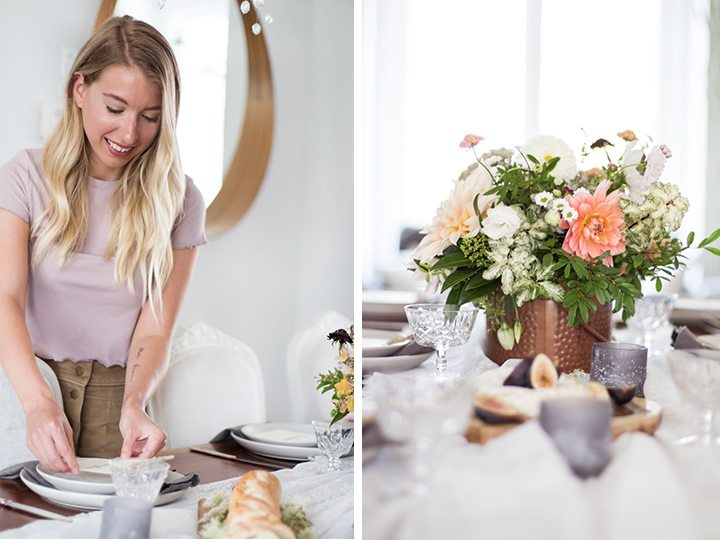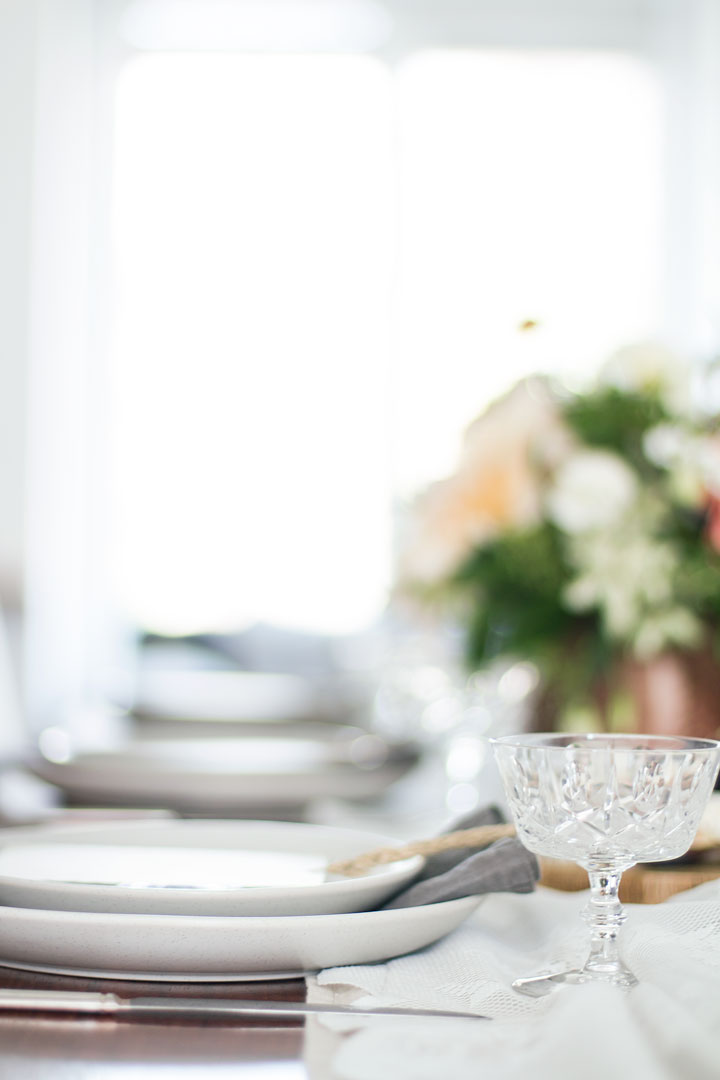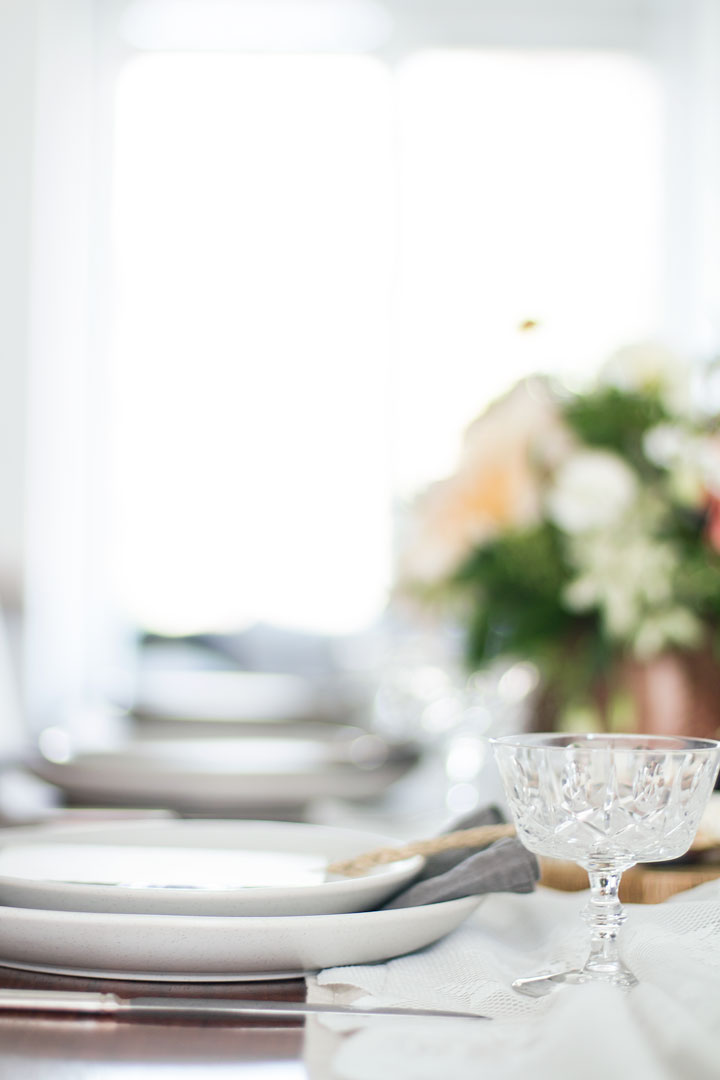 PS: See how we hosted a brunch for two earlier this summer with Real Canadian Superstores.
Thank you to Real Canadian Superstore for sponsoring this post, all opinions are my own.