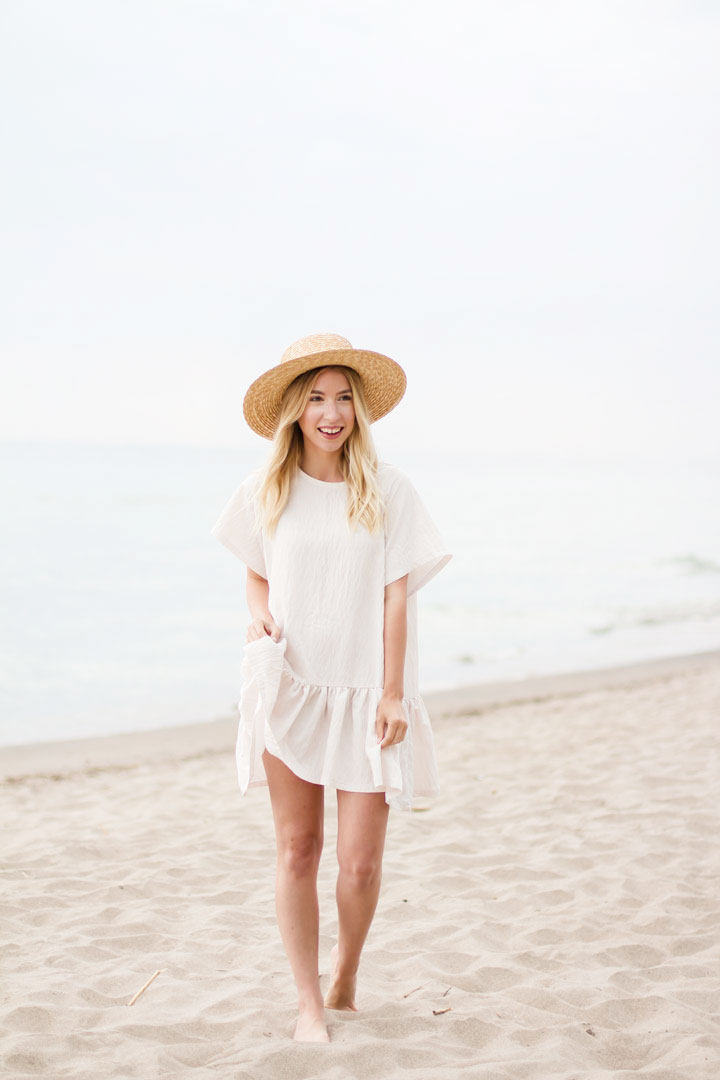 A few months ago I received a follow on Instagram from an account called "Shop Emma Knudsen" and my interest was immediately piqued.
At the time her account profile listed "shop coming soon", but there were enough indications via her Instagram photos that Emma Knudsen's collection fit my aesthetic to a tee. I promptly followed Emma back and began stalking her Facebook page waiting for the day her shop would launch on Etsy. Emma's flowy silhouettes, and unique designs are quite literally everything I look for in clothing. The Lauren dress that I am wearing in these photos is so easy to slip on and go with heels, sandals and a hat or even bare foot at the beach. It's so comfortable yet chic and I just want to twirl around in it all day. The Charie tank is probably one of the nicest tops in my closet and one that I have been reaching for A LOT as of late. The pale pink almost white colour, like the dress is gorgeous and I love the bunched detailing at the top. The straps on this top are so delicate making this top feel sexy yet secure. I also have to mention that every time I wear one of Emma Knudsen's pieces I get stopped in the street multiple times from people asking, "where did you get that!?" Everything in Emma's collection is perfect to me and I am so proud to say that she is a fellow Canadian designer. I was thrilled when Emma offered to answer a few questions for today's post so please continue to scroll through to learn a bit more about this very talented up-and-coming designer.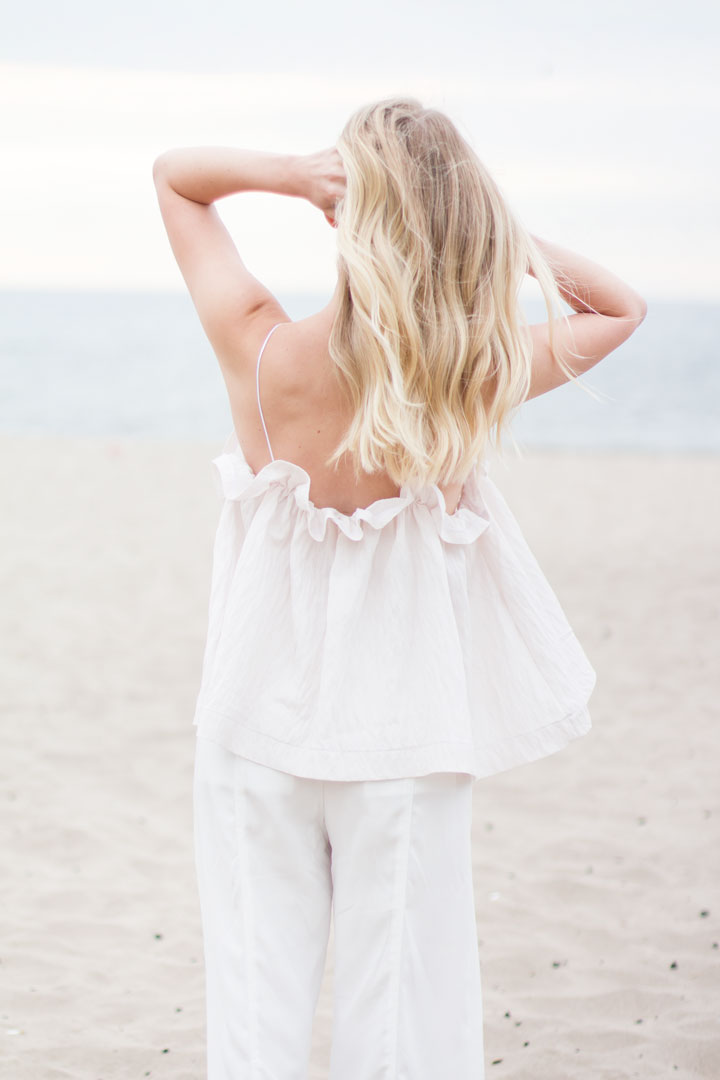 Kaylee: Can you tell me a bit about your background? Did you go to school for design, or are you self taught?
Emma: I left to study Fashion Design in the UK at the age of 17. I studied at London College of Fashion, University of the Arts London, where I studied Fashion Design and Marketing. However, since finishing school and working in industry, I still felt there were a lot of skills I never learned, and have self-taught myself a lot since then.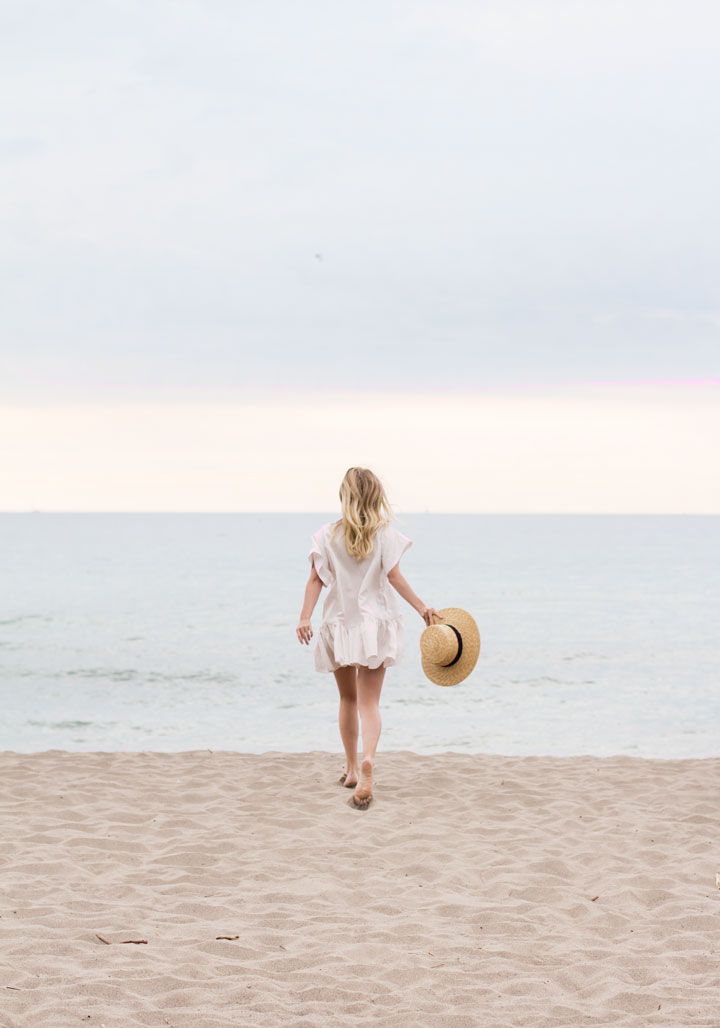 Kaylee: Congrats on launching your first collection, it's absolutely beautiful! What inspired your collection and the silhouettes you create?
Emma: Thank you! This collection was really just everything I love. It all flowed so easily, I knew exactly what I wanted it to look like. For the first time ever, the only person I had to run the creative decisions past was me and that was amazing.
I have always been inspired by minimalist styles, and clean silhouettes. Usually, I find if I am going to have fun with something, It will be playing with a print, different textured fabric, or small delicate details like the pleating on the Emilia Dress. While a lot of the pieces are very minimal, I always like to add a feminine touch. I am a girly-girl at heart – I think that definitely comes through with pieces like the Lauren Dress. I also take tons of inspiration from the women in my life, their style and personality- that's even how some of the pieces got their names!


Kaylee: Can you take me through a typical day in the life of Emma Knudsen? I imagine no two are the same but I'd love to know what being a designer and business owner looks like behind the scenes for you.
Emma: You're right, absolutely no two days are the same. Considering I only launched on June 7th, it has all been quite a whirlwind. First thing every morning, I will look through the orders that need to go out and prioritize what needs to be completed first, check on any orders that are in transit, and make sure I am stocked up on all the supplies I need to complete those orders. After that it is usually a full day of sewing…. with a lot of caffeine breaks! After I finished what I need to for that day I try and get e-mails, and any online work completed for the next day. All while brainstorming, picking fabrics, drafting patterns and prototyping for the next collection. Having a shop that is made-to-order is pretty hectic as I only have as much stock as I turn out, but it has also been a rewarding experience. I feel like I have learned so much more, and I am able to tailor the designs to fit exactly how my customer wants it.

Kaylee: Do you think that your designs are reflective of where you live (Vancouver)? Can you tell me a bit about some of your fave Vancouver spots and where you go to get inspired?
Emma: I think in some aspects they definitely are. The west coast style is very laid back and low maintenance- comfort is key here, all while still looking put together. I don't think you will now, or ever, find something in the collection that is uncomfortable to wear. If I can't spend an entire day and be comfortable in one of the pieces, I wouldn't expect any of my customers to want to wear it either! Bonus points if you can layer the pieces with something else – the weather can change in a split second around here! To get inspired, I love to go to Gastown and wander around some of the independent boutiques, there are some great brands and artwork to be seen. I also take a lot of inspiration in street style and am always taking note of how everyone presents their own unique style. Sometimes even a quick trip to the fabric shops will do the trick to get that inspiration!

Kaylee: Where do you like to shop and what are 3 local brands you admire?
Emma: I like to shop at so many different places, and am not that original with my personal shopping choices! I shop at Zara a lot, Aritzia, Oak + Fort, and some smaller Vancouver boutiques. I used to work for Oak + Fort when I first moved to Vancouver, and really love their design aesthetic. Also, there is a boutique called One of a Few in Vancouver's Gastown which I absolutely love. They carry some of my favourite brands such as Rachel Comey, Jesse Kamm, Wood Wood and Black Crane.


What I'm Wearing: Emma Knudsen Lauren Dress (here) // Emma Knudsen Charlie Top (here)