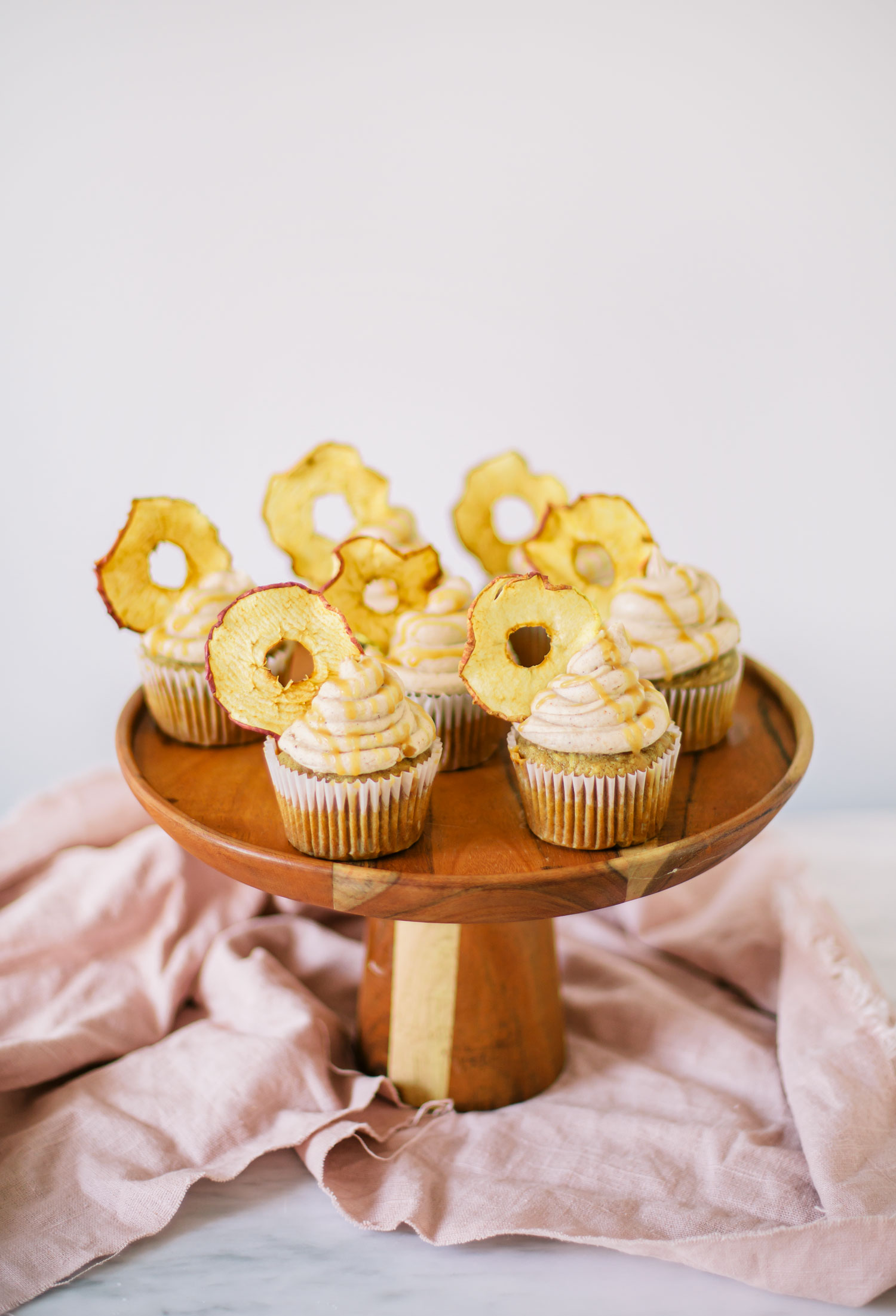 Has anyone had the chance to go apple picking yet!? We typically have by now, but we haven't had the chance yet this year. We have however been to our local farmers market quite a few times to pick up all bounty that the fall season offers. I love taking Edwin to the farmers market and showing him all of the different types of fruits and veggies, I even bought him the most adorable knitted pumpkin hat at Noggins a few weeks ago. We are still planning on going apple picking, hopefully in the next couple of weeks, but I simply couldn't wait to make an apple dessert! Caramel apples are pretty much my favourite fall treat and this year I wanted to recreate them in cupcake format. Let me tell you…they did not disappoint! I'm not even that big of a cupcake person but these were on another level. I think it was because the cupcakes were so moist thanks to the apple, tangy because of the cream cheese frosting and a little salty and malty because of the caramel. Ahh, I'm drooling just thinking about them! Put these on your fall to bake list IMMEDIATELY my friends.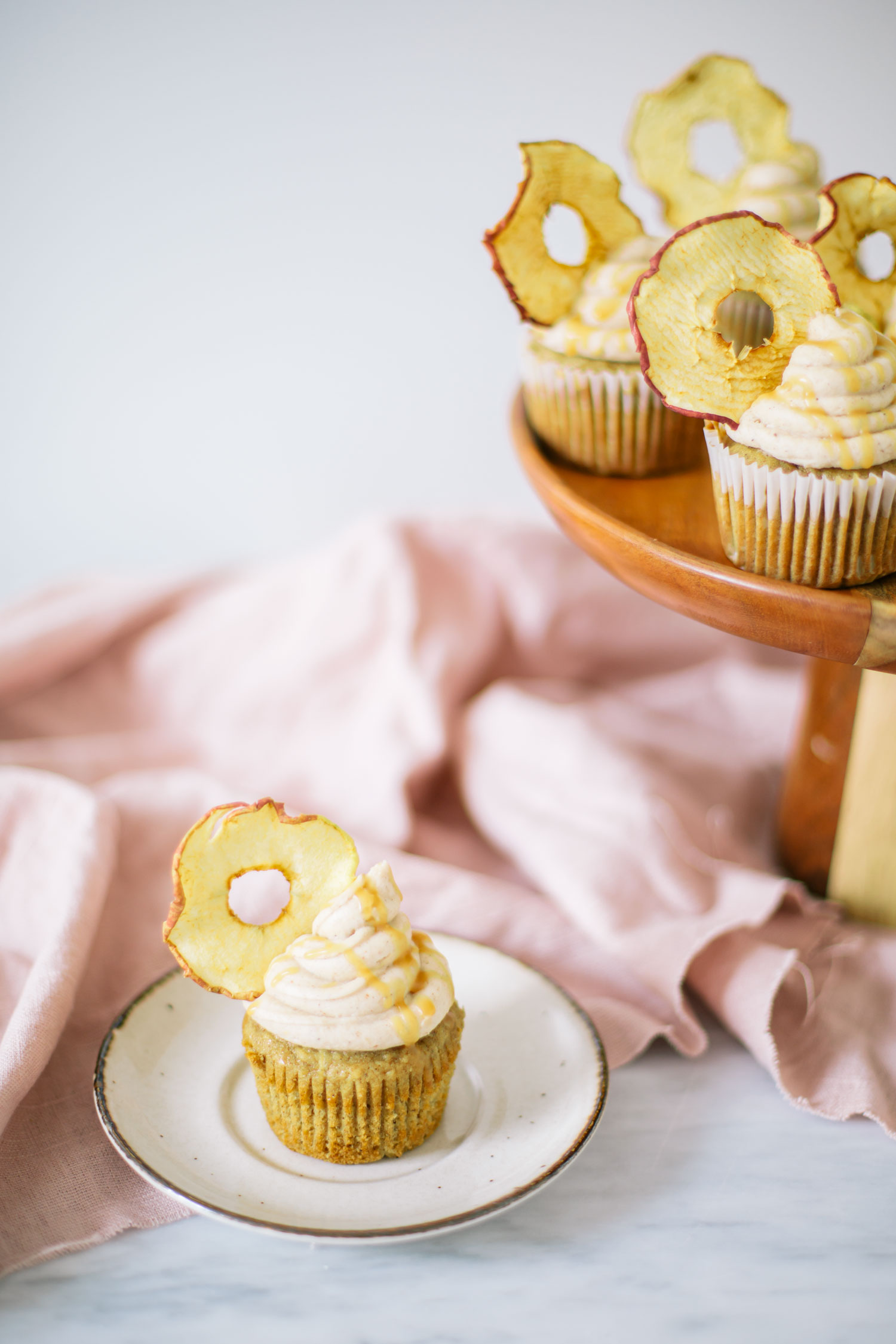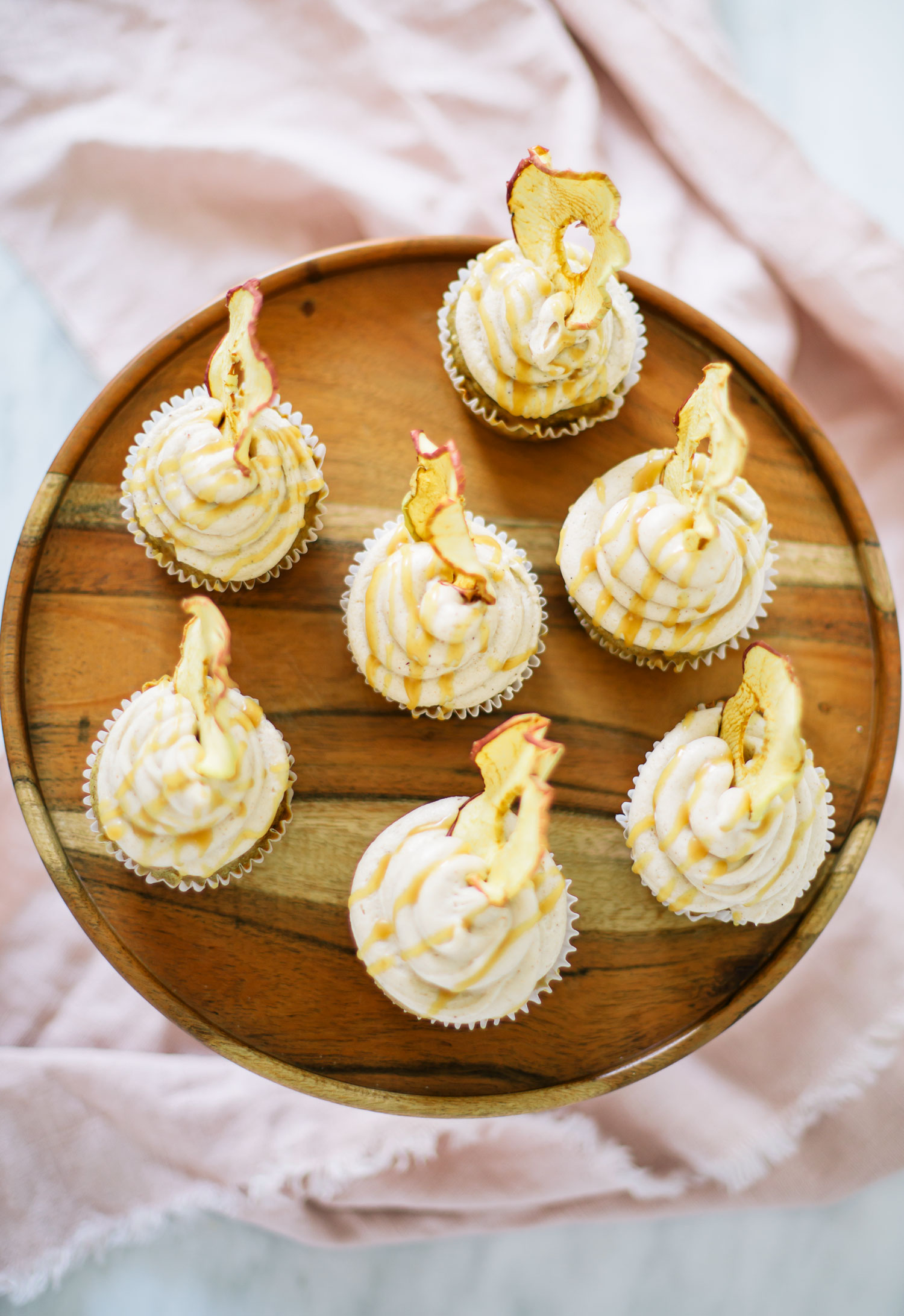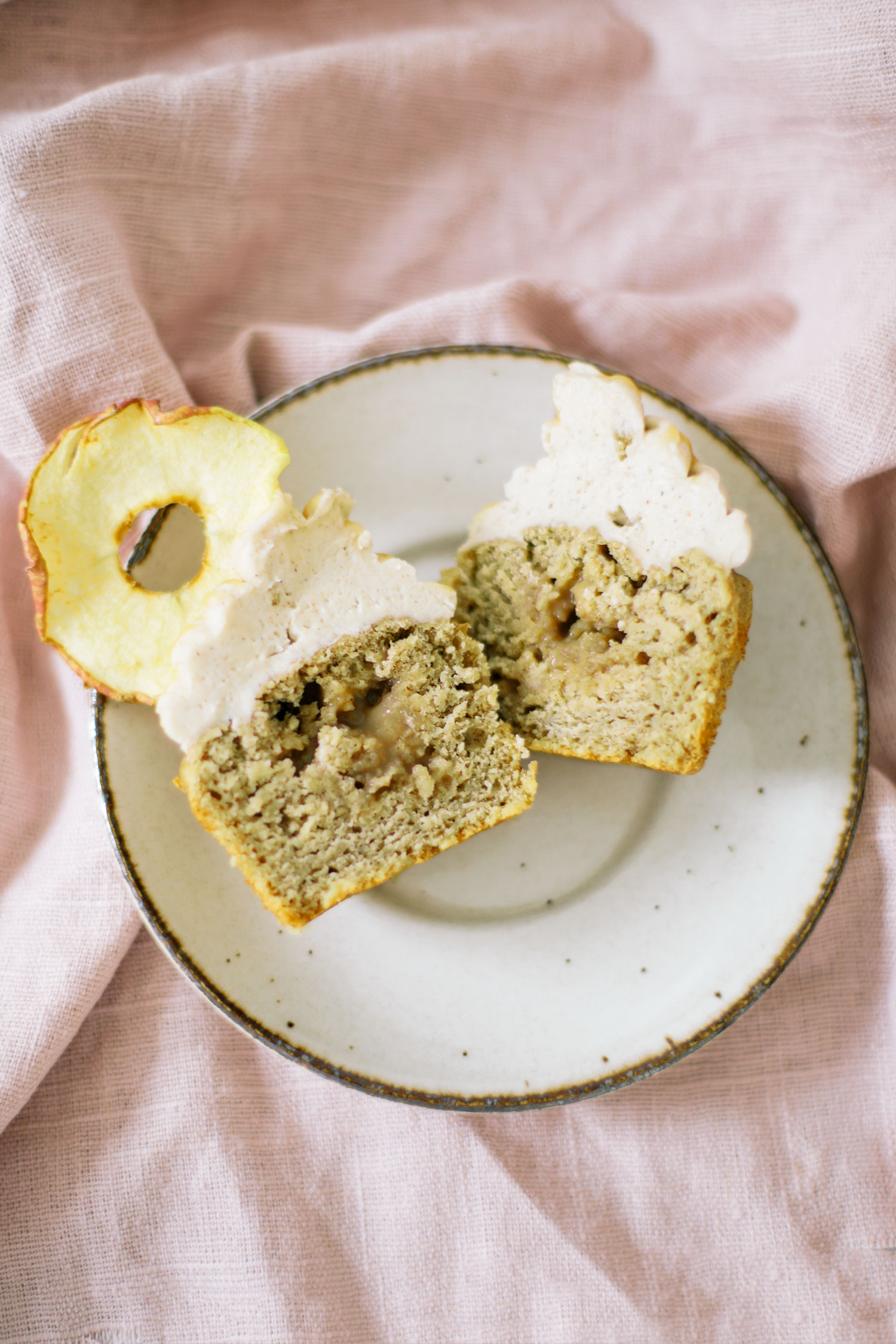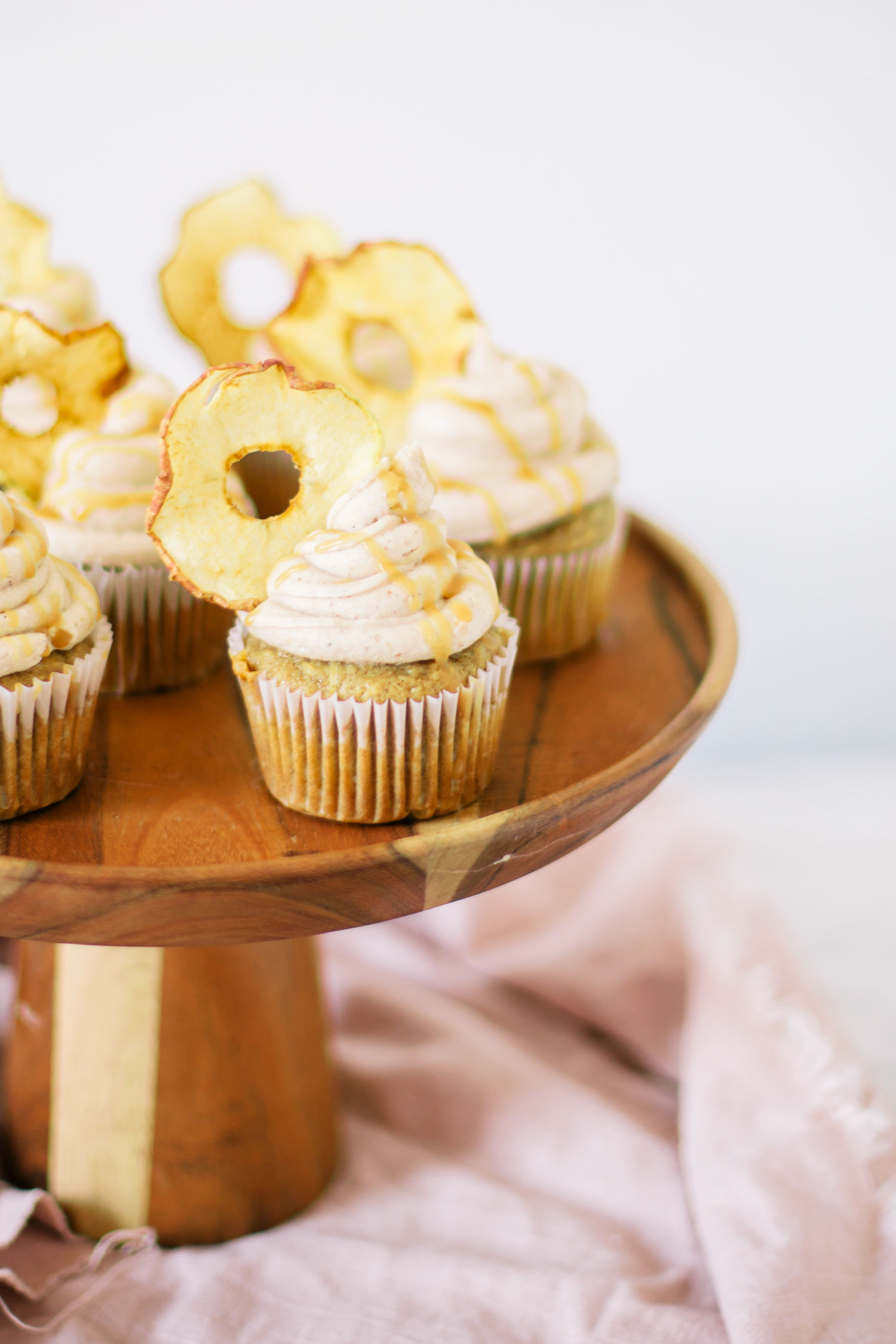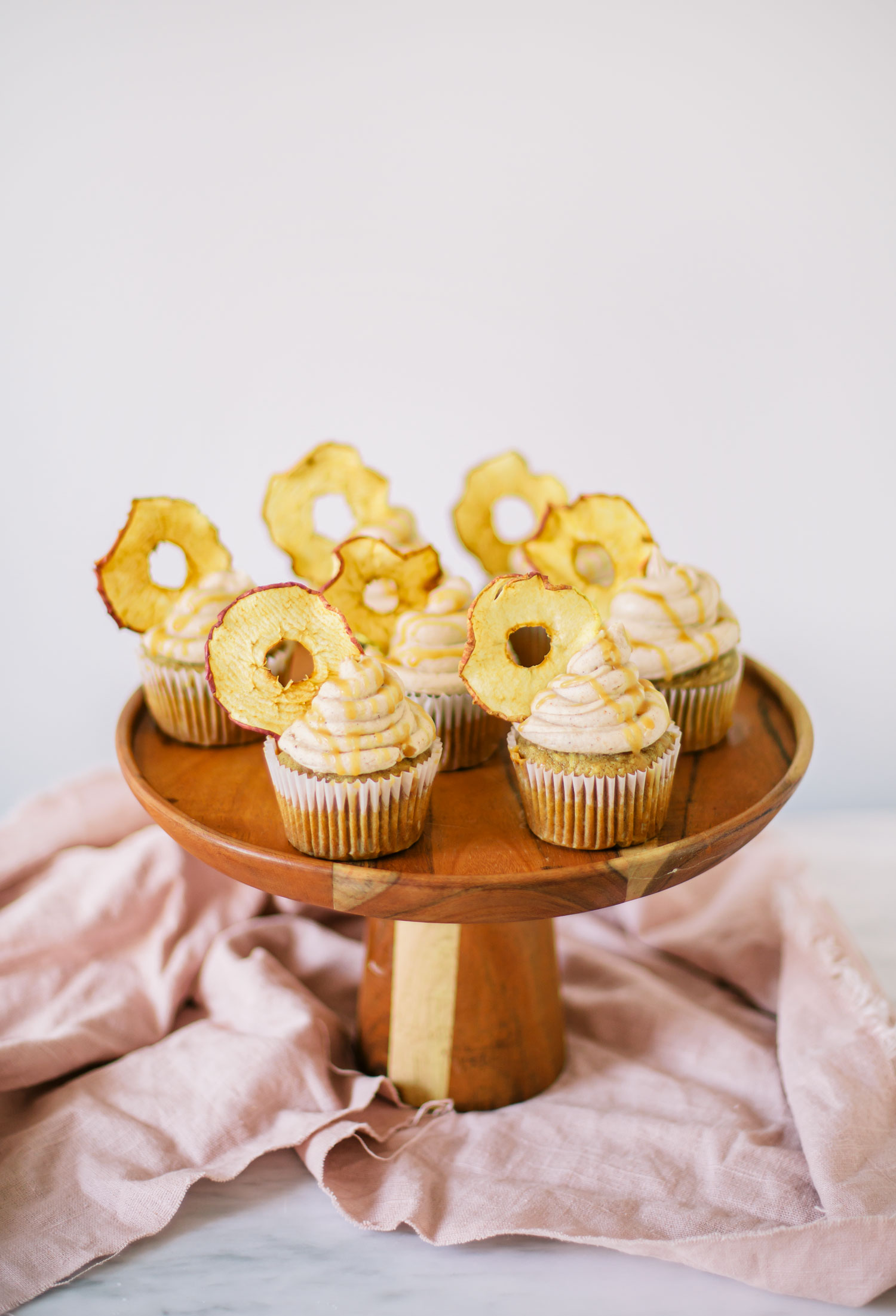 Caramel Apple Cupcakes with Apple Pie Spiced Cream Cheese Frosting
2019-09-26 08:26:34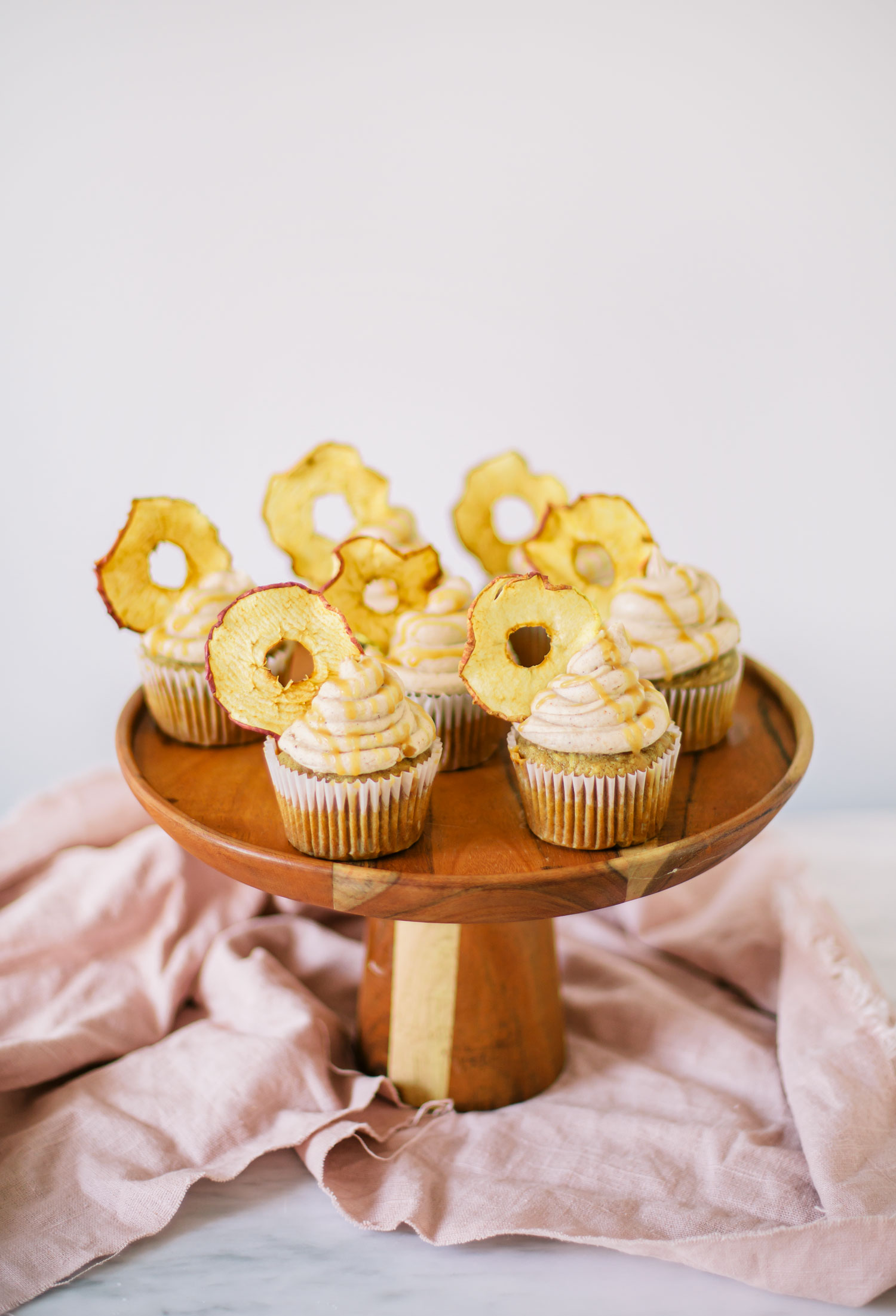 Serves 12
Apple Cupcakes
1 1/2 cups all-purpose flour
1 1/4 teaspoons baking powder
1/4 teaspoon baking soda
1 teaspoon ground cinnamon
1 teaspoon ground ginger
1/2 teaspoon ground nutmeg
1/4 teaspoon ground cloves
1/4 teaspoon ground allspice
1/2 cup unsalted butter room temperature
3/4 cup brown sugar packed
1/4 cup sugar
2 eggs
1/2 cup sour cream or plain greek yogurt
1 teaspoon vanilla extract
zest of 1 lemon
2 1/2 cups grated apples
Cinnamon Cream Cheese Frosting
4 cups Powdered Sugar
1/2 cup Salted Butter
8 oz. Cream Cheese
3 teaspoons Vanilla
1/2 tsp Cinnamon
1/4 tsp all spice
1/4 tsp nutmeg
1/4 tsp cardamom
Caramel Sauce
1 cup granulated sugar
6 Tablespoons salted butter, room temperature cut up into 6 pieces
1/2 cup heavy cream
Dried Apple Rings
Instructions
Preheat oven to 350 F.
In a medium-sized bowl, whisk flour, baking powder, baking soda, and cinnamon, ginger, nutmeg, cloves, and allspice.
Beat butter and sugars in a mixer with paddle attachment until light and fluffy.
Beat in eggs, sour cream or yogurt, vanilla extract, and lemon zest until blended.
Mix in flour mixture a little bit at a time until just combined.
Fold in apples.
Divide batter evenly among 12 cupcake liners
Bake for about 25 minutes or until a toothpick comes out clean.
Cinnamon Cream Cheese Frosting
Beat cream cheese, butter and vanilla in a mixer until blended.
Add one cup of powdered sugar and spices and mix until sugar is fully incorporated.
Add remaining powdered sugar, one cup at a time. Mix until smooth
Caramel Sauce
Heat granulated sugar in a medium saucepan over medium heat, stirring constantly with a high heat resistant rubber spatula or wooden spoon.
Sugar will form clumps and eventually melt into a thick brown, amber-colored liquid as you continue to stir. Be careful not to burn.
Once sugar is completely melted, immediately add the butter. Be careful in this step because the caramel will bubble rapidly when the butter is added.
Stir the butter into the caramel until it is completely melted, about 2 minutes. If you notice the butter separating, remove from heat and vigorously whisk to combine it again.
Slowly drizzle in 1/2 cup of heavy cream while stirring.
The mixture will bubble rapidly when added.
Allow the mixture to boil for 1 minute. It will rise in the pan as it boils.
Cool completely.
Once the cupcakes and caramel are cooled use a melon baller to carefully scoop out the center of the cupcakes about 1/2-2/4 of the way down. Carefully pour caramel into the hole you've just made. Cover the hole with the piece of cupcake you took out with the melon baller.
Frost cupcakes and top with dried apple ring
The Blondielocks | Life + Style https://www.theblondielocks.com/