Distressed denim has been popular for quite some time now, but most recently the style has been popping up all over the place, particularly in a boyfriend fit with super shredded detailing. I am all over this trend, even picking up one of the pairs I've shown below (also here). Distressed boyfriend jeans look amazing with so many combinations from a pointy toe pump and blouse to converse sneakers and a light sweater, but sometimes choosing the right pair can be difficult. That is why I have rounded up my favourite distressed boyfriend jeans from slightly scratched to completely shredded, there is sure to be a pair that fits what ever your distressed denim needs may be.
Boyfriend Jean; can be worn by just about everyone. A boyfriend jean is a casual style to be worn with a rolled cuff for a cropped look. (web definition)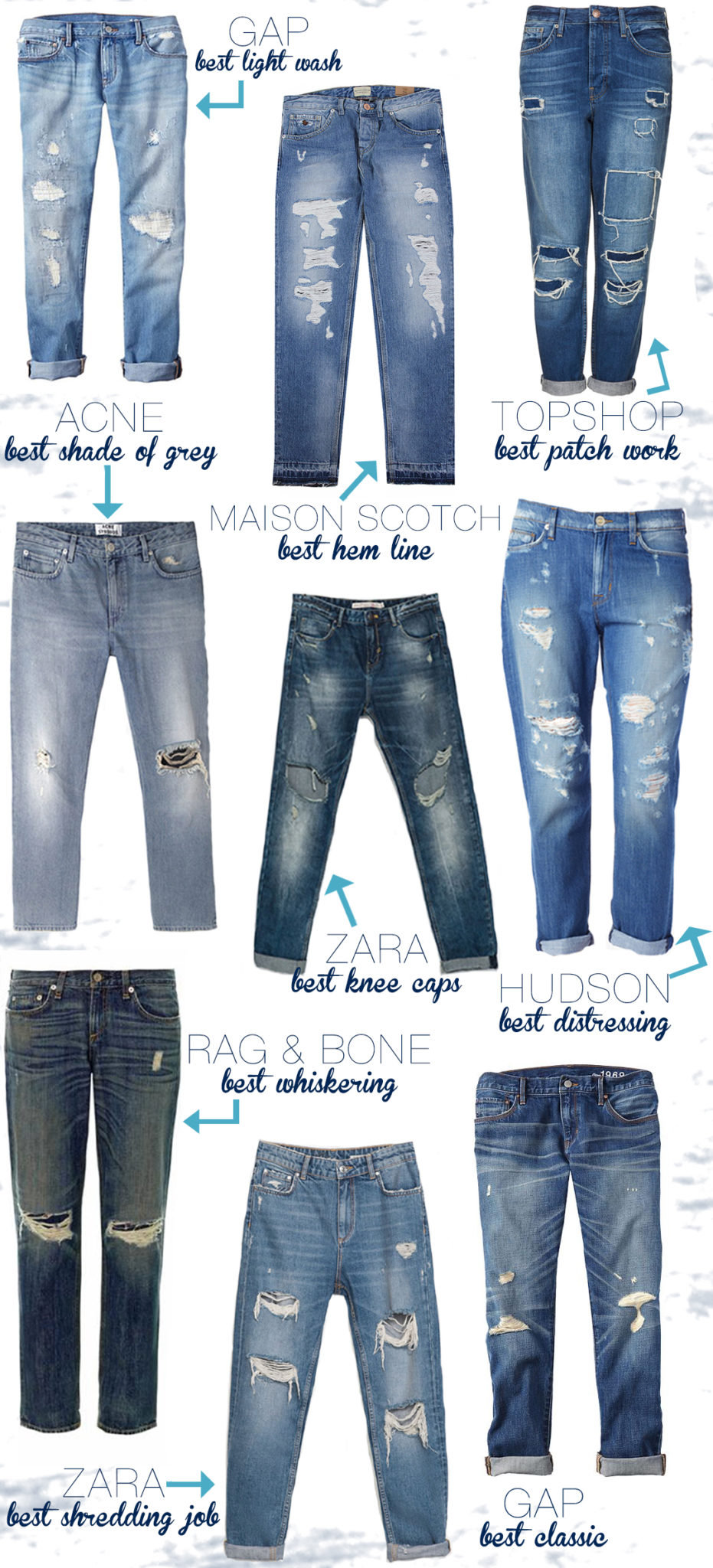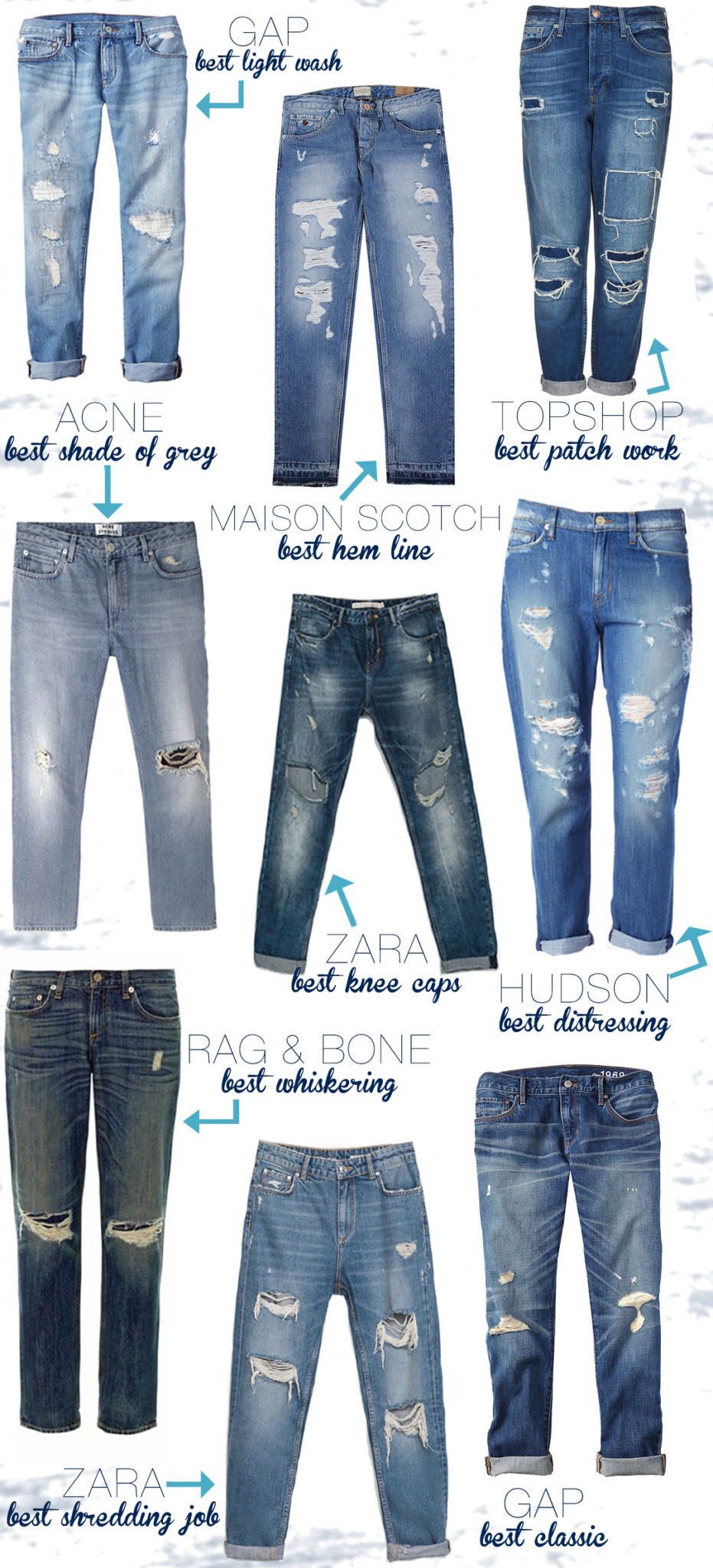 Best Light Wash- GAP $87.94: For the summer (although that seems like years away) a light wash boyfriend jean is the only style that you will need. The colour of this jean is as light as the sky and has the perfect amount of fading. As the fit is loose, the colour won't be too light against the skin, making sure not to show off any lumps or bumps.
Best Hem Line- Maison Scotch $193.39: The unfinished hemline is another one of my favourite denim trends of the season. Why not kill two birds with one stone with these beautifully detailed Maison Scotch Jeans.
Best Patch Work- Topshop $63.96: If you want to rock the distressed boyfriend style but aren't crazy about the idea of showing off your legs try a pair with patches underneath the distressing. This way you still get the effect but don't have to sacrifice your comfort level. Another great thing about these jeans is you can wear them now while the weather is still cool.
Best Shade of Grey- ACNE $399.00: Not too grey and not too blue I guess you could say that the shade of these ACNE jeans is juuuust right! The colour is not the only special feature about this denim. Upon closer inspection of the behind you will find all of the major distressing if left to the bum area-leaving very little to the imagination. This jean also gets the award for best use distressing in a unique area.
Best Knee Caps- Zara $59.90: One of my personal favourites and a recent purchase these jeans are different from any other. The fraying is kept to a minimum and the knees are out to say hi! These jeans are taking knee cleavage to a whole new level.
Best Distressing- Hudson $220.00: The distressing on these jeans is unlike anything I have ever seen. It is so impressive in fact that the time it would have taken to perfectly place each one of pills and rips is completely worth the price tag. They look almost as perfect as if it had taken years to recreate this distressing yourself. These might just be the perfect pair of non-vintage-vintage jeans.
Best Whiskering- Rag & Bone $360.00: If whiskering is your thing then look no further than these Rag & Bone Jeans. Although you can't see it here the whiskering on these jeans is a 360 degree experience in the best possible way.
Best Shredding Job- Zara $79.00: What I love most about these shredded jeans is that the frays were left hanging and uncut. If you are looking to delve right into this denim trend then these jeans are the way to go! And the best part is that the price is right so breaking the bank for a trendy jean isn't an issue.
Best Classic- GAP $87.94: This jean is the perfect option if you are looking to be on trend now and in a couple of years. The wash of this jeans is a classic but the minimal distressing gives it an updated edge that gives the denim the trend factor. But because GAP didn't go too crazy with the shredding it's a safe bet this is a boyfriend you might not want to break up with for at least a few years.