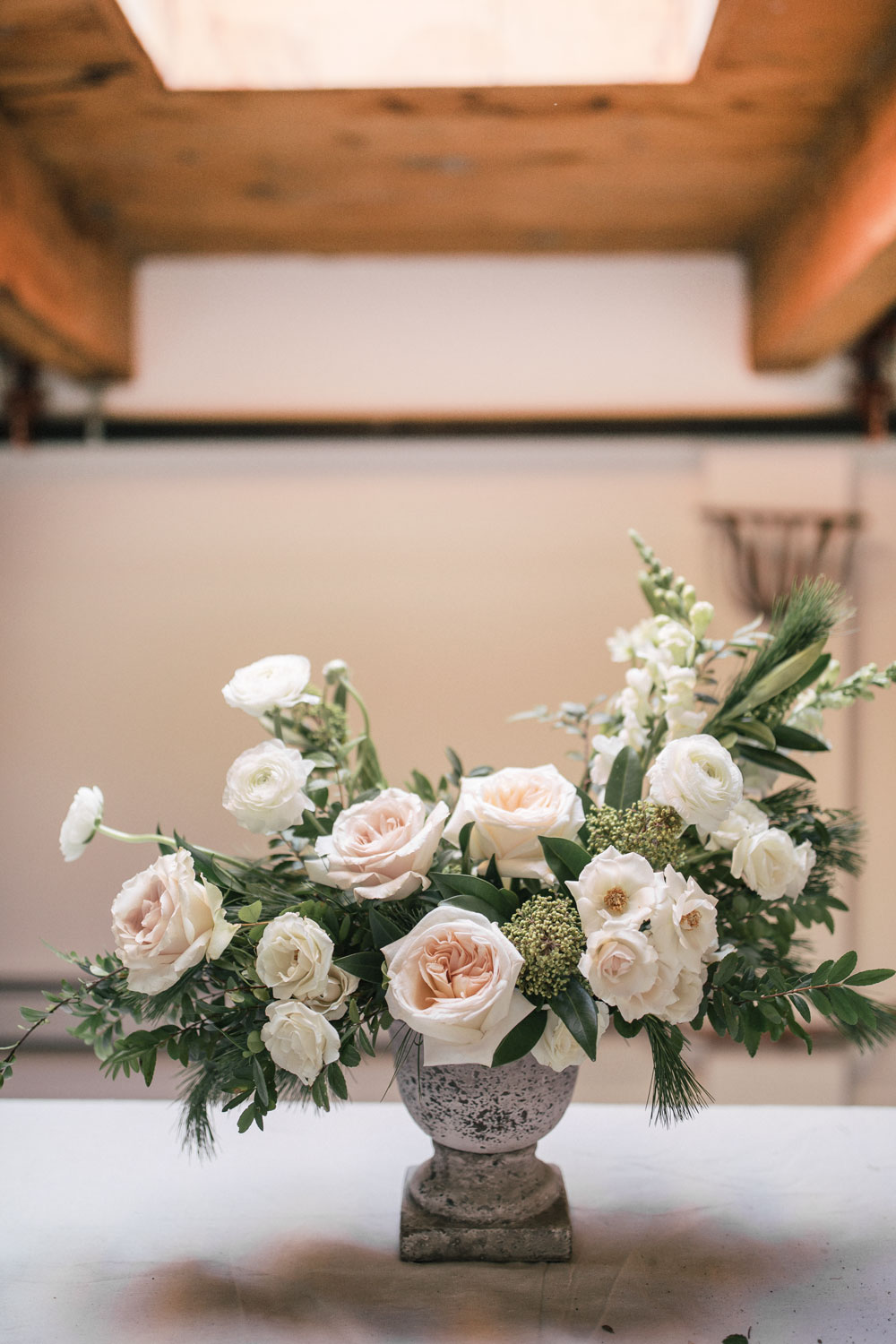 For me, the best days are the ones where I get to hang out and collaborate with creative people who are doing amazing things.I always leave feeling so inspired and amazed after seeing such talented people in their element creating what they love. We recently spent an afternoon with Becky, creator and owner of Blush and Bloom, and most recently Bloom School and let me tell you, the inspiration and good vibes were unparalleled. In case you are new here, Blush and Bloom created the flowers for the boho beach party that Gaby and Jacquleyn styled back in the summer. Since then I have wanted to collaborate with Becky and I was thrilled when she agreed to have Jamie and I over to the newly opened Bloom School studio for an afternoon of arranging. We had the best time making this arrangement and I was surprised and delighted to discover that Becky is also an East Coast girl herself. Admittedly, Becky isn't the biggest fan of creating classic holiday arrangements, which I completely understand, so I let her do her thing and she came up with an absolutely stunning winter-inspired arrangement for the holidays. Keep reading to see how Becky created this beyond beautiful arrangement that would look lovely on a mantle, table or basically anywhere you need some fresh blooms.
PS: If you are looking for flowers for a special occasion OR if you're interested in taking some floral design classes from the best of the best, make sure to head on over to the Blush and Bloom and Bloom School websites.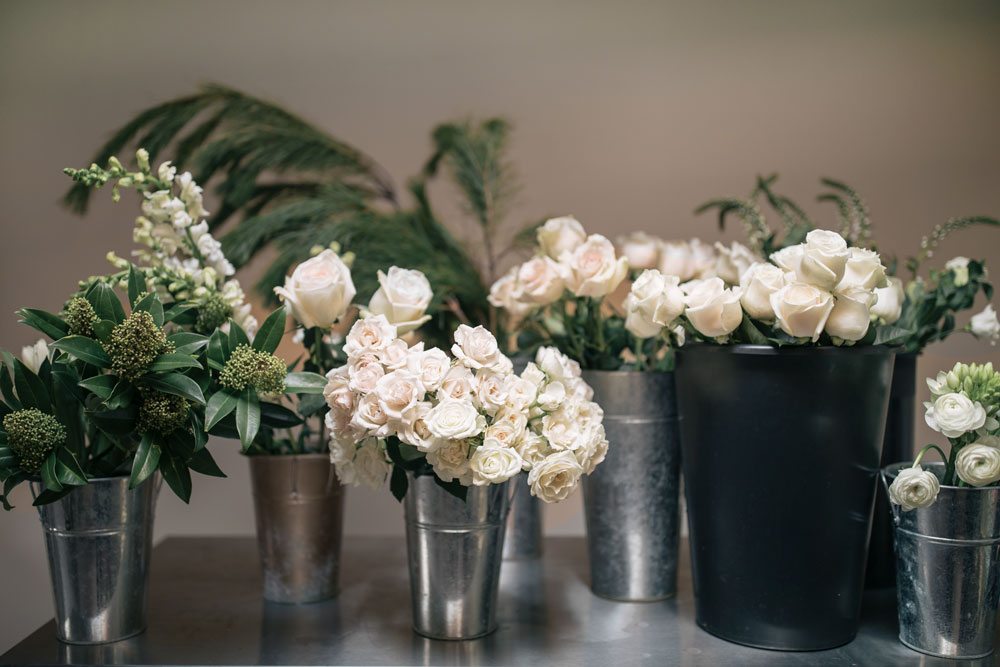 For our winter inspired arrangement we used ranunculus, garden roses, spray roses, quicksand roses, green skimmias, star of Bethlehem, snapdragons, pinus pins, and boxwood. We went opted to use a range of blush and white coloured flowers with pops of green so the arrangement would feel more winter inspired as opposed to feeling too obviously Christmas.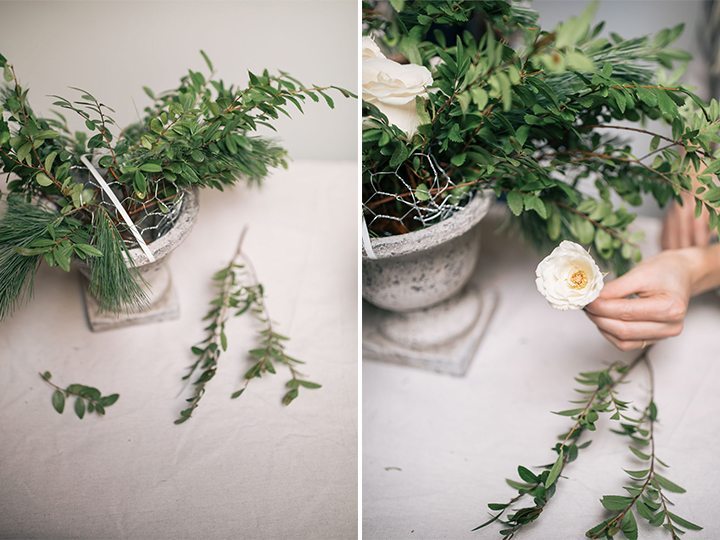 Becky opted to display her arrangement in a beautiful stone vase. Before we got started we added chicken wire into the vessel as well as a piece of floral tape to secure it. Chicken wire acts much like floral foam does, keeping the flowers secure and in place. Becky prefers it though because it can be reused and doesn't turn your water green, it also gives the flowers a more "free-flowing" feel.
Next up comes the foliage. We started with the boxwood to create the "bones" of the arrangement so that when the flowers are added they are secure and not wobbling and moving around. With greenery Becky likes to use more than one variety so that the arrangement doesn't look flat. When choosing the greens she also likes to go through the bunch and pick which ones look the nicest and will "hang" the most naturally. After the boxwood we added in some pine which smells amazing and looks very holiday.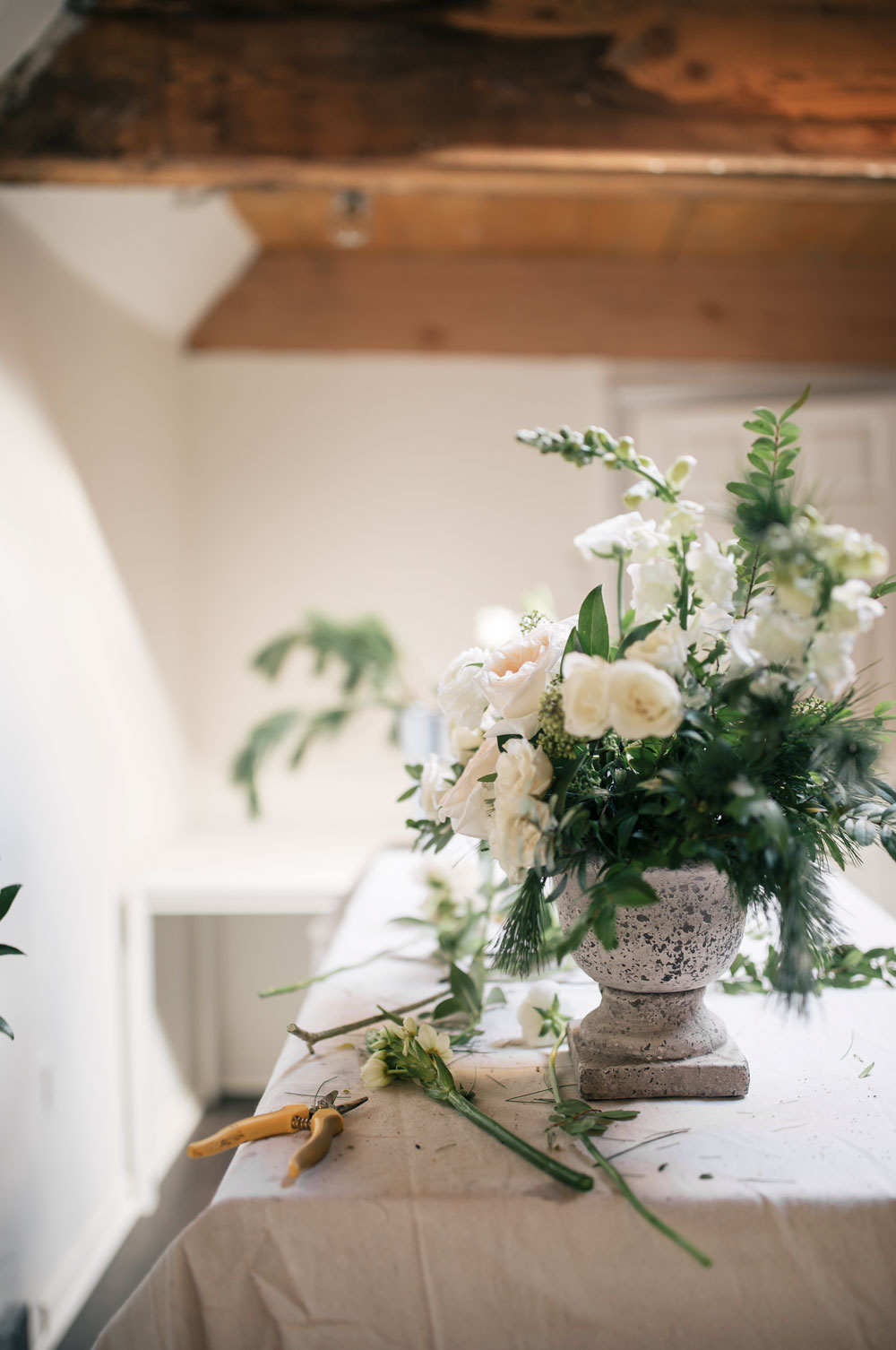 We wanted the arrangement to go up higher on one side so Becky chose pieces of greenery that were naturally taller and more flowing and added more to the right side of the arrangement. This allowed the arrangement to look like it was reaching towards the sky. Getting the greenery to this point can sometimes be difficult but the trick is to just let the foliage go where it wants and try not to over think it.
Next we added in the snapdragons. We paired them together because grouping the same types of flowers together looks more natural. Being mindful of adding your flowers on different planes is also important so that they don't look too one dimensional. After Becky was happy with how the snapdragons looked we added different varieties of roses and then the ranunculus. Finally we added in the green skimmias which gave a subtle holiday feel to the arrangement.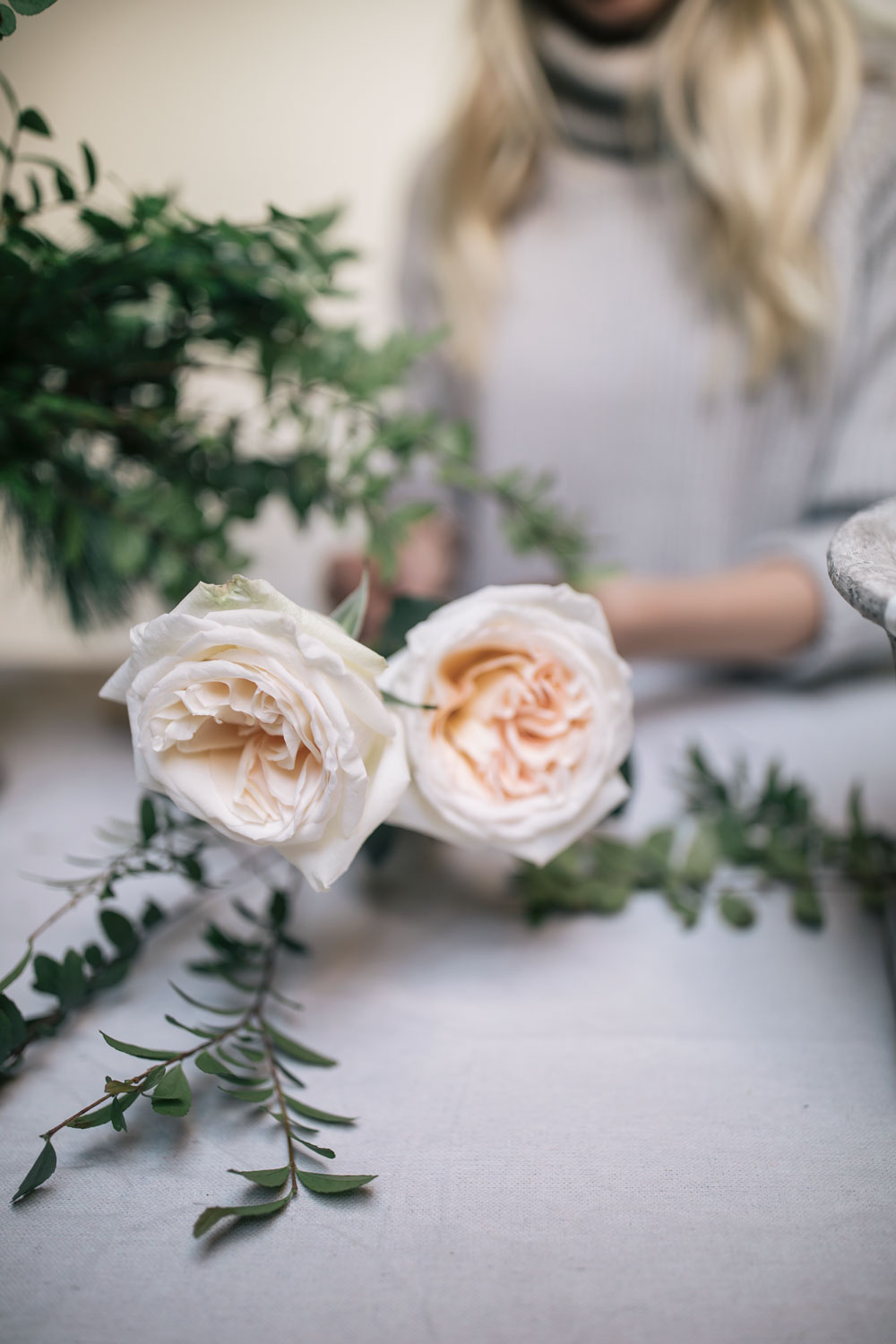 A tip to getting the garden roses look more full and open is actually blowing on them slightly before adding them into the arrangement.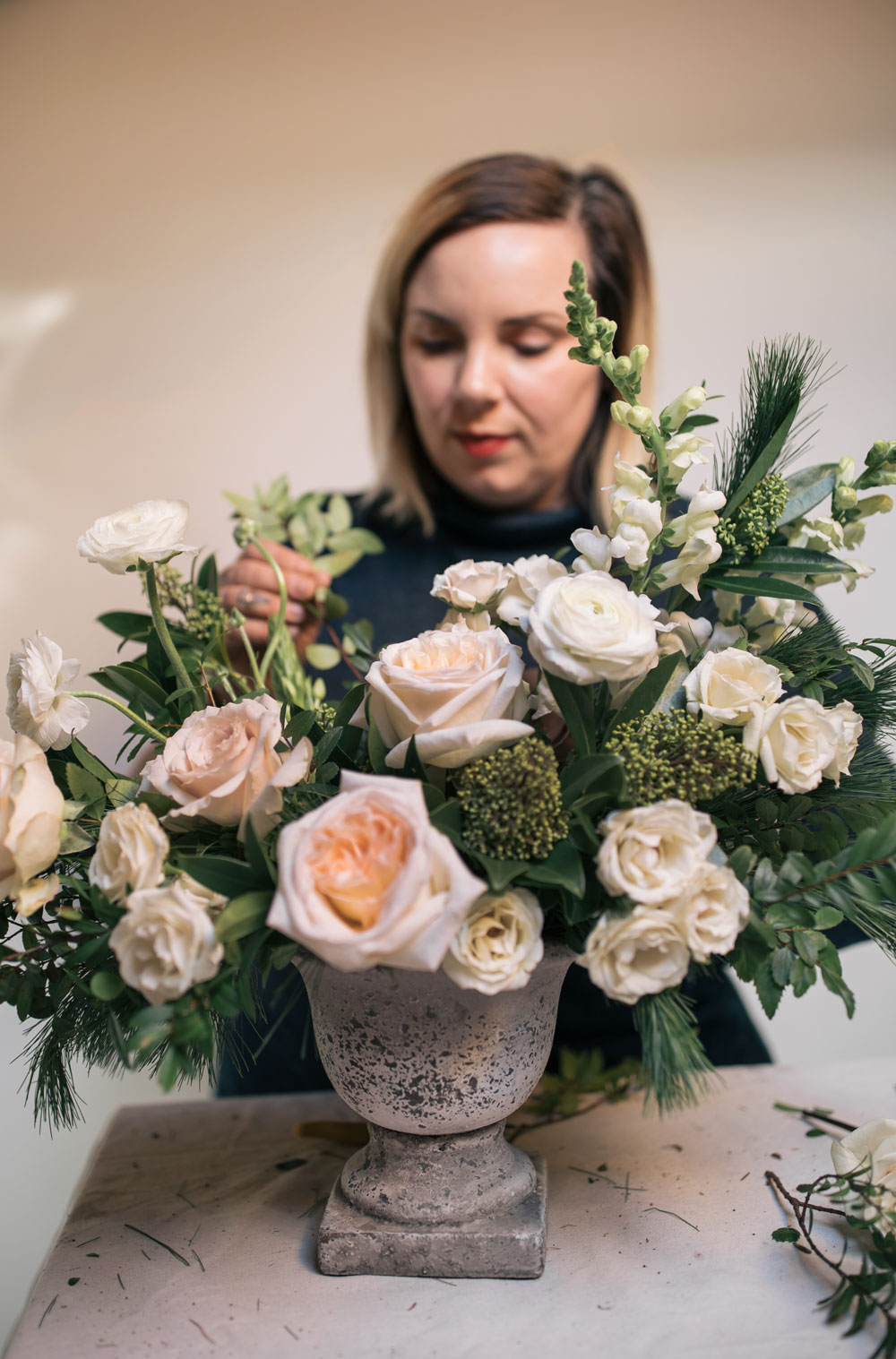 Sometimes all the greens that were added at the beginning can cover up the flowers added after the fact. Feel free to give the arrangement a little "hair cut" but don't go too overboard!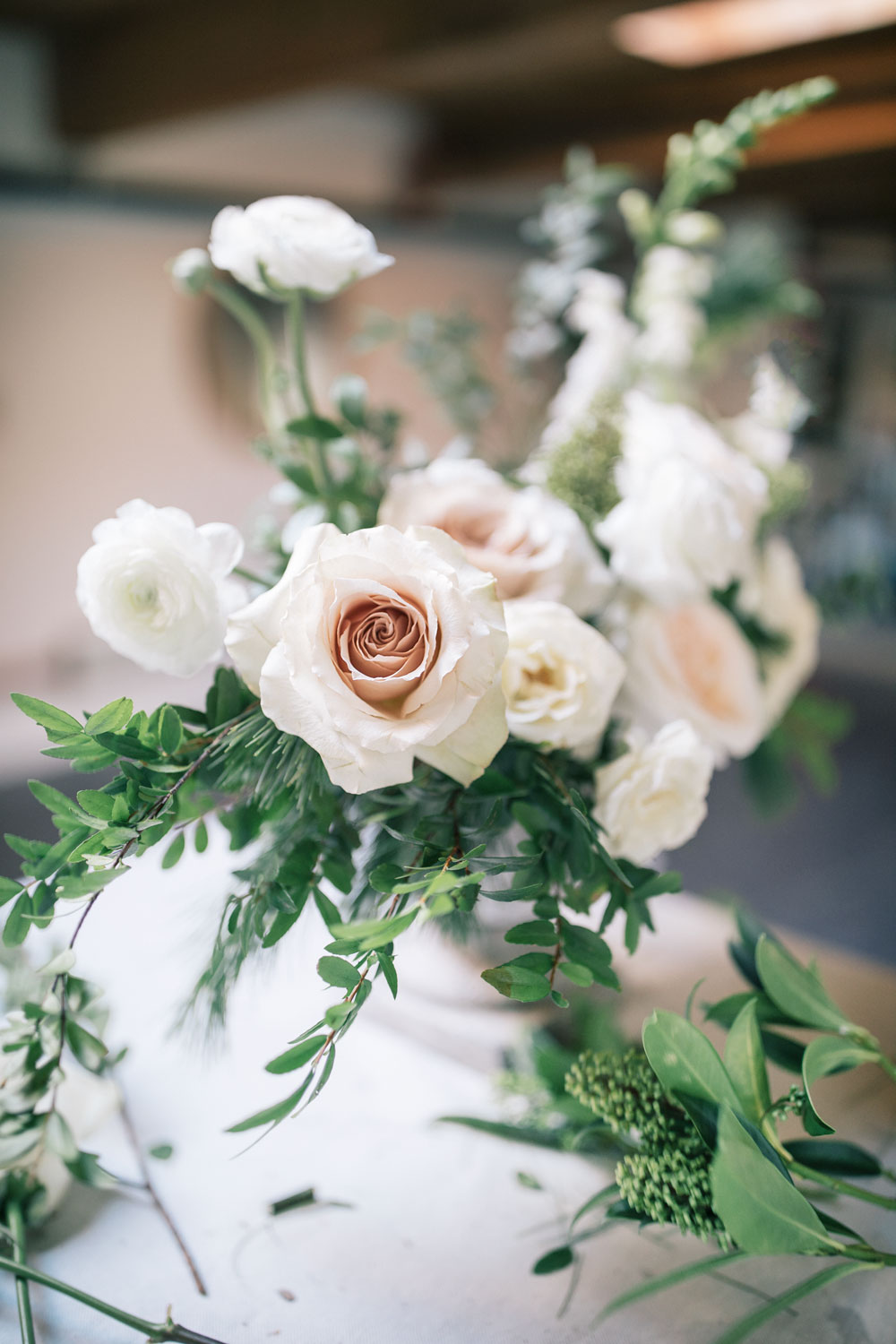 The prettiest quicksand rose.