When it came to our wedding, flowers were at the top of my "must have" list (after photography) when we broke down our budget. I was beyond blessed to have the amazing team from Blush and Bloom come all the way from Toronto to execute our vision, and to this day I could not be more grateful. Becky, the owner of Blush and Bloom, had had JUST had a baby girl and she still managed to travel to Nova Scotia along with her baby and Tessa from Blush and Bloom. Looking at that now, I don't know how she did it because I certainly could not see myself travelling and taking on a wedding with a baby at this point (BECKY YOU ARE A SUPERHERO!). Blush and Bloom simply nailed it when it came to the vision I had in my head for our flowers. I had a rough idea of what I wanted colour and texture wise, but when it came to the execution, what Becky and Tessa put together blew my mind. A lot of these photos and more details about our flowers can be found over on the Weddingbells feature but I couldn't not share my own blog post about our flowers because as you guys know, they're kinda my thing. From our flowerd up arbor, baskets anchoring the aisle, bouquets, boutonnières and every.single.flower.detail in between, I could not have been happier…Even Milo got in on the flower action with the cutest floral collar situation made just for him. Keep scrolling to see all of our gorgeous floral details from our wedding day.
PS: Our getting ready and ceremony photos
Photography by Will Reid Photography

Flowered arbour

Arbour close up
My bridal bouquet
Our wedding sign was gifted to us from the lovely team at Etsy. It is by Emma Allen design. I love that a lot of the greenery used in our floral design was actually foraged from the surrounding area a couple of days before our wedding.
The berries in the boutonnières and our cake decor were also foraged from the area..I think that is so cool!
Groomsmen boutonnières
Instead of traditional corsages for our mothers, we had floral bracelets created that were tied with silk ribbon.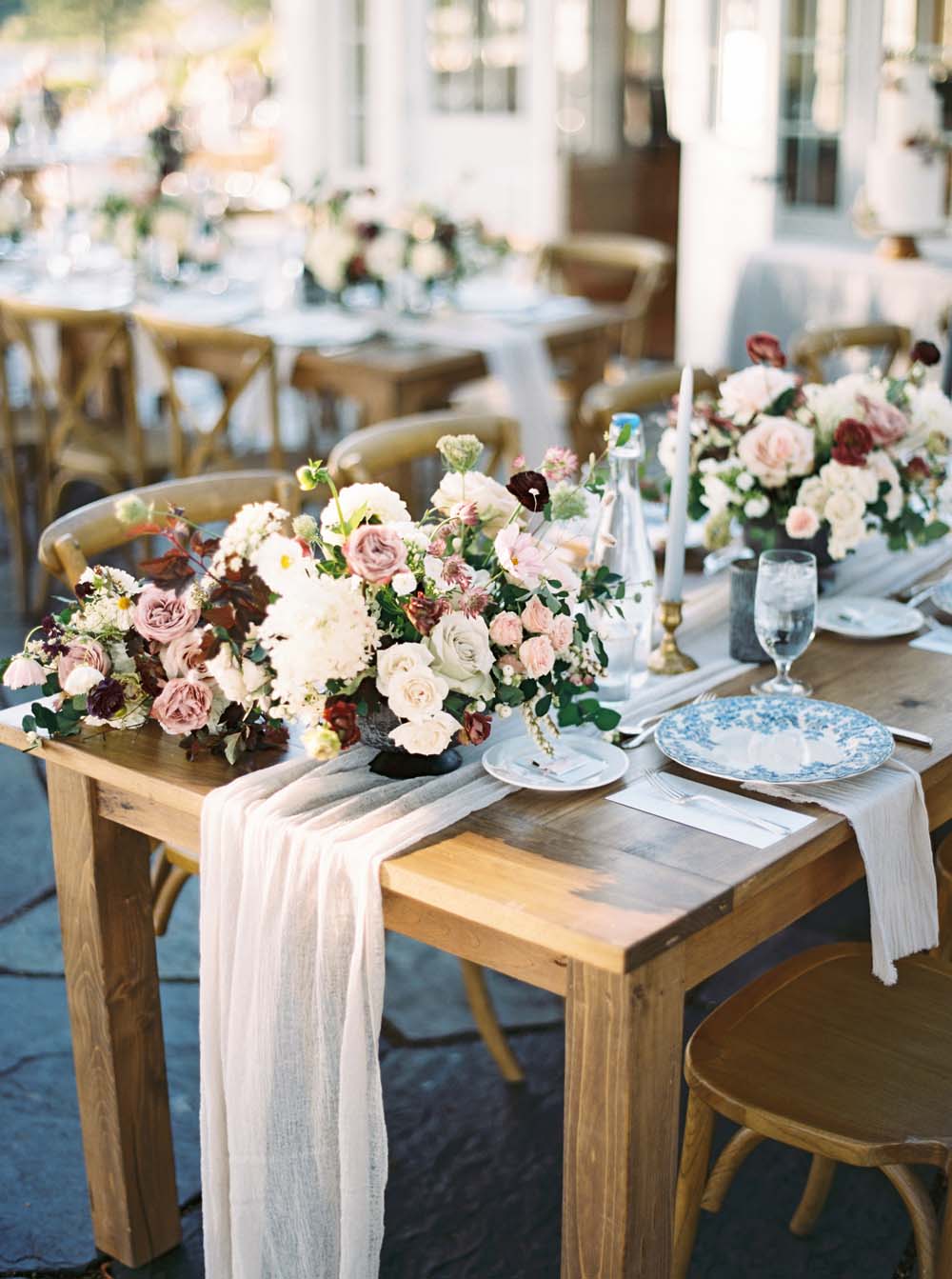 I just love this picture of Jamie holding one of my sisters bouquets.
Both Jamie and my chair were decorated with foraged greenery to add a little something special to them. We also used one of these chairs at the table where we signed our marriage licence.
I was in love with the floral design on our charcuterie table during cocktail hour. I knew I wanted some flower detail on the table but I never would have thought to create it going up one leg. It was one of my favourite floral details from the day!

Milo looking very regal. He only barked once during our ceremony, haha!
Our wedding cake was by Gateaux Rose and she exceeded my expectations. I wanted a white on white cake with a textured floral pattern and I was obsessed with what she came up with. We added some flowers for a pop of colour and texture and the berries were also foraged from the area.