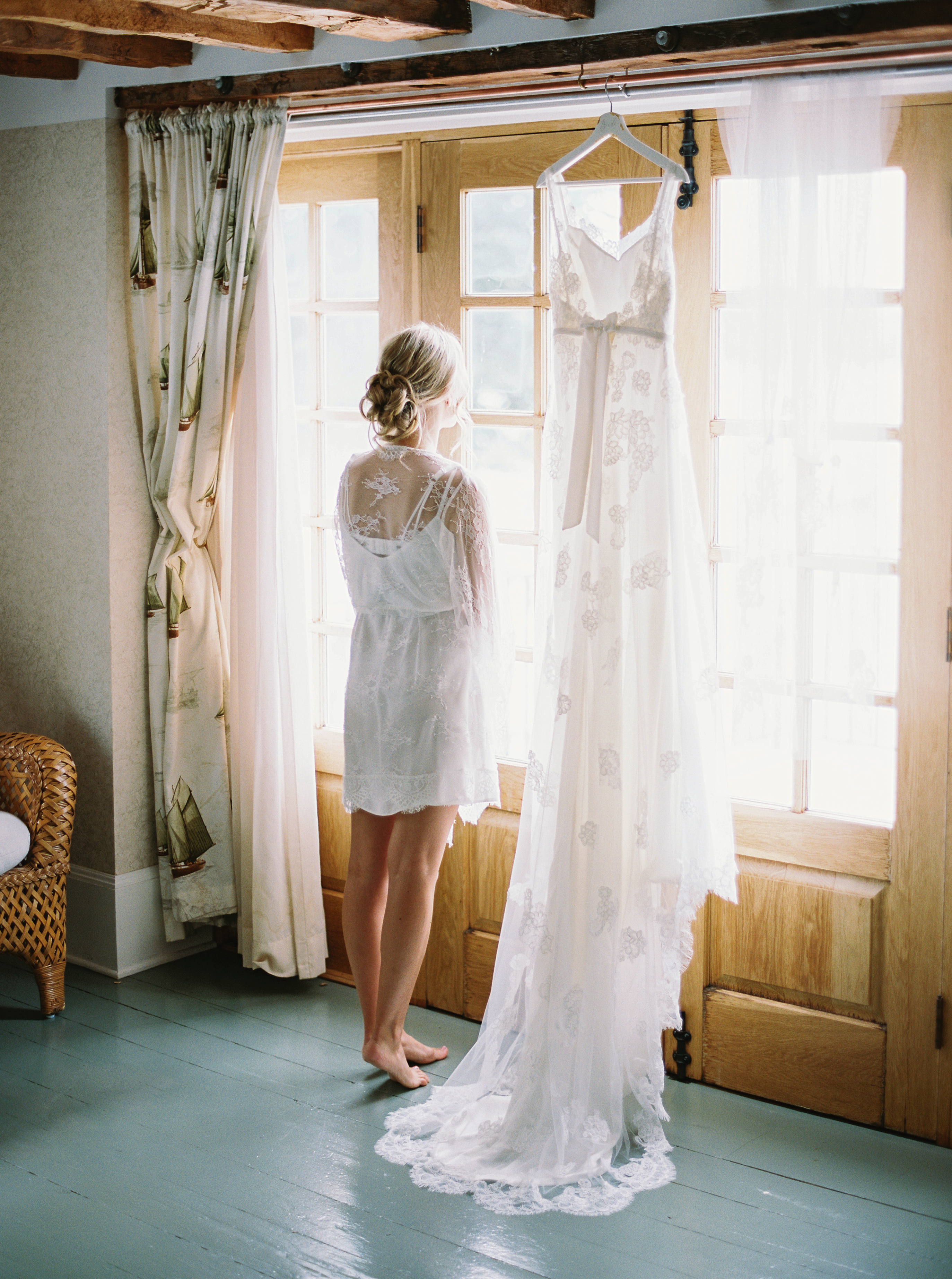 Eeee! You guys, I am so PUMPED to finally share our wedding with you this week! There are so many photos that I want to share so I'm going to be breaking it down bit by bit with the first post being us getting ready in the morning, our first look and the ceremony. In case you missed it, our wedding is featured in the Fall/Winter issue of Weddingbells Magazine which is why I wasn't allowed to post anything except for sneak peaks up until now. Aside from the magazine feature, there is also a lovely feature over on the Weddingbells website which talks about how Jamie and I met, our wedding vision and goes into more detail of the day. I don't have that much time to write a huge blurb for each post as I have a 5-month old who only likes to take 30-minute naps, haha! I'm trying to bust this post out in between that so definitely head over to the Weddingbells site to read more details. Plus, I'll be sharing more this week too!
The morning of our wedding was supposed to be super chill and relaxed but since we were doing a lot of the set up ourselves, Jamie and his family ended up doing a lot of work like putting out the chairs and things like that. Jamie and I were also not planning to see each-other up until the first look so we slept in separate beds the night before. However, that all went out the window the morning of the wedding when I woke up SO SICK from anxiety. It was the weirdest thing because I wasn't nervous to marry Jamie but I think the build up really hit me. Couple that with the fact that I was 14 weeks pregnant and I could not keep a single bite of food down. It.was.awful. I told my mom that I didn't think I was going to be able to get married and asked her to get Jamie because I needed to see him to calm my nerves. As soon as I saw him I ran into his arms and just cried. After that, I felt so much better and I was able to get myself in the shower, get a little bit of food in me and get on with the day. Once I sat in my hairstylist's chair, my nerves completely calmed and I started to get so excited! THANK GOODNESS!
The rest of the morning was spent with my mom and my sisters chatting and having a lovely time.I gave my sisters and mom gifts and then Jamie and I read cards that we'd written to each other which I ugly cried over. Then we did the first look which brought so many nerves and emotions up even though I'd already seen Jamie that morning. My heart was pounding so hard walking up to him. It was one of my favourite moments of the day and I'm so glad that we did the first look and had those precious moments together to soak in what was going on and gush over how good we looked, haha!
After our first look, we shot photos with our family, our bridal party and some couple photos. I highly recommend this because we didn't have to spend hours after the ceremony shooting photos. We could just relax a bit until the sun set for more pictures.
The ceremony was short and sweet. We had Jamies dad officiate which was extremely special and he did such an amazing job. My mom and cousin also read some pieces we chose that represented us and my cousin, Olivia, sang Ed Sheeran's "Perfect" while I walked down the aisle. It was exactly how I always pictured our wedding and I loved every minute of it.
& That's pretty much it for this part of the day! I hope you enjoy the photos, Our wedding photographer, Will Reid Photography, killed it and made everything feel so natural and authentic! We LOVE him!