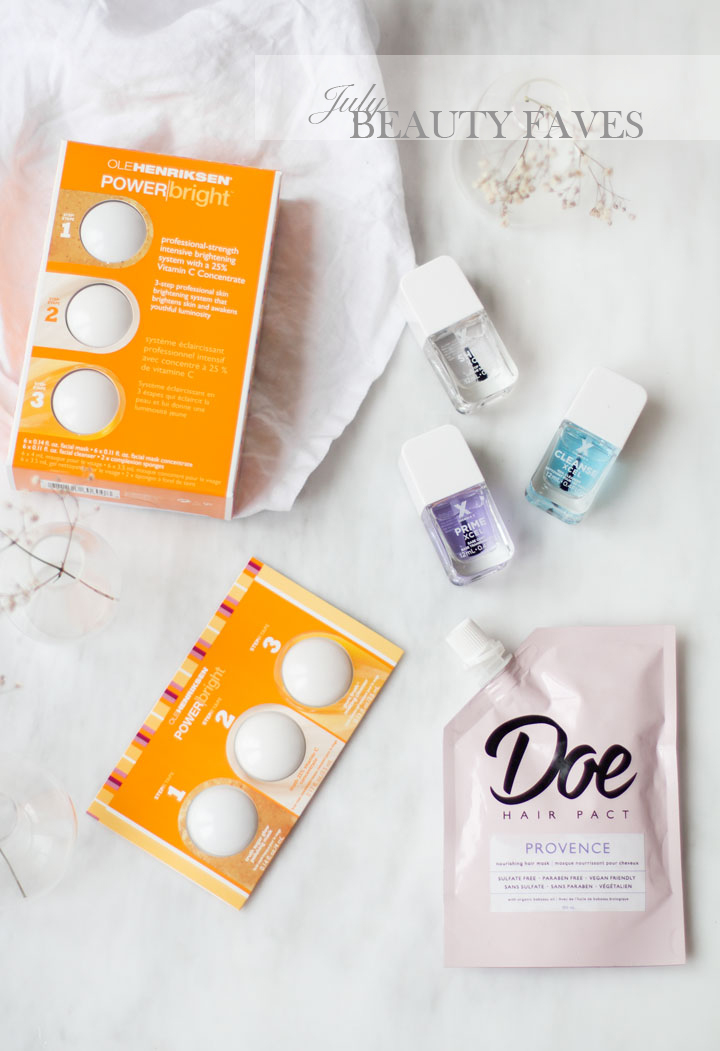 There's a common thread in this months beauty favoruites, can you guess what it is?
Okay, let me tell you. I have been loving 3 step systems and masks this July! From a mask that smells almost good enough to eat to a 3-step nail system that offers a gel like manicure without the hassle of heading to the salon (or using a UV box) here are 3 beauty products that I have been absolutely loving this July.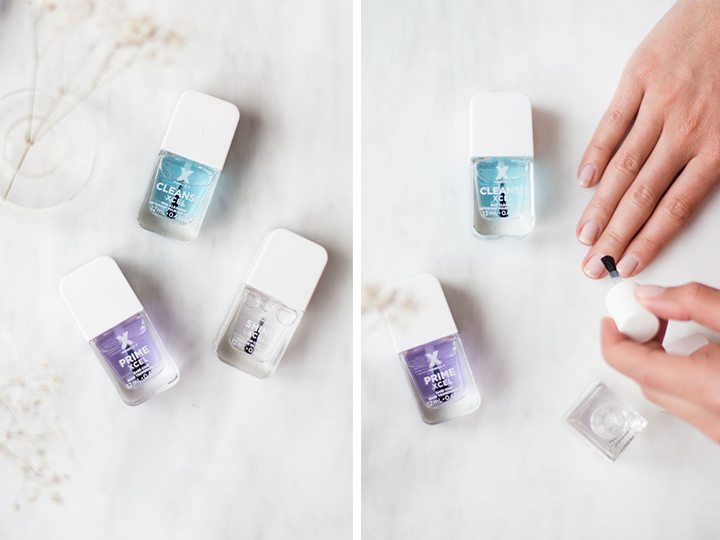 Formula X The System XCEL: Formula X already has to be one of the best nail polish brands out there for long wear, so when they recently launched their new 3 step gel system I knew it was going to be good. I love that I can use any colour in the Formula X lineup with this system so I didn't have to purchase any specialty gel nail polishes with this set. Using this system does require some extra time but for 10 days of no-chip nails I'd say it's totally worth it. To use this system all I had to do was simply cleanse my nails with the fast drying and nourishing "cleanse" polish, prime my nails with the XCEL base coat, apply the nail colour of my choice and finish with the Shine XCEL. The Shine XCEL is the product responsible for giving nails that gel like shine and protection and I was truly impressed with how well it works. This is a must have nail system for anyone who loves to do manicures at home.

Doe Hair Pact in Provence: I have never in my life used a hair mask that goes on dry hair before shampooing, so when Doe arrived at Blossom Lounge a couple of months ago I was immediately intrigued. This July I was beginning to feel as though the summer heat was getting to my hair and I really wanted some extra nourishment so I went for it. I chose the Provence hair pact over the Bora Bora option soley because it smells like lavender. I find lavender ultra calming which is great because I keep this hair mask on for about 30 minutes before shampooing it out. I love that this mask is an all natural option for my hair and that it's packed full of hydrating oils that target dryness, frizz and breakage, all problems my hair has been dealing with as of late. I absolutely love the feeling of putting the oil through my hair and I have truly noticed a difference in my hairs condition, it feels less dry and my mane feels more tamed (even in this humidity).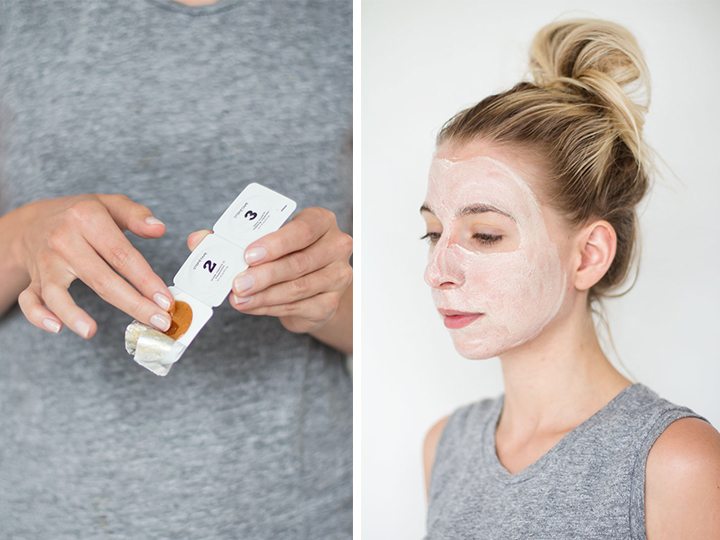 Ole Henrikson Power Bright Mask: One of my favoruite weekly rituals is giving myself a luxurious spa like mask at home. For the most part I use Province Apothecary's Detox mask with Manuka honey but I was so curious to try the new 3 step Power Bright mask from Ole Henrikson this month. Packed full of Vitamin C (25% of the pure form) this mask is as luxurious as it looks. The first step is a sugar scrub made with honey and pomegranate. I loved this step because I felt like the scrub really sloughed away my dead skin cells and left my skin feeling super soft and prepped for the next 2 steps. The second step was admittedly my favoruite because I loved the texture of the 25% vitamin C concentrate mask. It went on very easily and my skin felt smooth and hydrated as opposed tight and drying like some masks tend to feel. The third step I found to be a bit messy but it was definitely necessarily for the Ole glow to take full effect. The melting cleanser was applied directly on top of the concentrate to activate the vitamin C. When all was said and done I without a doubt noticed a difference in my complexion, it was dewy and glowing more than I'd seen it in a long while. This is a mask I am certainly looking forward to using again and again.