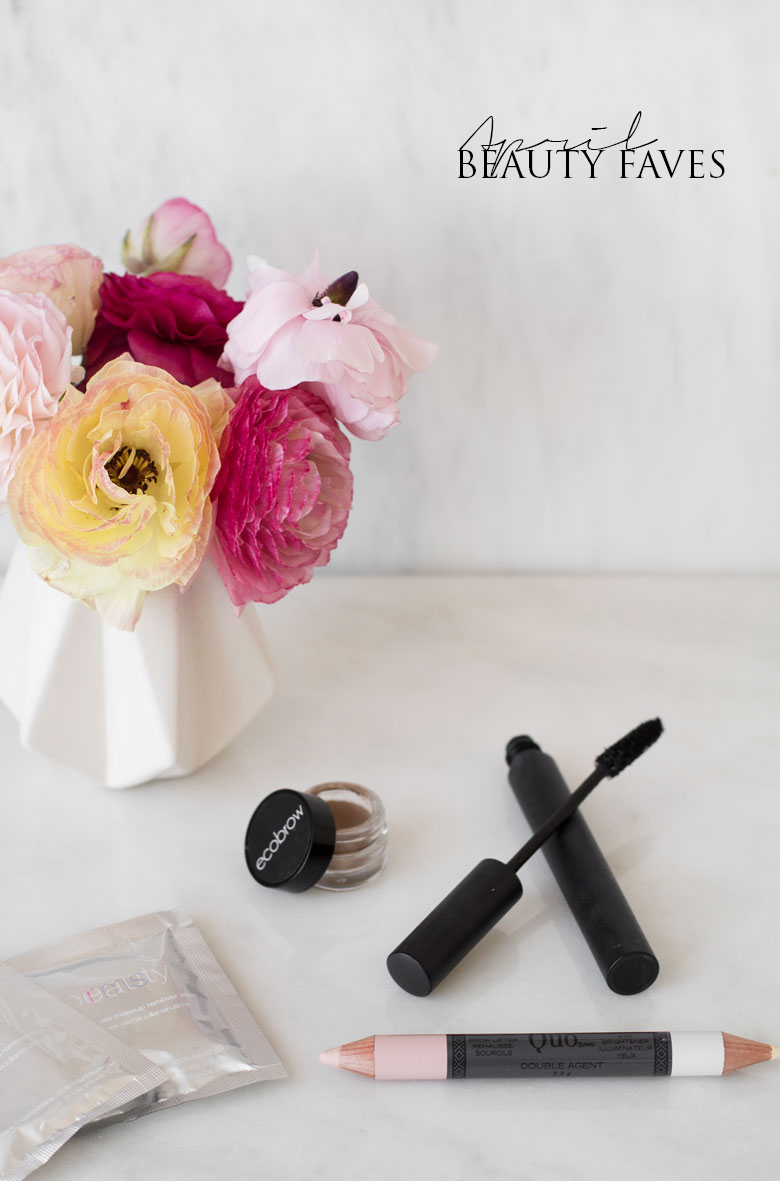 My eyes seemed to be the focal point in my beauty routine for the month of April. it was completely unbeknownst to me until corralled my picks of the month for these photos.. In reality I don't reach for products like eye shadow and eye liner all that often but I do love eye products that can frame my face, brighten my eyes and make my lashes pop without adding a ton of product or effort. I think I've found a few great options this month that do just that and I've also found amazing makeup remover towelettes that consist of only 1, all natural ingredient. Enjoy!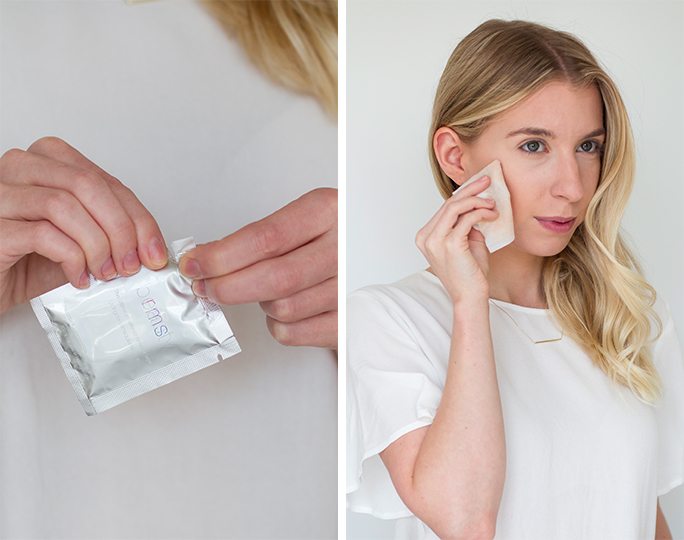 RMS Coconut Oil Makeup Remover Wipes: Using makeup remover wipes is something that I added into my nightly regime about a year or so ago. Although it definitely clocks on time to my routine I find using them well worth the extra few minutes. Privy to the RMS wipes, I was using Kaia Naturals bamboo wipes which were effective in removing makeup but a bit too fragrant for my liking. I am a huge fan of the smell of coconut so these RMS wipes were a bit of a no-brainer for me. It may seem silly at first to purchase coconut oil infused wipes as opposed to a jar of coconut oil but I prefer the convenience these pre-packaged wipes offer. They are also great for travel or for a quick wipe after working out. To use these wipes I simply rub the package in between my hand to warm up the oil and then gently massage the towel in a circular motion all around my face and neck. These wipes do an incredible job of gently removing my make up and keeping my face feel super moisturized. Lately I've even been skipping out on cleansing my skin after using these. I now simply use warm water and a facecloth to remove any excess oil and dirt.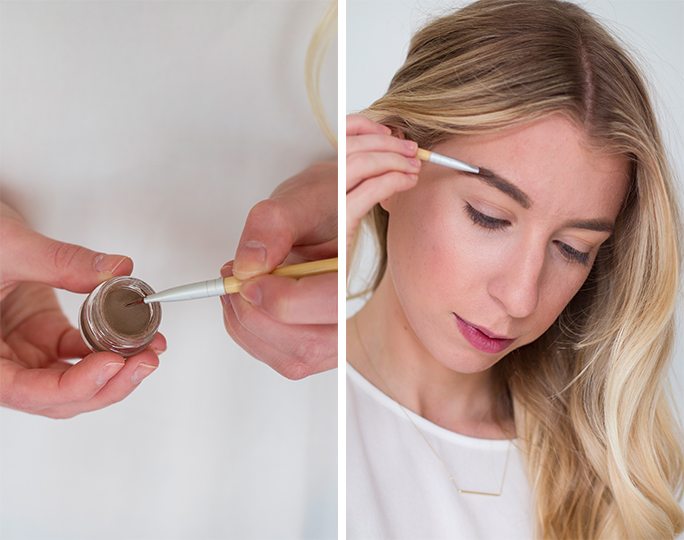 Ecobrow Defining Wax: The single most important step in my makeup routine is without a doubt filling in my brows. There's just something about having them defined that offers an instant boost of confidence and simply makes my makeup look that much better. I have been a die hard fan of the MAC eye brow pencil for years, only swapping it out for about a month for this Nude Stix duel ended pencil. This month while I was browsing at the Detox Market I decided to purchase Ecobrow on a whim. At first I wasn't sure how I felt about filling in my brows using a brush because it takes skills that I just don't have. I decided instead to continue using my MAC pencil to fill in my brow shape and then follow up with the wax to keep them in place and fill in any excess patches. This wax is also infused with Vitamin E which nourishes eyebrow hair and silica to help absorb any excess oil.
By the way the colour I am using is Marilyn (I love that the names are after Old Hollywood icons).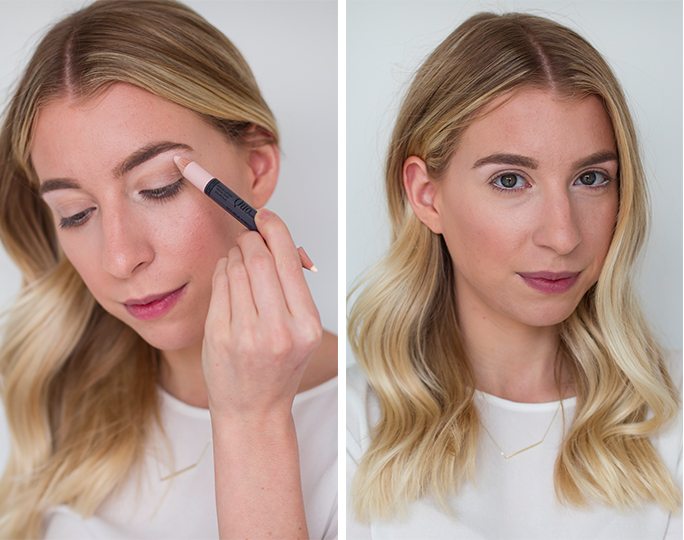 QUO Double Agent Eye Brightener and Brow Lifer (not available online): When I was a teenager Quo Cosmetics was one of my go-to make-up brands. Whether it was a fun compact mirror and brush set or a playful eyeshadow palette, I would always look forward to going to Shoppers with my mom and picking out a few goodies. Flash forward a few (okay maybe more) years and I have been reintroduced to the brand once again. I recently attended the sweet 16 birthday party for QUO where I was given a plethora of goodies that I was pretty excited about but one product in particular that stood out was this duel ended eye brightner and brow lifter. I love that this pencil is so convenient to reach for and It instantly makes me look awake with only a swipe of each end. The pretty pink hue lifts and highlights my brow while the white liner makes a huge difference in making my eyes look brighter.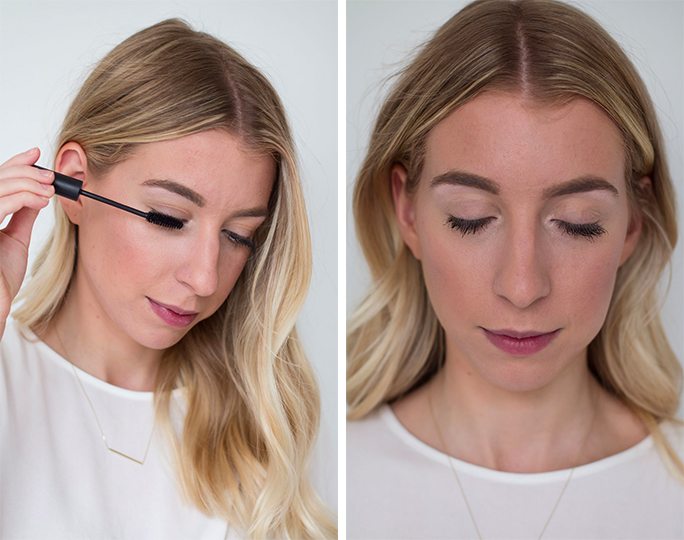 Evelyn Iona Coffee Mascara: The one feature that I get complimented on the most is without a doubt my eyelashes. Seriously anytime someone gushes over them I now answer with the phrase, "I know right, it's the only thing I have going for me." Because I do have natural long and thick lashes I'm actually not all that picky when it comes to what mascara I use. As long as the mascara doesn't clump together and brushes on smoothly, I am a pretty happy girl. I was excited to try Evelyn Ionas mascara for the simple fact that it is 100% natural, fragrance and cruelty free. I love that the black colour comes from coffee so I can be assured I'm not getting any chemicals into my sensitive eye area. I also do enjoy the thick brush which makes for easy application and helps achieve high impact lashes.