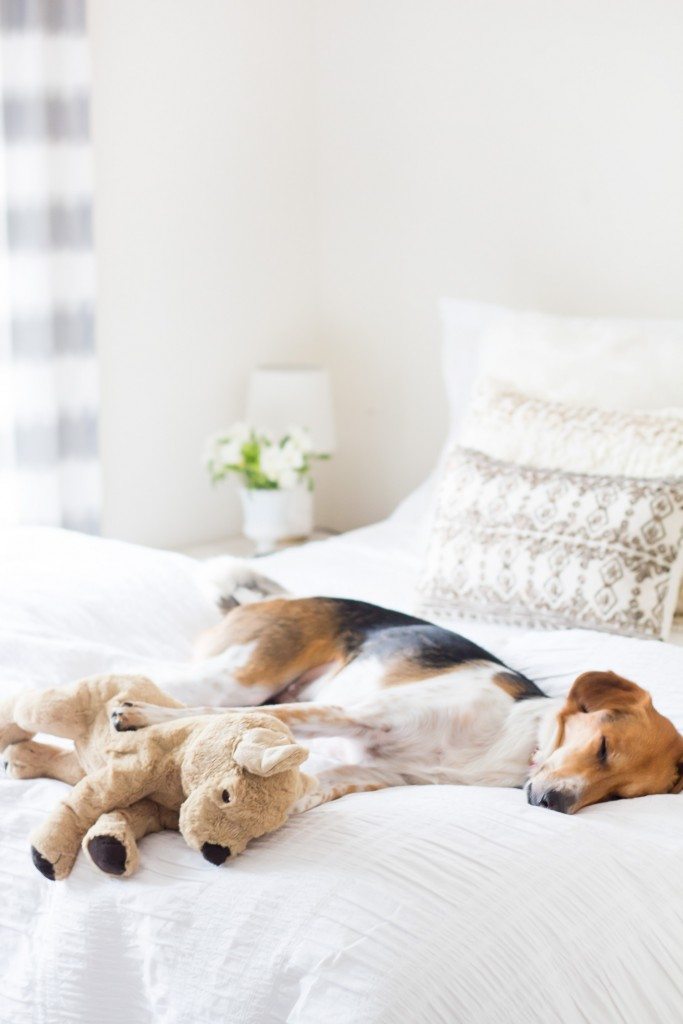 Up until last week the bedding that Jamie and I shared was from our first place together. I remember being so proud of that first set of bedding we purchased 5 years ago at the Quilts Etc. store in Halifax. It was all white with a floral shaped texture and we paired it with grey sheets. It was never the full bed set but I always loved it. A few months ago (whoops) we were sleeping and I turned around in bed, moving the duvet with me. When I turned I heard an awful shredding/tearing sound but I was too sleepy to care at that time. The next morning I realized that our poor duvet cover was ripped right up the seam and was pretty hopeless at that point.
For the last few months I've been on the hunt for perfect white bedding while our bed remained duvet cover-less and looking like a sad excuse for a bed. When Jamie's parents were here last week we decided to take a trip over to The Bay on Queen Street as his mom had never been. We walked through mostly all of the floors, including the home level which I had never actually explored myself. As soon as I spotted the all white Romantique Collection from a few beds away I made a bee line for it and knew instantly it was the one. There were so many elements to the set that I loved, from the matelassé skirt/sham the crinkled duvet cover and the ADORABLE pom-pom trim on the sheets and pillows, it was everything I wanted in a bed… and Jamie even liked it (minus the lower thread count).
As soon as I got our new bedding home and set up, adding a few extra pillows for more texture and interest, I was beyond thrilled. I have never had a bed that looks this great…I feel like it's straight out of a magazine and I am just so happy with it. I've also noticed that besides how great our bed looks that a few bad habits have actually improved. Here are 5 reasons why our new bedding changed my life.


1. I now make the bed every morning: Making the bed may seem like an obvious ritual for some but for me it is something that I only did after washing our bedding every week. Ever since purchasing our new bedding, I find myself wanting to make more of an effort in keeping it look as good as I know it can. Every morning after breakfast and before getting ready for the day I make our bed. After it's made I take a step back and look at how pretty it is and just love the way it makes me feel, especially when I crawl into a freshly made bed every night. I've also noticed that when the bed is made I want our room to look as clean as it can so I find myself consciously putting clothes away, cleaning up Milo's toys and organizing much more often than not.


2. I've been reading instead of using social media before bed: This statement may also have something to do with this post that I wrote last week in response to "the girl who quit social media", but since buying our new bedding I look forward to going upstairs at the end of the day, crawling into bed and picking up a book. I'm not a reader by any stretch of the imagination but I've decided to start reading books on mindfulness and gratitude as of late. Right now I'm reading this one.


3. Snuggles have gotten even better: Our nightly routine consists of Jamie and I attempting to cuddle in between Milo who enjoys and insists on crawling up in a ball and plopping down in between us. We both don't mind and we actually find it quite cute. Though the new bedding hasn't stopped Milo from being a little cuddle monster I do find that because I have been going up to bed first to read and Milo follows, that he chooses the bottom of the bed as opposed to the middle. When Jamie comes up to bed we have a little more room to cuddle than usual.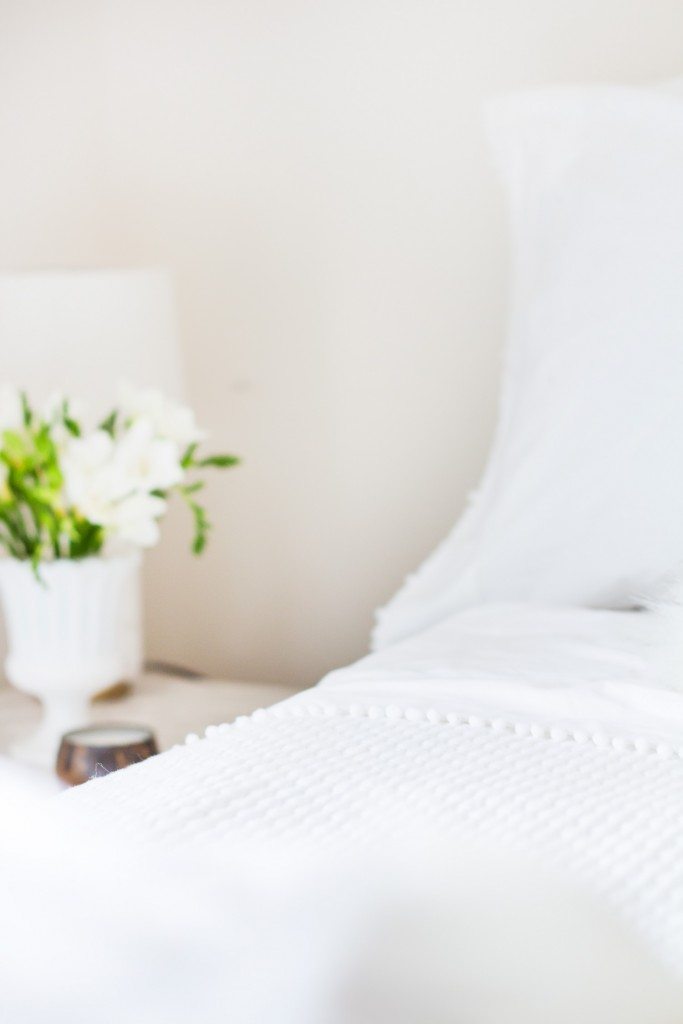 4. Photo-op's are now a must: Although this might sound a bit ridiculous for those of you who aren't bloggers but the new white bedding is AMAZING for taking photos. Our new place doesn't have the best lighting, but our bedroom does and I can't stop taking pictures on our bed! I love a crisp, bright and white photo and this bedding is the perfect canvas for so many of my shots.


5. I've been going to bed early and getting a great nights sleep: Though I'm sure the reading before bed attributes to why I'm falling asleep quicker I have found that because I am just so cozy in our new bed that I fall asleep easy and soundly. There is nothing quite like bedding under a pile of cozy sheets and I feel SO snug while under our new bedding that sleeping has become something I look forward to at the end of the day.