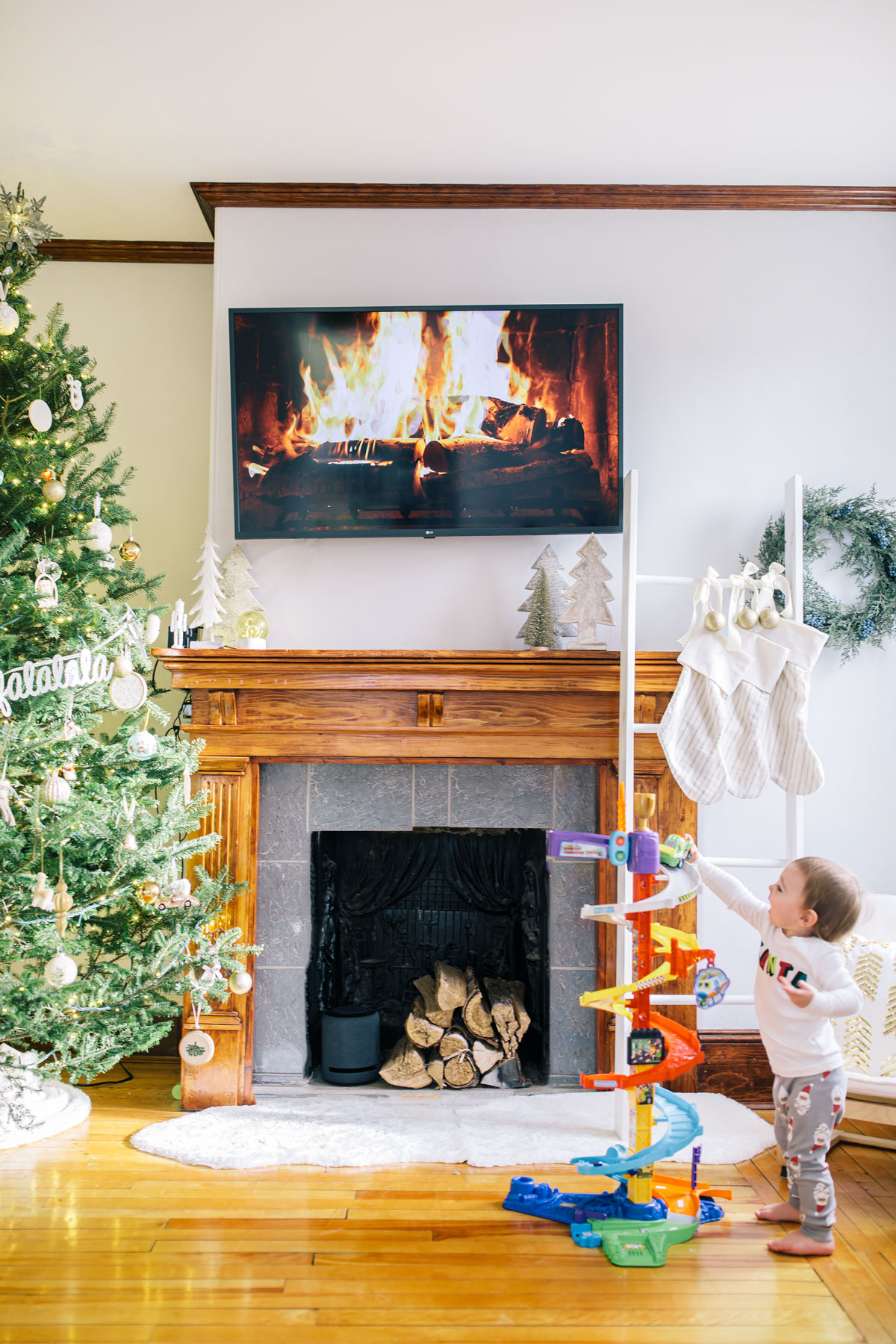 When I became a mama and transitioned into sharing my motherhood journey, I also began receiving gifts for my son. Edwin has been so lucky to receive lots of presents, from clothing to the latest in toys and gadgets. Every time Edwin receives a package, I make it a point to stop and practice gratitude for the kind gifts he has been given. Along with that, I am also trying to teach Edwin that not everyone is as blessed as we are and that some kids simply don't have the abundance that we do. Of course, this is a hard concept for an almost 2-year-old to grasp, so I think that the best way to teach Edwin these sorts of life lessons is to show him by including him in good, charitable deeds.
This year, I have been so happy to work with VTech. I've shared with you some of our favourite toys that Edwin can't get enough of like Bailey, the plush Speak & Learn Puppy™, The VTech Toys Go! Go! Cory Carson™ Stay & Play Home and his latest obsession, The VTech Toys Go! Go! Smart Wheels Ultimate Corkscrew Tower. I'm going to be sharing more about the Go! Go! Smart Wheels Ultimate Corkscrew Tower below, but first I wanted to share with you how we're giving back this season with the help of my friends at Vtech.
I absolutely love promoting and sharing toys with you that Edwin truly loves but, I also feel like it is my job to also give back and this was the most obvious way that I knew I could. For my last campaign with VTech, I wanted to not only share this super cool toy but also find a way to give back this holiday season. I asked Vtech if they'd be open to sending me some toys to gift kids and needs and they graciously send me over three boxes of brand new toys to donate to a local toy drive this year. I can't wait to drop these toys off at a local radio station toy drive with both Jamie and Edwin and share in this experience together. I know that this is just a small first step in teaching Edwin the importance of giving back but I am so grateful to be able to do it.
The older Edwin gets the more of these types of things we can do whether that be dropping toys off, donating money, or donating our time to local charity initiatives which I encourage all of you to do if you are able. If you are looking for another way to give back and aren't in a financial position to do so, I'd suggest looking at the people in your circle and how you can give back to them. Is there an elderly or immune-compromised person who you could run some errands for? Or an elderly family member that you could take a home-cooked meal and leave it on their doorstep? Little things like this make such a huge difference and they make you feel good too!
Now that I've shared some inspiration to get you started on giving this holiday season, I wanted to share a bit about my little guy's newest toy obsession, The VTech Toys Go! Go! Smart Wheels Ultimate Corkscrew Tower. Edwin has a serious affinity for anything that has to do with ramps and cars so this toy was an obvious choice to gift him for Christmas (yes,we shot photos of him with it but thankfully, there is a second way to configure the track so that we can gift a "new" toy to him on Christmas morning, haha!). This 3-foot racetrack which is literally as tall as my son offers an impressive corkscrew track for all kinds of downhill fun. Edwin LOVES putting Rocky the Race Car on the launcher and pushing the trophy to send the car zipping down the track. He also enjoys the interactive sounds it makes. I like that there are so many ways to play with this tower, from putting Rocky on the smart point locations and learning the songs he can sing to eventually reconfiguring the track and having his cars race each other down the tracks.
The VTech toys have honestly been such a huge hit in our house and have offered up hours of endless entertainment. I highly suggest picking up Go! Go! Smart Wheels Ultimate Corkscrew Tower if you're still in the market for a fun toy for your kiddos for Christmas! You can find it at major retailers!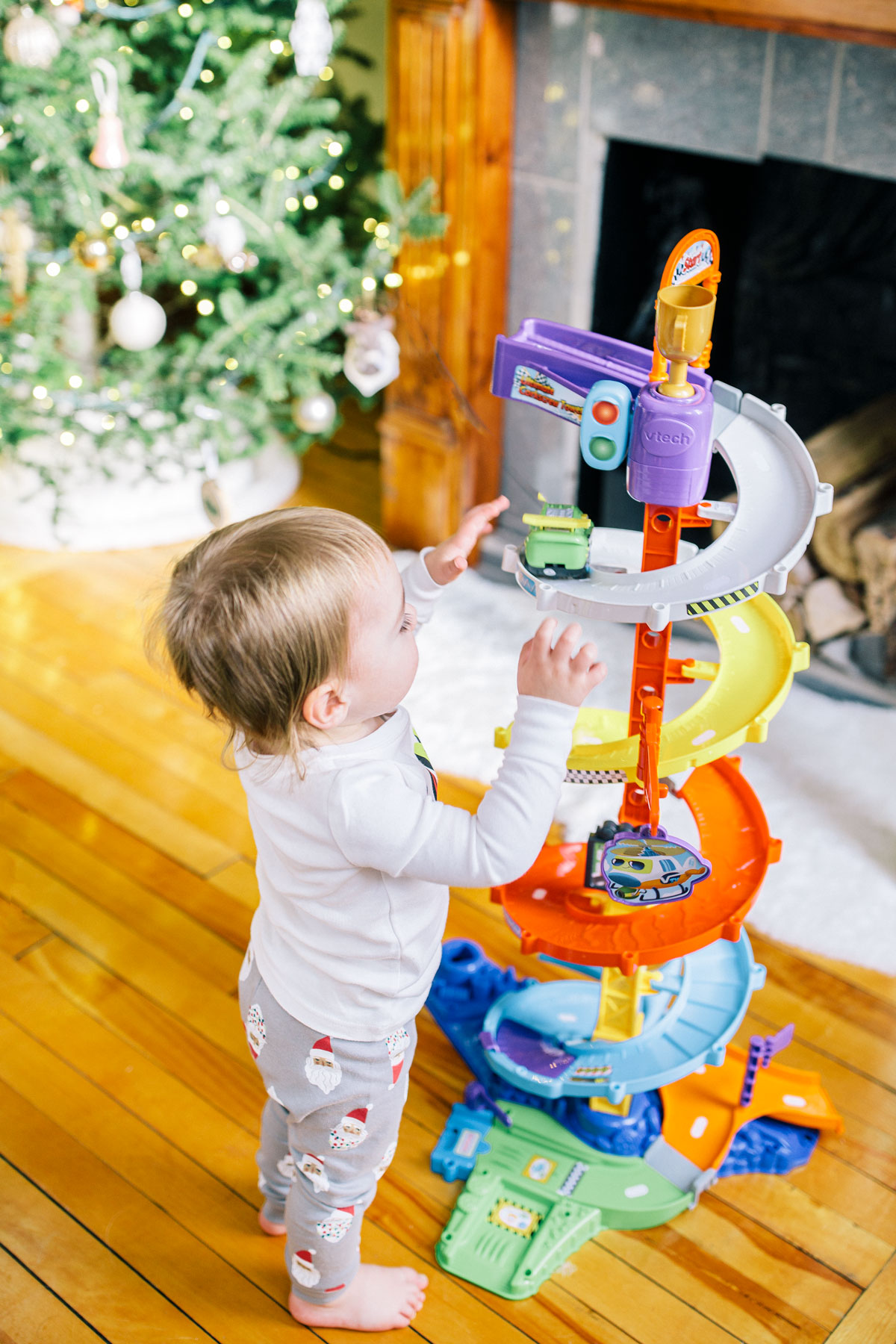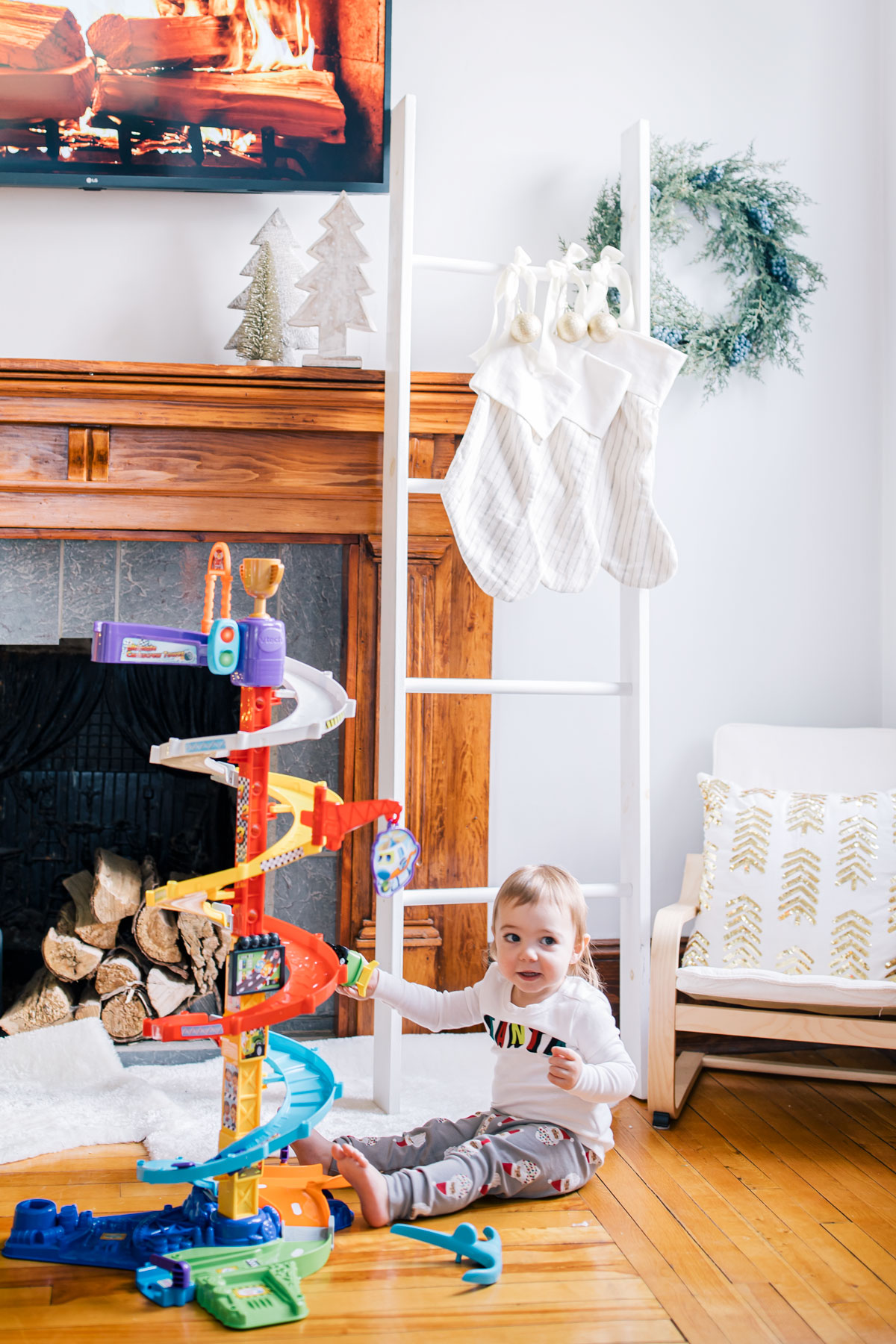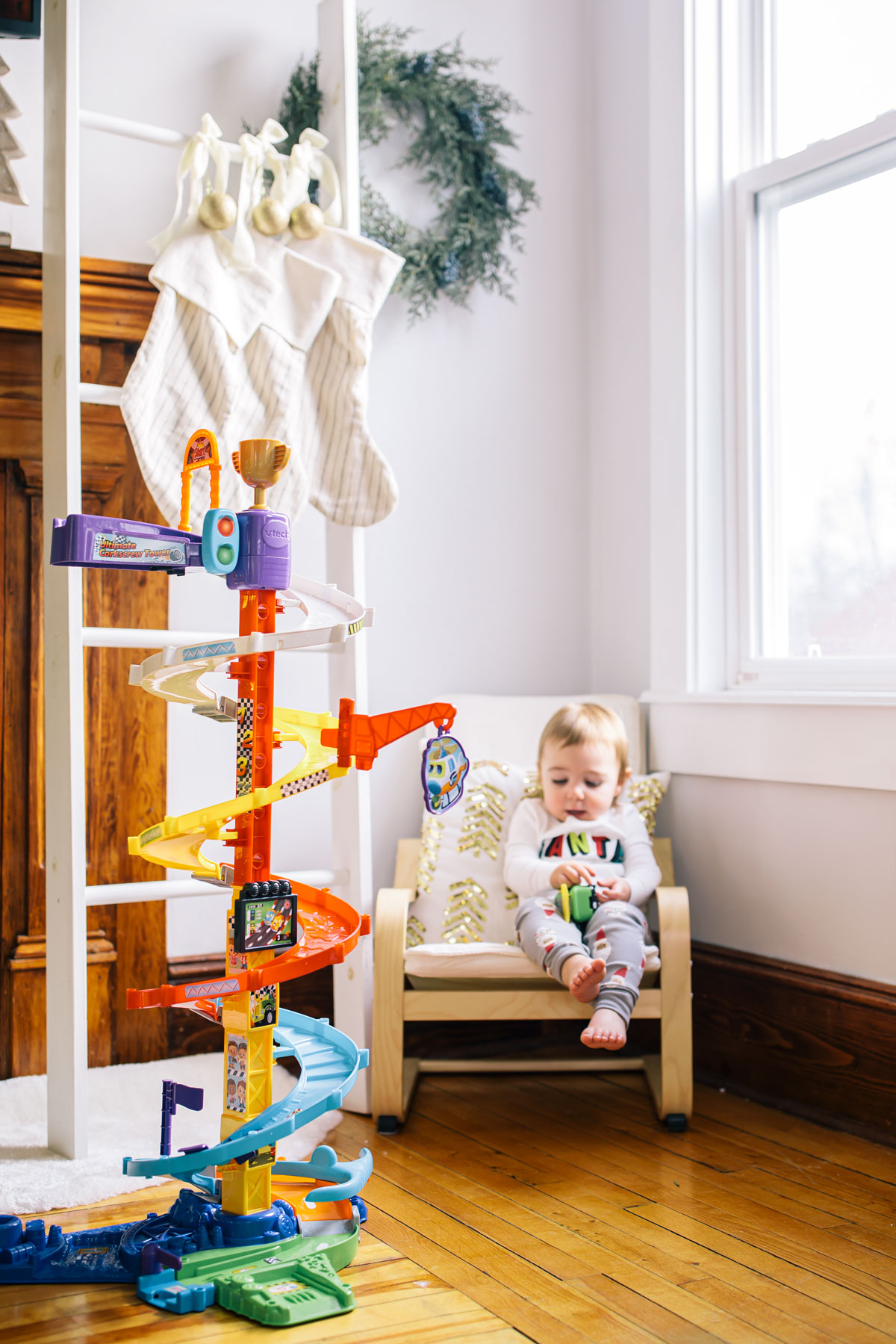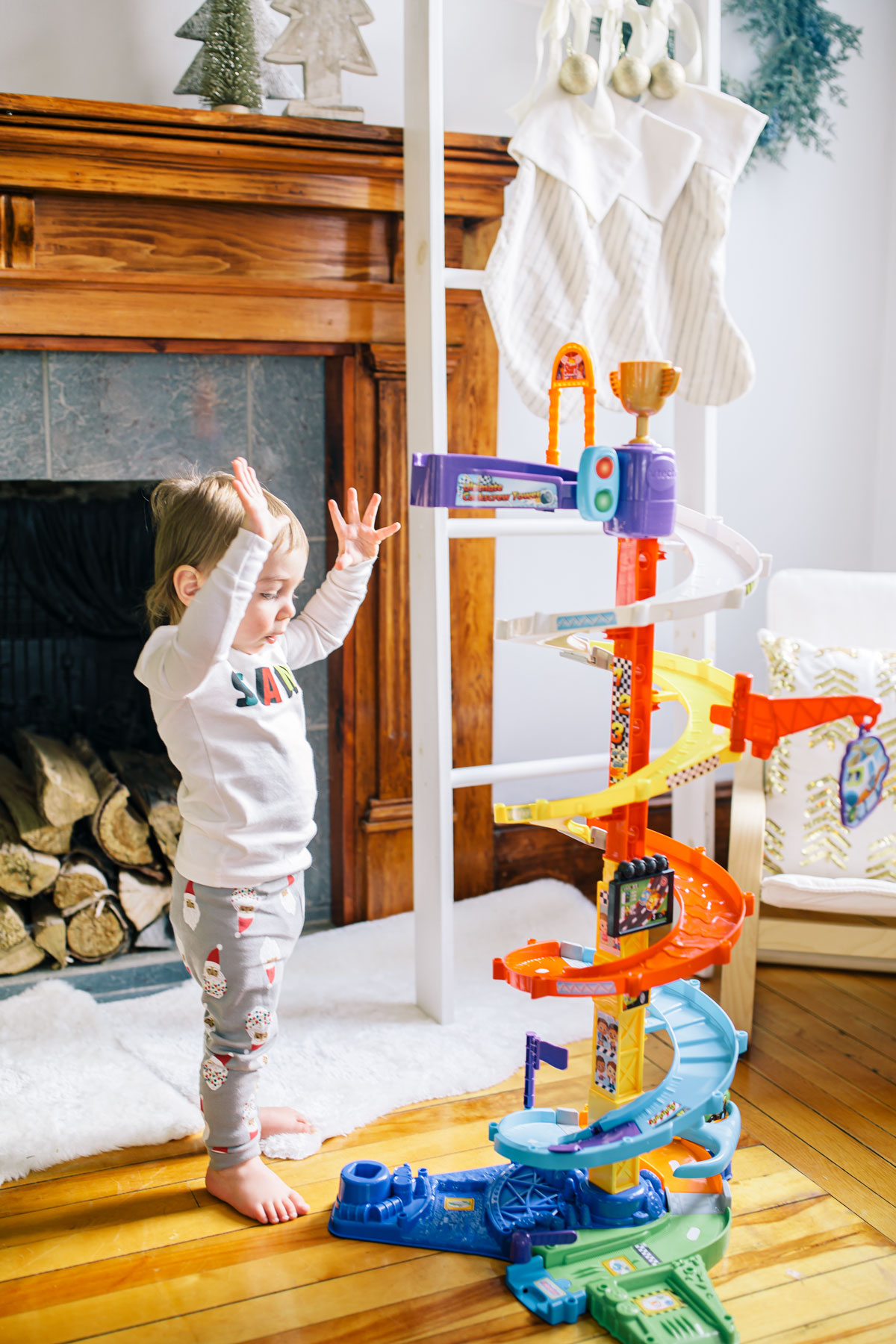 This post was proudly brought to you by VTec