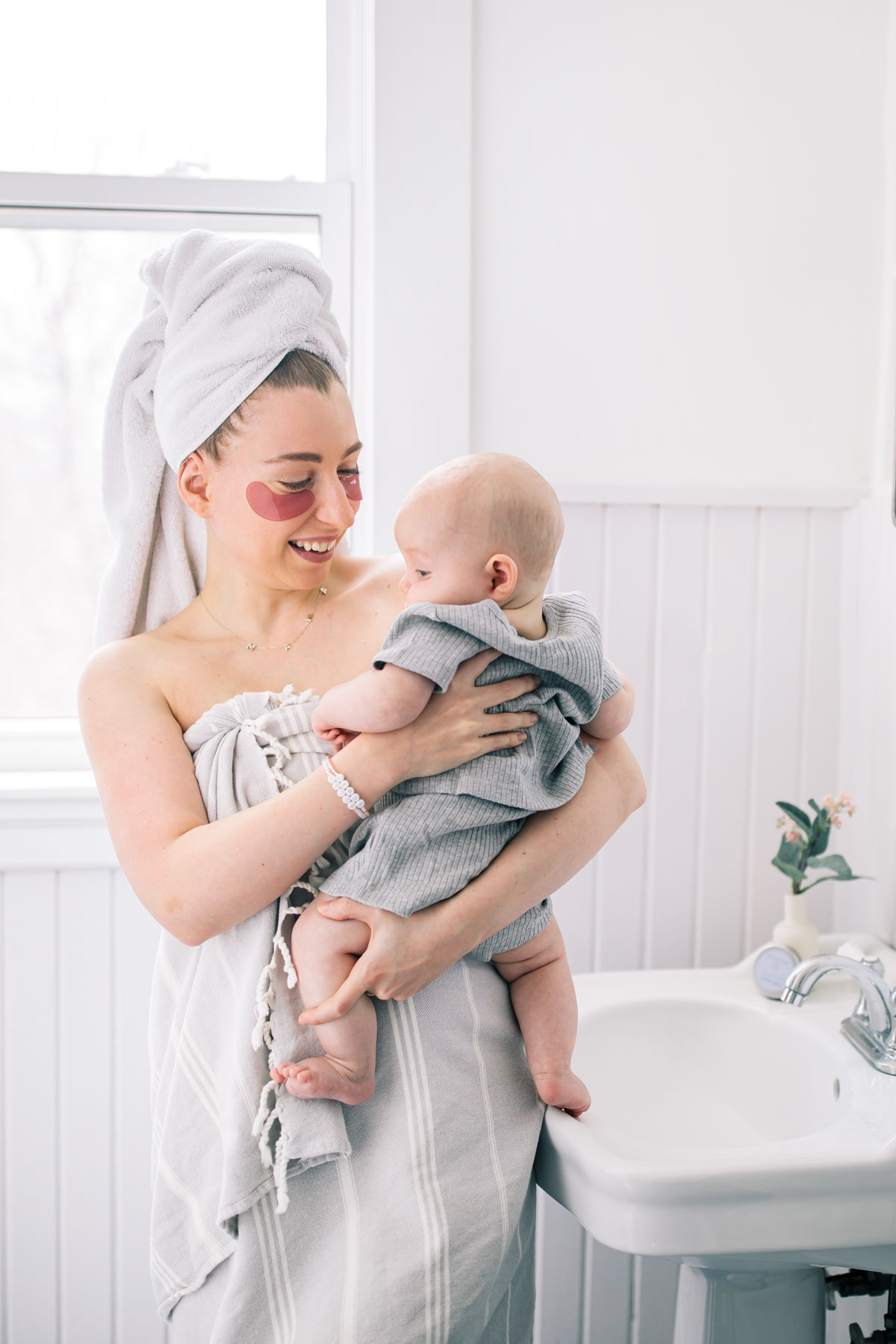 While Admittedly I was not the mom who swapped out all of her beauty and skincare products for an all-natural option the second I found out I was pregnant, I did make a conscious effort to switch where I could. I love the idea of using 100% clean products, but I also know that I love trying out new brands and products too much to live that #allnaturaleverything life. I am proud to say however, that the ratio of clean vs. not-so-clean products that I use is probably nearing 50/50, and climbing every time that I find a clean option that I don't need to compromise on. Being pregnant, and now breastfeeding my second son, I am more conscious than ever before about what I put into and on my body and am fully aware that whatever products my skin is absorbing my baby is too. Being mindful about that has pushed me to swap out where I can and be constantly testing and finding really great products that are pregnancy and breastfeeding safe, and work just as well if not better than their counterparts. With that, In the past couple of years, I have tried a lot of clean beauty products. From my absolute favourite stretch mark cream for growing bellies to No Pong, aka the only all-natural deodorant that works for me, here is a list of all of the all-natural or pregnancy/breastfeeding safe products that I love and use on the regular.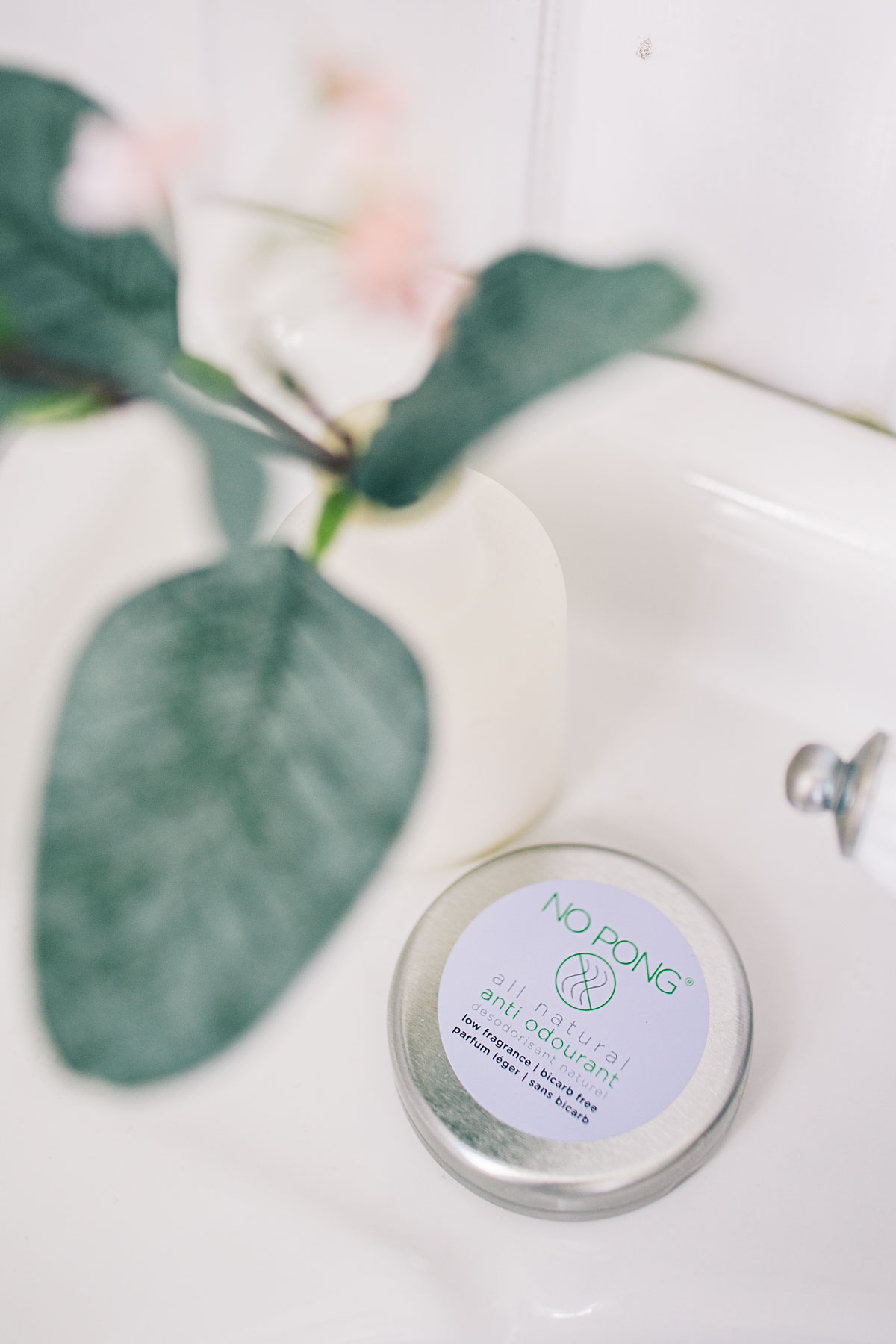 No Pong All-Natural Low Fragrance/Bicarb Free Deodorant:
Did you know that it is super common to become extra smelly after having a baby!? I had no idea this was a thing until I had my first son and oh my goodness was it ever shocking. In truth, I have never been the best smelling lady and have always relied on deodorant to combat my b.o. After having a baby, my hormones told my body to smell even worse because my baby needed to recognize my scent (pretty cool but also kind of gross, haha!). Anyway! Iloved the idea of using an all-natural deodorant but never thought that I would try one during my postpartum period because I'd used them deodorants pre-pregnancy and none ever worked for me. When No Pong approached me about working together, I was intrigued and LOVED that they wanted me to try the product before I promoted it. I started using No Pong at the Beginning of February and I immediately felt like it was a game changer in the all-natural deodorant category. Deodorant has always been the one thing I've been concerned about using because I'm breastfeeding and feel like out of all the products I use, deodorant is the one that my baby is closest to. I am so grateful that this 100% paraben, aluminum, cruelty and plastic free product WORKS! I used the bicarb free version because I have sensitive skin and just love how easily it absorbs into my skin and stays dry. I also love that Melanie the founder of No Pong is a midwife and a fellow Canadian. No Pong is manufactured and ships from Canada but the word "pong" is an Aussie phrase meaning "odor" which is an ode to Melanie's partner who is from Australia and the other half behind the No Pong business. I can't say enough good things about this company and the deodorant and I highly recommend it if you're looking to swap out your heavy aluminum deodorant for an all-natural option. No Pong is available at NoPong.ca & Well.ca and retails for under $10!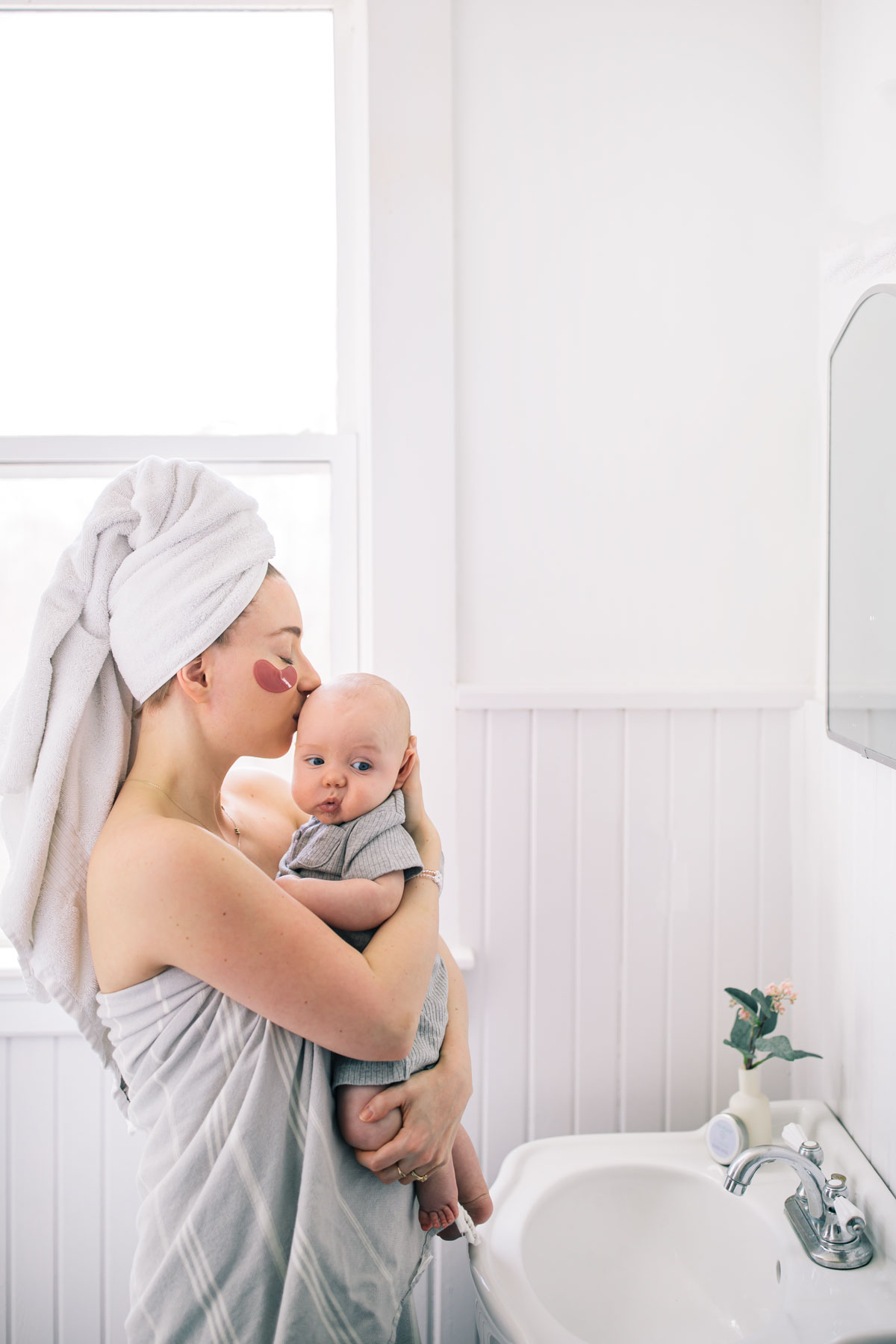 RMS Luminizer & Un-Cover Up:
RMS is a brand that was introduced to me a few years ago and one that I have continued to use on and off since. I met the founder of RMS and absolutely loved hearing her story and watching her share her tips and tricks for applying makeup (she's also a professional makeup artist). Two of the products that I love are the luminizer as it adds such a lovely natural glow to my skin and the Un-Cover Up that I use either as a spot/colour corrector or all over my face. A little goes a long way with both of these products.
Bite Beauty Upswing Full Volume Mascara: I've always had very long and thick eyelashes so to be perfectly honest, any mascara I use typically works for my lashes. However, I will say that I love this natural option because of the thick brush (I'm always looking for achieving thick lashes over length) and that this doesn't smudge or budge throughout the day (bye racoon eyes).
Ever Eden Stretch Mark Cream/Belly Oil: This is a product that I've shared before and absolutely love! I used these products during my second pregnancy and while I still got stretch marks (I think its genetic) the scent of both the cream and belly oil are a dream! I loved the ritual of rubbing both the cream and the oil on my baby bump and would definitely still continue to use these products after pregnancy…if I had any left!
Love Hair Volumizing Dry Shampoo: Finding an all-natural dry shampoo (or any dry shampoo) that I love (no pun intended) has proven to be difficult. However, one that I keep going back to is the Love hair dry shampoo. This powder formulation quickly absorbs any oil on my scalp and pumps up the volume in my roots. Also, the packaging is super cute!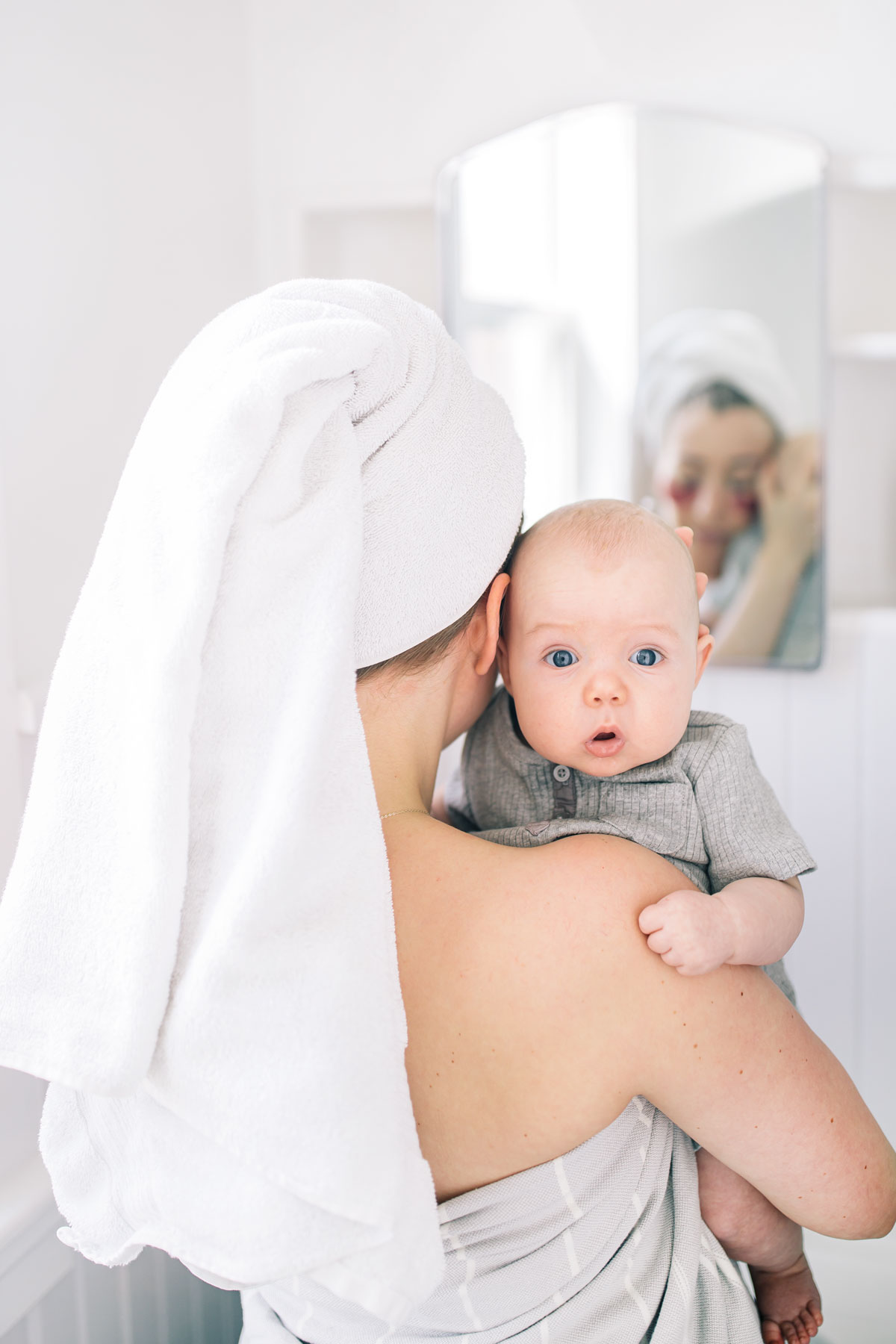 Biossance Squalene & Vitamin C Rose Oil: I feel like this serum is becoming a bit of a cult fave and for good reason. This rose-scented serum brightens and firms and leave my skin feeling quenched and oh so glowy! I've also used it on my tummy postpartum and love how it makes me feel.
James Rejuvenate Eye Masks: Does anyone else feel like giving yourself an eye mask is the ultimate in self-care!? It is one of my favourite things to do for myself either in the morning before I put my make-up on or at night when I have some time to give myself a full-on self-care relaxation evening. I was recently introduced to the James eye masks as a PR mailer and immediately was excited to use them because they are pregnancy and breastfeeding safe. I very much enjoy using the 24k gold and collagen crystal and rejuvenate eye masks. They both make my under-eye area feel hydrated and much less puffy.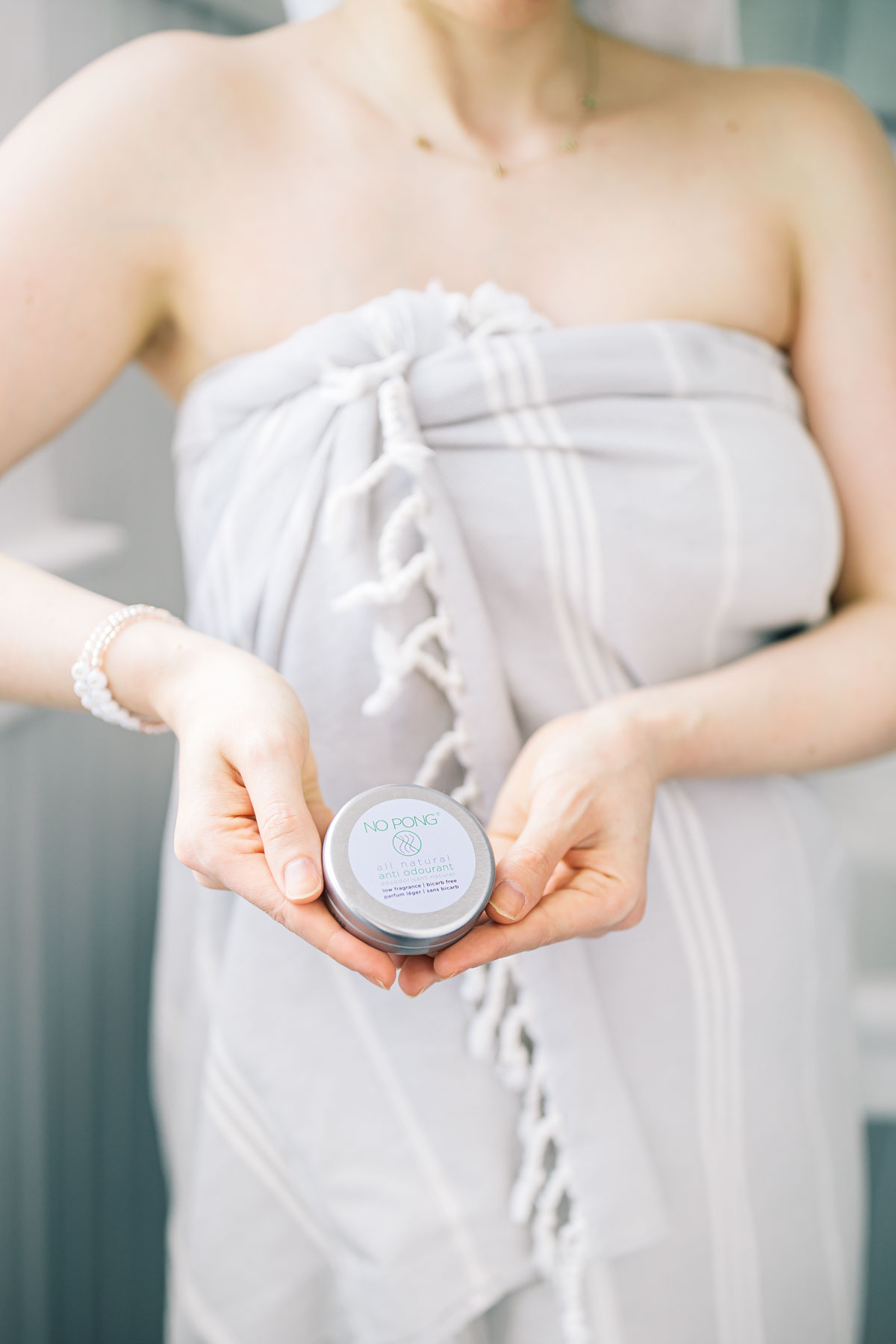 James by Rosie Jane Perfume: Another "James" on the list…maybe I am just biased towards the name James, haha! But in all honesty, this is one of my forever perfumes and I love that is clean! I first began using by Rosie Jane when I worked at a boutique in Toronto. I started with the "Leila Lou" scent which I still love, use and highly recommend (especially for summer) but converted when they launched "James" simply because I find it a more unique scent of the two. With notes of fig, amber and gardenia, James offers a more woodsy/earthy scent. If I were to describe "James" I would say that it is a feminine meets masculine scent that offers a certain air of mystery and seduction. I just LOVE it!
Caudalie Grape Water: I first began using this product while in Charleston during the hot hot summer a few years ago and have been a fan ever since! I use this grape water every time I put makeup on as a setting spray as well as on hot days when I just need to cool down and add some moisture and life back into my skin.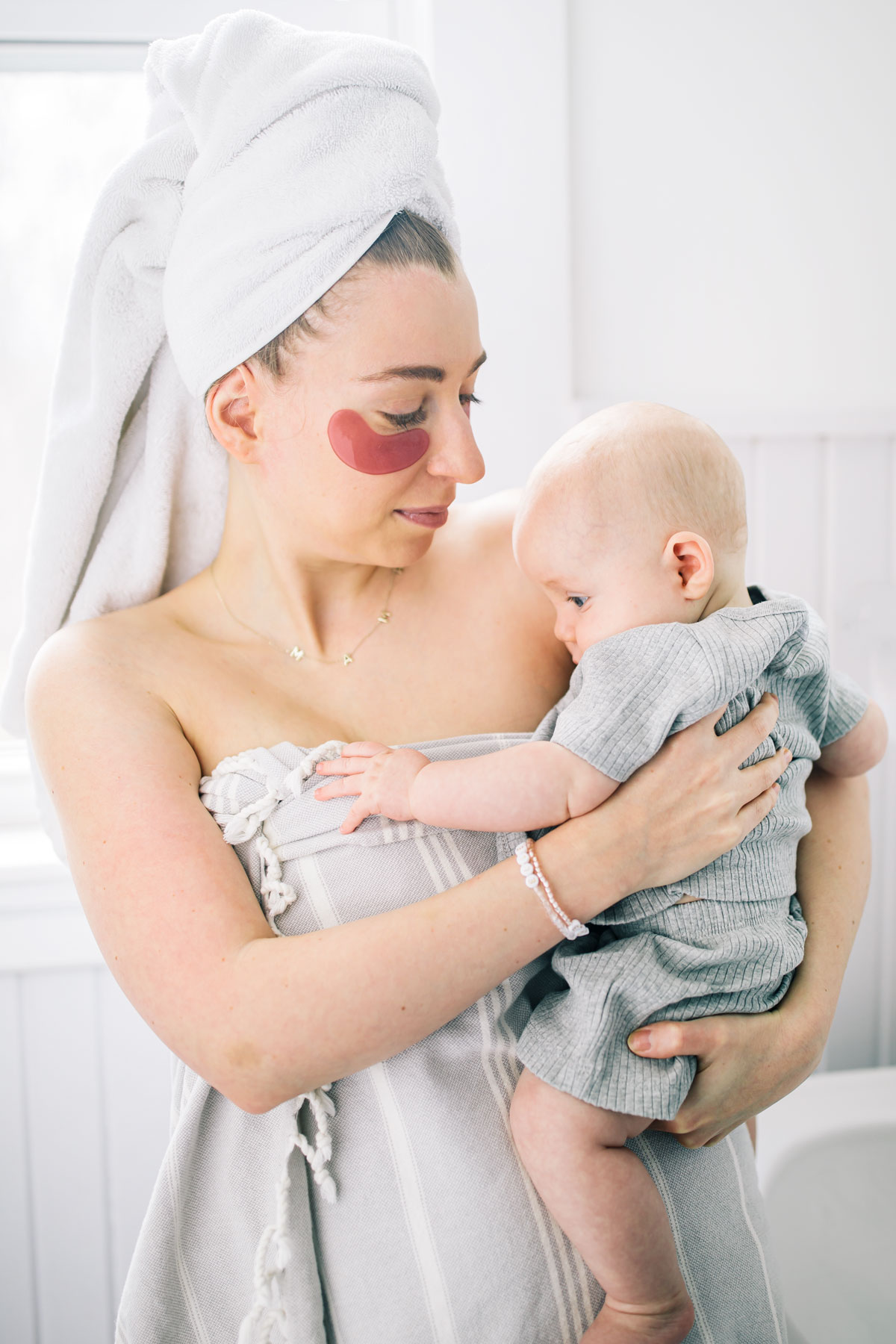 Lano 101 Ointment: For the past 4 years I have used nothing but Lano 101 Ointment on my lips…you could say I am mildly obsessed with this stuff but for good reason. Seriously, I have never been happier with the condition of my lips! This ultra-moisturizing ointment blends into my lips smoothy and I only need a small amount so it lasts forever! I use this ointment anytime I'm finished washing my face or brushing my teeth and always put it on just before bed and wake up to super soft lips.


This post was proudly brought to you by No Pong