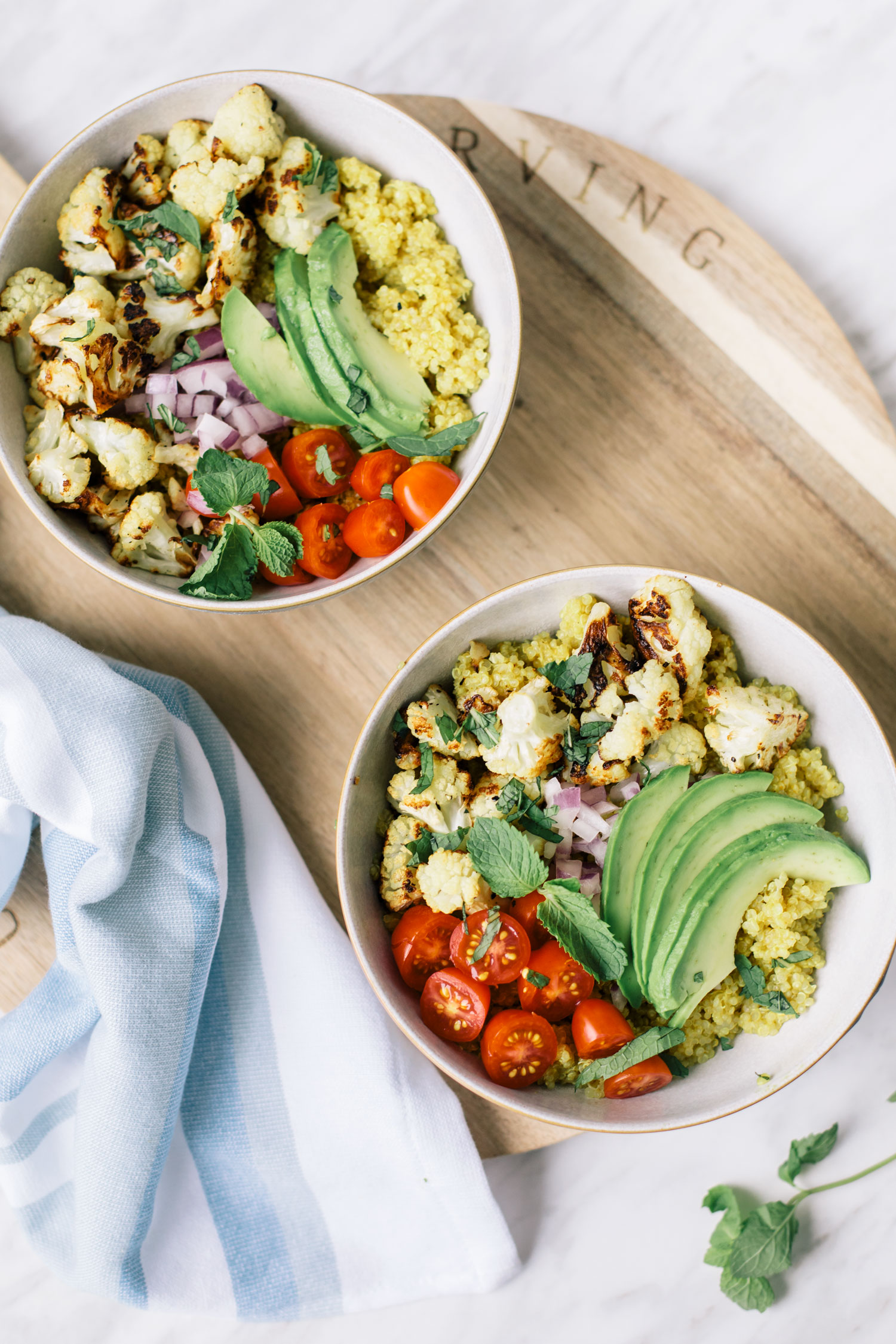 Lunch has always been a meal I've been not so good with. I make it a point eat a healthy, balanced breakfast and I love cooking new, good-for-me dinners regularly. However, for some reason, when it comes to lunch, I either skip it all together or reach for something quick and typically unhealthy like say…nacho chips and salsa (my vice). When Becel recently reached out to work together again on a recent Instagram post, they offered me a few recipe ideas to go along with it, and that stuck out was this golden turmeric quinoa bowl. I knew that making these bowls would be the perfect opportunity to try out a healthy, filling lunch and hopefully, inspire me to make eating in the afternoon a priority from here on out. These bowls took a little over 30 minutes to put together but can be made the night before so really, there's no excuses not to try it! Oh, and they're delicious so I hope you'll give them a try!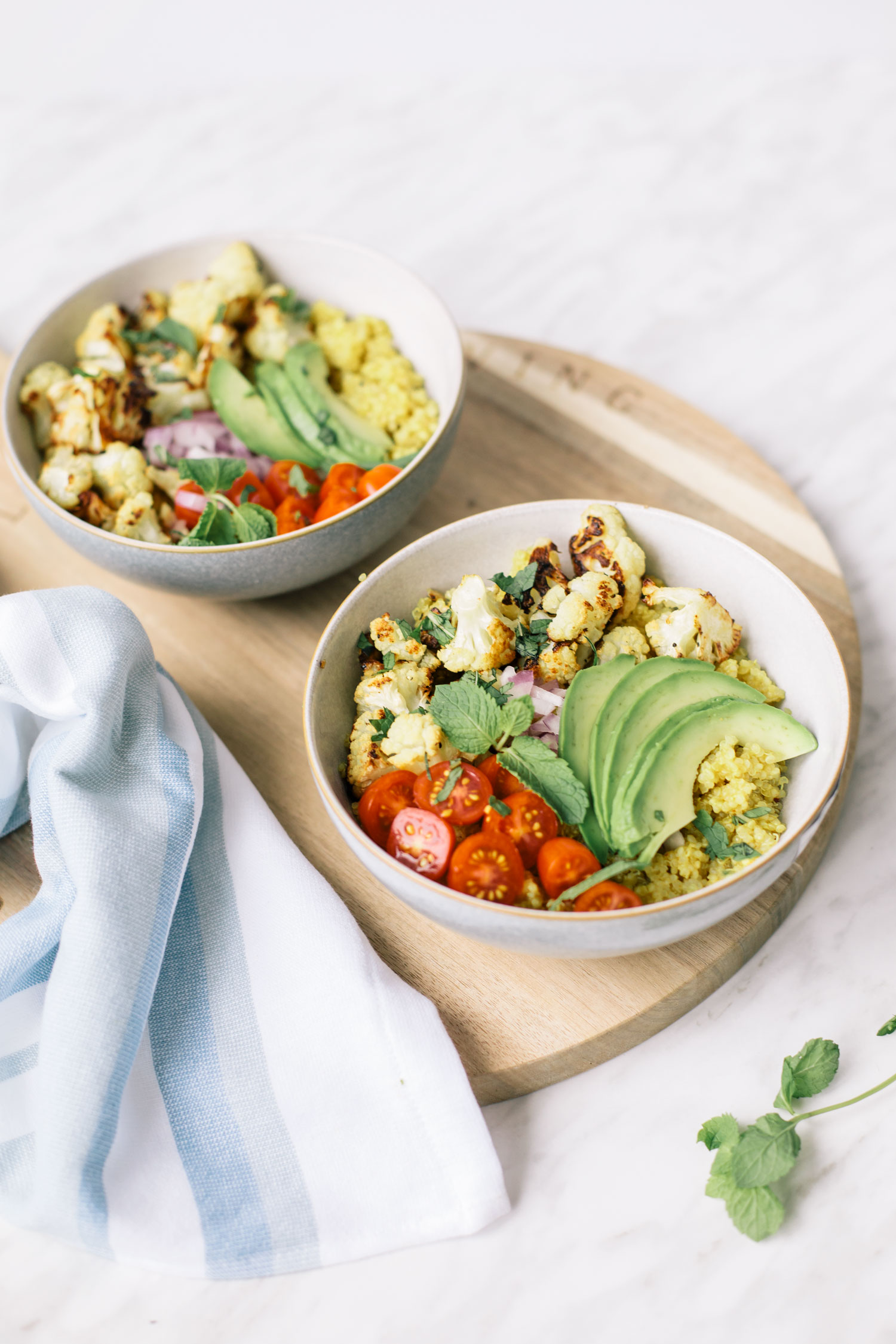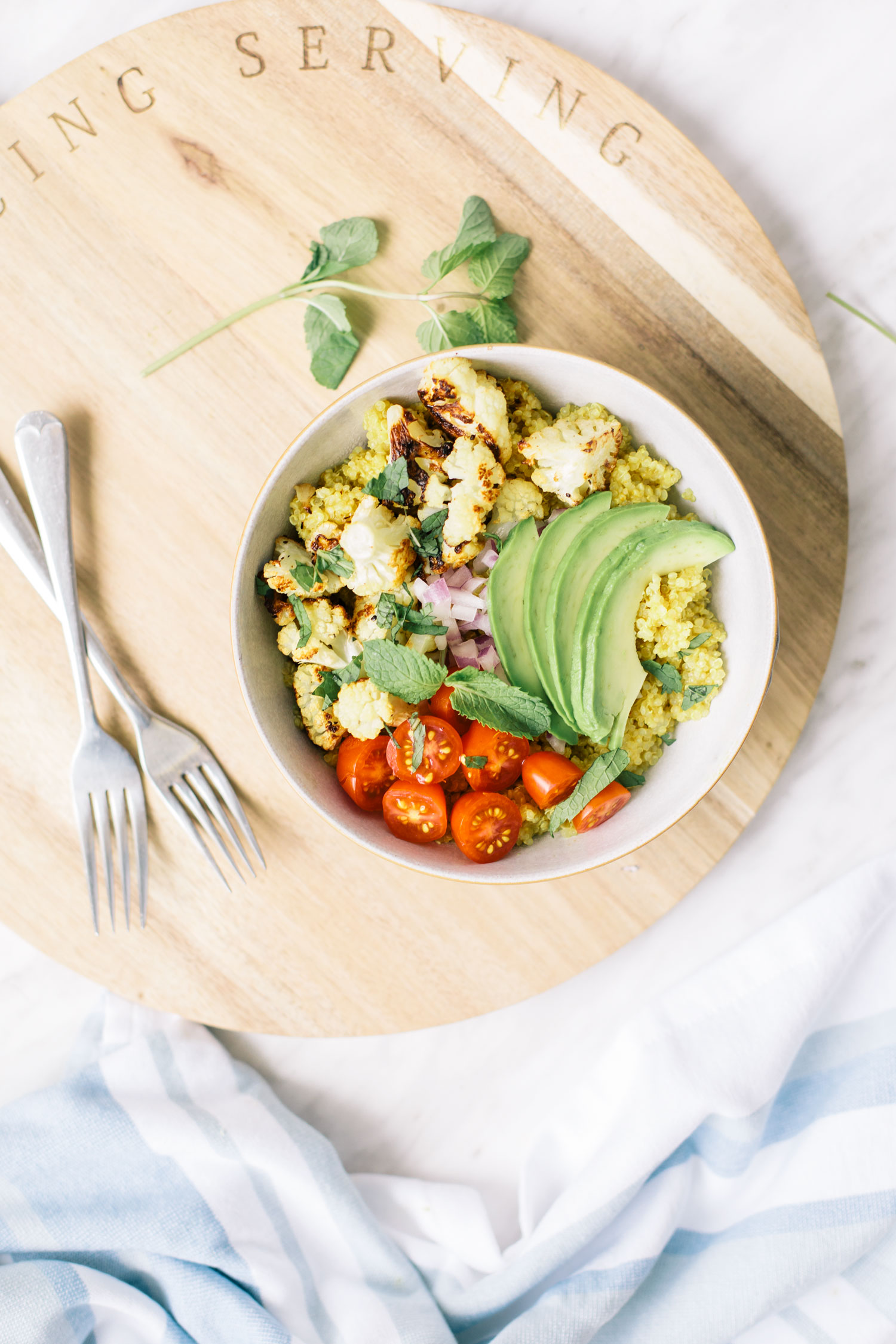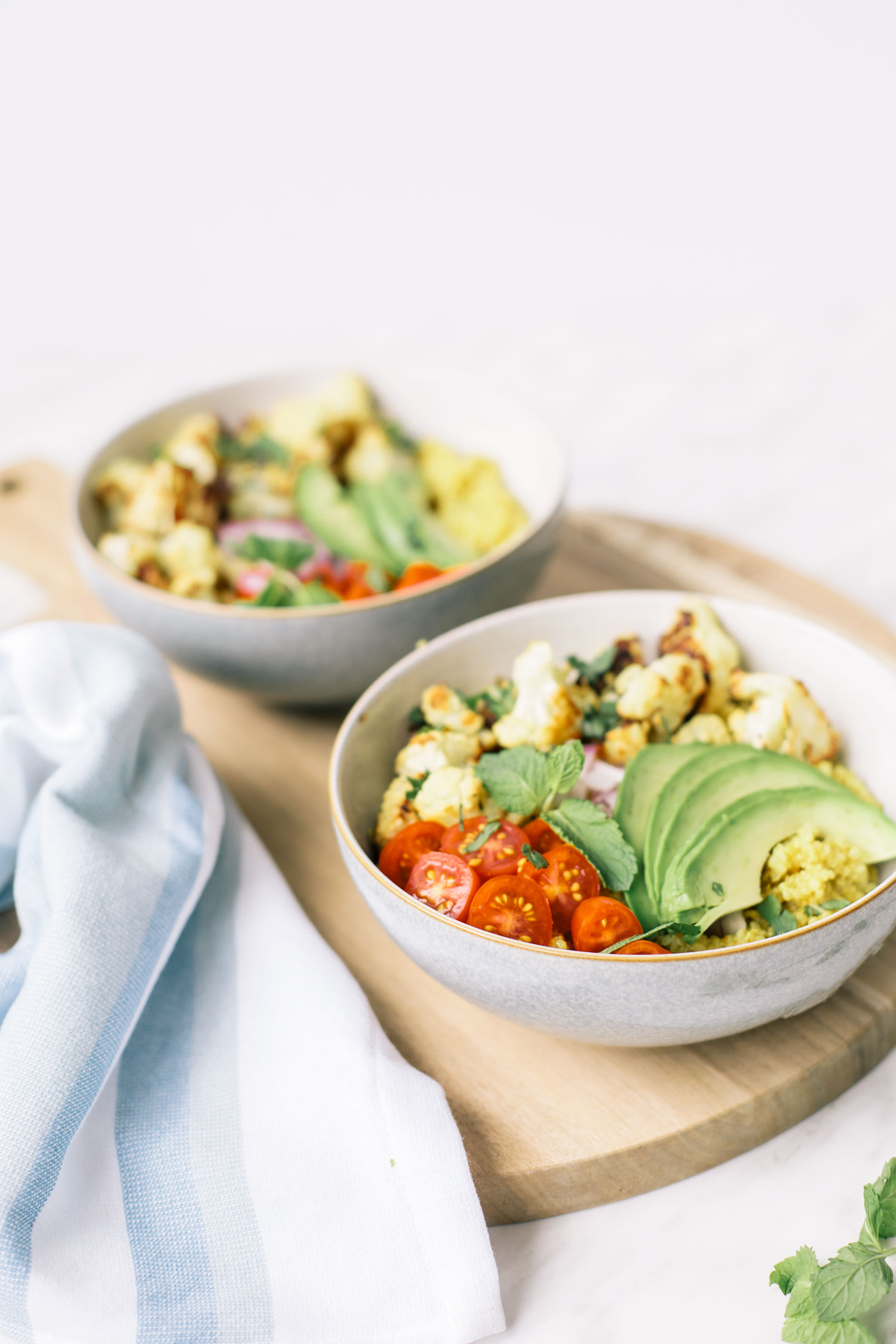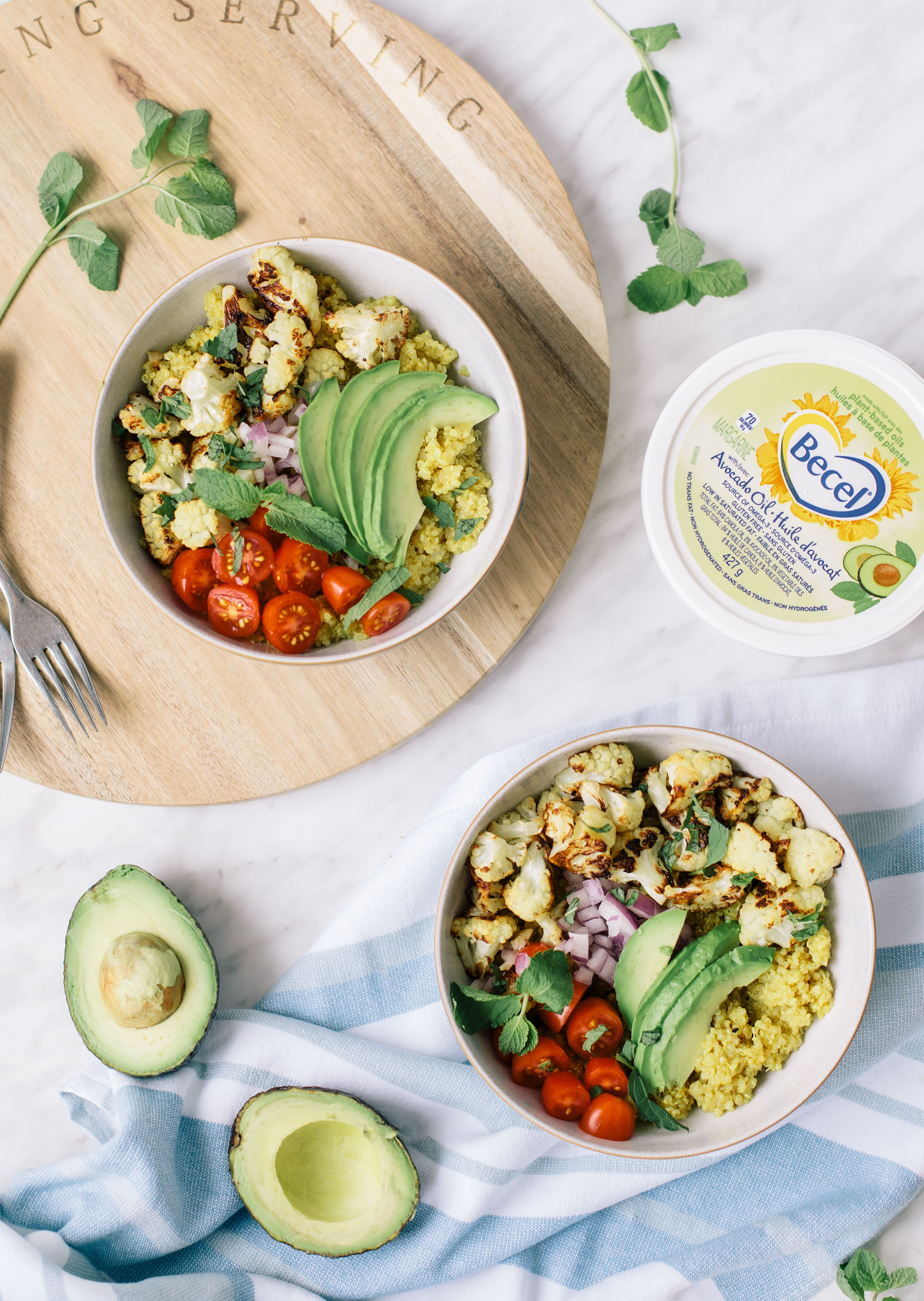 Golden Turmeric Quinoa Bowl
Serves: 4
Ingredients:
1 small head cauliflower, trimmed and cut into bite size florettes, about 5 cups
4 Tbsp. (60 mL) Becel® with Avocado Oil margarine, melted and divided
1 small red onion, chopped
Handfull grape tomatoes, sliced
1 cup (250 mL) uncooked quinoa
2 Tbsp. (30 mL) chopped fresh mint
1/2 tsp. (2 mL) turmeric
1/2 tsp. (2 mL) ground cumin
1/4 tsp. (1 mL) crushed red pepper flakes (optional)
1 large avocado, peeled and sliced
Directions:
Preheat oven to 425°. Combine cauliflower and 4 tsp. Becel® with Avocado Oil margarine and arrange on 2/3 of jelly-roll pan or rimmed baking sheet. Combine red onion and 2 tsp. margarine and arrange on remaining 1/3 of jelly roll pan. Roast until cauliflower is browned and slightly crispy and onion is tender, about 25 minutes.
Meanwhile, cook quinoa according to package directions. Fluff with fork and stir in mint. Combine remaining 2 Tbsp. margarine, turmeric, cumin and red pepper flakes and stir into quinoa. Divide quinoa between 4 bowls.
Evenly top each bowl with cauliflower, red onion, tomatoes and avocado