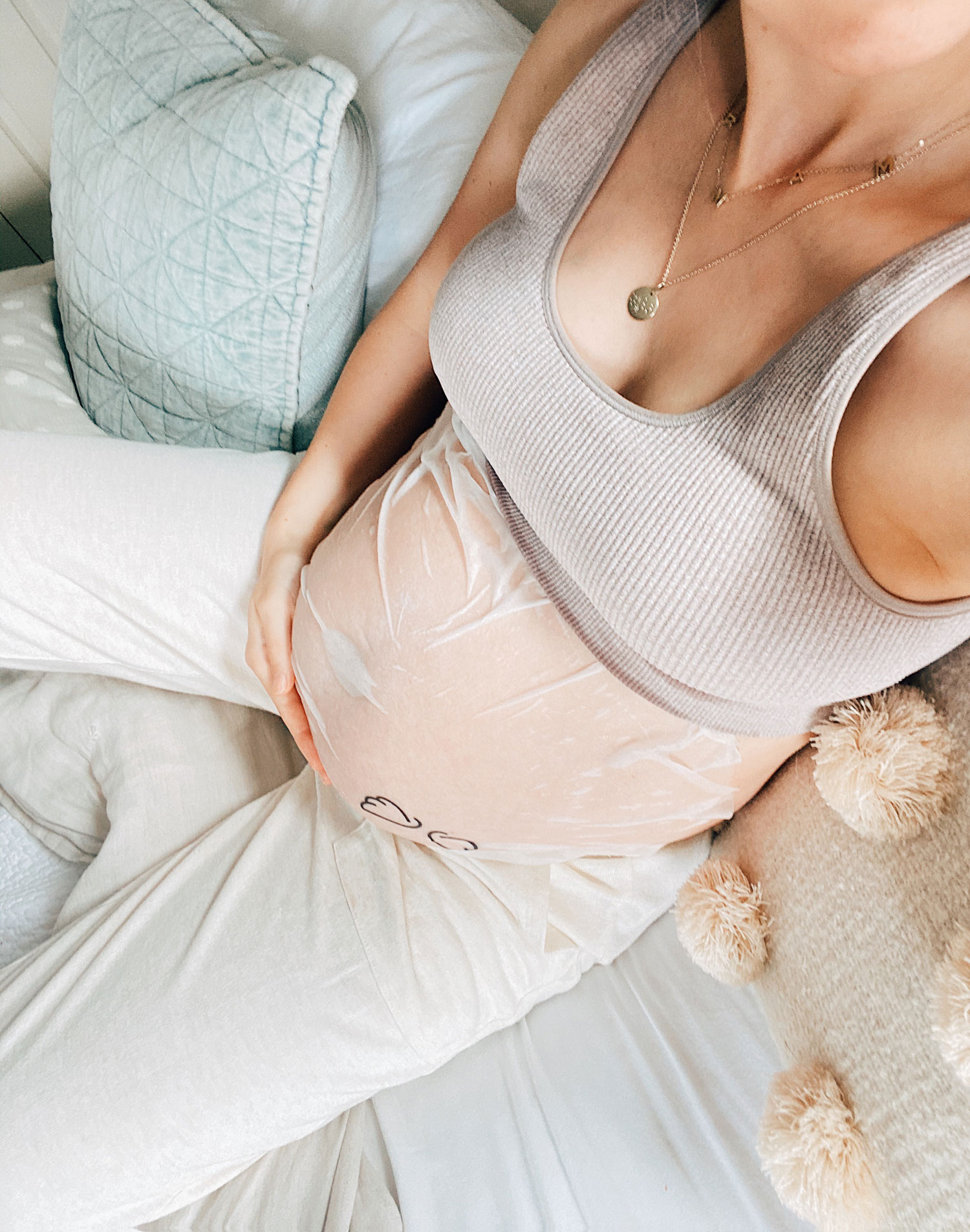 (Pictured above, Aerie Bra & Joggers, Ever Eden belly mask,)
Hi friends! Whoa, another week that has seemingly flown by, BUT I promised that I would get this post up this week, so I figured better late than never. I was overwhelmed with the support I received over on my Instagram feed after sharing my experience with postpartum depression, and knew that I wanted to follow up that post with something more hopeful. This is for those of you who are going through pregnancy again after experiencing PPD, OR for those of you who might need a little inspiration and motivation to have a more positive pregnany and (hopefully) birth and PP experience. Sharing my PPD story was admittedly difficult for me, but it truly felt cathartic to put it out into the universe. It has allowed me to let that dark time in my life go and look forward to bringing a new life into the world. With this pregnancy, I have been lucky in that I haven't experienced nearly as much negative feelings and anxieties as I did while pregnant with Edwin, but I have also been working my behind off on taking care of my mental and physical health (though the physical has proven harder thanks to SPD). I hope that by sharing this post, it will inspire you to really give yourself the self-care that you deserve during such a precious time in your life. Even if you have kid(s) running around, work to do, and a house to clean, it is SOOOO important to make time to take care of your mind and body, especially during pregnancy. I've come to find that being pregnant for the second time and having a toddler to take care of, that I am not afraid or ashamed to ask for help because let's be honest, it.is.hard. Taking care of myself means that I am taking care of my baby now, during birth and after and that is so important to me. Keep reading to see all of the ways I am practicing self-care during pregnany and definitely let me know if you're expecting a baby and if/how you're taking care of yourself. I'd love to hear any more ideas you have!
Asking for Help When I Need It: Since I mentioned this above, I figured I'd also I'd slide it in here first on the list. Luckily, I have a husband who works from home and is SUCH a huge help. He allows me to sleep in an extra hour, gets our breakfasts ready, and puts Edwin down to bed every single night. In between those times, however, my day usually consists of Edwin and me. I absolutely LOVE having one-on-one time with my son, especially now that he loves playing and going outside, but being pregnant is exhausting. For me personally, I also have SPD, and so all of the getting up and down and running around with Edwin typically ends up causing me a lot of pain by the end of the day. I simply can't keep up with him in the way that I would like to right now but thankfully I have had so much family able to help out and play with him. Not only does it give me a break (though I usually try to get housework done when family is over lol) but Edwin LOVES having his family come and play with him. If I wasn't so lucky as to have all of this family around it is likely that we'd put Edwin in daycare a few times a week. This is something I have still thought of doing but with COVID, it has made me a little nervous. We'll definitely see how the next few months go!
Having a Nightly Self-Care Routine: This is something that I have incorporated into my evenings and it has made such a huge difference in my mental health. Every night around 9 pm, I head into bed and either read or put on a show (I'm rewatching Grey's Anatomy for the 3rd time, haha!). While I'm watching my show or reading, I drink a hot tea (my favorite lately has been Davi'ds Tea Cinnamon Rooibos Chai) and cuddle up with my hot water bottle on my back. At around 9:30, I take 30 minutes to massage my belly with cream and oil and simply relax. When I was pregnant with Edwin, I did use creams and oils on my belly, but I never made it a strict ritual. With this pregnancy, the ritual of massaging my belly every night has made me feel more connected to my baby and also makes my skin feel so good (the cream and oil I liked above smell and work so well)! Every time I do this routine, our little guy kicks and wiggles and it makes me think he really enjoys our nightly time too!
Trying Out Lots of Therapies and Wellness Treatments: When I was pregnant with Edwin, the most I did for myself was get a couple of pedicures and two prenatal massages. This time around, I've skipped out on the pedicures and have taken a deep dive into physical therapies. These therapies include chiropractic, massage, pelvic floor physiotherapy, and acupuncture. While my reasoning behind doing all of this has been to help alleviate my physical pain, I have come to find that I've learned SO much about my body and the way it works from regularly doing these treatments. While unfortunately, I haven't seen a ton of relief from doing these things (it's hard to "fix" SPD), I have felt some and the relaxation that comes with the therapies such a massage and acupuncture are invaluable. When it comes to pelvic floor physio and chiro, they are therapies that are helping me prepare for an easier labor and delivery, offering exercises and just general support. I truly feel like I have a team that cares so much about my health and wellbeing during this pregnancy and I am looking forward to continued treatments up to birth and into postpartum. If you're in the Halifax area, I highly recommend Amanda, Amber, and Justine at Choice Health Center and Stephanie at Mom Squad Physio.
Stretching and Doing SOME Yoga Poses: I believe that healthy eating and exercise are incredibly important to keep you feeling good both physically and mentally during pregnancy…That is IF you are able to do it. While I am pretty good when it comes to healthy eating (aside from sweets which I allow myself to enjoy) I am currently unable to do any intense, or even light physical activity for too long because of my pain. However, that doesn't mean I can't do a few key exercises for my pelvic floor, release work to help with the pain, and some light stretching and yoga poses (I stick to childs pose, light cat/cow, and downward-facing dog). Even doing this small amount makes me feel good and like I am doing something positive for my body. Another thing that I've been doing is deep diaphragmatic breathing. This takes a lot of practice but it helps to calm my nervous system and is also great for my pelvic floor.
Take a Hypnobirthing Course: Lastly, but most certainly not least, is what I am most excited to tell you about! I recently read my friend Jacquelyn's positive birth story over on her blog. After reading her experience about Hypnobirthing I couldn't get it out of my mind. I immediately texted her to tell her that I was thinking about taking the course too and she was so optimistic about it. Since then, I've signed up for Hypnobirthing, have begun reading the book, practicing meditations, and working on my positive birthing affirmations. We've also taken 1 class and are looking forward to the next 4 weeks of classes. I am making sure that I will have a positive, gentle birth experience this time around and so far Hypnobirthing has been such an incredible, positive resource. I highly recommended to anyone who is looking for a different way to birth and especially to anyone who had a traumatic birth experience the first time around.