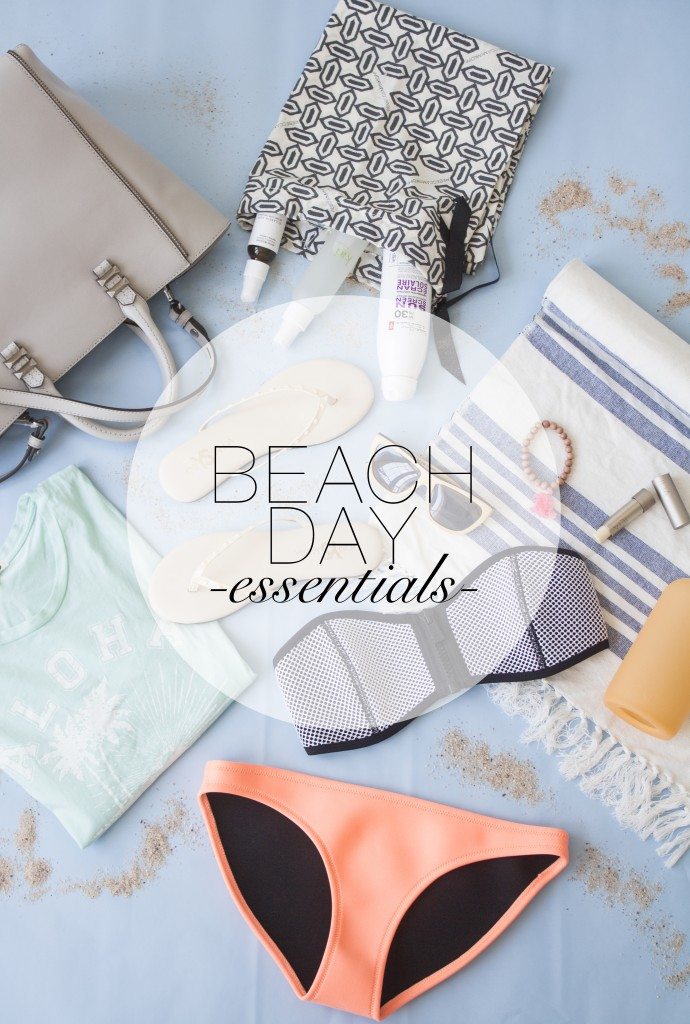 One of my favourite past times during the summer is heading to the beach (or in Ontario's case…the lake, but you get the point). I love being able to lay on white sand all day and hang out by the water and hot sun. Since I am from Nova Scotia, I have grown up going to the beach, and have learned that lugging a bunch of things back and fourth is just a waste of time. That is why, with the help of Blossom Lounge, I have come up with my beach day essentials, all that can easily fit into one tote. Just a tip, if you are heading to the beach for a long time, I'd also add some snacks to this list (I tend to get very hungry at the beach).
1. Oversized Tote: I love a good beach bag, but sometimes things tend to get lost in them because of their lack of pockets. I love this tote by Rebecca Minkoff because it is big enough and casual enough to take to the beach. It's also super stylish and comes with a cross body strap that makes it easy to carry.
2. Dust Bag/Small Clutch: Because I like to take a few products with me to the beach, I make sure that they are all organized in one little clutch. The RM tote comes with a pretty cute and practical dust bag. Perfect for putting any product I will be using at the beach.
3. Comfy, Stylish Flip Flops: Flip flops are basically a no brainer when it comes to going to the beach. I however, dislike those plastic ones that seem to be the go-to sandal when it comes to beach day attire. I like to try something a bit more stylish like these leather Yoshi Samra nude, studded flip-flops.
4. Stylish Bikini: Triangl bikinis are as comfy as they are stylish. I love the fact that they are made of neoprene (scuba material) making them extremely durable in the water.
5. Long T-shirt/Loose Dress: There is no need to pack a fully planned outfit for the beach. I love the look of a long, loose t-shirt or dress over a bikini, and this Aloha tank by Sundry couldn't be more appropriate. The colour and slogan are perfect for the beach and the length covers everything you need to until you are on the sand.
6. BKR Water Bottle: These extremely durable and chic bottles are the perfect item to pack in your tote. Plus you are saving the planet by going green and not packing a plastic bottle. The bright orange colour will also stand out amongst all of the other boring water bottles.
7. Sunglasses: Of course if you are going to be spending the day staring at the sun protection for your eyes is a must. I love these handmade, bamboo sunglasses by Waiting for the Sun.
8. Lip Conditioner: I find my lips get extremely dry at the beach so taking a lip conditioner that I know works is super important. Balmy Days by Ilia Beauty is an all natural moisturizer that keeps my lips feeling soft and supple all day long.
9. Vitamin C Serum: Being in the sun all day is nice, but it can also really do damage to the sensitive skin on your face. Give some of that vitamin D you got some vitamin C with the Elizabeth Den for One Love Organics Vitamin C Serum. With a potent mix of antioxidants, this serum will naturally brighten and replenish your skin.
10. Body Mist: Just as your face can dry out in the sun so can your body. Replace some of that lost moisture with Kai Body Glow. A mist that is jam-packed with natural ingredients like jojoba oil, aloe, chamomile and cucumber extracts. I love it because it's easy to apply, just spray on your skin and let it soak in.
11. Sunscreen: If there is anything you should take to the beach it's sunscreen. Before applying any of the sprays or serums apply an SPF of 30 or higher liberally to your skin to protect it from harmful UV rays.
12. Beach Towel/Blanket: If you are going to be laying down on the sand all day make sure you have packed a comfy blanket or towel to lay on. I love this one I picked up at Winners. It's super light and the tassels on the end give it a bit of a boho feel.
13. Basic Accessories: I love accessories, and wearing them to the beach is totally acceptable to me. Of course statement necklaces and arm parties are a little impractical, but a single beaded wooden bracelet is not. This Gold and Grey tassel bracelet is the perfect beach day accessory.