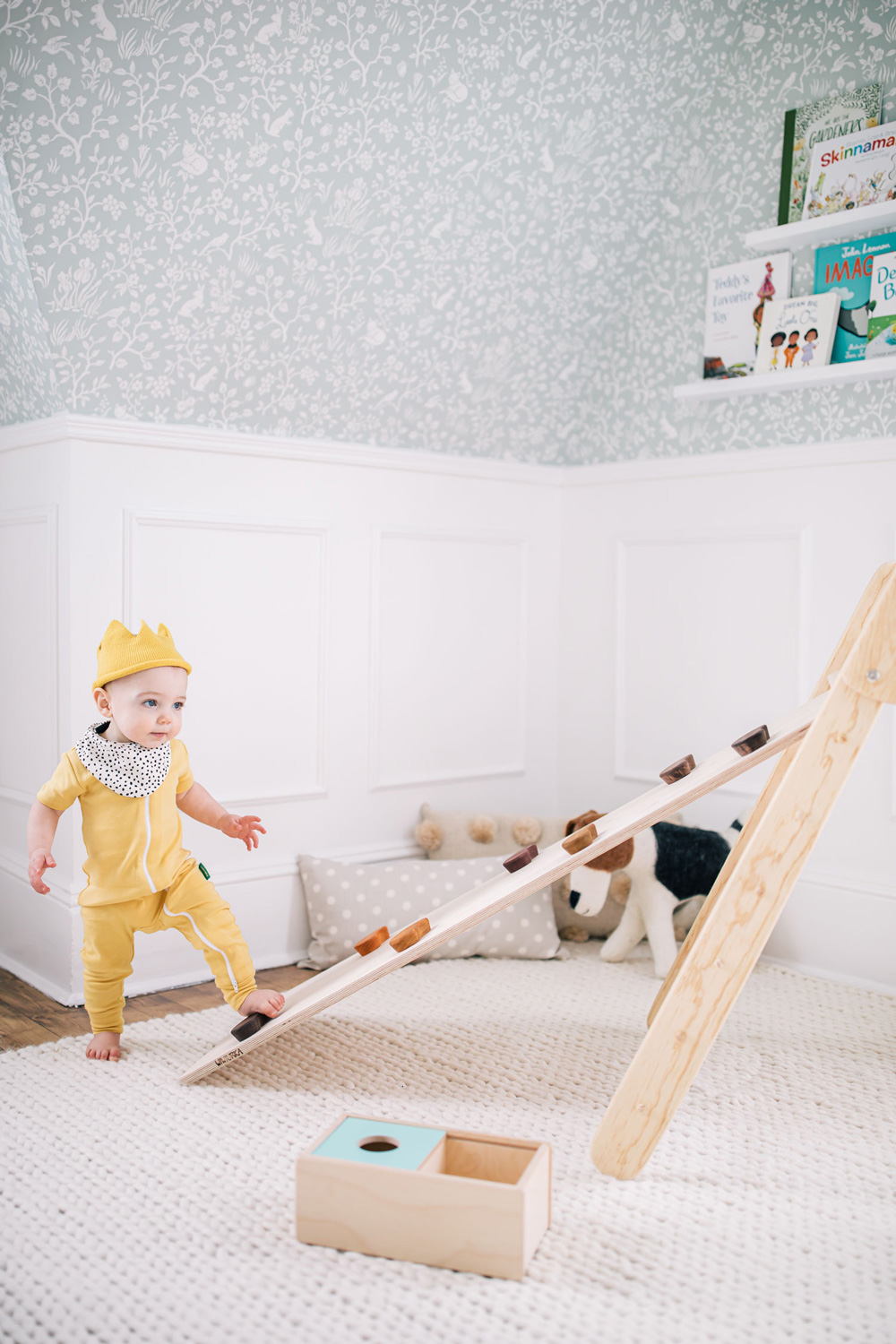 Hello friends and Happy Friday! I hope everyone had a great week. It finally feels like spring *might* be on its way but you never know with Canadian weather, haha! Last week, I shared Edwin's first birthday party wherein I mentioned that he was supposed to have a little jungle gym area set up on the faux grass carpet we got but it didn't arrive in time. So I thought that it would be fun to share it in some 1-year photos and chat a bit about what life looks like with a 1-year-old and all of the things Edwin is doing, learning, eating, saying, etc.
First off, this pickler triangle and rock climbing board is by Wiwiurka for those who are wondering (I had a few messages when I shared it on IG stories). It is perfect for babies who love to climb and explore and can be used for so many different things. The rock climbing board can be turned over and used as a slide or a walking ramp. I also love it because it will grow with Edwin for years to come and is one of those toys that can allow for imagination to take over (aside from climbing, Edwin currently loves rolling balls down the ramp and seeing where they land). Wiwiurka also has a rocker balance board that I'm thinking about ordering because that can be connected to this set and used in many different ways. It's just so much fun and I'm really enjoying playing and using it with Edwin. Ps: the colour that we went with is called "earth" but there are SO many fun colour options. The shipping and set up were also super quick and easy for anyone wondering.
Secondly, for those wondering, Edwin is wearing the cutest romper and bib from our friends at Parade Organics. I loooooove these rompers because they are a 1 and done type of outfit and have a 2-way zip for easy on and off and diaper changes. I love the new spring colours, especially the mustard that Edwin is wearing and the aloe. They're also super soft and easy to move around in which is key for a baby who is always on the go like our little guy. The crown is from Etsy. If you search "yellow knit baby crown" lots of options will come up!
Now…onto Edwin at 1-year…keep reading for all of the fun updates!
PS: I'm also planning on sharing a post about me at 1 year postpartum in the next week or so. I figured it would be much too long to include here too as there are A LOT of things about Edwin I want to talk about in this post and A LOT of things I want to discuss about my postpartum journey in another.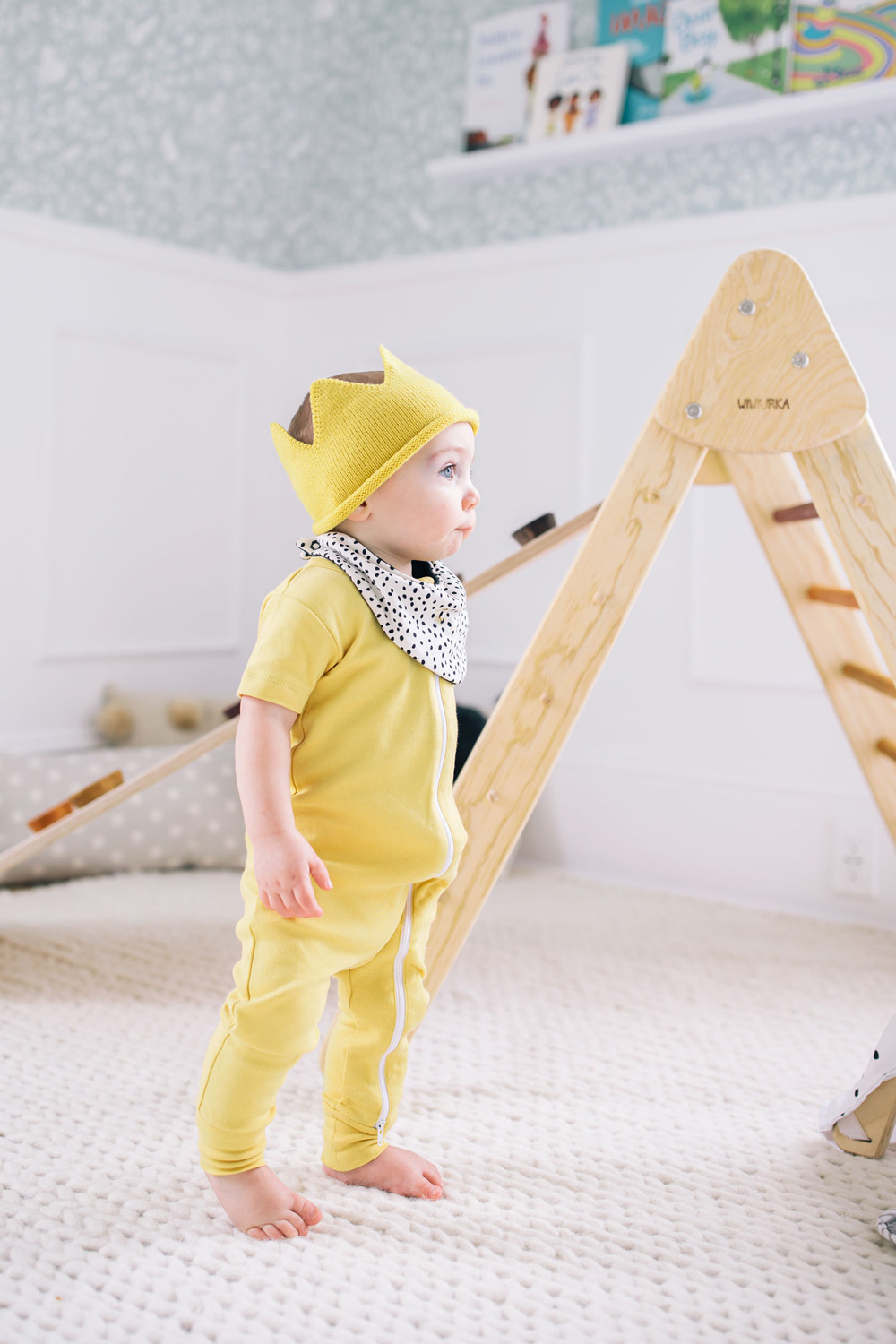 Edwin's Personality at 1 Year Old:
I named this post "what a difference a year makes" because at 1 year of age it is CRAZY to me how much Edwin's personality and demeanor has changed. I've mentioned before that Edwin cried a lot in the first…oh I'd say 5 months of his life, and his sleeping habits were not great. I was getting to my wits end to be quite honest, but then around 6 months, after we saw a sleep coach and got Edwin onto a really great schedule, things starting turning around drastically which helped me finally see the light (I'll talk more about this in my 1-year PP update post) at the end of a really dark tunnel. Edwin at 1 is such a joy, a huge light and every.single.day makes me laugh, smile, cry with happiness and just look at him in pure amazement. He is such a determined, independent soul and has been from day 1. He loves to do things for himself and Jamie and I really like to encourage that in him while always keeping an eye on any trouble he might get in too lol. Edwin is ALWAYS on the go and wants to walk, climb, dance and run around at all times. He loves being thrown up in the air and (gently) tossed onto our bed and into pillows. He loves dragging furniture (like stools) and picking up the heaviest items and seeing how far he can drag and carry them around. On the flip side, when Edwin gets sleepy, he absolutely loves to snuggle into mama and relax until he recharges for round 2. He loves attention from everybody he sees and is always trying to catch peoples eye. When he does though, he usually runs back to either me or Jamie and hides in between our legs which is the sweetest thing ever. I honestly can't get enough of it. Edwin is brave but also cautious and nervous of a few things like the vacuum, being too close to dogs that aren't Milo, and anything he's unsure of, but he ALWAYS want to go back to explore these things while holding my hand for added protection.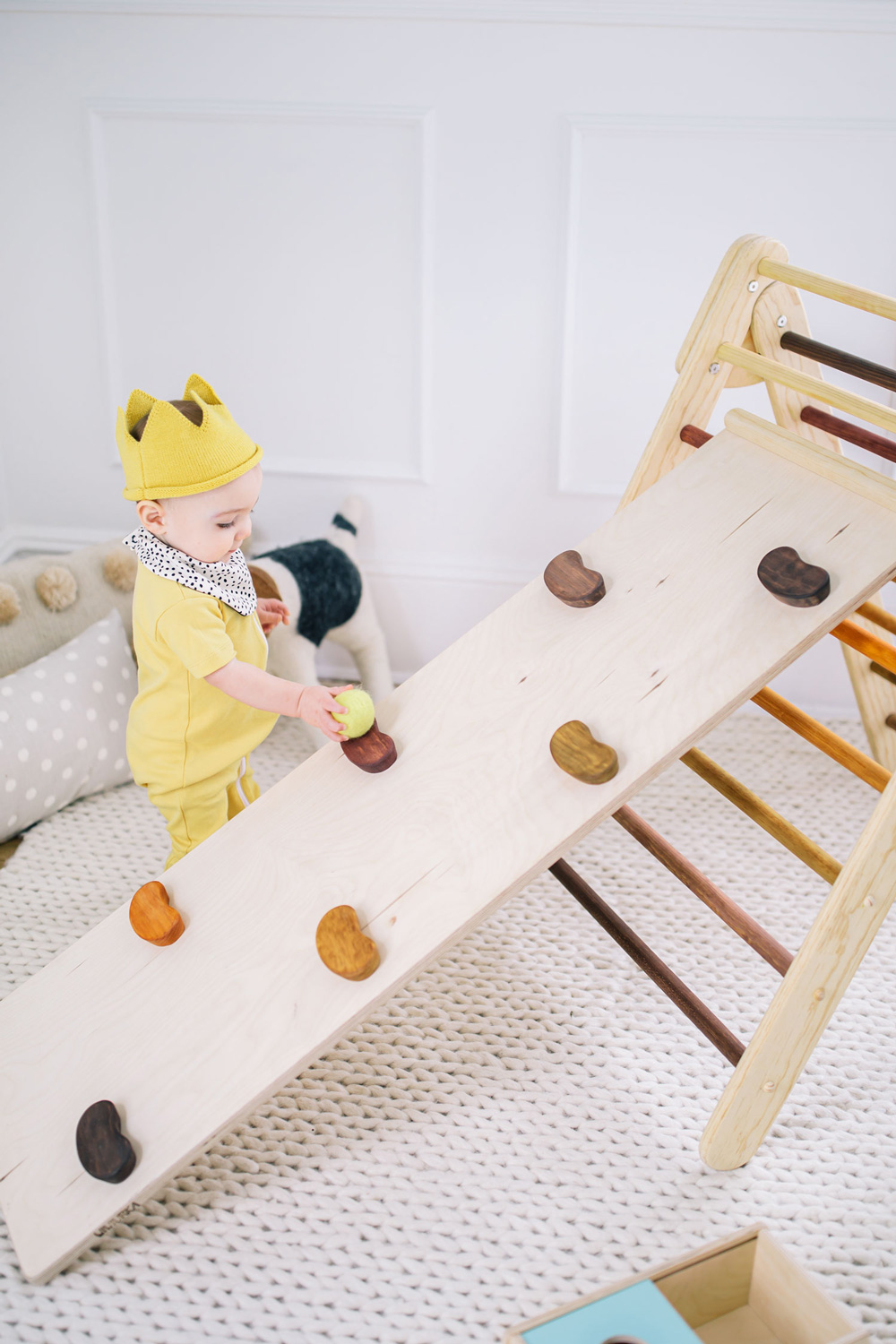 Edwin's Diet at 1 Year Old:
I am still breastfeeding Edwin and I plan to until either he weans himself or I've just had enough. I have no idea when that will be yet and I'm not putting a timeline on it. However, I recently just cut 2 feeds a day (I used to feed him milk before and after every nap) so now he has milk in the AM, milk before each of his 2 naps, and milk before bed. He also wakes up once in the night for a feed. I would LOVE to drop that one but I'm also of the mindset that this isn't forever and once a night is nothing compared to the 5 times I used to have to wake up for him.
Other than breastmilk Edwin LOVES fruit. Blueberries (#1 fave), strawberries, watermelon, mango, cantaloupe, pineapple, citrus and banana are some of his favourites. I always give Edwin milk first thing in the morning and about 20 minutes later give him a serving of fruit. After his fruit, we make him oatmeal with flax, chia, oat milk and a very small amount of maple syrup…he gobbles it up. After his breakfast, Edwin always wants to eat my breakfast, so I share a couple pieces of my egg and he nibbles of my toast with almond butter. The morning is when Edwin seems to have the biggest appetite, so I make sure to give him whatever he'll eat, because for the rest of the day it can be hard to get food into him.
The rest of the days usually consist of 2x snacks, which if we're home, will be usually be fruit, some of his Love Child Organics crackers or bars, and sometimes he'll eat some hummus from me or almond yogurt (if I'm lucky). For lunch, if we're home, I usually always make Edwin healthy toast with either some butter, hummus, or defrosted berries (aka his "jam") and chia seeds plus a veggie (usually avocado or some tomatoes). He usually does a pretty good job eating lunch when we're home. If we're out…Edwin will happily survive off of crackers and a banana (not by our choice lol). We always bring him a Love Child Organics food pack, which are quite healthy, but it is a rare occasion when he actually eats it. If we go out to eat, I always offer him some of whatever I'm/Jamie is eating to get him used to new things. Sometimes he'll eat it, sometimes he wont.
For dinner, we typically give Edwin some rotisserie chicken (weird I know, but he fricken loves it!) and a big serving of veggies. He usually always eats the chicken but most times, dinner ends up being thrown on the floor. We do the chicken and veg about 3x a week, salmon with a veggie 2x and then I'll usually make up a pasta sauce using red pepper and any other veggies I have in the fridge. I roast them and then throw them into our Vitamix with some coconut milk and a few spices like oregano (no salt or anything spicy though). I serve the sauce with chickpea noodles. Sometimes he eats it, others…you guessed it lol.
Other than that we just like to let Edwin try all the things that we are eating which is hit or miss. He also drinks a good amount of water and that is always available to him.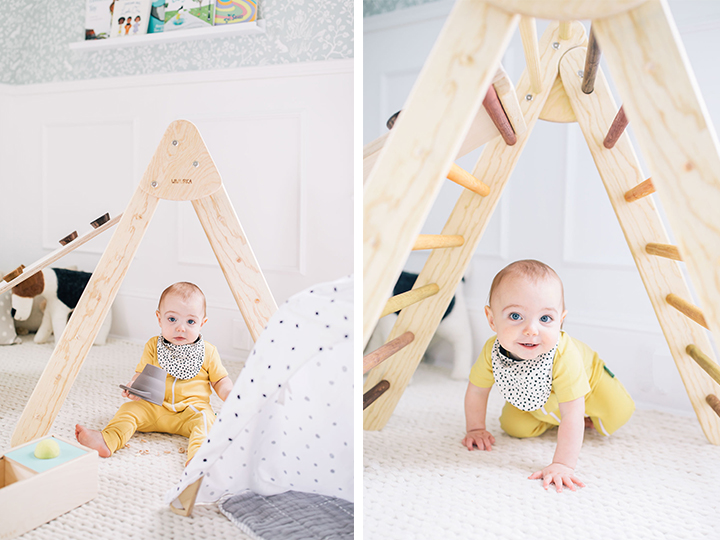 Edwin's Nap and Sleep Schedule at 1 Year Old:
Edwin still takes 2x naps a day and sleeps between 11 1/2 – 12 1/2 hours a night with 1 wake up that is usually any time between 3:15-4:30. When we are home, Edwin will stay awake typically no longer than 3 hours at a time. His morning nap usually lasts about 1 1/2 hours and his afternoon nap is usually the same, if not 2 hours. I am sooooo thankful that he still takes these two long naps when we are home because it helps me get some work and house work done and some time to myself which is nice. Edwin's bedtime is around 7:00 and we start his bedtime routine 30 minutes before bed every night. His bedtime routine has been the same for months. Milk, bath, diaper, lotion, pjs, etc, a couple of books and then straight to bed. His bedtime routine is my favourite time of the day (not because he's going to bed though it is nice to have a few hours with Jamie lol but because it is just so relaxing and I love playing in the tub with him).
If we have plans to go out for the day, we always try to leave the house after Edwin's first nap. This is so we know that he will get at least 1 good nap in that day. Edwin will usually have another 40 minute nap on our way home. The longest stretch Edwin has been awake thus far is 5 hours (this is only when we're out running errands, visiting family, etc). Even though I know he's tired and needs a nap at these points, he is still so happy and fun to be around which is amazing.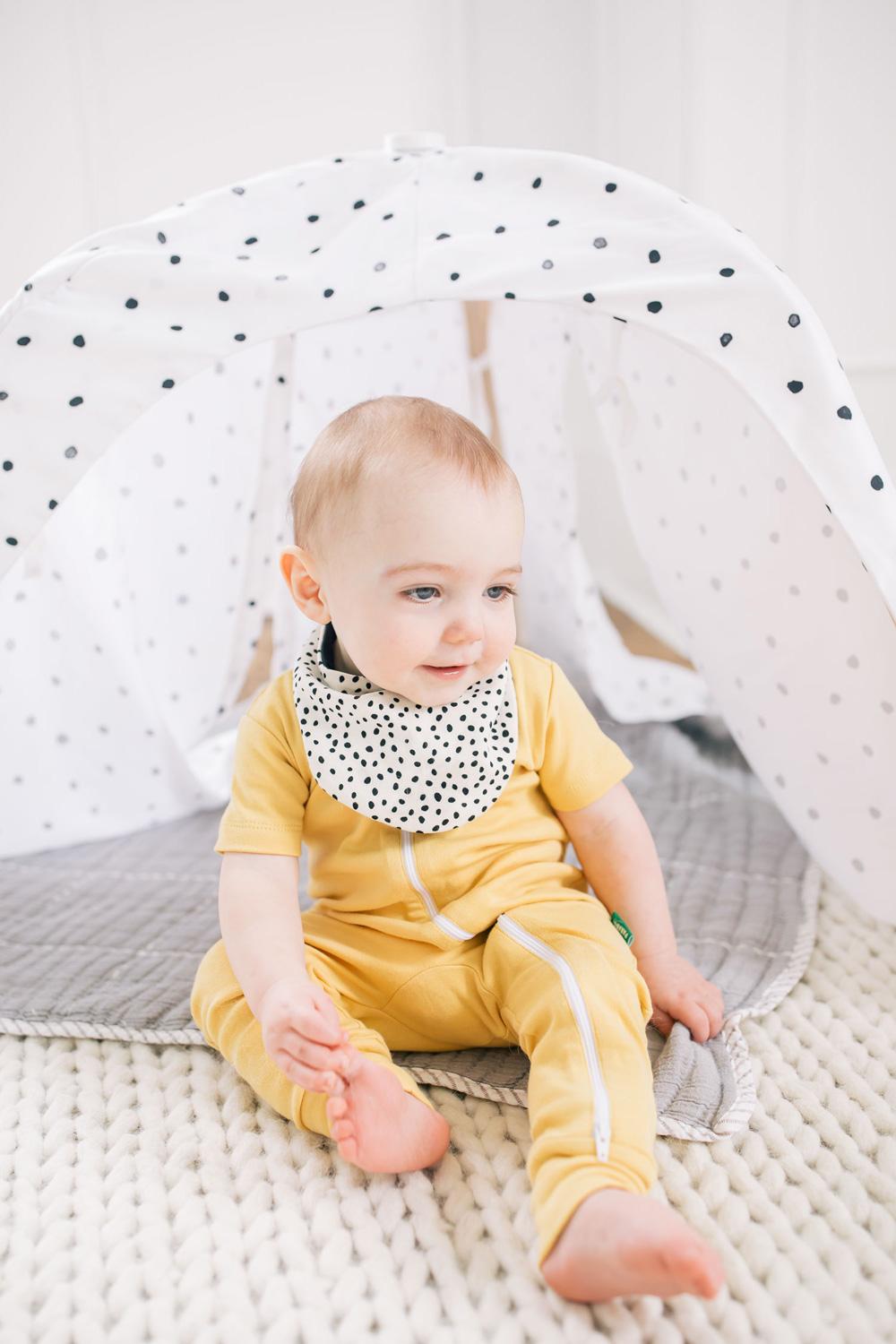 What Edwin Likes to Play with at 1 Year Old
I feel like babies at this age love everything that isn't their toys am I right? Edwin loves to try to get into things that he isn't supposed to but I usually let him explore when it is safe. He loves opening drawers and pulling out clothes, banging on pots and pans and generally just exploring everything and leaving a mess behind him.
Toy wise, I really did want to keep things somewhat minimal in the toy department as I know so many toys can be over stimulating, distracting and simply not used. When I buy Edwin toys I try to make sure that they are educational, made from natural materials and can grow with him. I am loving our LoveEvery subscription box for just that and because I don't have to buy him any other toys until the next box arrives. On the flip side, Edwin got soooo many toys from wonderful people for his birthday that I am slowly introducing to him. I give him one more flashy toy every week or so and alternate them in and out so that it isn't overwhelming and tossed aside. Edwin is really into blocks and balls and his stacking rings at the moment. All of his toys and books are easily accessible on a low shelf for him and he can take and play with whatever he pleases. Books are something I keep out always for him to look at and explore. He'll bring me over books to read but we never get through a full one without him getting up to leave. The only time I can read him full books is before nap and bed time which I love.
Aside from toys, Edwin is loving his new climbing pickler, picking up pillows, throwing them and landing onto them and he also loves chasing Milo around with his toys. Edwin also has a little tunnel from Ikea that he enjoys climbing through. He has a car and a balance bike as well which he sometimes shows interest in but he gets over it pretty quickly. I can't wait to take him out on his balance bike when it is a little nicer though!
Recently, I've also started to try to think of activities I can do with Edwin around the house so that he can explore more things. The other day I filled ziploc bags with oil, water and food colouring and taped them to the wall for him to squish. I'm planning on doing a painting session with just water and colourful construction paper soon. I definitely don't mind messes and think these things are all part of learning and fun!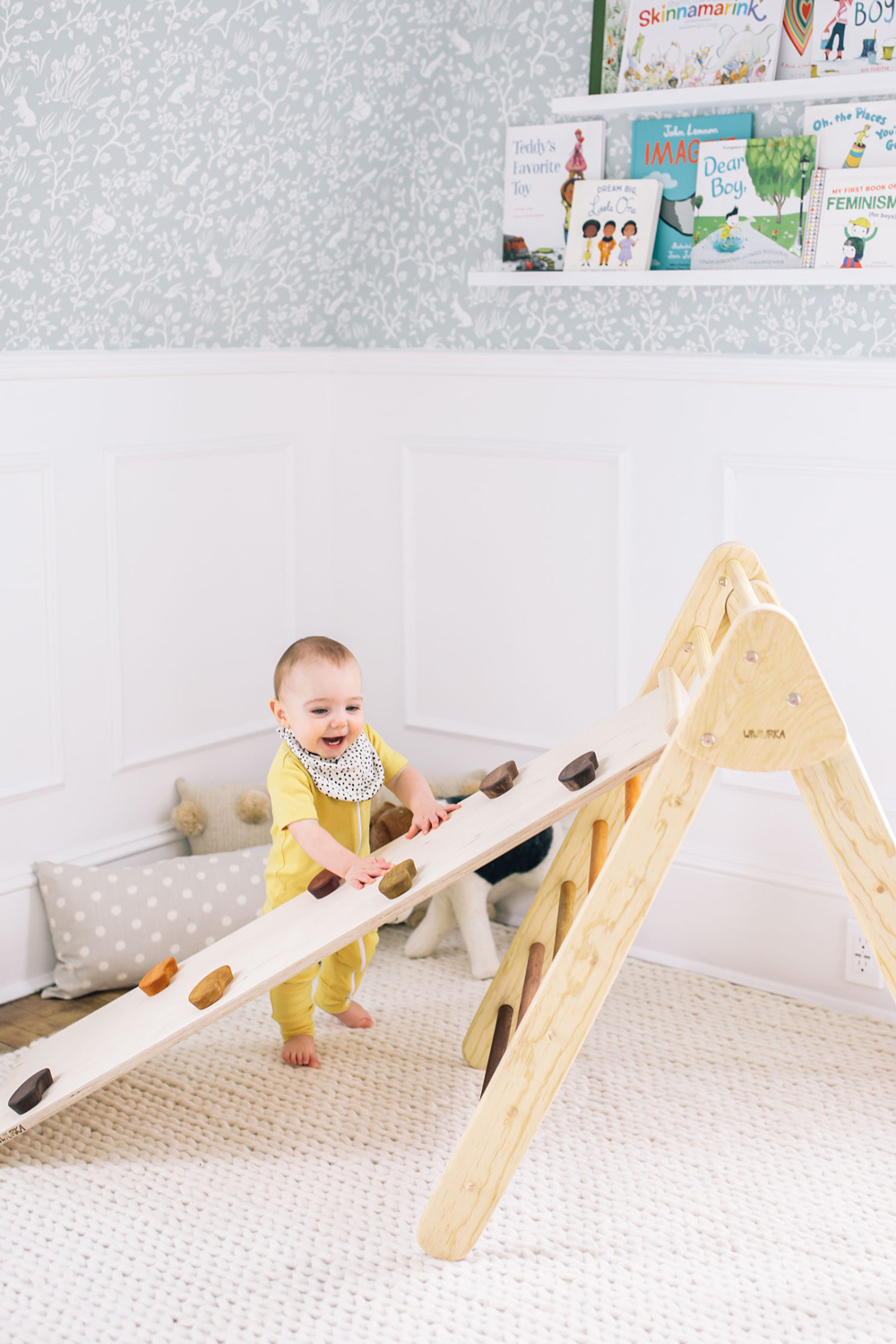 What Edwin Can Do/Say at 1 Year Old
Edwin can do so many things at 1 year old! He has been walking since exactly 9 months and has now mastered walking and running around. After he got walking and running down, he decided to work on crawling (backwards baby) and now he switches between both depending on if he needs to get down low, under or around something.
Edwin LOVES to dance. He has been dancing for quite a while but just in the last 2 days he's started to shake his hips and bop up and down more. It slays me every time he does it!
Recently, I've noticed Edwin taking a huge interest in the things that I'm doing so I've started teaching him to help me with things. He now takes laundry over to the washing machine and I help him put it the barrel. He also walks over to where Milos treats are and gives him a treat after Milo comes in from outside. Because of this interest, I think it is time for a toddler tower so that Edwin can start helping and learning about cooking, washing his hands and brushing his teeth by himself. We decided to start "potty training" aka elimination communication with Edwin at 1 but I'm not 100% sure he's ready for it as he will not sit on the potty for more than 3 seconds without freaking out to get off. He does however like to walk around with the toilet seat LOL! I'm basically just taking him to the potty every so often to get him used to it and showing him how mommy "pees in the potty".
Edwin is starting to show more interest in his fork and spoon and I'm still working on him using a regular cup but he does love his sippy cup. I use a cup with a straw in it and he loves to take water from mine.
Edwin can also take simple commands like "put the balls in this basket" "brush your hair" "unplug the drain", "put your toys in the bath", "give a hug" etc. I'm amazed that all he knows. The other day I asked him to go get a bunch of different toys and he brought each one I named over to me. I was sooo proud!
At 1 year old Edwin can say "mama", "dada", "nana", "baba" (which used to be dog but now he's started say "da" for dog), "bye bye", the "uh" in "uh oh" and I think that's it lol.
I'm currently working on trying to get him to shake his head "no" and attempting to teach Edwin his colours by groping all the colours I can find and putting them into piles. I then show him the colour and repeat it over and over again. I've also tried to get him to put x colour in a basket but so far he hasn't lol.
Hmmm What else? Honestly, I feel like I could go on forever. Edwin learns something new and surprises me every day. I'm sure there are things I'm missing but you're likely bored at this point, haha! I'm so glad I wrote this post out so that I can look back on it though. As always, if you have any questions or comments I'd love to hear them below!