Back in the summer Jamie and I had a late dinner at Pure Spirits in the Distillery District. Of course, I was all over the oyster bar but my boyfriend feels that one raw oyster is enough, so he ordered the fried oyster po'boy sliders with a side of parmesan-rosemary fries. As soon as his meal came to our table I instantly regretted my decision. Not that the oysters and gumbo I had ordered weren't good, but his meal was just exceptional. I am pretty sure I grabbed one of his fries before he even had a chance, and then proceeded to eat almost all of them. The cheesy, herbaceous fries were so good I decided to re-create them at home. These fries, along with the aioli that gives them a nice kick are the best fries I have ever made. They are officially going to be a staple in our home from now on.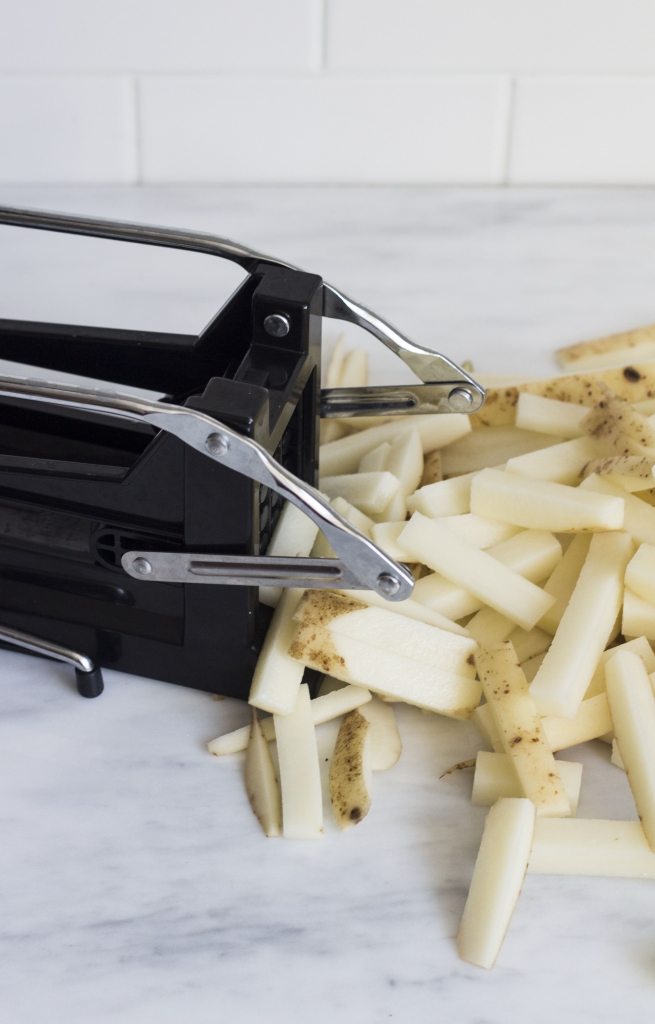 What You Will Need:
Fries:
1. 6 white potatoes
2. Fry cutter
3. 1/2 cup parmigiano reggiano cheese
4. 1/4 cup rosemary
5. Olive oil
6. Salt and pepper
Aioli:
1. 1/3 mayonnaise
2. 1/4 teaspoon cayenne pepper
3. 2 garlic gloves
4. rosemary garnish
How To Make Fries.
1. Scrub potatoes to make sure any dirt and germs are gone.
2. Using your potato cutter cut the fries and place cut fries in a bowl of cold water. This helps take some of the starch off the potatoes.
3. Place fries in another bowl and add cheese, rosemary, olive oil, salt and pepper. Make sure to leave some cheese and rosemary for the end.
4. Place fries on a baking sheet lined with either foil (I find foil sometimes sticks so I changed half was to a rubber pan cover) and sprinkle the fries with some more cheese and rosemary.
5. Place fries in a 400 degree oven and bake the fries until golden brown. About 40 minutes.
6. Place fries on a paper towel to soak up some extra oils and then transport to serving dish. sprinkle some more parm and fresh rosemary on top.
7. Enjoy!
How to Make Aioi:
1. Mix all ingredients together in a bowl, garnish with rosemary spring and transport into a serving dish.