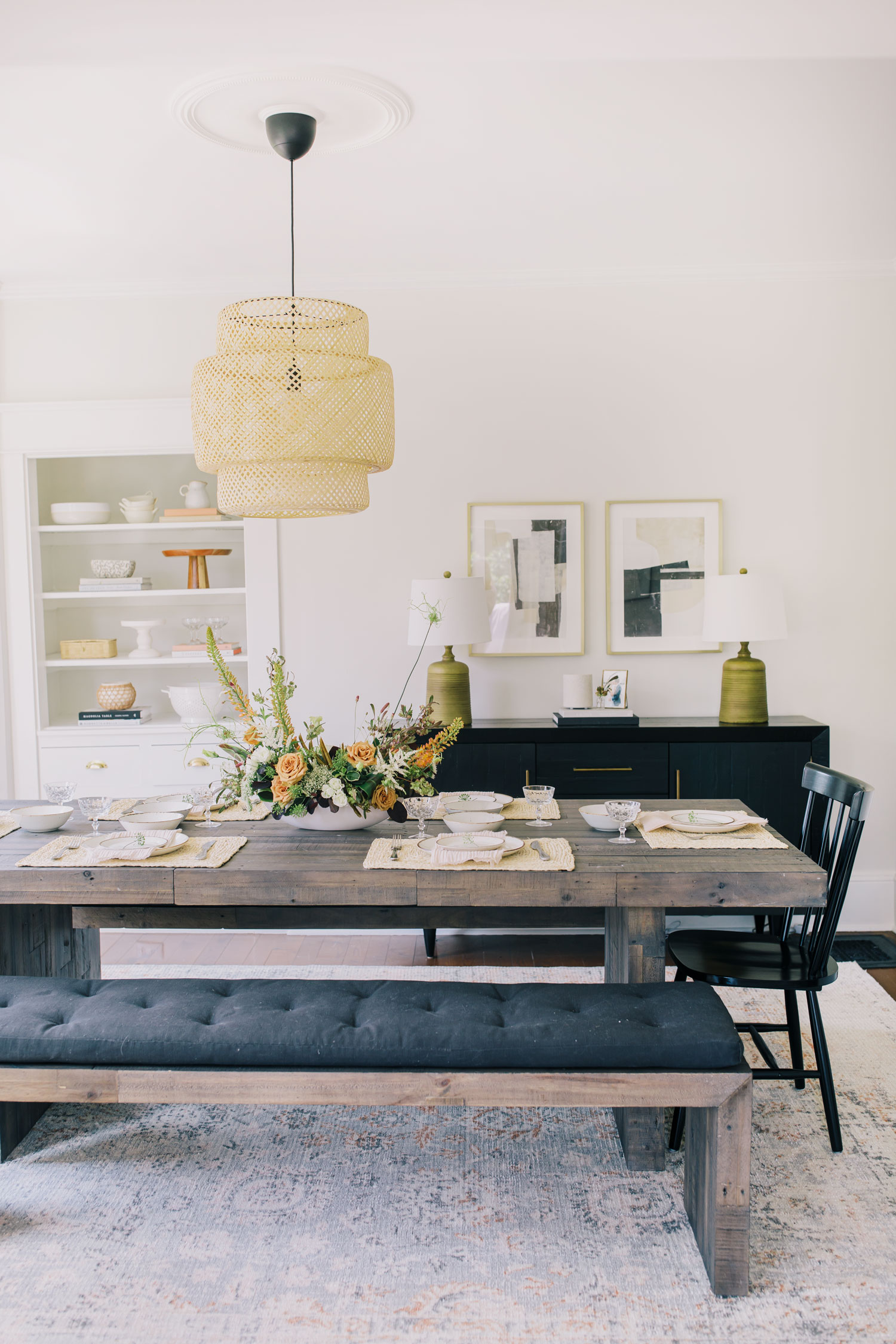 The day is FINALLY here for me to share our dining room reveal with you! I am so excited to share this as just as with Edwin's nursery reveal, it was a labour of love. We began talking about redoing our dining room back in November after chatting with West Elm and having them on board to collaborate with us. We loved working with West Elm and are so thankful for our table, benches, credenza, and rug (I'll share more about each piece below). Because we live in Nova Scotia we had a harder time getting the pieces delivered to us. So, in between that and getting used to new parent life with a newborn, we weren't able to fully complete the dining room until just a few weeks ago. My sweet, sweet husband (and some of his family) did all of the nitty-gritty work when it came to prepping, painting and moving furniture all around and I couldn't be more grateful for all of their hard work. I had such a clear vision for this room in my head and seeing it all come together really made me realize how much I love interior decorating…it's so fun! We also worked with KoKo Mod Floral Design who made the most beautiful arrangement for our dining room…it suited the space perfectly and I highly recommend her for your floral design needs.
We have spent so many hours in our new dining room and have already made some great memories in there. I can't wait until Edwin is a little older and we can have family dinners with him sitting in his high chair. Anyway! Without further adieu, please enjoy our dining room reveal!

Before:
I'm so happy I have this shot of the dining room so that I can compare how different it looks now. Before the dining room felt quite dark and outdated. There was so much dark wood that really made the room feel small and closed off. It's incredible to me what a little paint and imagination can do!
After:
Our dining room feels so much lighter and airier after painting out the wood trim. We used Benjamin Moore Cloud Cover on the walls and Simply white on all of the trim. We also took down the curtains and curtain rods and are currently letting the light pour in until we have some custom curtains installed soon. You can't tell from the "before photo" but we kept the handles from the original built-ins. They were so rusty and all we did was shine them up and now they're back to their beautiful gold colour.
This is the original dining room built in that we simply painted out white and gave some love to in the styling department. I kept the shelves pretty minimal and only added items that I truly love. This way, every time I look over to this shelf I feel inspired.
These flowers by KoKo Mod were the perfect finishing touch to our dining room…I only wish they could last forever! Korayne was inspired by the neutral colours and textures of dining room and created this stunning arrangement. The arrangement included the most beautiful toffee roses and other flowers that I'd never seen before like a type of onion, dill flowers, and beans in the coolest fuzzy pods.

At first, I was a little nervous about going for a black, mid-century modern style buffet, but now seeing it styled in our space I know it was the right decision. I have been really loving black accents in home design as of late which is so odd for me because I usually want everything to be light and bright. However, I feel like the black accents in this room give it a little edge and with everything else being so light, it looks cool and unexpected. This specific buffet seems to be sold out but there is a similar one in a dark walnut colour here that I'm loving. This buffet features 2 doors that we use as our liquor cabinets (we've amassed quite the collection over the years) and 3 drawers that I'm using for things like linens and candles.
The art was kindly gifted to us from Minted. The prints are called "Last Tuesday" and "History Repeats" by Jennifer Daily. I was immediately drawn to these prints because of the colour and the shapes. I chose the brass frame with white mounting but I think these would look good with any Minted frame option or without mounting.
Some details on the buffet including the new Jillian Harris x Saje diffuser, a wedding photo and a couple of books. We also purchased these lamps for each end of the buffet and I am obsessed with them.
Our Light fixture is from Ikea and the baskets on the wall are a value village find.
I had a hard time picking out a rug for our dining room because West Elm has SO many gorgeous options. We finally settled on The Flourish Rug. I just love the colours of it and the distressed, almost vintage feel. The rug, in my opinion, really makes the space and brings everything together.
Our dining room table and benches are a classic from West Elm. I've been a fan of The Emmerson collection for years. The reclaimed wood adds a lived in, rustic feel to the dining room and unexpectedly pairs so well with the more mid century modern style buffet.