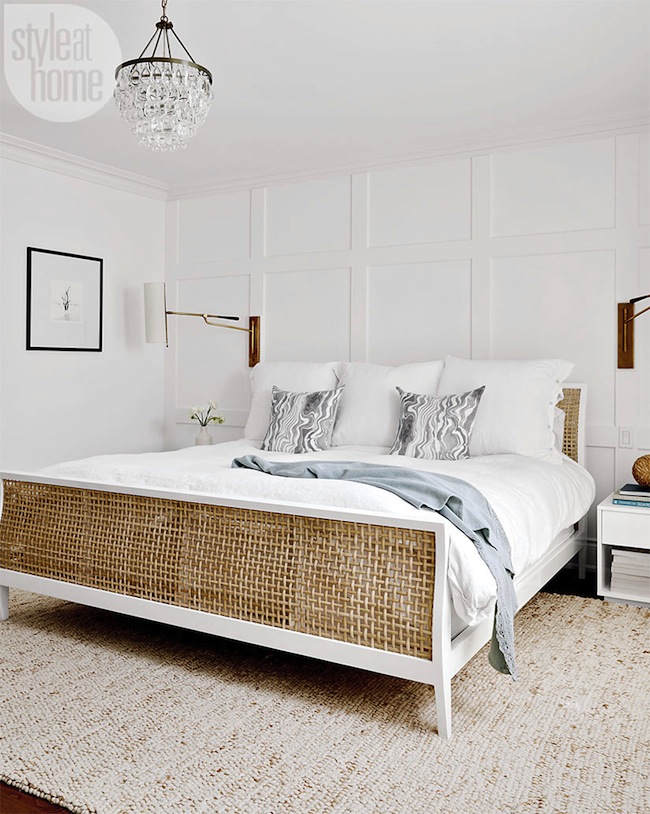 If I had to choose my favourite blogger in Toronto, heck, one of my favourite bloggers in the world, it would be Jacquelyn Clark of Lark & Linen. The girl crush is real with this gal and luckily for me, I get to call her my friend. I am thrilled to have Jacquelyn, interior design expert by day (I mean, just look at that bedroom…#goals) and blogger by night here today to share 3 tips on how to up your interior design game in 2018. So without further ado, please welcome Jacquelyn.
As an interior designer, I'll be the first to admit that I'm heavily biased (and maybe a little dramatic) but I'm of the firm belief that a well-designed space can completely change your life. Not only will your day to day tasks become significantly more enjoyable, but it's been scientifically proven that beauty and design have all sorts of positive benefits to your overall mindset.
My name's Jacquelyn – by day I run a boutique interior design firm, Lark & Linen. And by night you can find me penning my blog by the same moniker. Needless to say – design is my M.O and I'm thrilled to be here today sharing a few of my best design tips and tricks so that you can start your 2018 off on the right foot.
Having been in the industry for over a decade now, I've seen first hand the benefits of interior design. And while there's no hard and fast rule for when you should get started, the New Year – the clean slate, if you will – feels particularly fitting. Following are a few of my best tips and tricks for upping your design game in 2018:
PS: 3 ways to maintain a healthy mentality in 2018 & 3 ways to up your style game in 2018
1. PURGE ITEMS THAT DON'T SERVE A PURPOSE
Bust out your best Marie Kondo, and purge absolutely anything that you don't use regularly, that doesn't serve a purpose, or bring you joy. Starting with a clean slate is the very first step to creating a space that you can't wait to go home to.
2.COME UP WITH A GAME PLAN:
As tempting as it is to impulse buy or capitalize on a sale, more often than not you end up with a hoarding of items that don't quite jive well as a whole. I always advise my clients to allow me to come up with a solid design plan before making a single purchase. It may take longer at the onset, but you'll save money and be much happier with the results in the end.
3. GOOD THINGS TAKE TIME:
Lastly, always remember that good things take time. Whether you're on a budget or have plenty of disposable income, designing a beautiful space is a marathon, not a race. Don't rush into it – take the pressure off, take that time to make thoughtful purchases, and try to embrace the process. Don't get me wrong – there is no big project that is completely void of stressful moments, but designing your home should be as enjoyable as possible!


Website: Lark & Linen
Instagram: @LarkandLinen
Above photo by Stacy Brandford for Style at Home