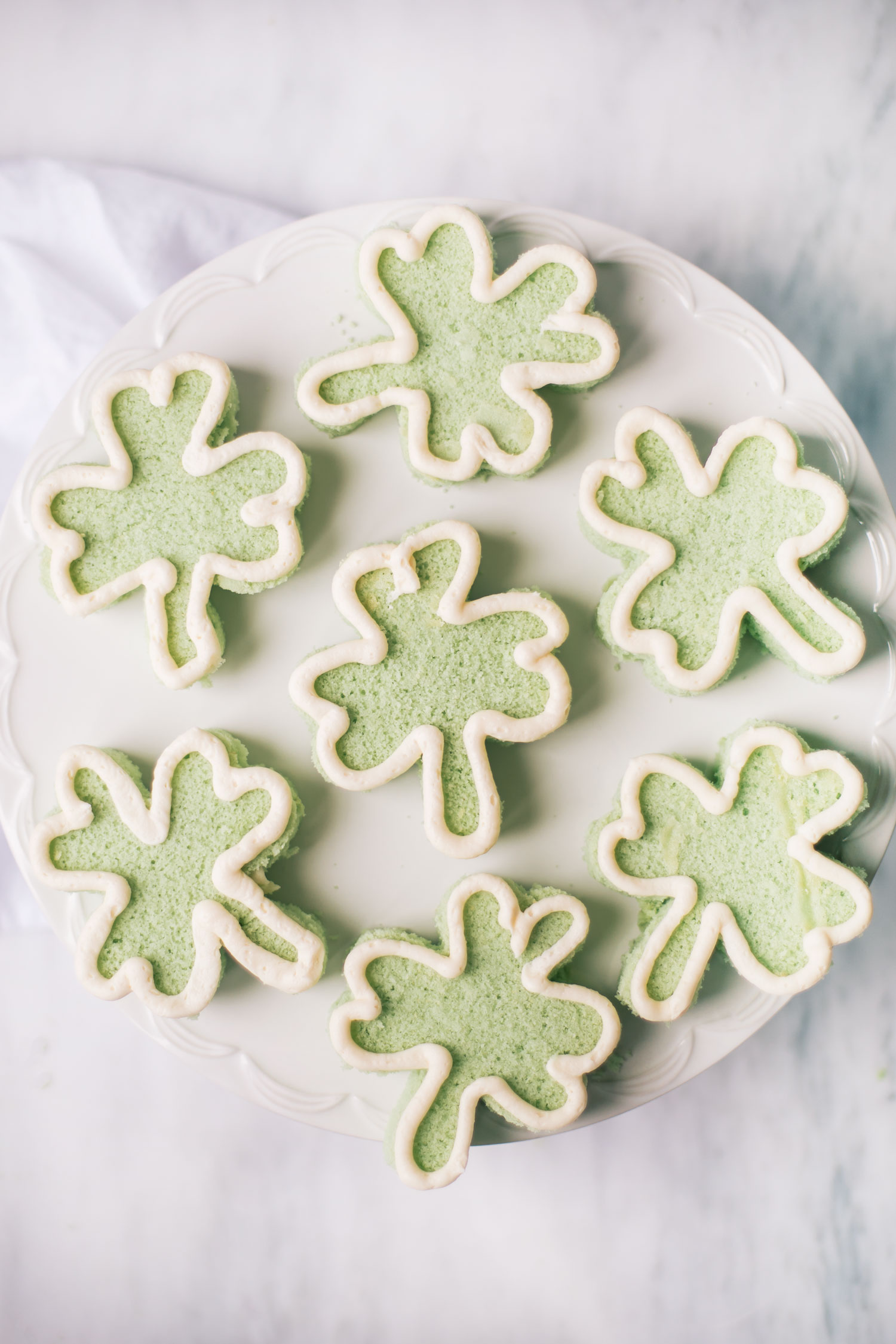 Never one to shy away from a holiday, I recently had the idea to make a green sheet cake and simply cut out shamrock shapes for a fun and delicious St. Patrick's Day recipe. I wasn't sure how these guys were going to turn out at first if we're being completely honest, but after using this trusted Martha Stewart cake recipe and simply adding green food colouring, I was pleasantly surprised at how well these cakes help up and how light and fluffy they turned out! I simply piped the outline of my shamrocks with buttercream frosting but I think that these cakes are such a great base for a DIY party. Grab some sprinkles, lucky charms, edible glitter and whatever other festive touches you can find to decorate these adorable shamrocks to your heart's desire. Have a cheeky green beer to go along with it and have yourself a happy St. Patrick's Day!
Ps: If you're looking for more fun St. Patrick's Day ideas, be sure to check out my matcha puddings over on Lark & Linen or my lucky charm chocolate bark from last year.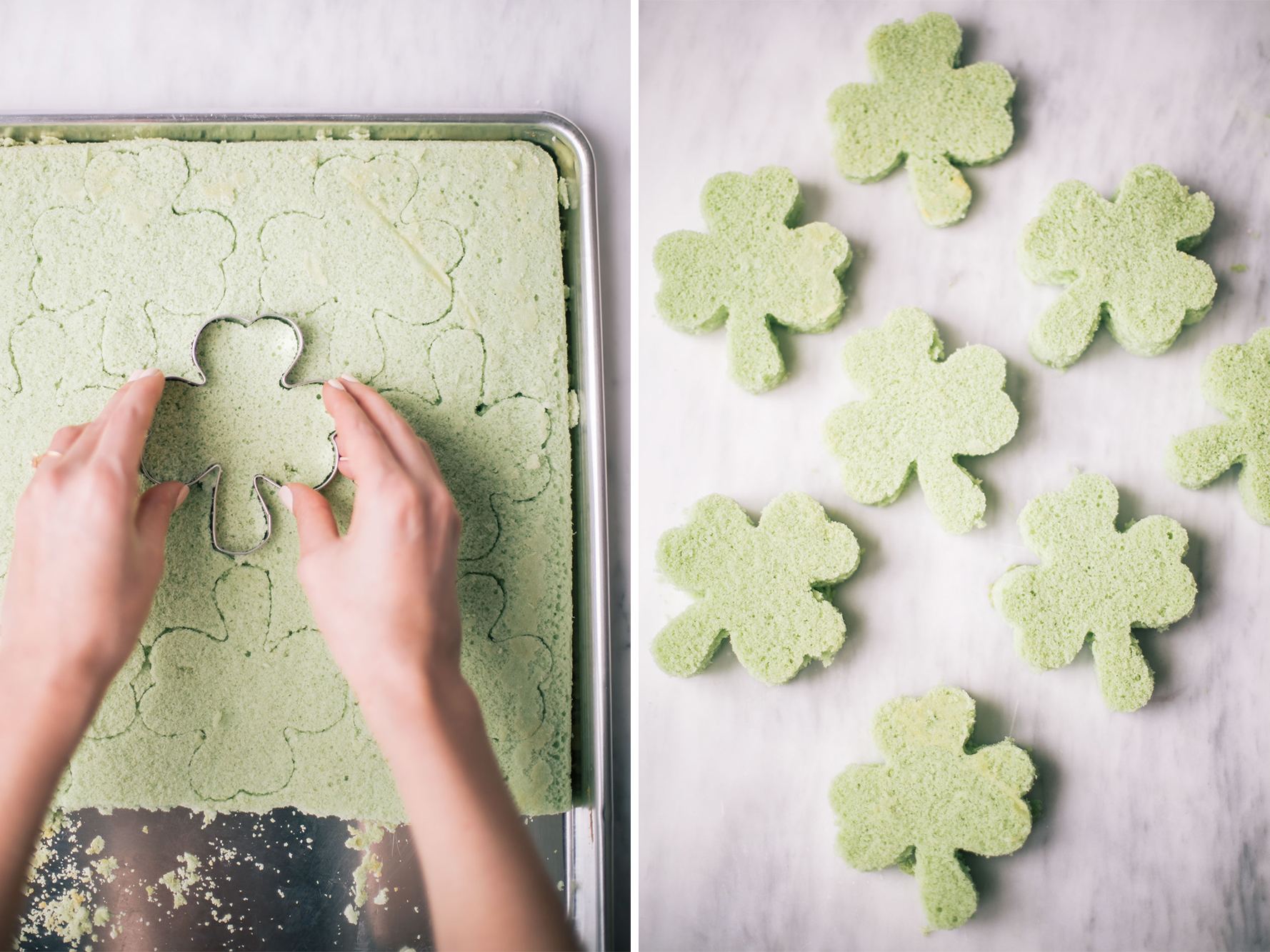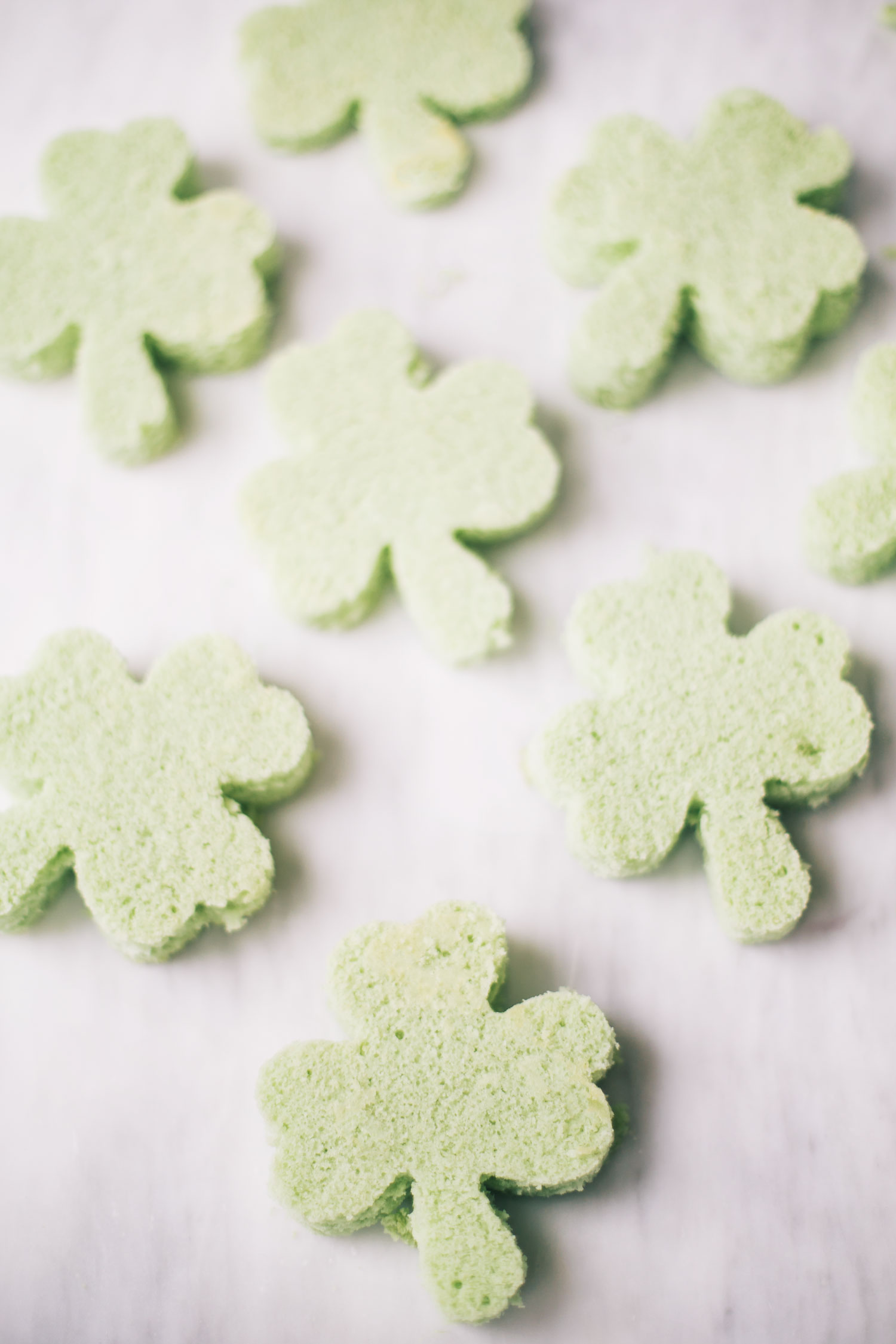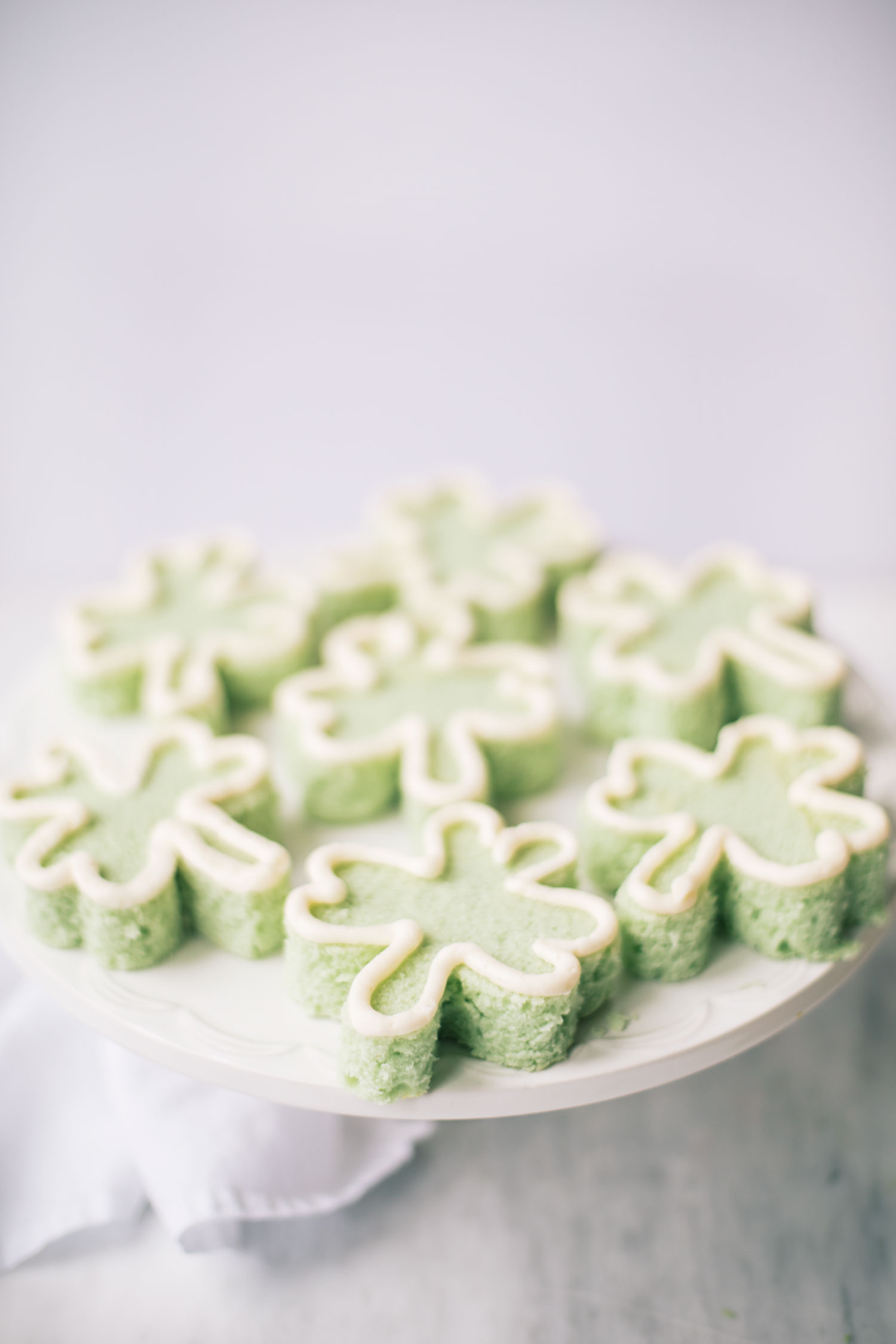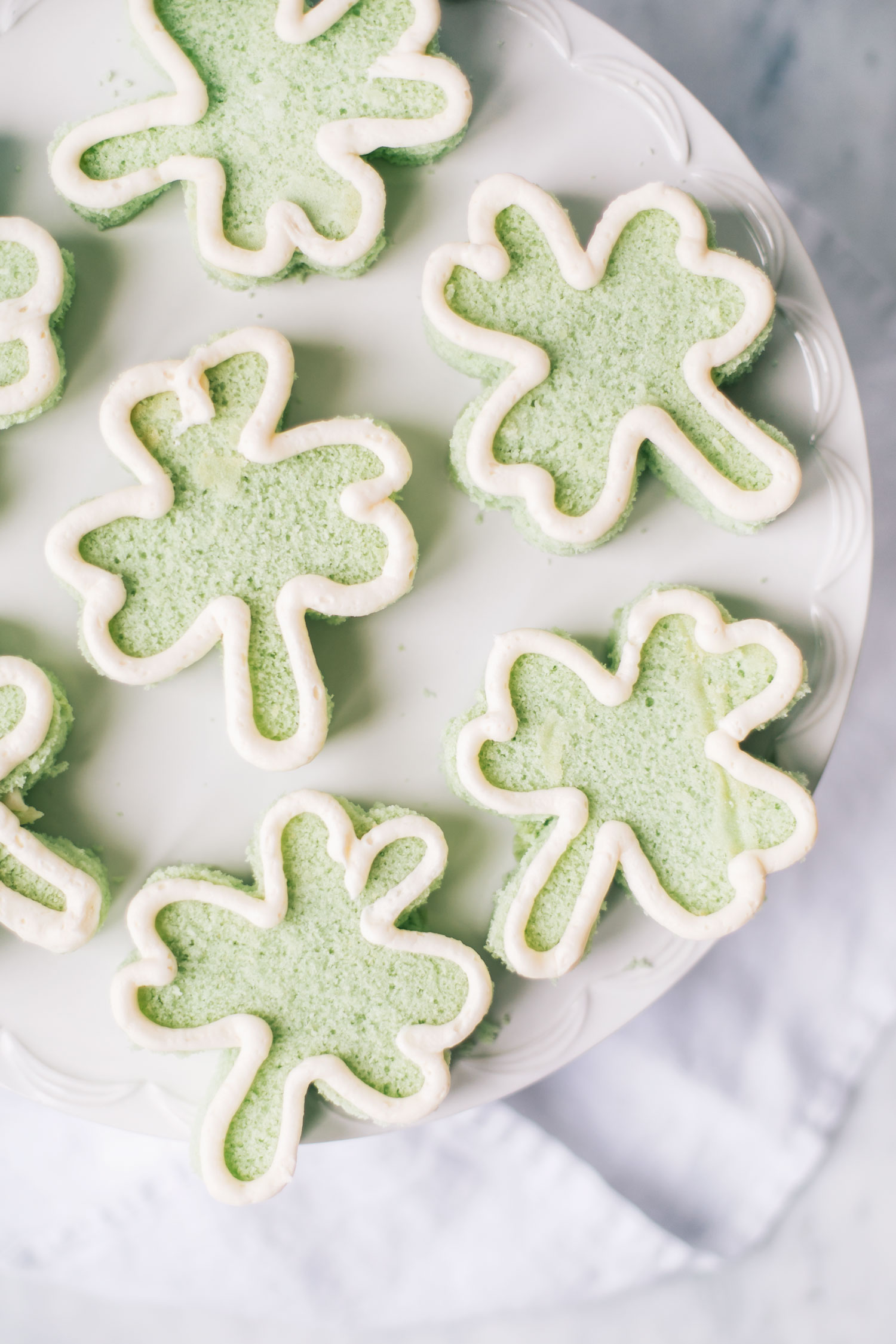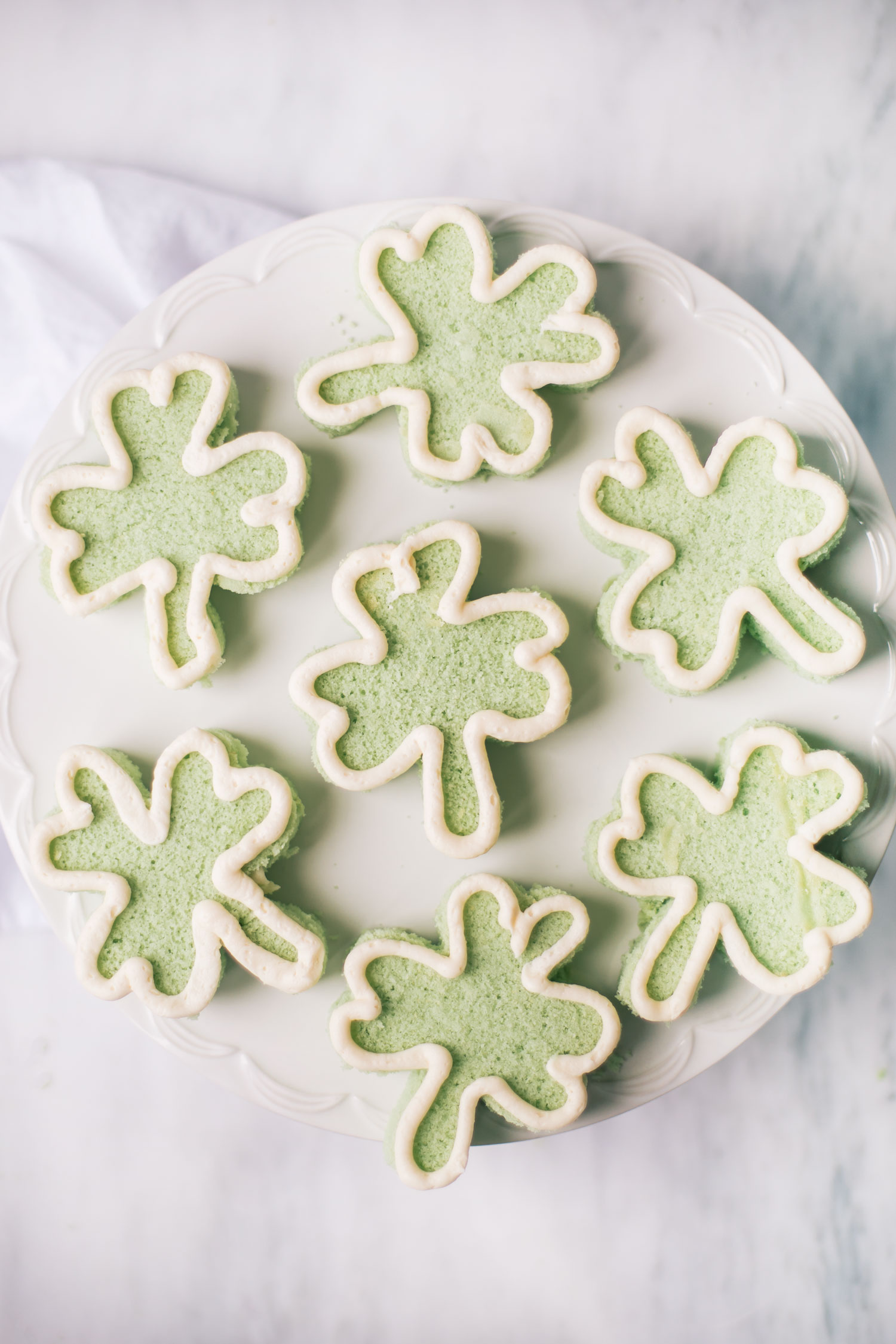 Mini Shamrock Cakes For St. Patrick's Day
2018-03-07 09:13:26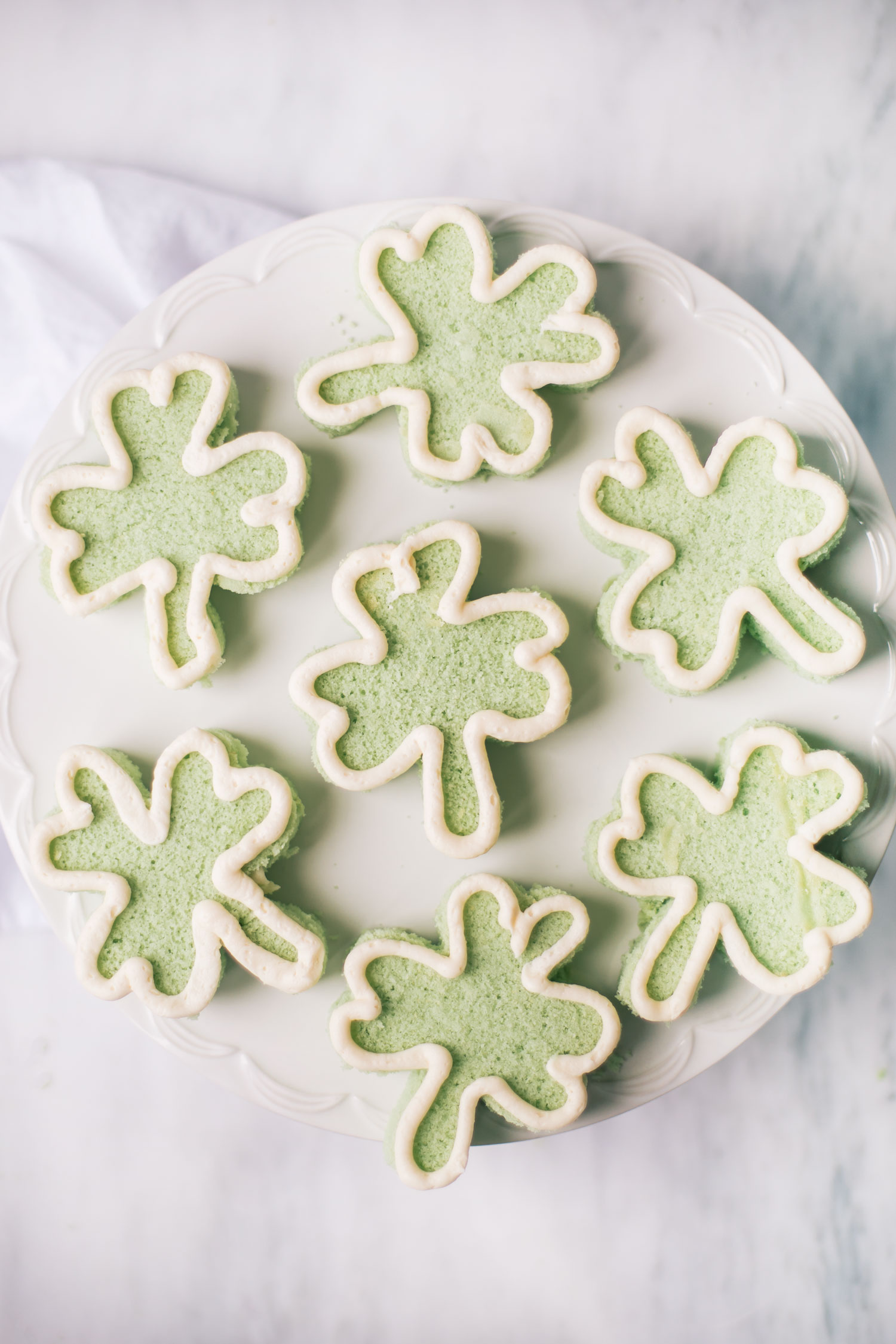 Serves 10
For The Cake
2 1/2 sticks unsalted butter, room temperature, plus more for pan
4 1/2 cups sifted cake flour (not self-rising), plus more for pan
2 tablespoons baking powder
3/4 teaspoon salt
1 1/2 cups milk
1 1/2 tablespoons pure vanilla extract
2 1/4 cups sugar
7 large egg whites
10-20 drops green food colouring
For The Icing
3 cups powdered sugar
1/3 cup butter, softened
1 1/2 teaspoons vanilla
2 to 4 tablespoons milk
For The Cake
Preheat oven to 350 degrees. Butter a rectangular baking pan. Line bottom with parchment or waxed paper. Butter paper; dust with flour. Tap out excess; set aside.
Sift together flour, baking powder, and salt into a medium bowl, and set aside.
Combine milk and vanilla in another bowl; set aside.
Place butter in a mixing bowl; using an electric mixer, beat until pale and creamy. Add sugar in a steady stream; continue beating until mixture is light and fluffy, about 3 minutes.
Reduce speed to low. Add flour mixture in three batches, alternating with milk mixture and starting and ending with flour; beat just until combined. Do not over beat.
In another mixing bowl, beat egg whites until stiff peaks form. Fold one-third of the whites into the batter just until combined. Fold in remaining whites in two batches.
Pour batter into prepared pan; smooth top with a spatula. Bake until a cake tester inserted near the center comes out clean and the cake springs back when pressed lightly in the center, 30-40 minutes.
Transfer to a wire rack; let cool in pan at least 15 minutes. Run a paring knife around sides to loosen; invert cake onto rack. Remove paper; reinvent cake to prevent splitting. Let cool completely.
Using a shamrock shaped cookie cutter, cut out shapes and remove excess cake. The cake scraps can be used for cake pops!
For The Icing
In medium bowl, mix powdered sugar and butter with an electric mixer on low speed. Stir in vanilla and 1 tablespoon of the milk.
Gradually beat in just enough remaining milk to make frosting smooth and spreadable. If frosting is too thick, beat in more milk, a few drops at a time.
If frosting becomes too thin, beat in a small amount of powdered sugar.
Using a piping bag and small round tip, pipe the outline of your shamrock cakes. Alternatively, you can frost the entirety of the shamrock, or even make shamrock "sandwiches". I also love the idea of decorating these cakes with things like Lucky Charms or sprinkles. You can really get creative here!
Adapted from Martha Stewart Cake, Betty Crocker Icing
The Blondielocks | Life + Style http://www.theblondielocks.com/