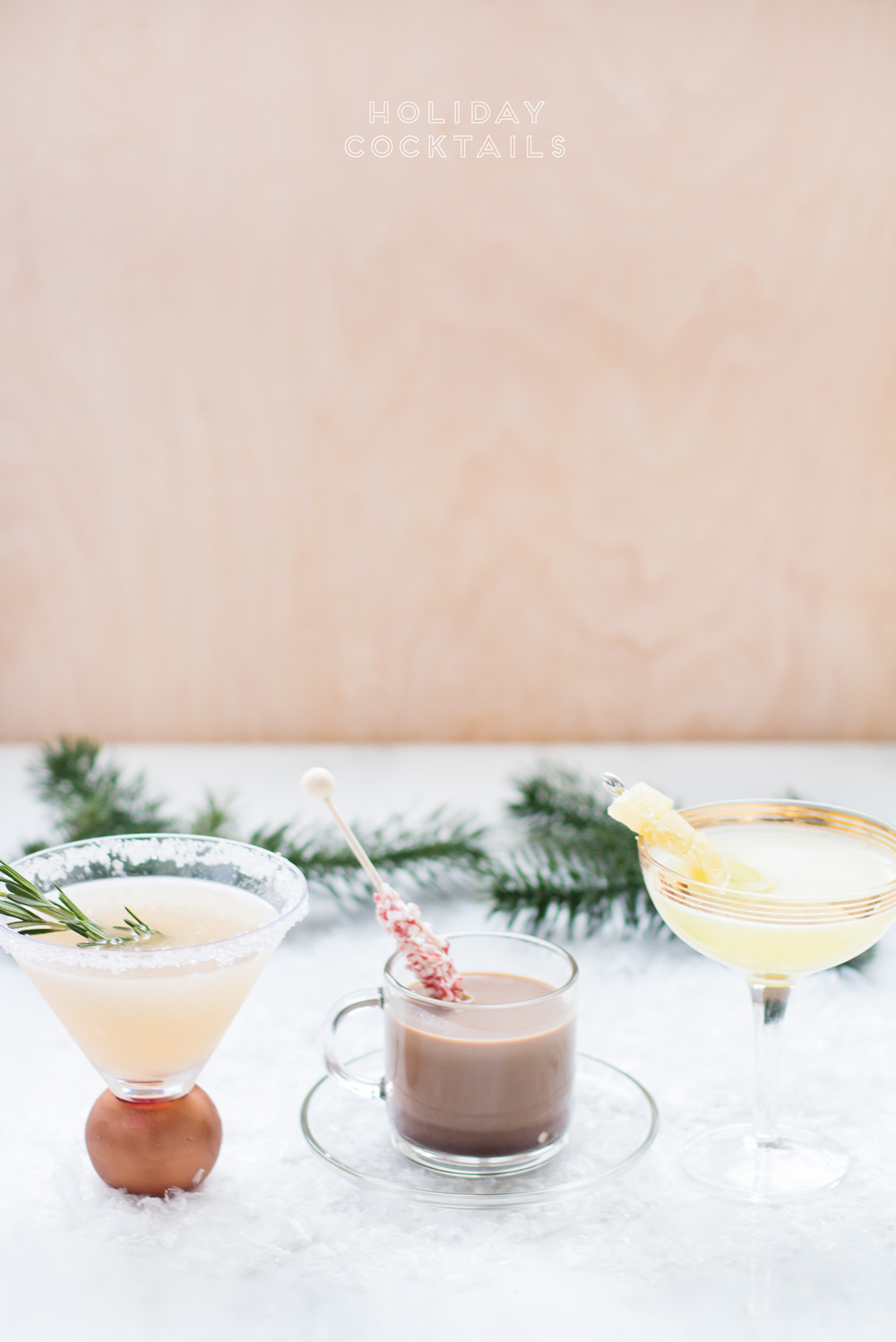 Cocktail recipes on a Tuesday morning? Yes please…especially if it's holiday cocktails! Tis' the season to actually use that bar cart that you've expertly curated over all of these months (I'm talking to myself here) and try some new and exciting drinks that are sure to impress even the pickiest of party guests with your impressive bartending skills. All 3 of these drinks are absolutely delicious and I'm willing to bet that they will go down as easy as they are to make this holiday season! Cheers!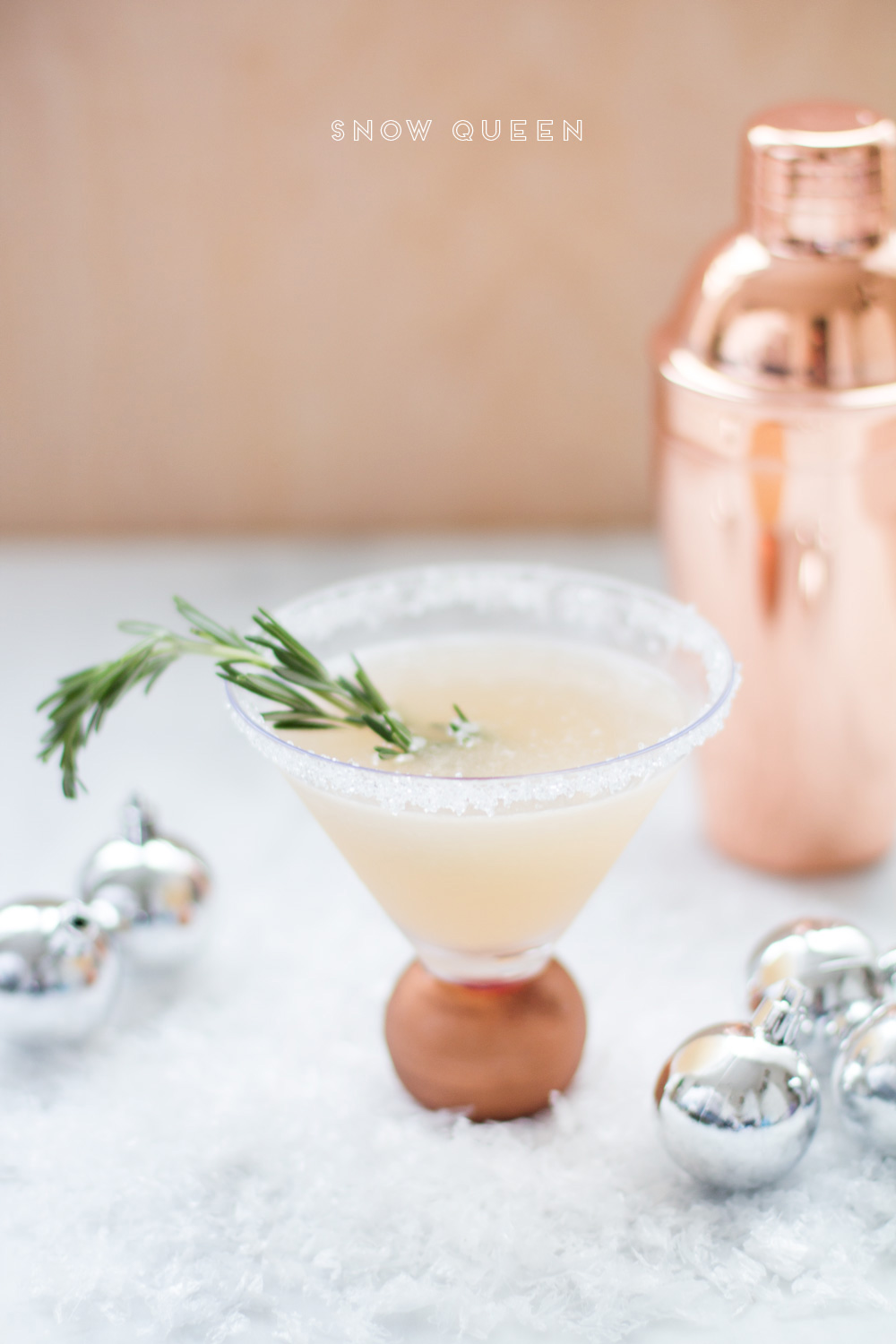 Snow Queen (adapted from The Food Network Kitchen)
Makes 1 cocktail:
Rosemary Simple Syrup:
1/2 cup sugar
1/2 cup water
1 bunch of rosemary + 1 extra sprig for each cocktail you have to garnish
For simple syrup:
In a small saucepan bring sugar, water and rosemary to a boil, stir. Once Boiling remove the mixture from the heat and allow it to reduce until a syrup forms. Strain the mixture into a jar making sure to remove the rosemary.
For the cocktail:
1 tbsp rosemary simple syrup
2 oz gin
Juice of 1 grapefruit
champagne or prosseco to top
white sugar sprinkles
Rim glass with sugar crystals by dipping the glass in grapefruit juice followed by the sprinkles, transport the glass to the freezer to chill. In a cocktail shaker with ice add 1 tbsp of simple syrup, gin and grapefruit juice. Shake and strain into the glass. Top with champagne and garnish with a rosemary sprig.
PS: I purchased these glasses at the dollar store and spray painted the bottoms copper for an easy, stylish and festive DIY.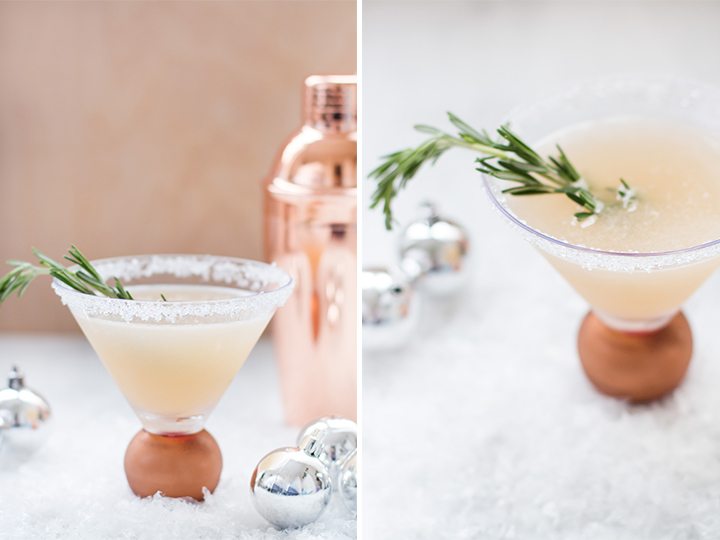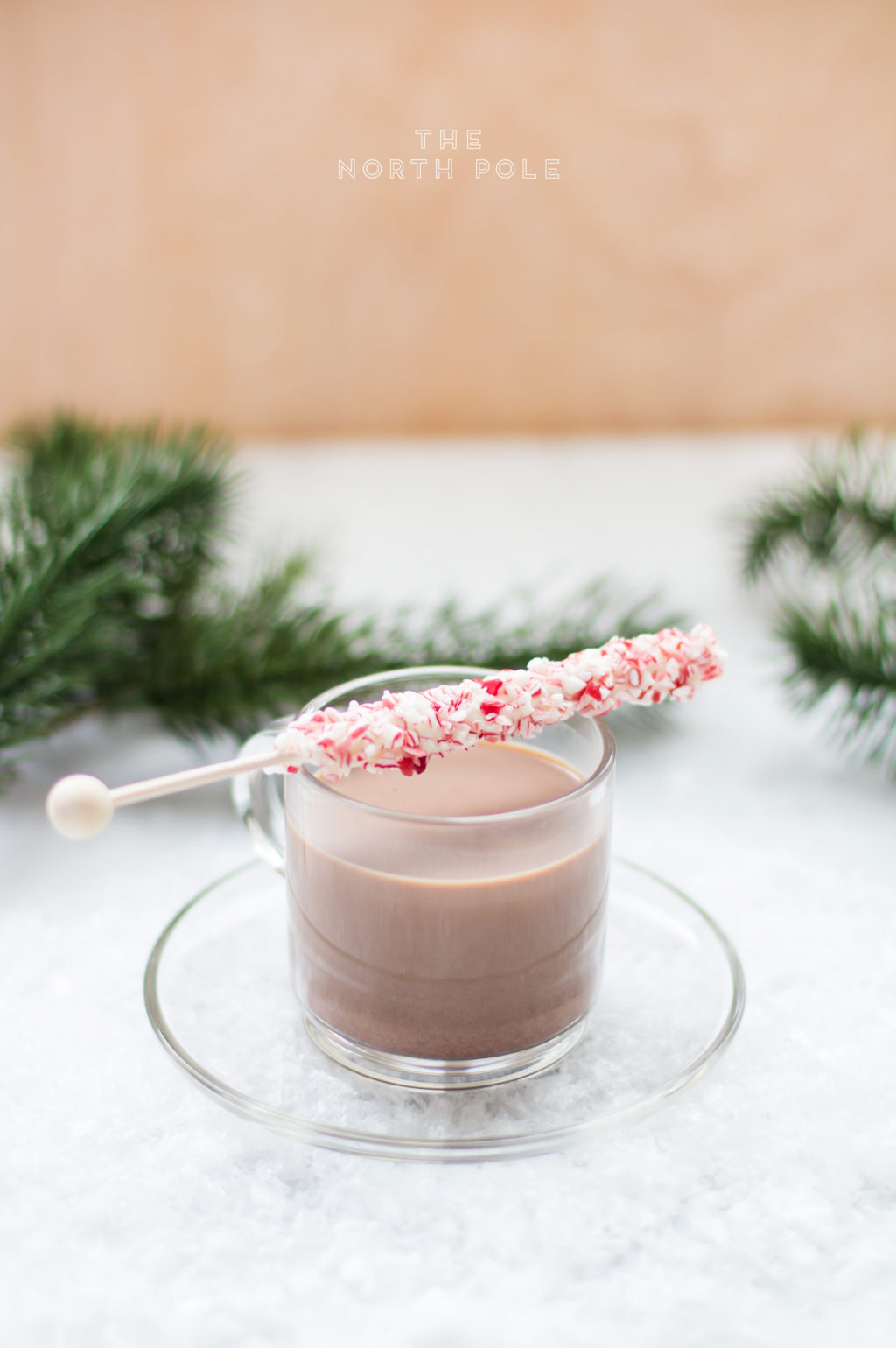 The North Pole (makes 1 cocktail)
For the cocktail:
1 1/2 oz espresso
1 1/2 oz Bailey's
Top with hot chocolate (I used this recipe for homemade hot chocolate)
Candy cane stir stick (found at the Bulk Barn)
After making your espresso and hot chocolate, add all ingredients into a clear espresso glass or a mug if you prefer and top with a candy cane stir stick. When the chocolate and candy canes melt into the drink you are left with the most delicious peppermint + Bailey's + hot chocolate + coffee mixture!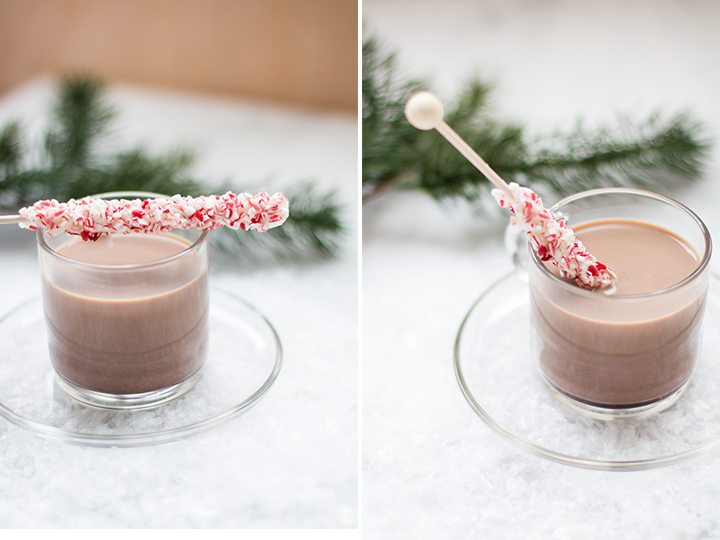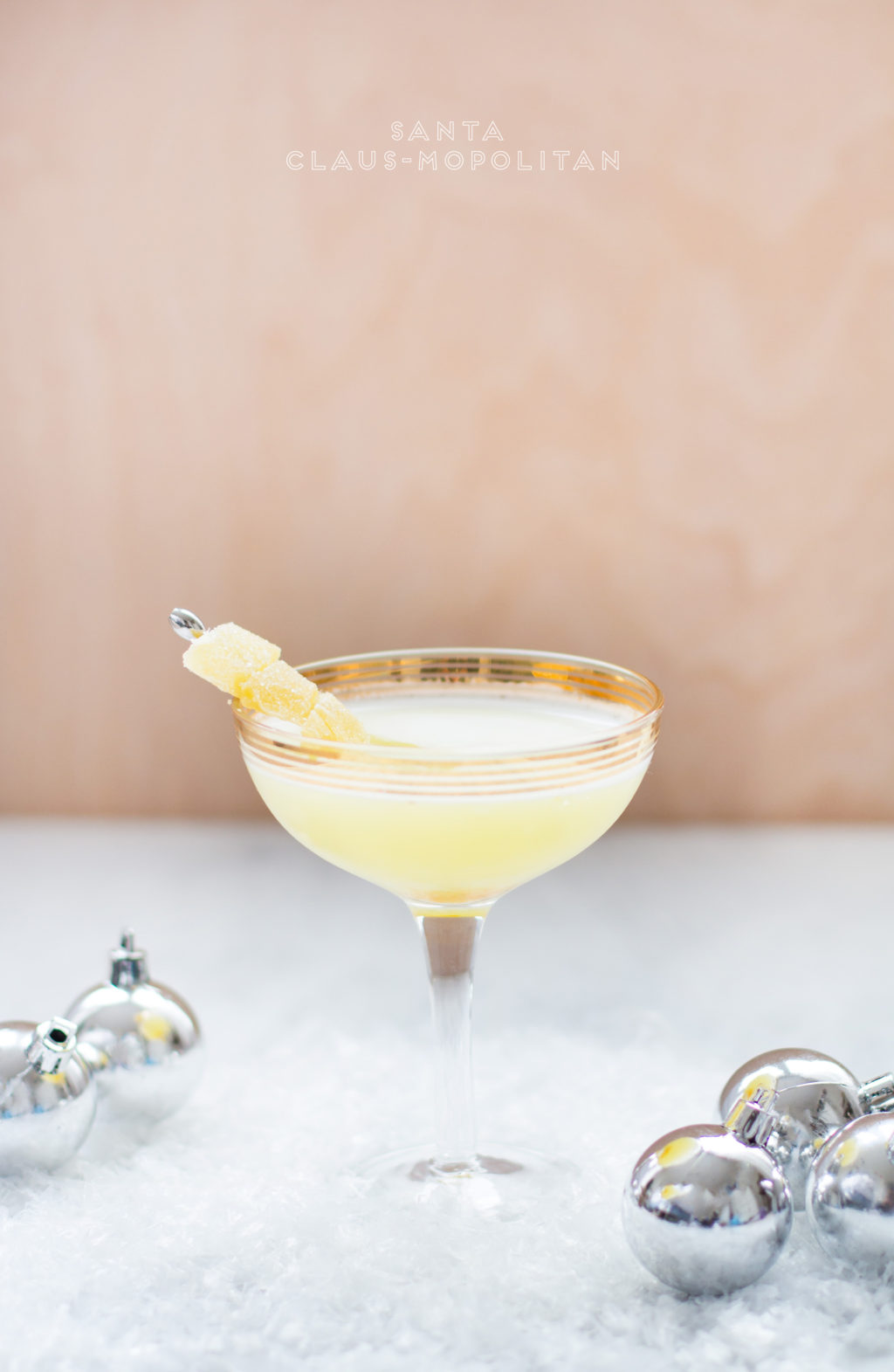 Santa Claus-Mopolitan (makes 1 cocktail)
For the cocktail:
2 oz vodka
1 oz triple sec
2 oz white cranberry juice
1/2 oz freshly squeezed orange juice
1 tbsp orange zest
1 tbsp ginger zest
1 egg white
candied ginger for garnish
In a cocktail shaker muddle together vodka, triple sec, cranberry juice, orange juice, ginger and orange zest. Add in egg white and shake the cocktail shaker vigorously for about 15 seconds. Open the cocktail shaker and add ice. Shake vigorously again for another 15 seconds (this will give you a foamy egg white topped drink which is what you want). Strain the cocktail into a coupe glass and garnish with candied ginger.