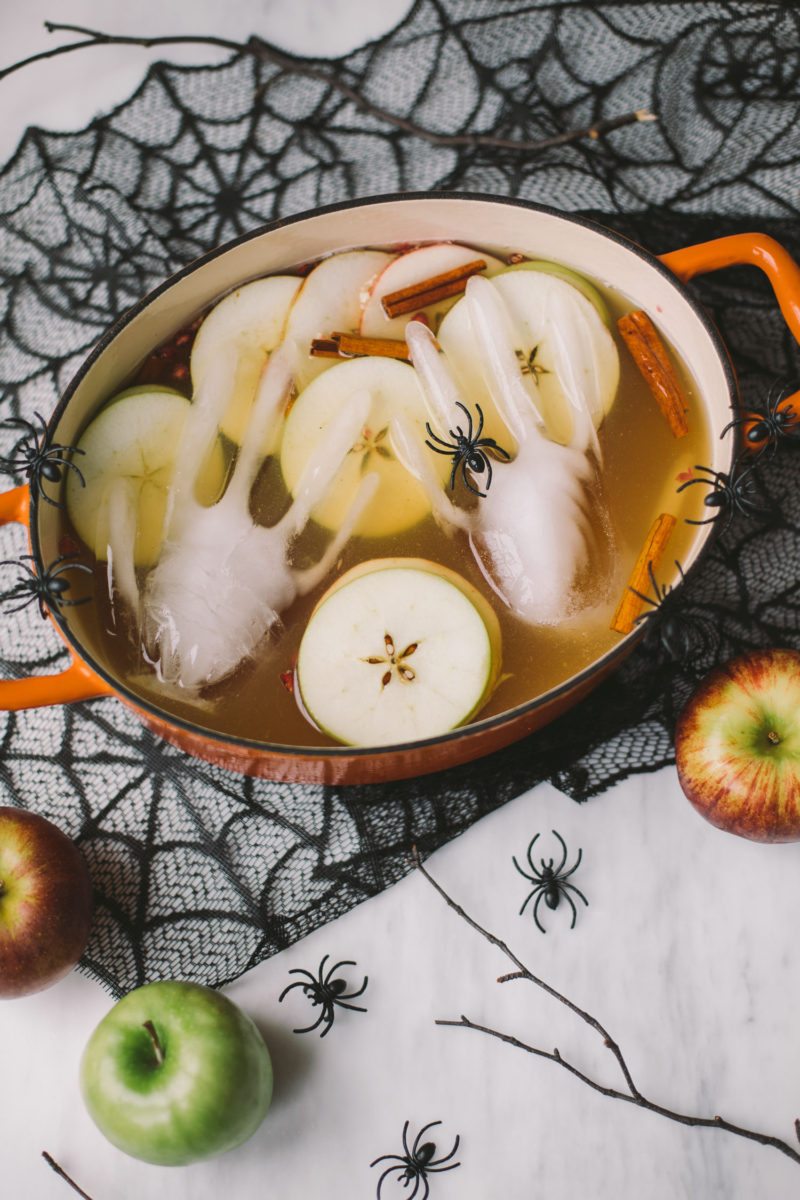 Would anyone like me to hand them a glass of sangria (pun most definitely intended)! There couldn't be an easier or spookier way to impress guests at your Halloween party this year than with this apple cider sangria served up with hand shaped ice cubes. I actually got this idea from my grandma (I mentioned yesterday that she's the queen of holidays) years ago when she whipped up a batch of her delicious punch for Halloween and impressed all of us when we went to serve ourselves a glass and there were hands floating around in the punch bowl. I just thought that they were the most clever idea and the perfect way to keep punch cold while adding a creepy Halloween touch. The sangria, which tastes like delicious apple cider meets apple pie, is the perfect option to serve as it takes minutes to mix together and tastes like fall in a cup! Happy Halloween!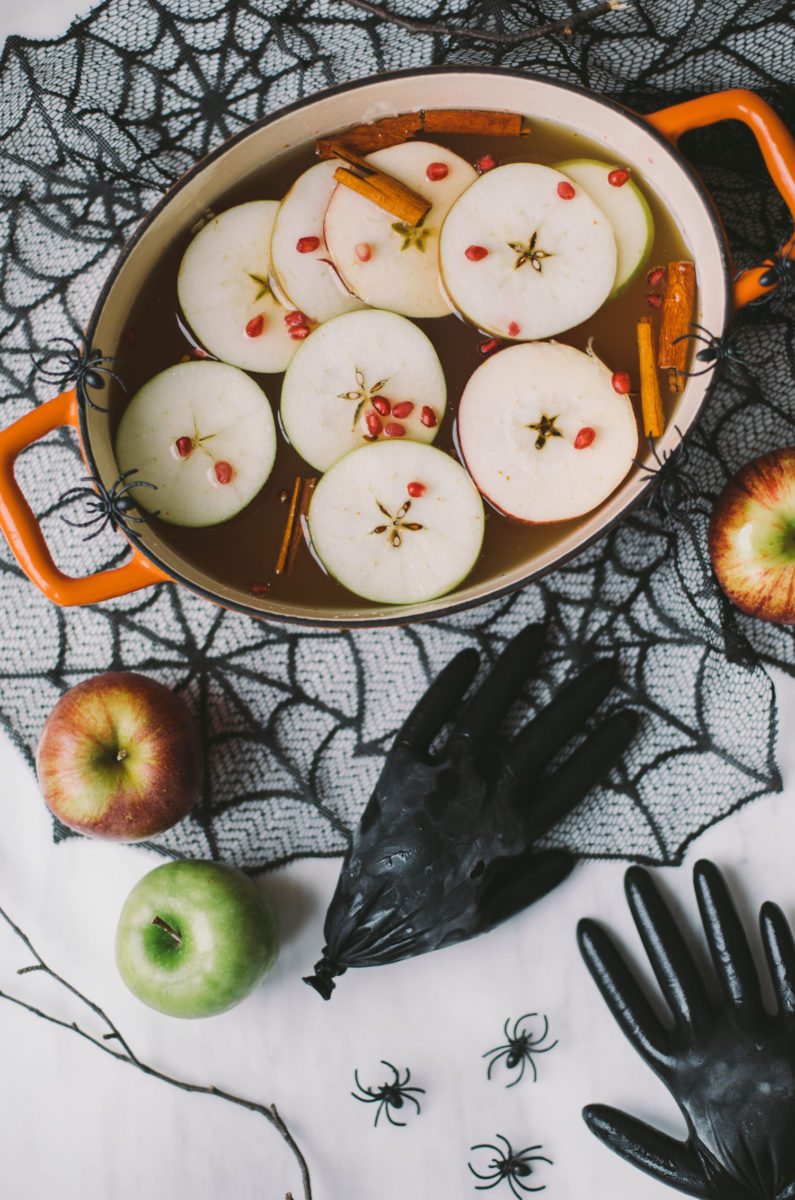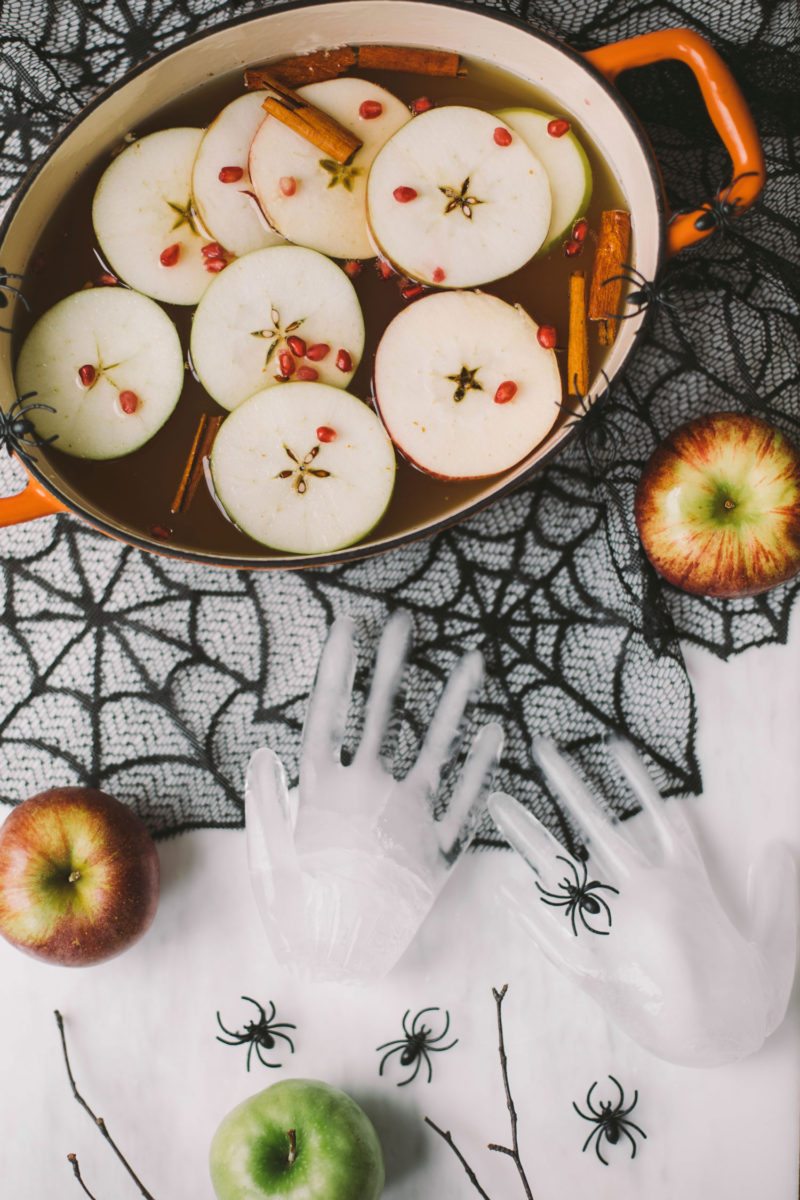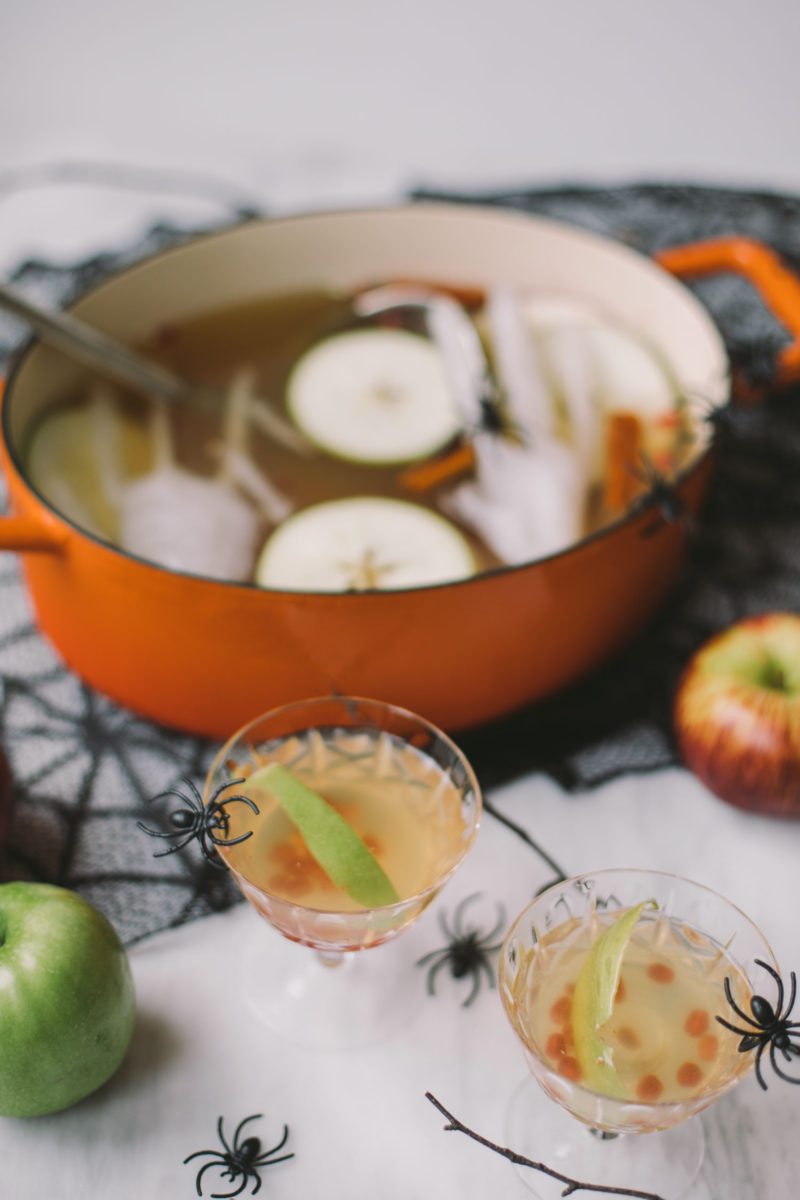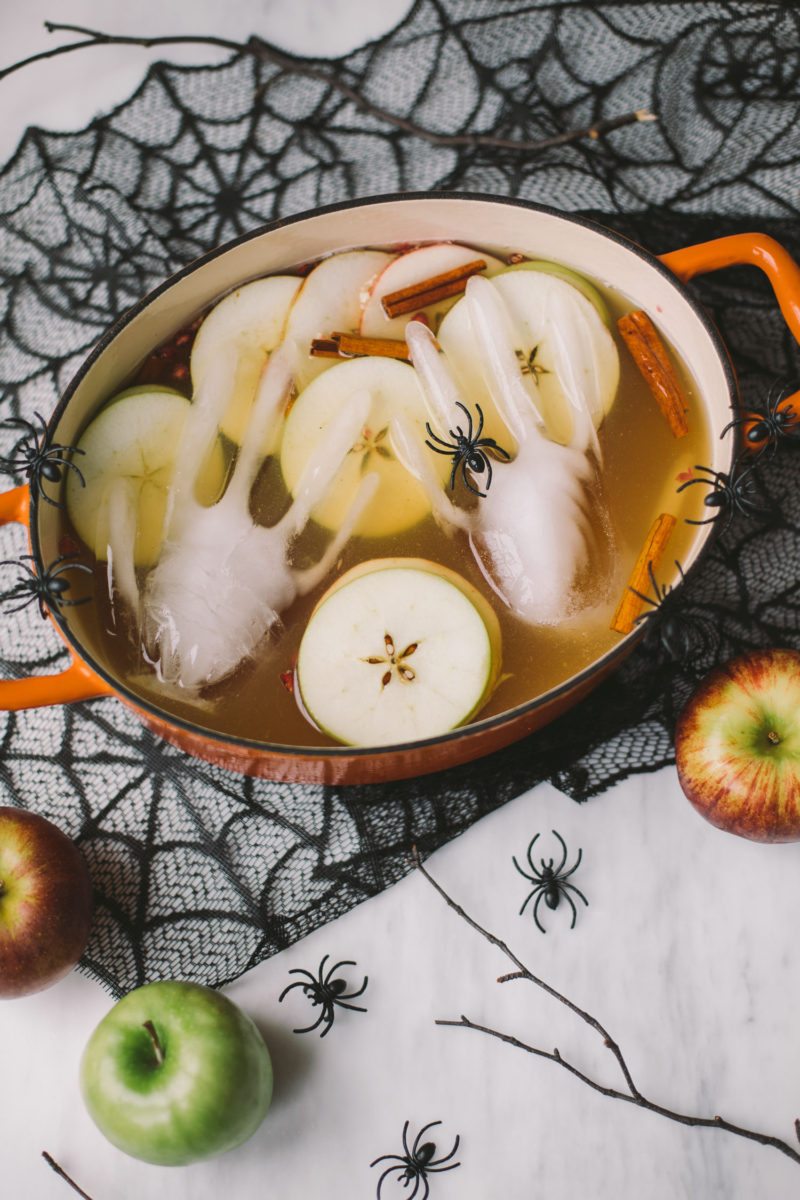 Fall Apple Cider Sangria With Spooky Hand Ice Cubes
2017-10-24 21:06:52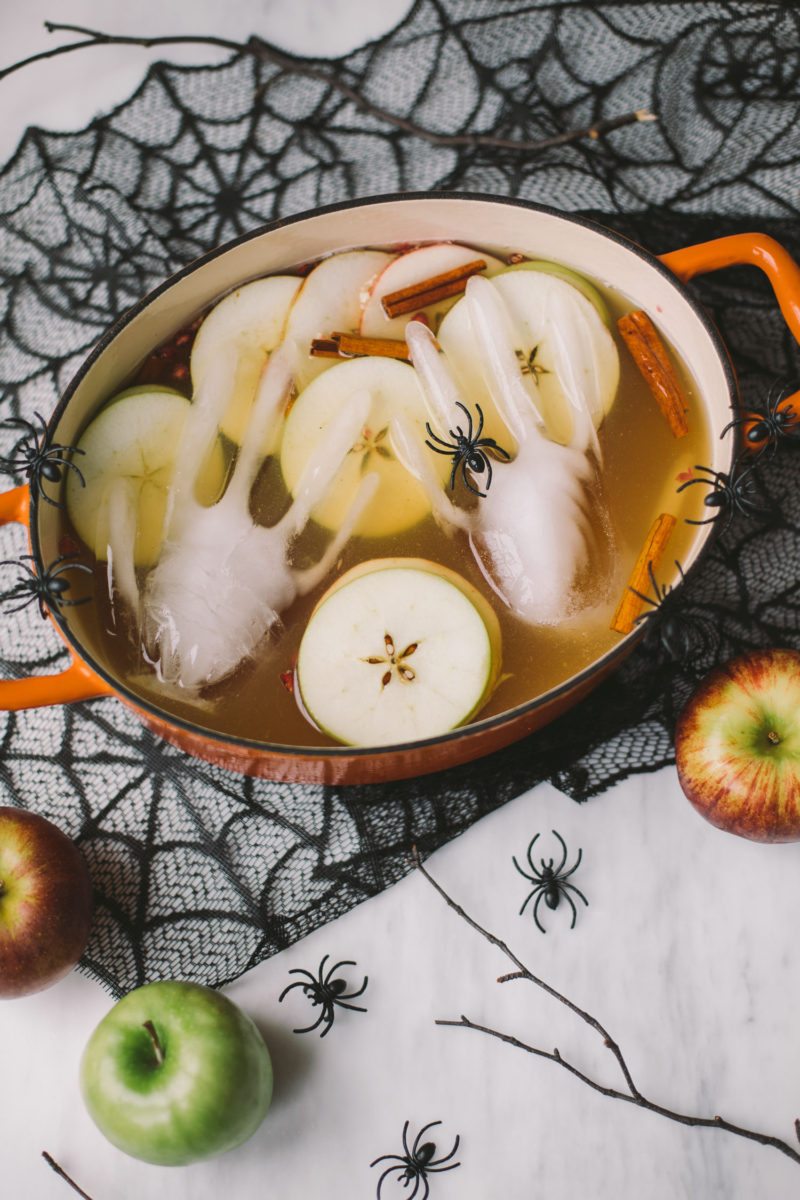 Serves 6
Fall Apple Cider Sangria
1 Bottle Pino Grigio
Blumer's Apple Pie Moonshine
2 1/2 cups Apple Cider
3/4 cup club soda
1 Granny Smith Apple, sliced
1 Spartan Apple, sliced
1 Cortland Apple, sliced
1/2 pomegranante
3-4 cinnamon sticks broken in half
For Hand Shaped Ice Cubes
rubber gloves
water
rubber bands
spider rings for garnish (optional)
Sangria
Combine all ingredients and chill in the fridge for at least 1 hour before serving.
For Hand Shaped Ice Cubes
Fill rubber gloves with water until they're just full enough so that you can tie the glove.
Wrap a rubber band around where you tied the knot in the glove and if you can, secure the other half of the rubber band to a shelf on your freezer so that the "hands" are dangling. This will ensure that they freeze evenly
Remove ice cubes from the gloves, add to drink of choice and serve immediately
Adapted from The Cookie Rookie
The Blondielocks | Life + Style http://www.theblondielocks.com/