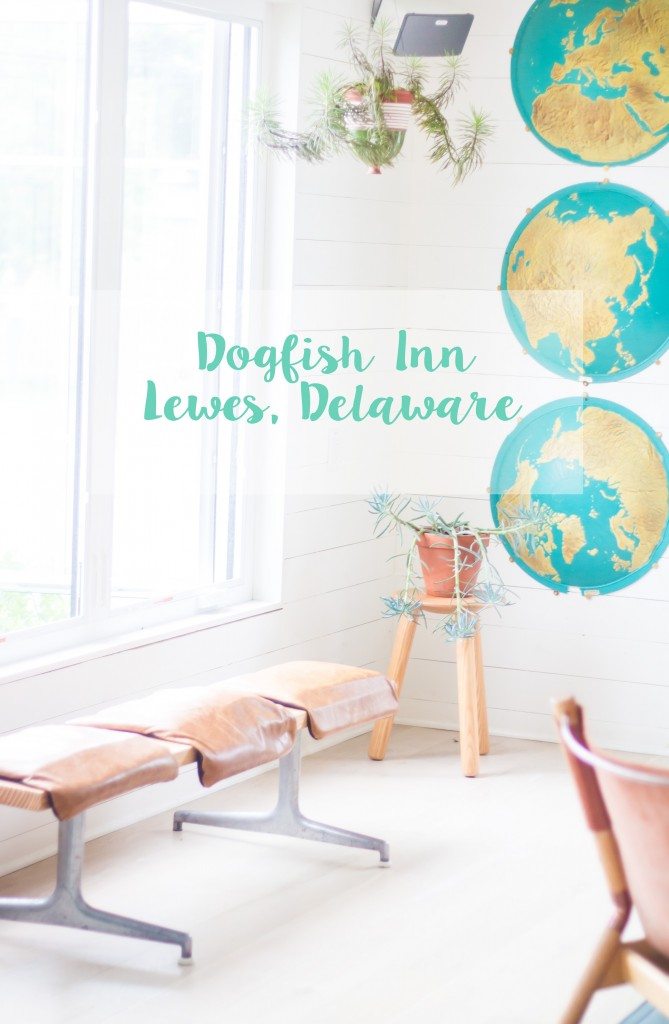 Yesterday in my Delaware travel recap I briefly mentioned that we stayed at the Dogfish Inn. If you are wondering Dogfish Head is a craft brewery based in Milton Delaware and owned by Sam Calagione who is not only a pioneer in the craft brewing industry but is also quite the visionary when it comes to living a unique or as he likes to call it an off-centered lifestyle. When the formerly known Vesuvius Motel closed its doors a couple of years ago Sam took full advantage of the opportunity and opened Dogfish Inn which is conveniently located on a bustling street corner in Lewes.
Jamie and I were so excited to stay at the Inn which is only in its second year of business. As soon as we arrived we knew this place was something special. From the mid-century modern vibe, delicious chicory stout coffee, thriving plants and fresh flowers to the evenings spent outside at their fire pit, the entire Dogfish Inn experience was such a treat. We enjoyed beer (purchased) and s'mores every evening along with great conversation and camp games like corn hole with the other guests. There were also so many special touches like a wool blanket that was made in collaboration with Woolrich, beach chairs and a tote for us to use freely and Malin and Goetz products which I am already a huge fan of. The staff at the Inn were also so accommodating with Milo which of course is so important to us. Jamie and I felt as though we were at a camp for grown-ups and we didn't want to leave!
The inn has also recently started an INNclusive tour which allowed us to have a private tour of the Dogfish brewery and eat lunch at the brewpub with a few of the other Inn guests. This tour was both mine and Jamies favourite part of our trip and and it was only the second time running. We got to experience the brewery first hand by Matt who knew everything there needs to know about beer and Sam's story. Even if you aren't that interested in craft beer, listening to Sam's story and seeing his vision first hand is enough to inspire anyone looking to start a business. Plus we got to try basically every beer available at the brew pub so that was a great bonus.