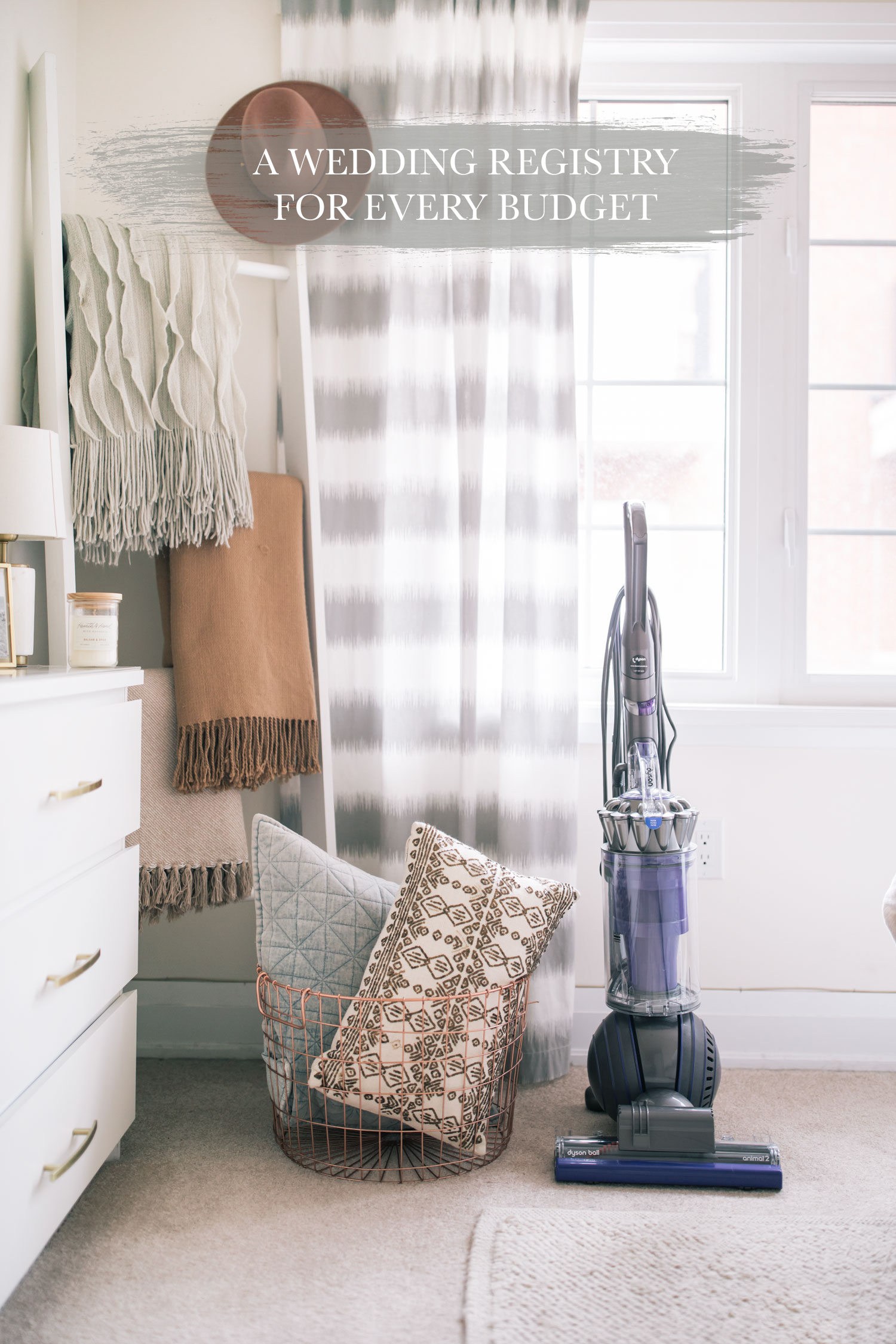 With mine and Jamie's wedding being less than a year away (I literally can't believe it), we are now in the thick of the wedding planning process. We have our venue taken care of, flowers in order, my dress (!!), photographer, an idea of our invitations, and I've been working on getting our wedding website up and running the past few weeks. While there is still a ton of things to complete and secure, (hello caterer, cake, Jamie's outfit and more tiny details than I care to admit) our wedding registry is something that I'm not too worried about. Luckily, we live in an era where there are SO many amazing items to register for and places to do so. Everything is so accessible and it has become simple to really hone in on your style and what exactly it is you're looking for in a wedding registry. Today I am so pleased to have partnered up with Dyson to share my ideal wedding registry from the lowest budget to the splurge items that would be such a wonderful surprise. When it comes to splurge items, registering for a Dyson Ball Animal 2 is a no-brainer for me. Dyson's are the Rolls-Royce of vacuums and after using our Dyson Ball Animal 1 for over 5 years, I can safely say that it is the absolute best vacuum out there and has gotten even better with the launch of the Animal 2. I truly think everyone should have a Dyson on their wedding registry list and that's why I'm thrilled to be working with them today. Keep reading to see the 40 items from $5+ I'd love to register for, including the Dyson Ball Animal 2.

1. Simple
white napkins
with chic black cross stitching
2.
This pitcher
looks unique and handmade but is so affordable
3. Gold detailing on these
champagne flutes
makes them feel special ($14/each)
4. A
mixed marble, brass and wood serving platter
that would look lovely hung on a kitchen wall
5. What I wouldn't do for a set of this
pink and gilded rim stemware
($20-$28/each)
6. The frayed edges on these
neutral linen napkins
feels fresh and unexpected
7. Cream colored
mini cocotte set
perfect for individual meals and desserts
8. Register for multiple of these
brass picture frames
for your wedding photos
9. The sweetest good morning
beautiful
/
handsome
mugs for morning coffee or tea
10. Pretty metallic lace detail make this
cake stand
a must register item
1. Give texture to your kitchen with this
etched stoneware teapot
2. Cozy up on cold evenings with a
cushy cream throw blanket
with fringe finish
3. The most romantic
"from I do to ever after" photo album
to keep your treasured memories inside
4. Teak wood handles + gold finished hardware make
this bar set
perfect for the at-home bartender
5.
Classic white bone china
with a contemporary twist
6. There's no candle scent more luxurious than
Diptyque Bais
7. I've had this
marble tray
for a couple of years and still fail to tire of it
8.
Mercury glass cake servers
ideal for entertaining
9. It doesn't get more special than the Intricate engraving on this
cheese board
10. If you're a baker than this
stoneware pie plate trio
is a great registry option

1. The cutest
retro style two-piece toaster
2. A hand-woven
blue stripe pillow
that will mix well with so many throw pillows
3. This
terracotta bowl on a stand
would look lovely filled with fruit or as a floral arrangement vessel
4. Gold flatware is the new silver and
this set
is absolutely stunning
5. For the at-home chef, a professional
wood handled chef knife
6. Keep things neutral in the kitchen with a white
Le Creuset casserole dish
7. Obsessed with this
woven rattan tray
to corral everyday items
8.
Luxurious towels
in a beautiful undyed organic cotton fabric
9. Add texture to any room with this
scalloped hurricane lantern
10. The mixed natural stone and wood elements on
this cheese board
feel ultra chic

1. The
Dyson ball animal 2 Upright vacuum
has the strongest suction among any other vacuum and is ideal for any surface. There's also a "Small Ball" version available
here
.
2. Add texture to any room with the most beautiful
wicker and ceramic glazed lamp
3. A
large cocotte
with and unexpected brass handle
4. The
Dyson Pure Hot + Cool Link
heats and cools while purifying the air around you
5. Cuddling was never more luxurious than with a
reversible cashmere plaid throw blanket
6. It doesn't get more stylish or professional than a
copper stand mixer
7. I'd never use
this pillow
for anything other than staring at it but my goodness is it ever perfect
8. This
rounded copper pan
is perfect for cooking and displaying
9. For the coffee connoisseur, I give you the ultimate in
espresso, cappuccino and latte machines
10. Whoever said a blender couldn't be fashionable obviously hasn't seen this
copper option
This blog post was proudly brought to you by Dyson.