What I'm Wearing: Dress; J Crew Factory (here) // Bracelet; Gorjana via Blossom Lounge (here) // Necklace; Gorjana (here) // Clutch; J Crew Factory (here) // Heels; c/o Zvelle (here)
One thing that is for sure is that I am very busy and it seems like now more than ever before I have been on the go-go-go. Whether it's creating content for The Blondielocks, working at my part-time job, heading to an event or just plain trying to find time for my boyfriend and our dog not to mention myself, things can get stressful! Although I find that I do a pretty good job of managing everything, I love it when a brand can ease even just the tiniest bit of the thinking I have to do when it comes to dressing for all of the events a day can entail. #Zvelle is a new Canadian shoe brand designed by Elle AyoubZadeh and is all about creating shoes that are for the #9to9 girl just like myself. Her handcrafted shoes are made with love and attention in a small family owned factory in Brazil and are made from the best materials available. Her shoes are both timeless and stylish which is exactly how I like to portray myself. From my morning coffee run to meetings in the city to evening events take a closer look at how I go from #9to9 in my Zvelle Rayna Slingbacks.
Morning Coffee Run: The only way I can get myself going first thing in the morning is with a warm cup of tea. Although I usually drink mine at home with my breakfast there are mornings when I have a busy day ahead so I like to enjoy latte at one of Toronto's many beautiful cafés. I enjoy checking out new places so Jamie and I headed Toronto's newest cafe and pâtisserie Maman where we treated ourselves to fresh baked goods and coffee. I love this place for the story behind it and for how everything has come together so seamlessly. You can really see the heart and soul that has gone into creating Maman Toronto. Maman also boasts an incredible patio that will be taking full advantage of all the way into the fall. For my coffee date look my Zvelle blush pink Rayna Slingbacks paired so well with this floaty white dress for a simple yet elegant coffee date look that I felt light and comfortable in the entire morning.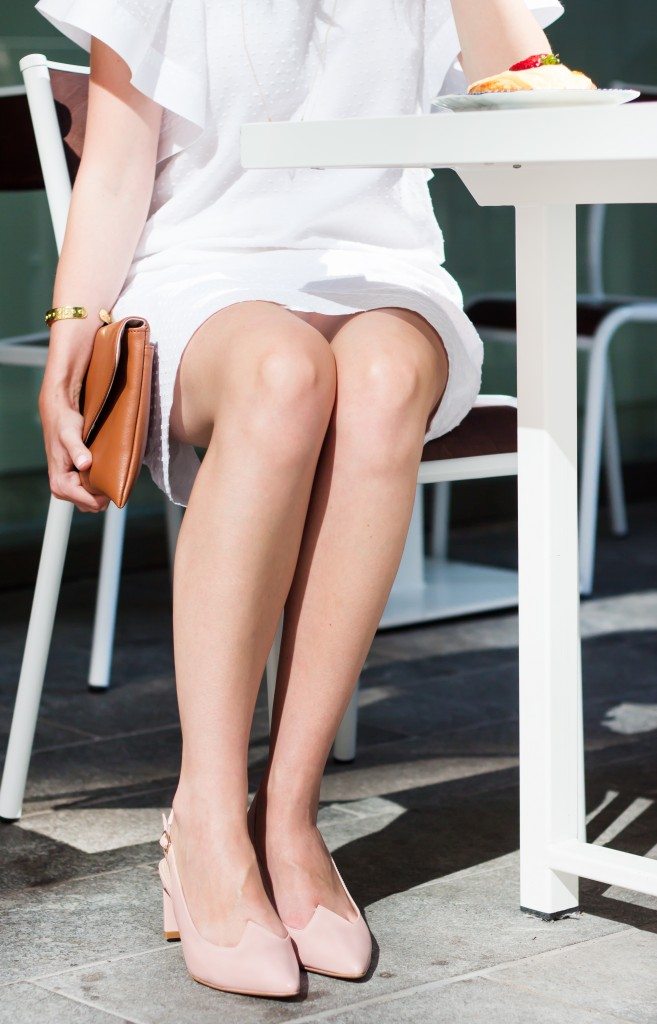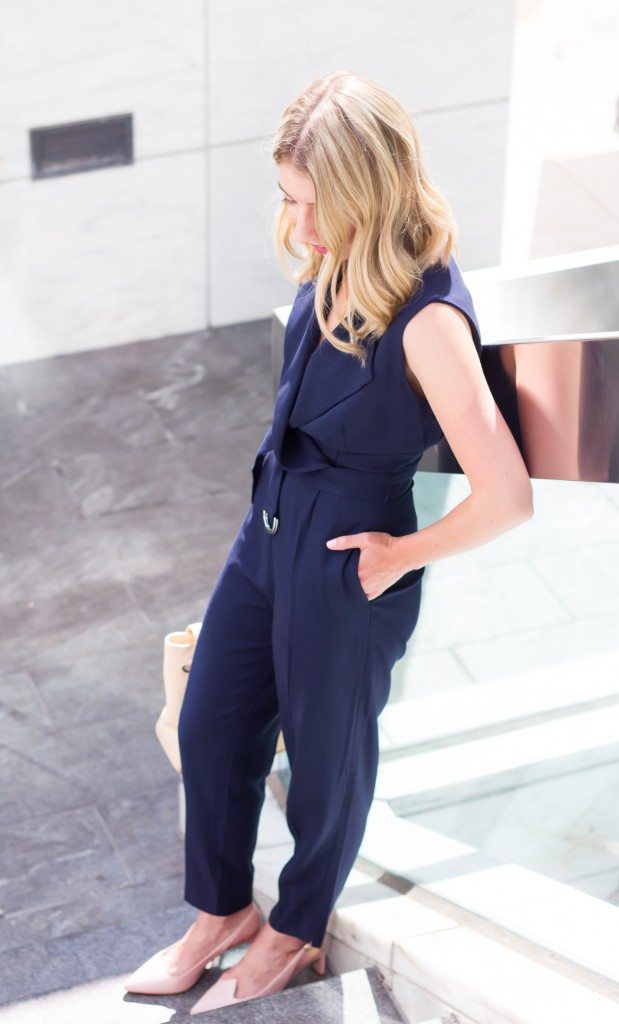 What I'm Wearing: Jumpsuit; H&M (here) // Bracelet; Gorjana via Blossom Lounge (here) // Necklace; Gorjana via Blossom Lounge (similar) // Bag; 3.1 Phillip Lim (here) // Heels; c/o Zvelle (here)
Meetings In The City: After Jamie and I finished up at coffee we headed back home so I could get ready for a meeting that I had later that afternoon. I picked up this jumpsuit at the H&M in Philadelphia as I was so drawn to the navy shade, tapered legs and cross over neckline. To me this jumpsuit is the perfect business meets fashion look. And when paired again with the Rayna slingbacks that have the unexpected triangle cutout at the toes I immediately felt professional, ultra confident and ready for my meeting.

What I'm Wearing: Silk Cami; Bella Luxx via Blossom Lounge (here) // Shorts; Mink Pink via Blossom Lounge (similar) // Clutch; Winners (similar) // Necklace; Gorjana via Blossom Lounge (here) // Foot Jewellery; Gorjana via Blossom Lounge (here) // Heels; c/o Zvelle (here)
An Evening Event: I had an extremely busy day the day that I decided to shoot this post. From coffee in the morning, a meeting that afternoon and then an event later that night, I thought it would be the perfect time to really show how versatile these Rayna pumps from Zvelle are. I normally think of a slingback as a heel that is reserved for day time working hours but this pair, especially with the cut out, makes them feel appropriate for all hours of the day and night. I decided to go a step further with these pumps and added an unexpected toe to ankle charm which amped up my slingback game to a whole new level. I paired them with moody navy lace shorts, a light silk cami and a dressy clutch and I was ready for my event