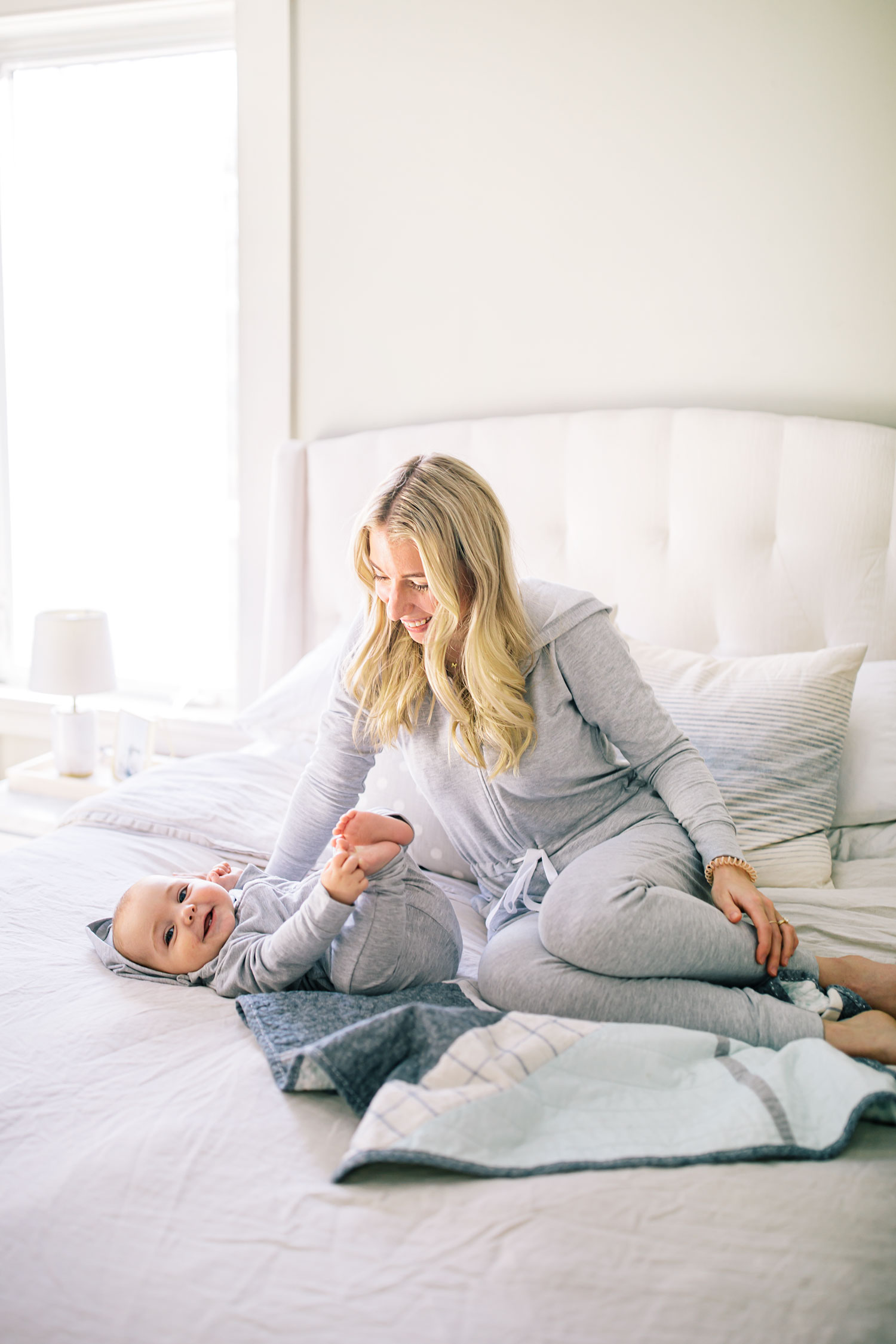 How is my son 8 months old in 3 days!? I can't even begin to explain to you how quickly this year has gone by! When I was pregnant it felt like it dragged on forever and the first few months after having Edwin were a weird mix of time standing still and flying by (I think it was the sleep deprivation). But now, here we are…Edwin is 8 months old and I am trying to hold onto each and every moment with this sweet sunshine boy. If you had of told me 4 months ago that I would love motherhood and my baby this much I wouldn't have believed it since I found those first few months to be the hardest and most challenging of my life. Now it feels as though everything has fallen into place and I could not imagine my life without this little guy…now I'm crying, haha!
Edwin has changed so much just within the last month. He's eating more solids and we have started a combination of purees and baby led weaning with softer foods like banana, pears and steamed veggies. He basically eats anything I put in front of him which is awesome. Feeding a baby is also SOOO messy but so much fun. Edwin still breastfeeds about 5 times a day and I do wonder if he'll start to wean himself as more solids are introduce. I'm in no rush to wean him though as I've come to love our breastfeeding time together and I don't want it to end any time soon. Edwin is now sleeping 12 hours straight through the night without a feed. I'm sooo happy for that because I'm getting a beautiful long stretch of sleep but on the other hand I miss that 4am feed where I would hold and rock him for a few extra minutes before putting him back into his crib.
Another huge change in Edwin is that he is finally starting to want to move around more! He's pulling himself up to standing position on Jamie and I and getting himself into the crawling position from his tummy. I'm so proud of him!! For a while there I was worried because he refused to roll from his tummy to his back but now he loves it!
Other new changes in Edwin are that he's waving at others when he sees them…it is so cute! He is also a lot more interactive and I can see him watching and absorbing every little thing. It is fascinating to me. Edwin is also now out of his newborn bath and in the "big tubby" as Jamie and I call it lol. We bought a non-slip mat for him for his bath time and he really enjoys being in there. He also loves to watch the water drain out at the end of his bath, it is so funny! Edwins fave games are being tickled, peek-a-boo and clapping. He also loves when I read to him, sing to him and tell him stories. I'm sure there is more but that is all I can think of right now.
Lastly, I wanted to share a few photos we shot really quickly yesterday! We were wearing out new Jillian Harris x Smash & Tess rompers that are launching today and I wanted to share how cute they are! I love matching with my mini and these rompers are just perfect. I picked the Harris Hoodie because I love the drawstring and Edwin is wearing the Mini Jilly in Jillian Grey. They're soooo soft and cofortable and I love that they can be worn hanging around the house but are also appropriate for a more casual day-to-day look.