The holidays are all about indulging in all of the food without an ounce of guilt, and I can think of nothing I love more about the holidays than doing just that while surrounded with those I love. Of course the classic holiday foods like turkey dinner and spiked eggnog come to mind when I think of Christmas eats, but this year with the help of Tyrrells Crisps I came up with two recipes inspired by their new Sweet Potato with Smoked Chili and Beetroot, Parsnip and Carrot Chips. One is a platter, sort of my take on a cheese plate. I used holiday inspired ingredients such as pomegranate and rosemary along with the smoked chili chips to add some seasonal flare to the dish. The second is a beet risotto wherein the colour alone screams holiday to me. I hope you enjoy these recipes as much as I did making (and eating) them!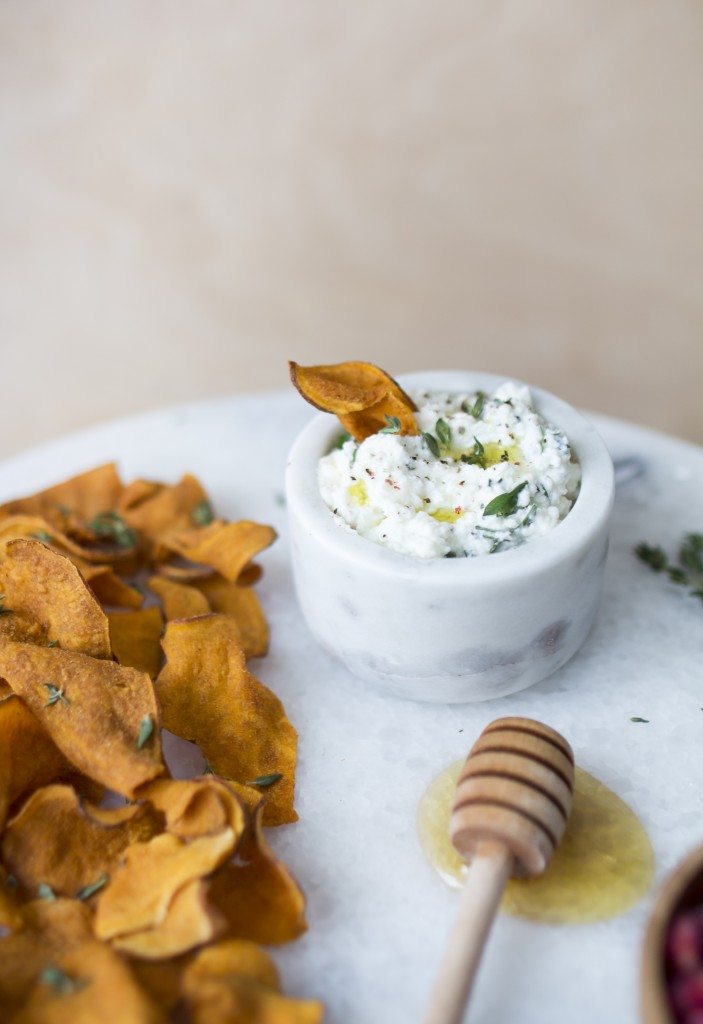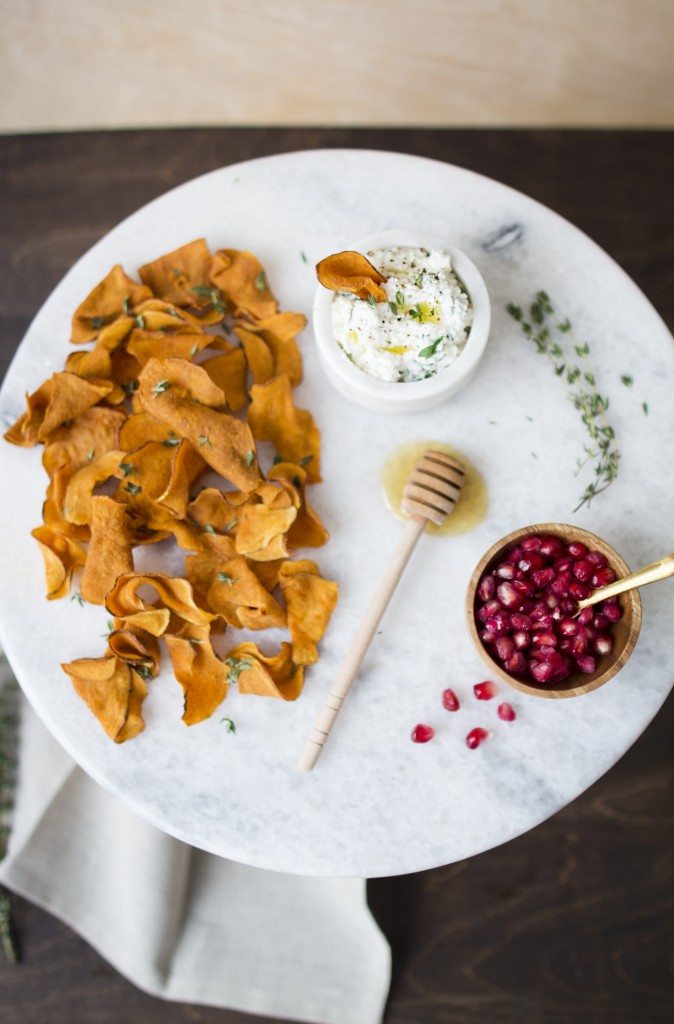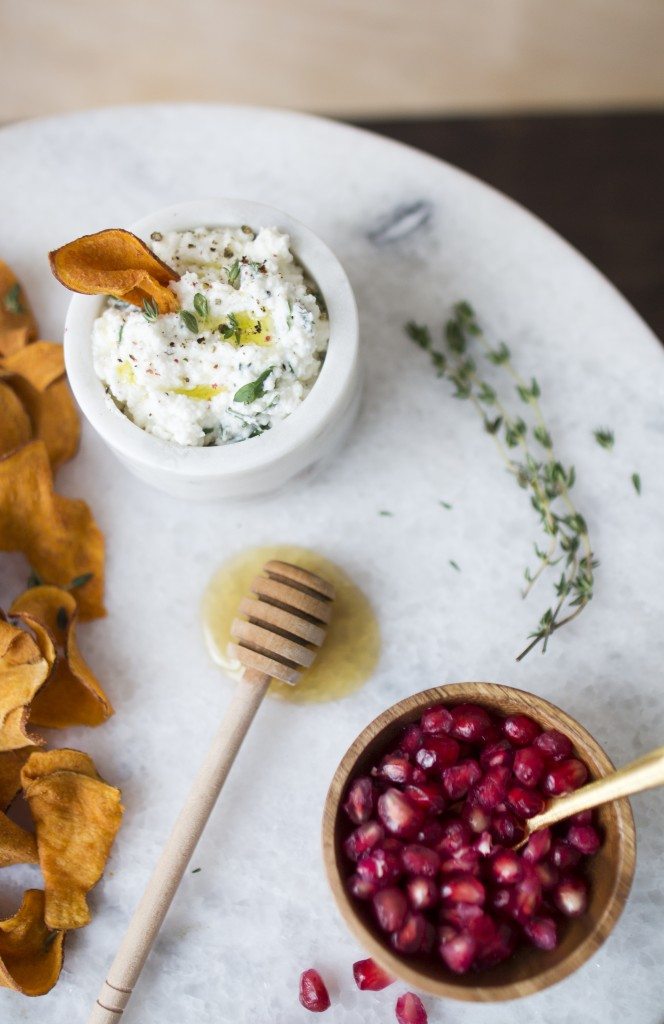 Holiday Recipe:
Tyrrell's Sweet Potato Smoked chili Platter with Herbed Ricotta, Pomegranate and Honey
Ingredients:
1 bag of Tyrrell's Sweet Potato and Smoked Chili Chips
1-cup ricotta cheese
½ tbsp. fresh rosemary
½ tbsp. fresh thyme, plus more for garnish
½ tbsp. fresh parsley
Juice of ¼ of a lemon
Salt and pepper to taste
Drizzle of olive oil
1 pomegranate, seeded
1-2 tbsp. honey
For the Herbed Ricotta:
1.Mix together ricotta, rosemary, thyme, parsley, lemon juice, salt and pepper in a bowl.
2.Transfer the mixture to a serving bowl and top with thyme, a drizzle of olive oil and a Tyrrell's Sweet Potato with Smoked Chili Chip.
For the Platter:
1.Place Tyrrell's Sweet Potato with Smoked Chili Chips on a serving platter and sprinkle with fresh thyme.
2.Place bowl with dip on the platter as well as a small bowl of pomegranate and honey.
3.Construct the chips with dip, pomegranate and a drizzle of honey.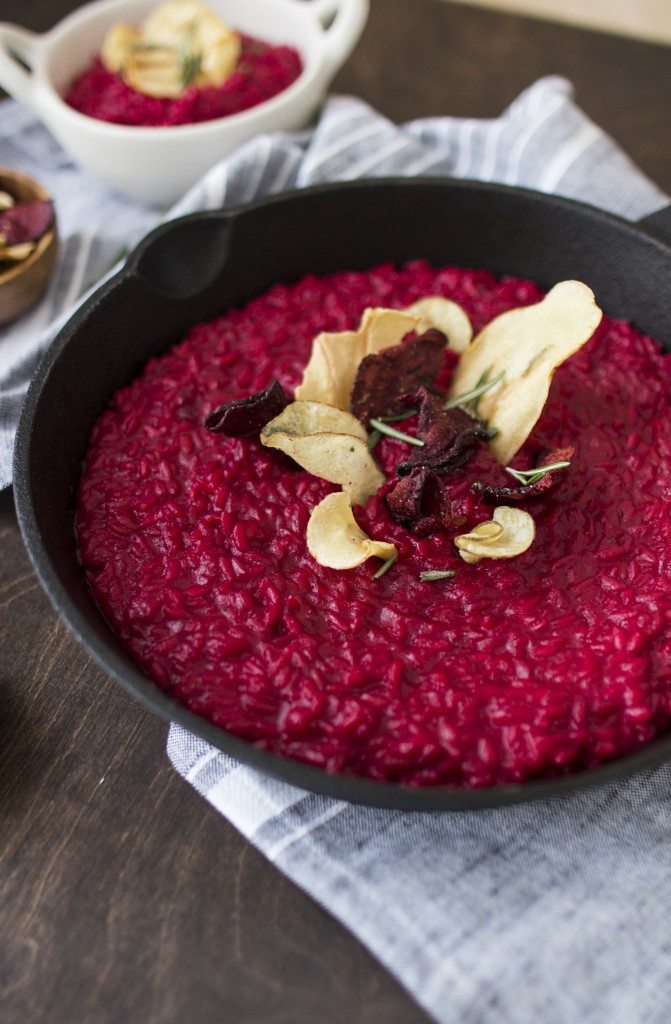 Holiday Recipe:
Tyrrell's Beet Risotto
Ingredients:
2 cups Arborio rice
7 cups chicken stock
¼ cup dry white wine
2 tbsp. olive oil
¼ cup white onion, diced
2-3 garlic cloves, minced
3-4 medium/large beets, roasted and pureed
1-cup Parmesan cheese, shredded
Handful of Tyrrell's beetroot, parsnip and potato chip with sea salt
Rosemary
Salt and pepper to taste
For the beets:
1.Heat oven to 425
2.Wash beets thoroughly, drizzle with some olive oil and wrap in a layer of tin foil.
3.Put beets on a baking pan and roast until tender (about an 1 ½ hours)
4.Remove beets from oven unwrap tin foil and allow to cool completely.
5.Remove the beet skin and puree beets until smooth.
For the Risotto:
1.In a pot bring chicken stock to a boil. Once boiled turn down to low to it keep warm.
2.In a large bottom pot heat olive oil. Add garlic and onions until fully cooked, about 3-5 minutes.
3.Add rice, mix, and add white wine.
4.Once the wine has been soaked up by the rice add a latel full of chicken stock to the rice. Repeat the process, adding one latel of chicken stock every time the rice soaks the other up.
5.When about half of the chicken stock is soaked up add the beet puree and allow it to become soaked up by the rice
6.Continue to add the chicken stock until the rice is fully cooked.
7.Once the rice is cooked remove it from the stove and mix in the Parmesan cheese.
8.Top with crumbled Tyrrell's beetroot, parsnip and potato chips with sea salt and a few sprigs of rosemary for garnish.
Thanks to Tyrrells for partnering on this post, all opinions are my own.