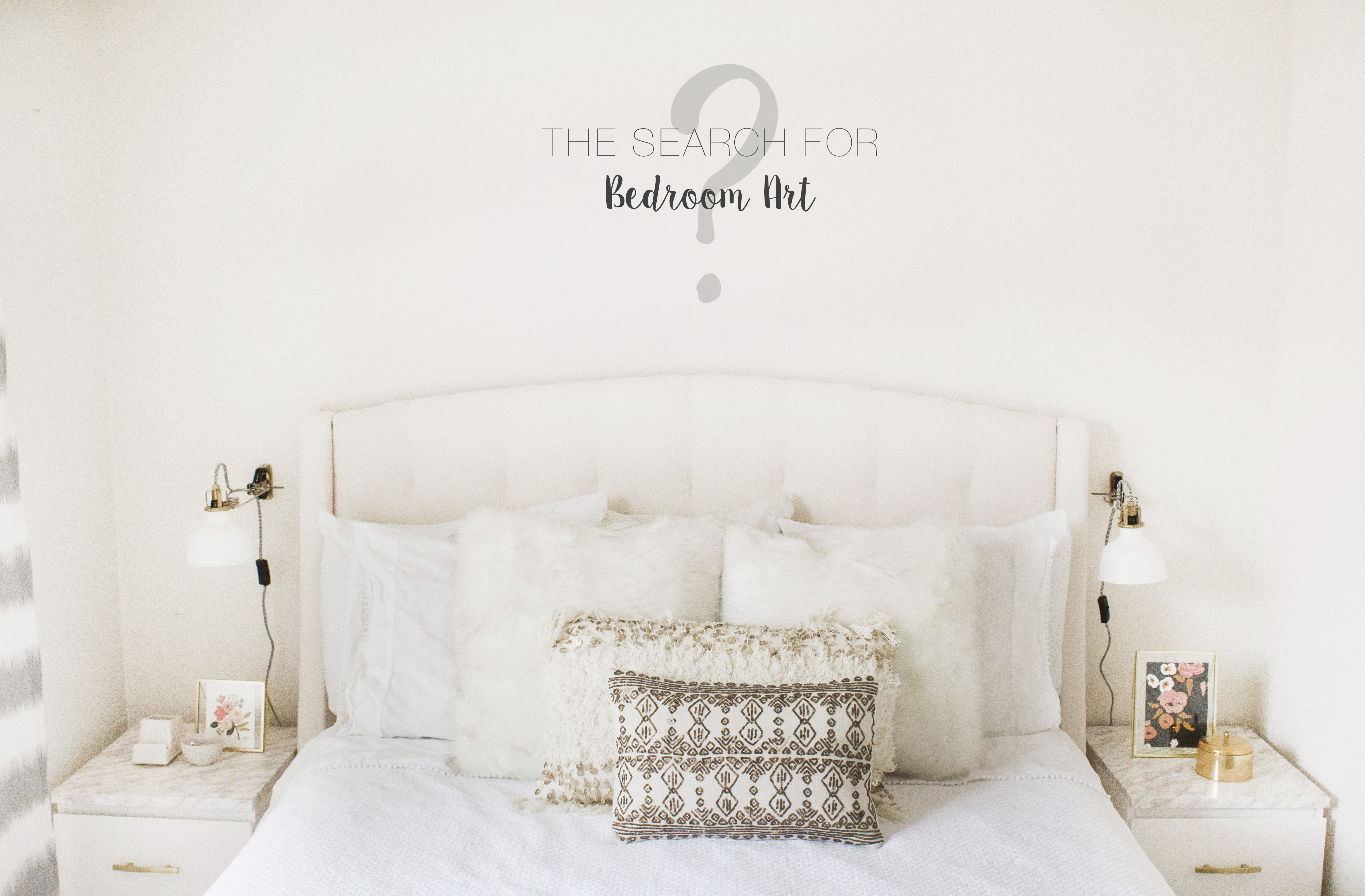 Last week I chatted a bit about my fear of hanging things up on walls after I decided to make this marble and wood jewelry holder for our bedroom which incidentally, ended up being the first thing that I'd hung up in our home. Because I find the process of hanging art or anything else for that matter extremely intimidating, I become anxious about it. I worry, "will I like this in a year…or even a few months?" and "if I don't, will I be stuck with it?" And so for these reasons I never follow through. Since our bedroom is almost finished for what we can do in a rental, I'm really starting to feel like we need to put something above our bed. Because I don't exactly know where to begin I created 3 mockup sketches that are potential options for above our bed and the art pieces that I could also see there. I'd love to know, what do you think we should do with the space above our bed, and do you also suffer from this fear of hanging things like I do?


Option 1: Photo Series
I love the look of a series of 3 squared off frames above our bed. Here I would probably choose 3 prints that compliment each other or 1 abstract piece in a circle format (see #1 below) that I would rotate different ways so that each would have a slightly different look to them. The rule of 3 is something that I use a lot in my everyday life and I really like the idea of bringing it into the art in our bedroom.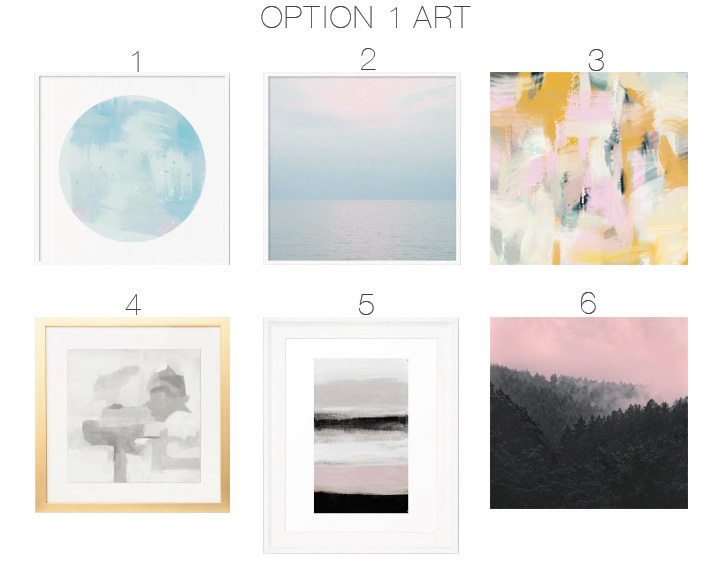 1. Abstract Art by The Printable Studio
2. Seascape Photography by The Printable Studio
3. "Cupcake" by Patricia Vargas
4. "Oh Helen" by Like William Studio
5. Halfway by Georgiana Paraschiv
6. "Slowly Sinking In" By Tordis Kayma


Option 2: Large Scale Photo/Painting:
I didn't realize it until I started hunting for art that I liked online, but I am very drawn to abstract paintings, especially pieces that use bright colours and big, bold shapes. I find that one big piece of bright art would really evoke a cherry feeling to the bedroom and add a much needed pop of colour to our otherwise neutral bedroom. I'm really leaning towards #1 or #2 so I'd love an opinion on this!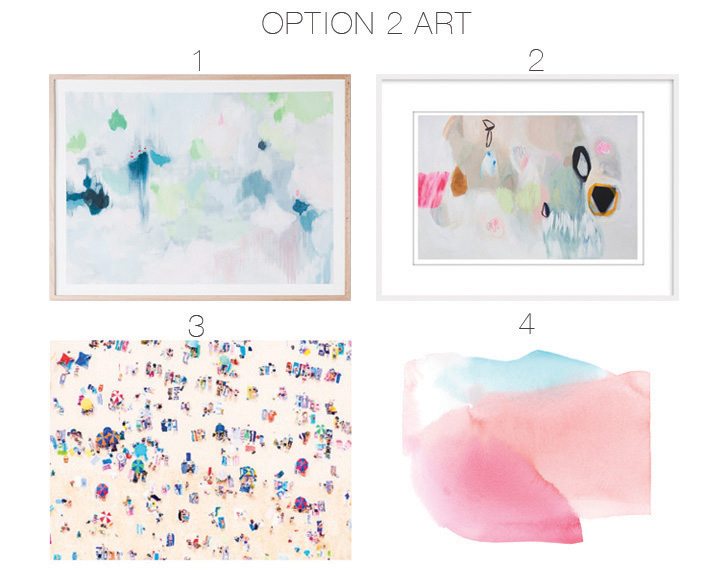 1. Abstract Print by Belinda Marshall Art
2. "Magic Hour" Print by Lola Donoghue
3. "Bondi Beach" by Gray Malin
4. Watercolour Art Shell Form by Malissa Ryder
(

Option 3: Shelf + Leaning Art:
Because I am so fearful of actually putting holes into our walls, I do like the idea of adding a live edge wood shelf (which would be permanent) and then leaning art, prints and objects on top of it. This way, if I became bored with the things I put on the shelf I could easily switch them out and around which I tend to do often. I really like the idea of the shelf but my concern here is that because our room is so small the shelf would end up looking crowded and bulky.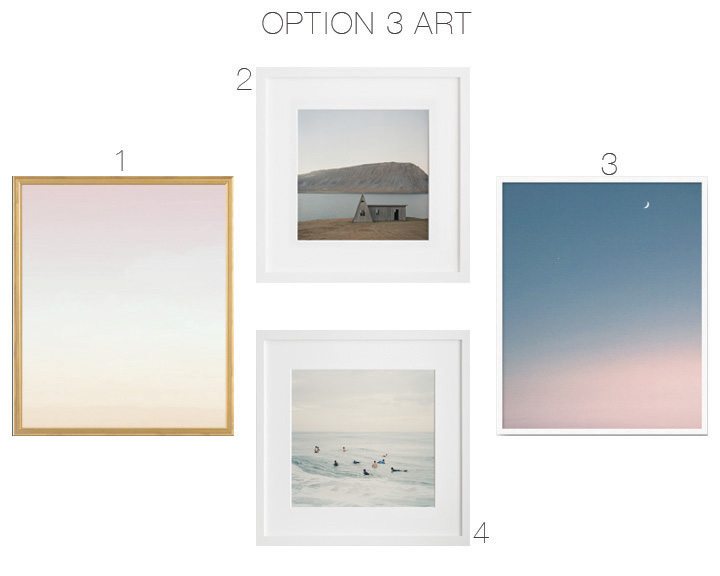 1. Pale Dessert Sky by Wilder California
2. "Abandoned Beauty" by Tom Kondrat's
3. Gradient Mood Print by The Printable Studio
4. Waiting by Ian Baguskas'