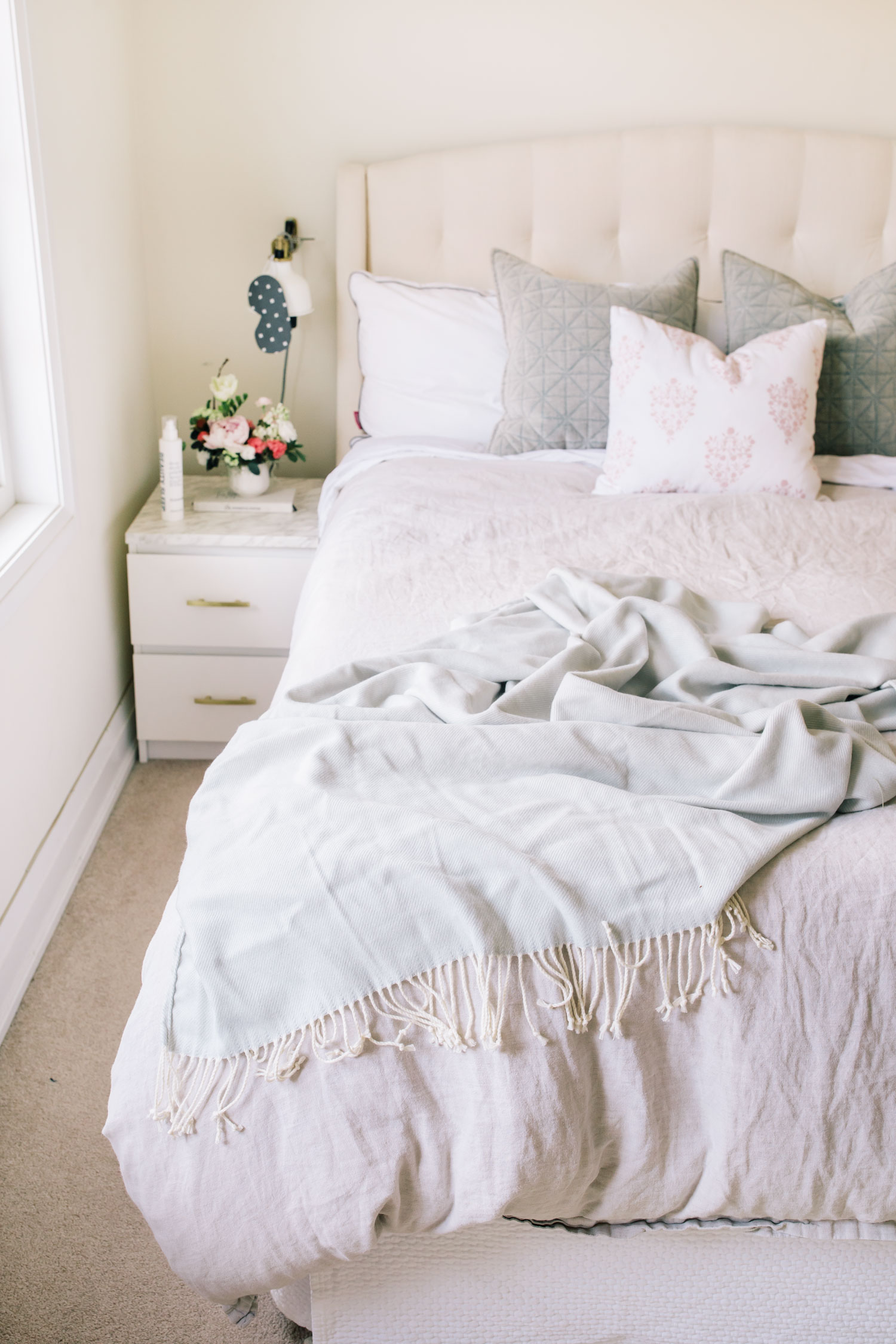 In between hectic work schedules, carving out time to spend with friends and family, side hustles, working out, cooking dinners, and the list goes on, it can sometimes seem impossible to get to bed at an appropriate hour. When we do finally crawl into bed, it can feel even more impossible to fall into a restful sleep because, instead of counting sheep, our to-do list is playing on repeat. Sleep is sometimes the last thing we tend to think about, but with so much talk about wellness and how important it is to take care of both our minds and our bodies, a good night's sleep should actually be the #1 priority on our to-do list. A restful sleep energizes the mind and body, decreases stress and simply makes us an all-around better functioning humans. I know I can sometimes fall victim to not putting sleep as a priority, but for the most part, I make sleep a very important part of my routine. In saying that, I have found a few, very helpful ways to help me fall into a deep, restful sleep in which I wake up feeling like my best self. Keep reading to see how these little rituals have helped me fall (and stay) asleep like a baby.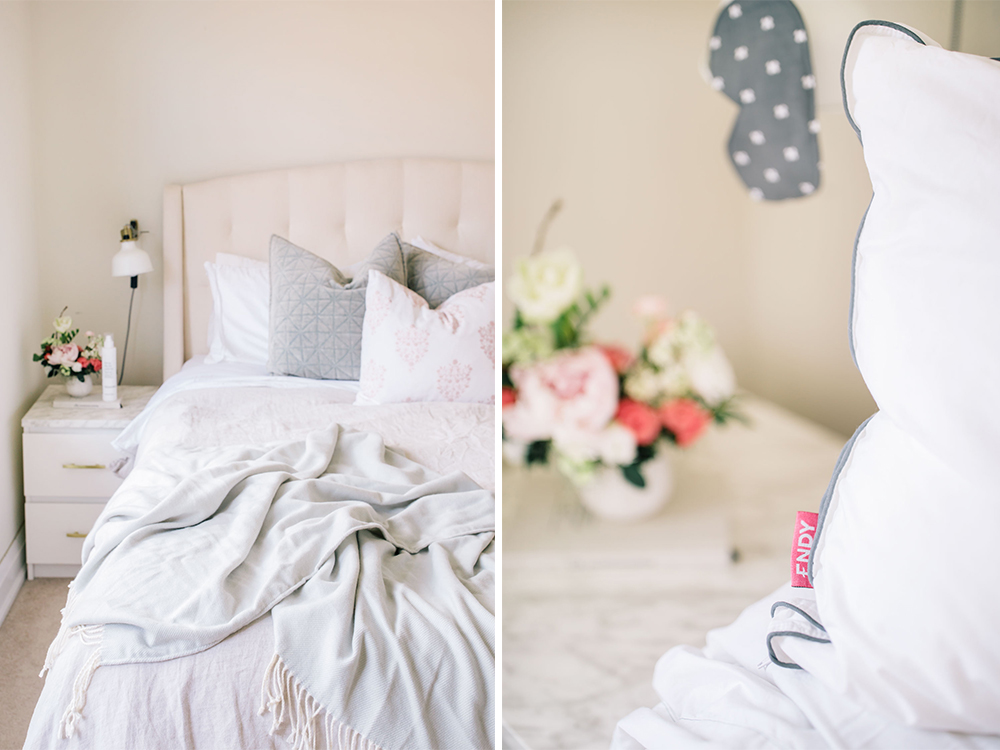 Buy the Best Mattress & Sheets You Can Afford: This is a very important one because we truly can't have a good night's sleep unless we're comfortable in our bed. We recently upgraded our spring mattress to the Canadian-made mattress brand, Endy, and couldn't be happier with our decision. Our Endy was delivered to us in a box (insert link to first Instagram) and in minutes, unfolded into the comfiest, mattress that both Jamie and I have ever laid on. Every night feels like a treat when I crawl into our Endy bed, complete with the mattress, 480-thread count sateen sheets, and pillows (that can be height adjusted by simply removing foam). I love that if either Jamie or I turn in the middle of the night that neither of us can feel or hear the other, and I especially love that the Endy curves so well to our bodies yet still gives us optimal support. Upgrading to our Endy has truly been one of the best decisions we've made and I feel I have them to thank for a better night's sleep. PS: If you're interested in trying out an Endy mattress for yourself, use my code BLONDIELOCKS50 for $50 off of your purchase. Plus, you can try Endy for 100 nights with a money back guarantee if you don't love it…but I know you will!
Listen to Calming Music or a Podcast: I actually have Jamie to thank for this one as I've never been the type of person to listen to sounds of any kind before going to bed. However, in the last year or so, Jamie has begun listening to podcasts before he goes to bed and I've found that it lulls us to sleep within minutes. In the beginning, Jamie was listening to true crime podcasts which I don't recommend if you scare easily (like me…I was waking up with nightmares) but he's recently switch to the podcast "Sleep with Me", mostly for my sake. This specific podcast, starts with some rambling that I never quite understand before the host gets into a bed time story. This podcast literally claims to be "the podcast that puts you to sleep" and I can attest as I never actually make It past the rambling and into the story before I'm out like a light.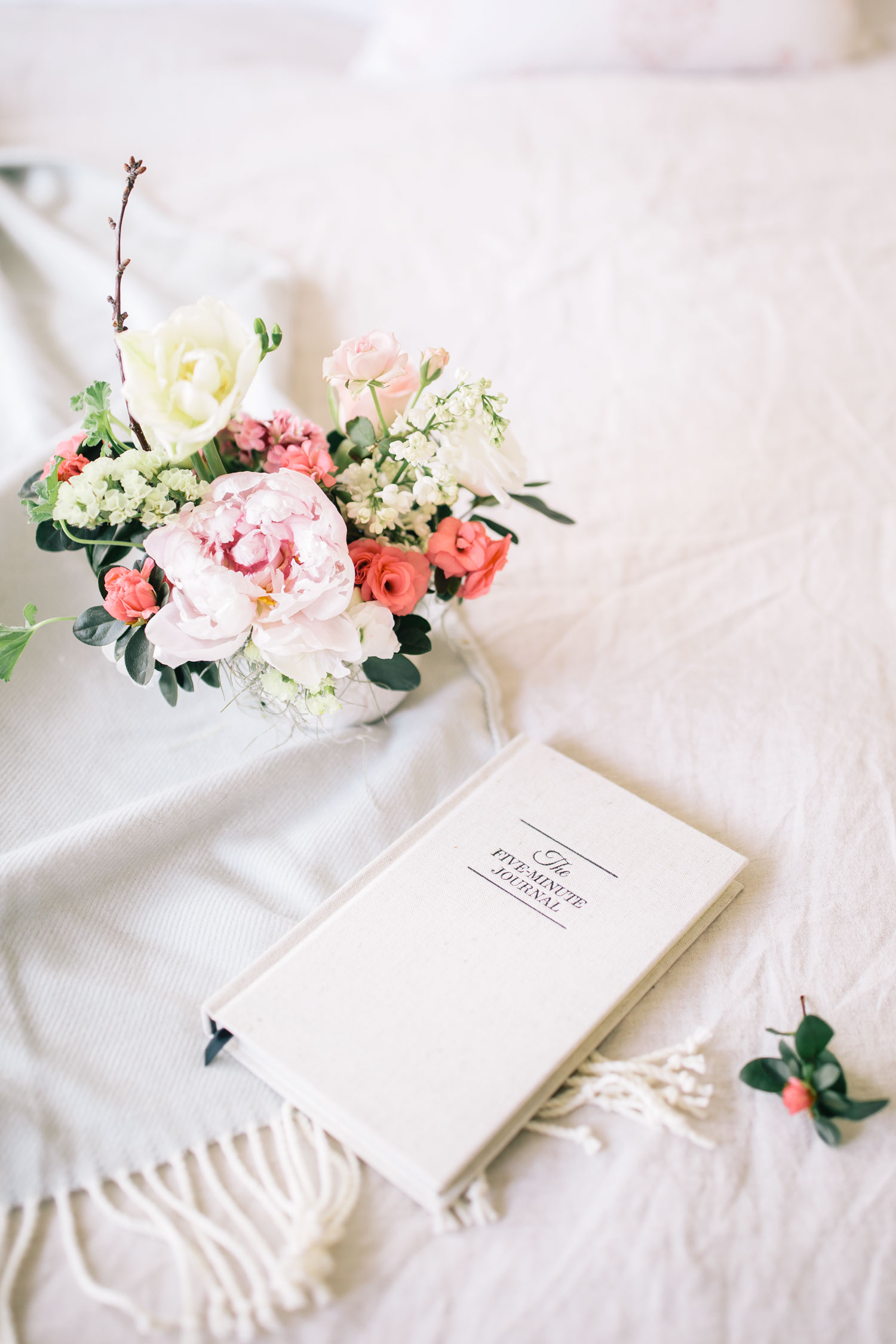 Keep Your Phone Away from You: If you're anything like me, then you find yourself connected to your phone a great deal of the time. For me, that connection can last from the time I wake up in the morning to the time I doze off at night (phone in hand). I've found that being on my phone right up until I fall asleep does an injustice to myself. It's impossible for me to get into a calm, relaxed state if my phone is in my hand, and so I've decided to do something about it. I've started charging my phone on the other end of our bedroom so that I am much less persuaded to reach over and start scrolling. I've found that in doing this, I'm more apt to want to relax and focus on what's important…sleep! Plus, when my alarm goes off in the morning, I have to actually get out of bed to turn it off instead of rolling over to hit snooze. A win-win!
Jot Down A Few Lingering Thoughts: I always like to crawl into bed 15 minutes before I actually plan to fall asleep, as I enjoy having a few minutes to spend alone with my thoughts before Jamie and Milo get into bed to snuggle. During that time, I like to jot down a few of my thoughts from the day. I don't get into too much detail, which is why I like the 5 Minute Journal. I use this journal both morning and night for daily affirmations, what I'm grateful for, to reflect on what happened during the day that was positive and a few simple things I can improve on. I really find this journal helps center my brain and allows any lingering anxieties or thoughts to fade away. My mind becomes clear and ready for a restful sleep.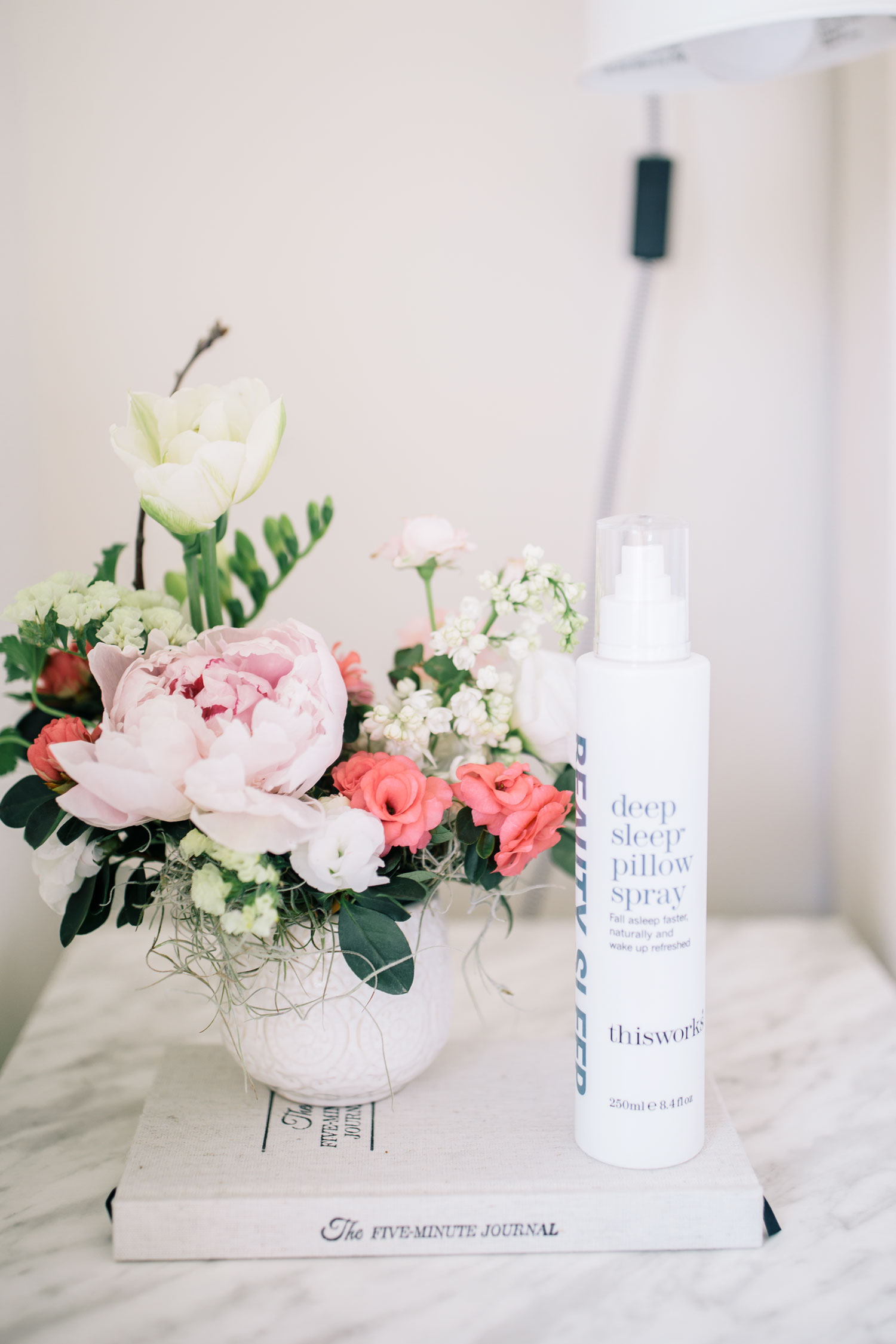 Spray Bed with a Deep Sleep Pillow Spray 15 Minutes Before Bed: Before getting into bed and writing in my journal, I like to spray a couple of spritzes of the Deep Sleep Pillow Spray by This Works. An aromatherapy nebulizer also works just as well and Saje has great options/blends. However, I love this specific pillow/linen spray because it's an all-natural blend of lavender, vetiver and chamomile which helps to reduce anxiety and promote a restful sleep. The scent isn't cloying so I don't feel as though I've doused my sheets in perfume by any means. The spray simply feels light, relaxing and really helps set an intention for a good night's sleep.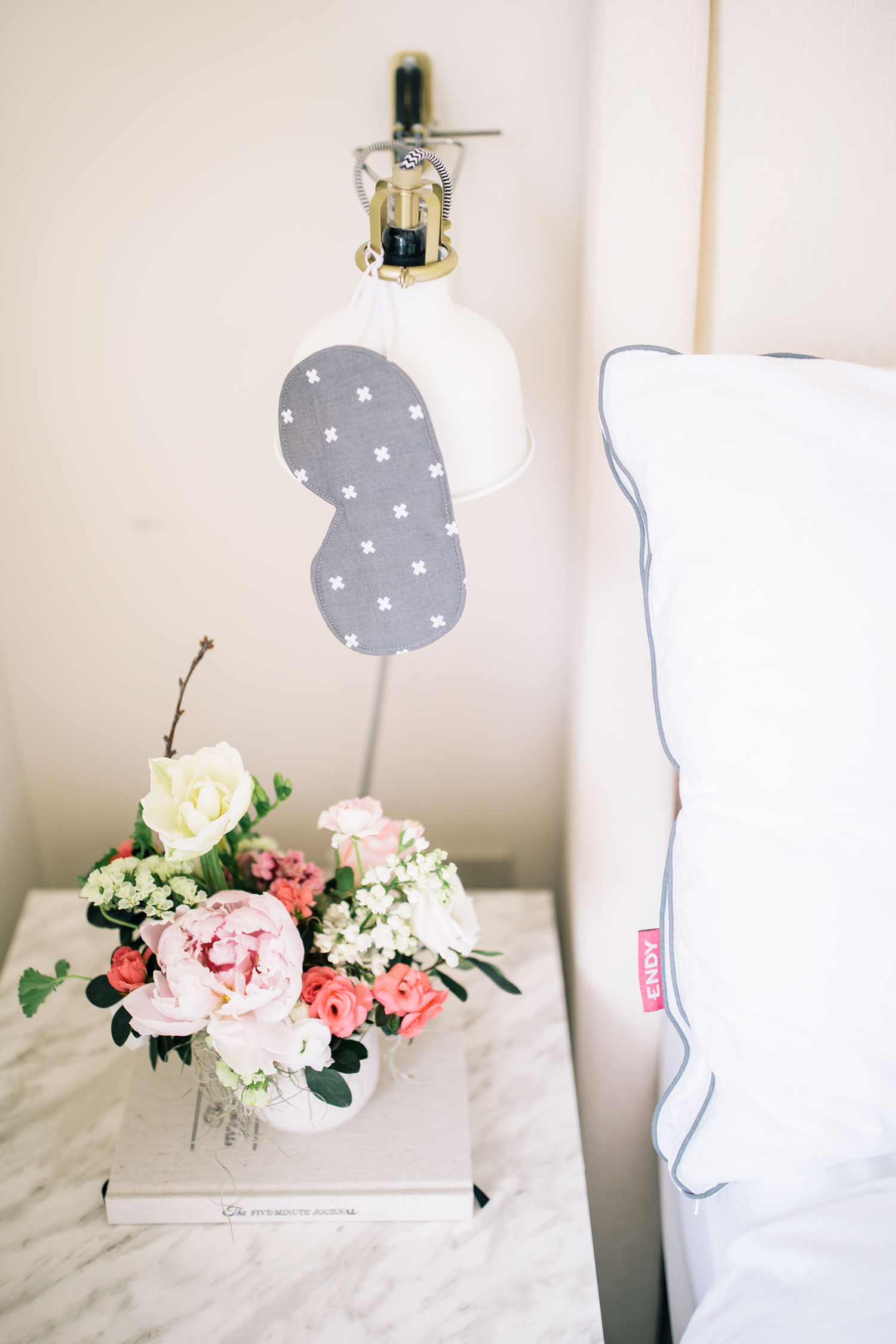 Try a Classic Sleep Mask or Black Out Curtains: This is sort of an obvious one but I feel like it should be mentioned nonetheless. Personally, I like it as dark as a cave when I'm sleeping so a classic eye mask works wonders for me. I actually want to upgrade to a silk one (better for the skin) but anything will do, really. If you have the luxury, also look to invest in black out curtains. They don't look the nicest but I think you can find some that actually hide behind your prettier curtains which is something I want to look in to for the future. Right now, though, my mask works great!
This post was proudly brought to you by Endy