One of the best parts about staying in Delaware was that there was ocean all around us begging to be swam in all day every day. It was so nice to swim in salt water, splash in the huge waves and listen to the ocean while relaxing on the sandy beach. Although Toronto has lots of beaches they still don't come close to the actual feeling I get when I'm beside the ocean. To hold me over until the next time I can head to an actual beach which is (fingers crossed) in August I have rounded up the best of the beach from the most stylish things to wear and carry to what to snack on and cool-off with.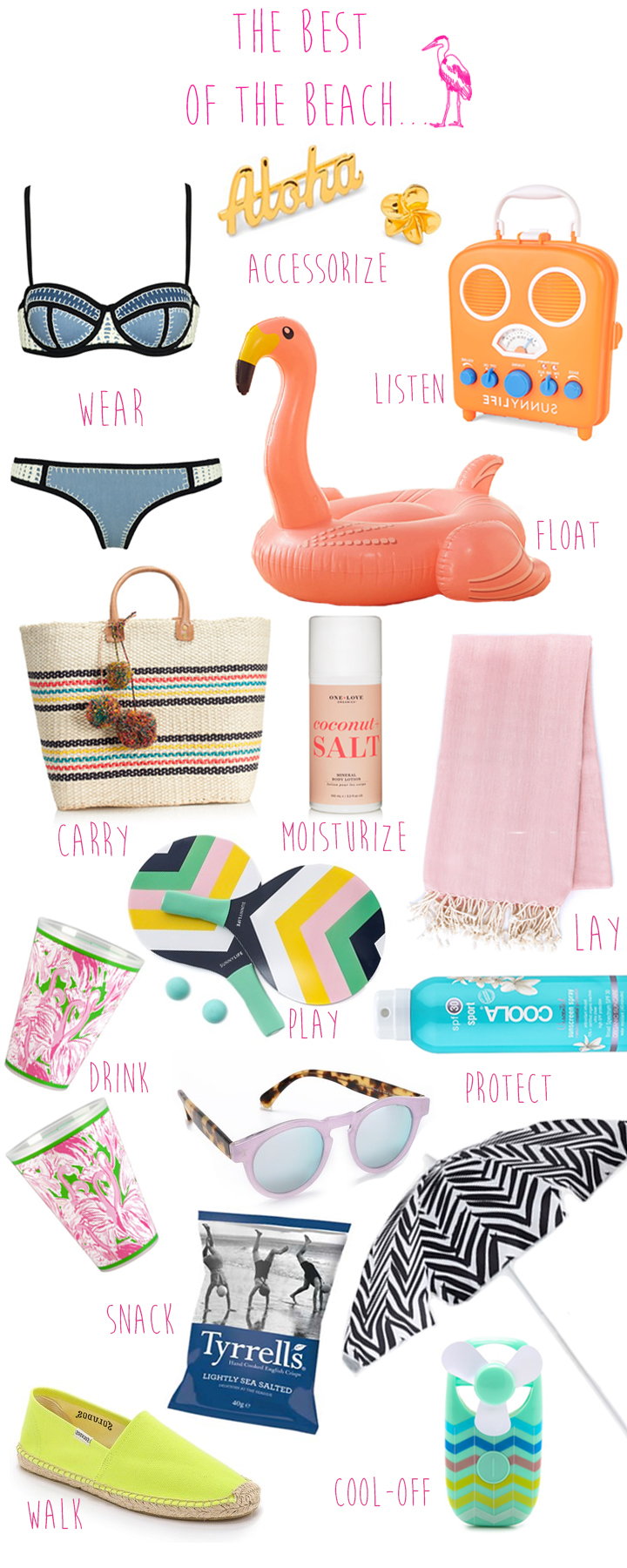 WEAR: This neoprene bikini comes in an ocean blue shade and has the prettiest crochet overlay.
ACCESSORIZE: Keep accessories to a minimum and wear delicate pieces like this Aloha ear climber and flower earring.
LISTEN: To Songzas Lazy Summer Soundtrack with this adorable portable speaker that your I phone plugs directly into.
FLOAT: This flamingo pool float is sure to make a statement and will also doubles as a chair just incase you want to get off the sand for a bit.
CARRY: I love this hand-woven Mar Y Sol tote for both its functionality and style.
MOISTURIZE: This Coconut and Salt Moisturizer is a tropical vacation in a bottle and is the perfect moisturizer to lather all over your skin after sun and swimming.
LAY: Turkish towels are both stylish and ultra luxurious and I'm loving this cotton candy colour option.
PLAY: I love to bring games to play when I'm at the beach and these bold printed beach paddles are the perfect companion.
DRINK: Keeping yourself hydrated at the beach is easy with these bright Lilly Pulitzer tumblers.
PROTECT: A light sunscreen for your skin, a fun printed umbrella to get some shade from the sun and a chic pair of sunglasses are sure to do the trick in a fashionable manner.
SNACK: Chips are my favourite snack to bring to the beach and Tyrells are my first choice. And how appropriate is the Sea Salt flavour and this packaging?
WALK: Espadrilles are the easiest shoe to throw on and off if you are planning on going for a hike or walk while at the beach, and this bright yellow pair won't be missed.
COOL-OFF: This stylish battery powered portable fan fits easily into your beach tote and will be a breeze to use (literally).