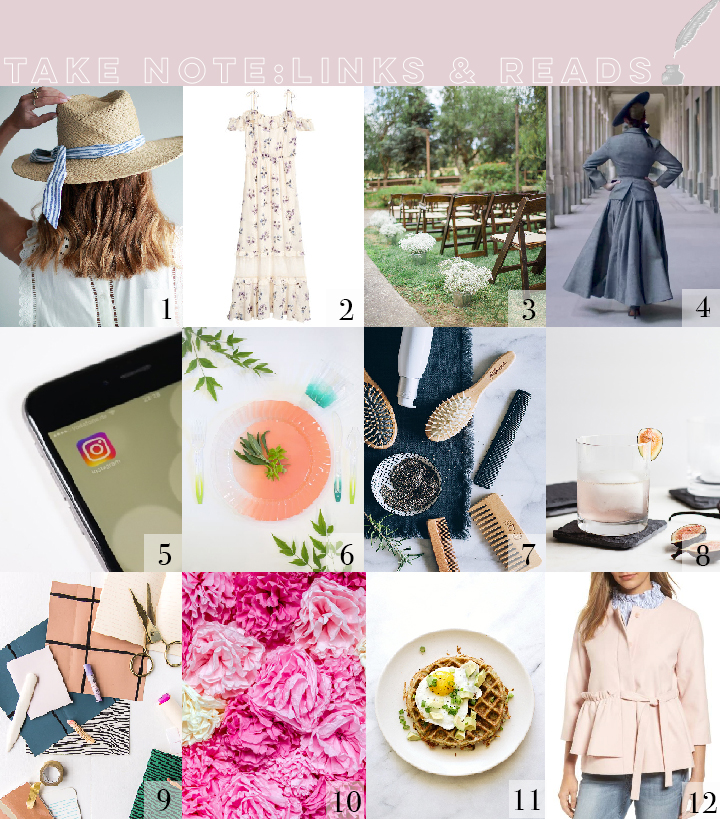 My favourite links from around the web this week…
1. A simple yet adorable DIY hack for your summer hats (The Vault Files)
2. I can't believe this off the shoulder dress is $50! (H&M)
3. How to Plan a Dream Wedding on a $10,000 Budget (Lauren Conrad)
4. I cannot get over how fabulous Celine Dion is in this Vogue video (Vogue)
5. 5 Ways to Organically Boost Engagement on Instagram (Huffington Post)
6. How to Amp up Disposable Dinnerwear with Pops of Colour (Swooned)
7. 10 Natural Ways to Make Your Hair Grow Faster (Hello Glow)
8. Fig Vanilla Bean and Gin Cocktail Recipe (Lark & Linen)
9. 9 Easy DIY Projects Using Leftover Wall Paper (Domino)
10. 12 Surprising Facts All Peony Enthusiasts Should Know (Southern Living Magazine)
11. Hashbrown Waffles…Yes please! (Ann Sage)
12. The Nordstrom Anniversary Sale in on until August 6th, I'm loving this coat, this duster & this blouse so far!