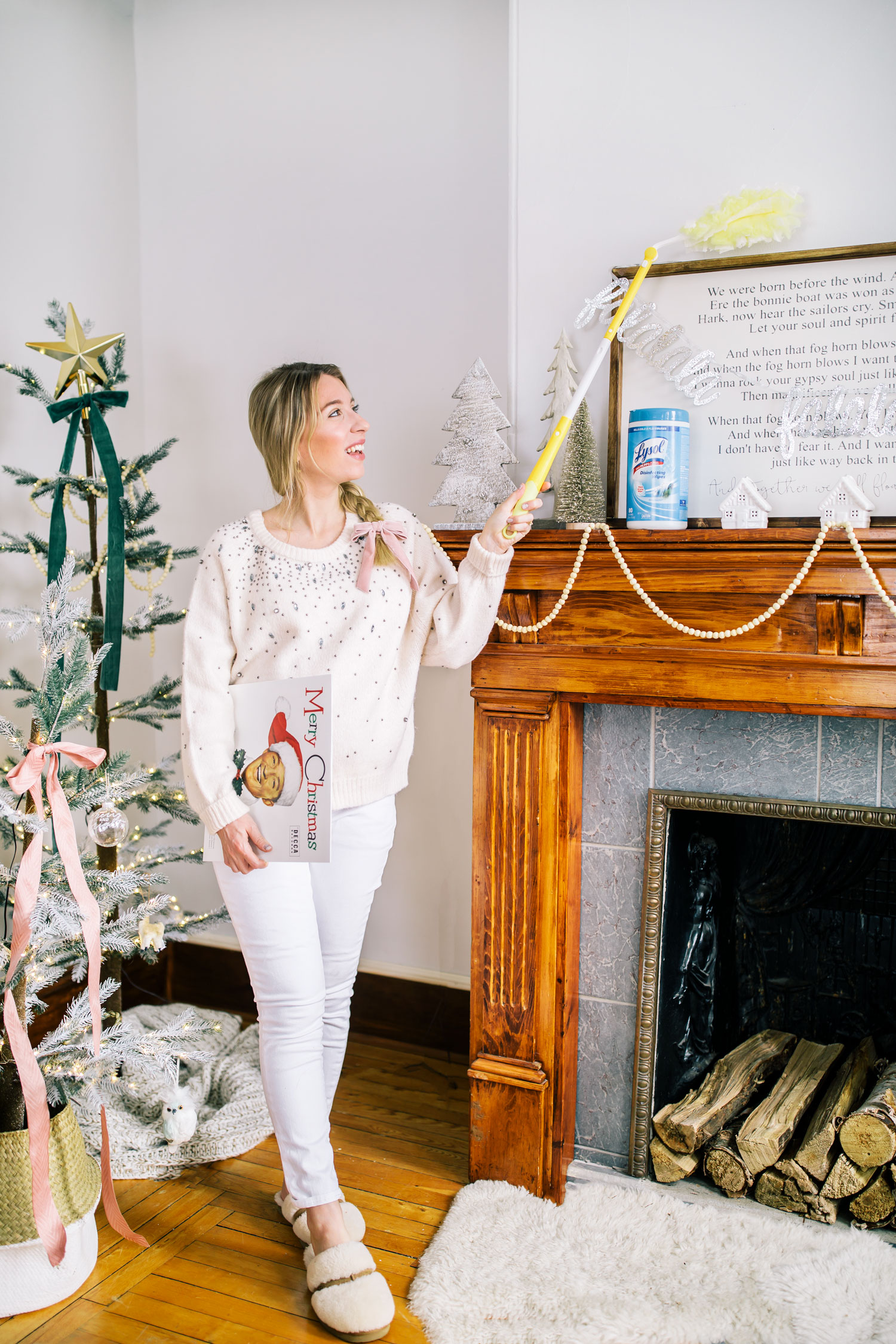 Last week, I shared our holiday home tour which got me thinking…before any of the décor goes up and before I even think about inviting guests over to entertain, I need to clean, clean, clean! Anyone else with me? I'm the first to admit that I'm not the most organized person when it comes to cleaning, which baffles me as I'm a Virgo and that is supposed to be our #1 trait. However, because I'm not so organized with my cleanliness, I have found it best to compile a list of tasks that need to get done and ways to streamline the whole process. This makes me accountable and allows me to follow a simple guideline that I can tick off as I go without getting distracted. Plus, now I have a helpful guide and list I can share you with you!
After I compile my list of "to-dos'" I like to figure out which products I'm going to need to complete my tasks. I'm adamant about being able to buy all of the cleaning products I need in one, easy to locate place so I can be as efficient as possible before the nitty gritty work comes into play. Luckily, my friends at The Home Depot have got me covered when it comes to all of my cleaning supply needs. Home Depot was actually where we bought all of our cleaning supplies (I'm talking a trunk full) when we first moved into our home, and ever since I've trusted them to have all of the cleaning products I need to complete all of my cleaning jobs. The Home Depot offers all the big brand name cleaning products that I have come to know and trust over the years such as Glad, Lysol, Mr. Clean, Febreze, to name a few as well as other, more earth friendly brands such as Meyer's that I use on a daily basis to clean spots like our counter tops.
Now that I'm all set with my cleaning products from The Home Depot I am going to share all of my holiday cleaning tips and how I get things done efficiently and effectively during the busy holiday season. Be sure to keep reading below!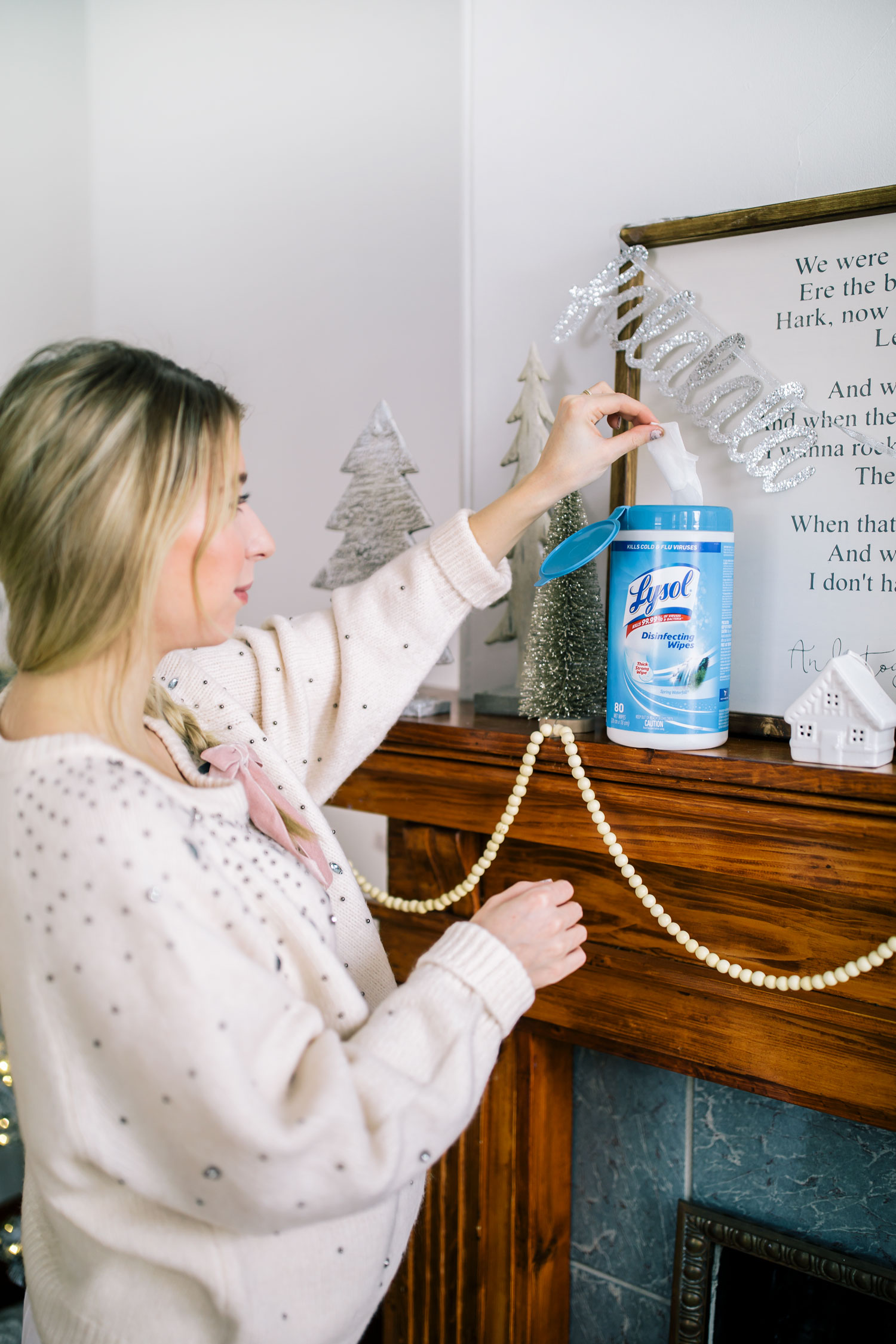 Make a List of What you Need to Accomplish & The Products to Do So: I touched on this above, but I think it is the number one thing to do before any cleaning gets done as it will set you up for success. First things first, make a list of the tasks you need to complete and the products you need to purchase. Doing this will keep you on track and stop you from forgetting any important products and needing to make a second run to the store…who has time for that during the holidays!? Sit down with an eggnog latte and some holiday music and get to writing that list! Lists will be specific to each person depending on the home, but I have lots of cleaning and organizing ideas below to get you started.
Get Large Tasks Out of the Way a Few Days Before Event: Are you the type of person who likes to leave everything to the last minute? Yeah, me too! However, I have found that if I procrastinate it leaves me feeling nothing but anxious and overwhelmed with all of the things I have to do before guests arrive. Now, I slowly start cleaning a week before said event and prioritize within my list big tasks that I can get out of the way first. Things like laundry can be done leading up to the event and so can mopping the floors, dusting and organizing any piles of clutter. Once my house is mostly clean, upkeep is simple and I can use products that are quick and efficient like Lysol wipes and Swiffer dusting products and Wet Jet for a quick floor clean.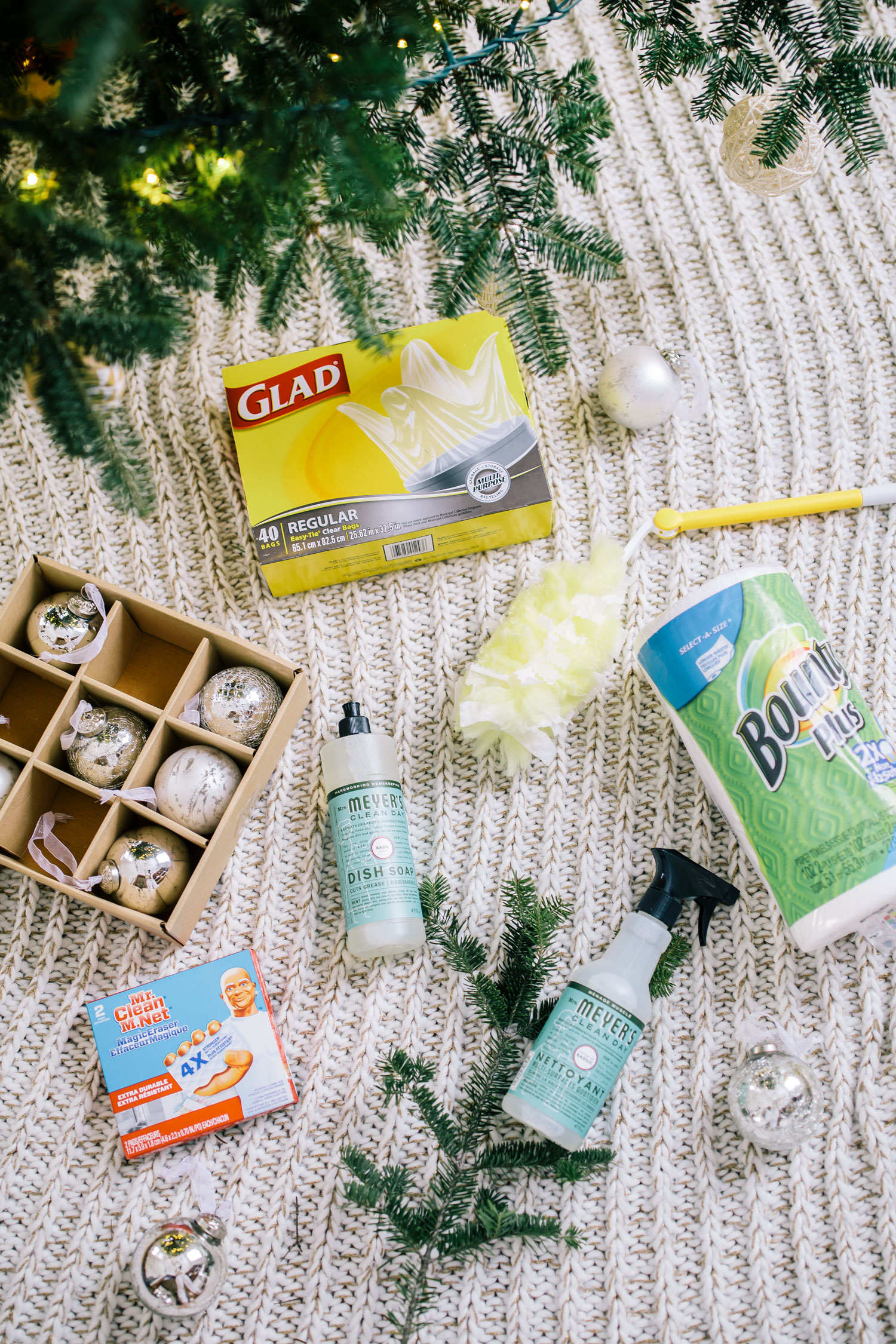 Some of my favourite cleaning products from Home Depot include the Glad Easy Tie Bags (so durable and leak proof), Mr. Clean Magic Eraser (for wall scuffs and anything that typically takes some elbow grease), Bounty Paper Towels (SO absorbent) and Meyers Dish Soap and multipurpose cleaner (love the scents and that they're a natural option).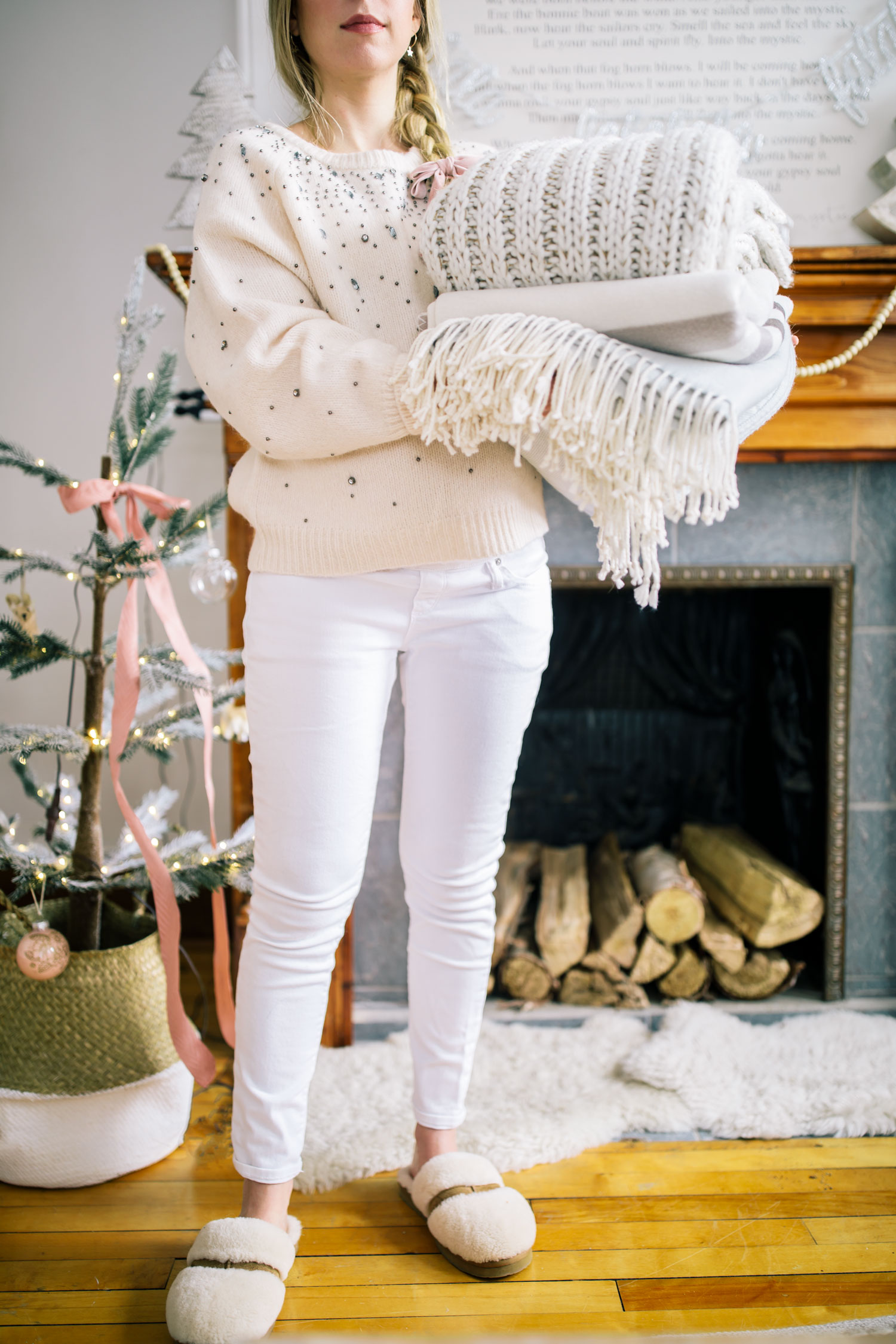 Always Have Fresh Blankets and Linens Ready for Guests: One thing I always like to have readily available are cozy blankets and linens. I never know when a guest might decide to stay overnight or simply want a cozy blanket to snuggle up with. I like to keep freshly washed sheets stacked in our linen closet and cozy throw blankets in a basket near buy so that they can be easily reached for. I find that most people are very specific with which laundry products they use and luckily, Home Depot has all of the best brands for your laundry needs.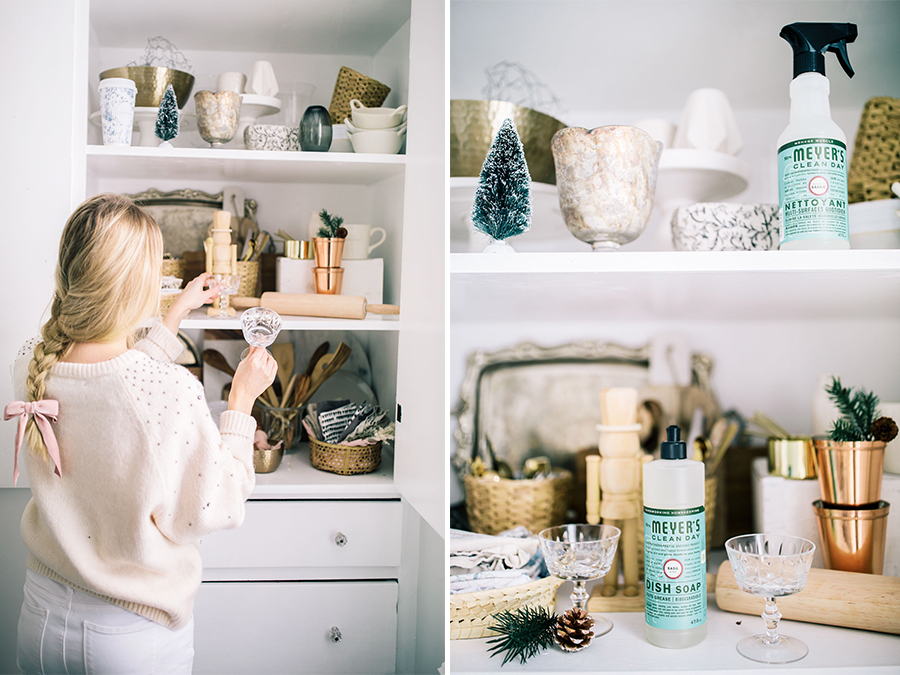 Wash China, Glassware and Serveware Ahead of Time (especially if hand-wash only): Along with my cleaning list, I like to prepare my holiday menu and grocery list ahead of time. When that list is completed, I have an idea of what serveware I will wanting to use the day of my event. I pull out all of my china, glassware and serveware ahead of time and either do 1 big load in the dishwasher or spend an hour or so hand washing and drying my pieces. Typically, these items are hand wash only, so I find doing this rather large task a couple of days ahead of my event to be a lifesaver!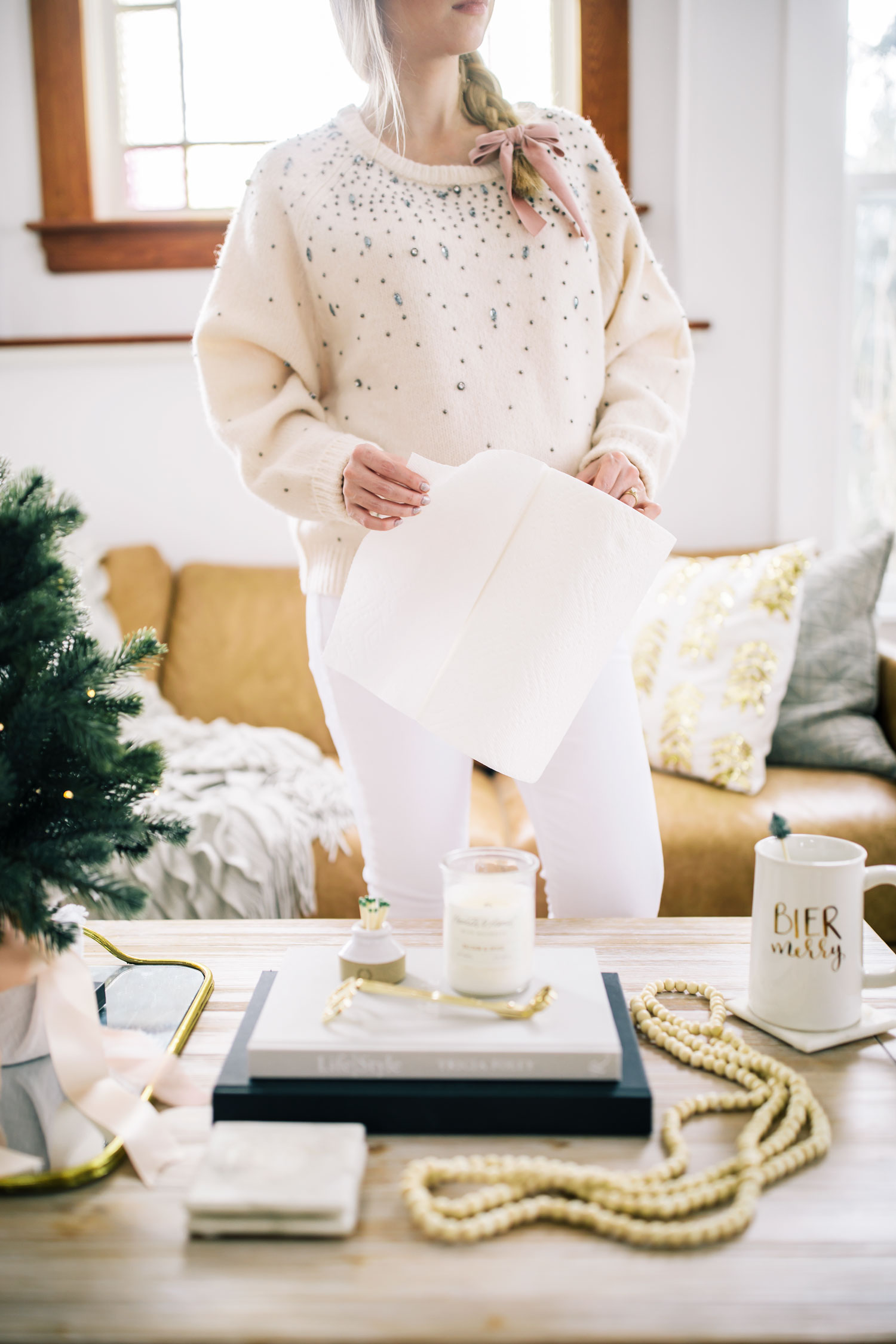 Keep a Trusty Paper Towel Close by in Case of Accidental Spills: I never throw an event without having paper towel close by as there is bound to be at least one spill. I want to be as prepared as possible when that happens so that 1. I'm not frantically running around looking for cleaning products 2. I can take care of the spill as quick as possible and 3. I don't want whoever made the spill to feel uncomfortable or embarrassed in any way. Having paper towel and a multipurpose spray in a nearby drawer or under the coffee table for a quick fix is a must!
Have a Multipurpose Cleaning Product Last Minute Cleaning: After the all the big cleaning tasks have been completed, you'll want to be extra careful to keep anything from getting out of hand. Keep up on things like dishes, wiping down the sink and surrounding area every evening, putting clothes away at the end of the day, etc. This will keep your life so much simpler as well a multipurpose cleaning product. From floors to counters to having one around in case of an extra spill, a multipurpose cleaning product will be your go-to in the days leading up to the event. As mentioned, I like Meyer's Multi Surface Everyday Cleaner from the Home Depot because it is more earth friendly and if I'm using it constantly, I feel better using something natural.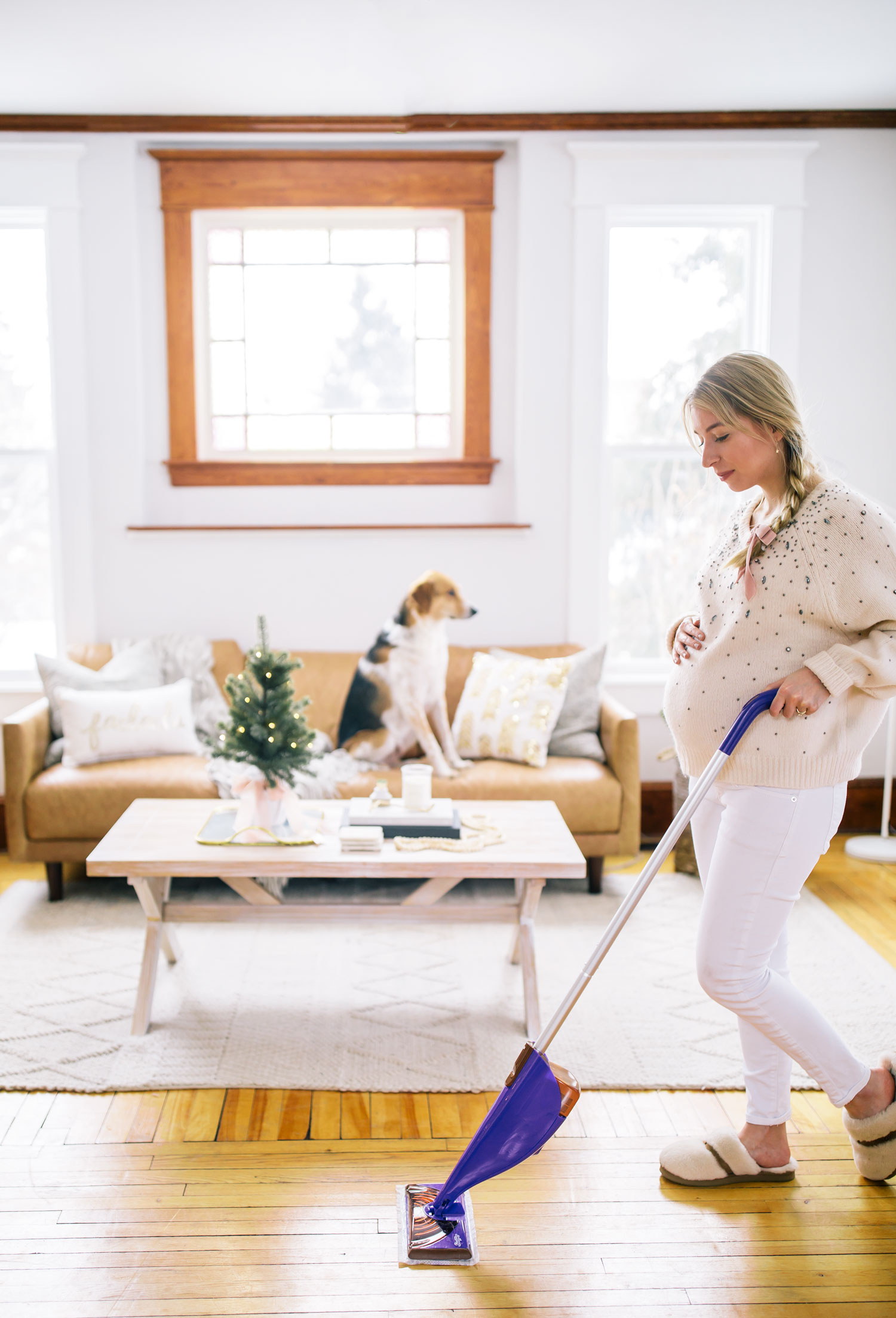 This post is sponsored by The Home Depot Canada. All expressed opinions and experiences are my own words.