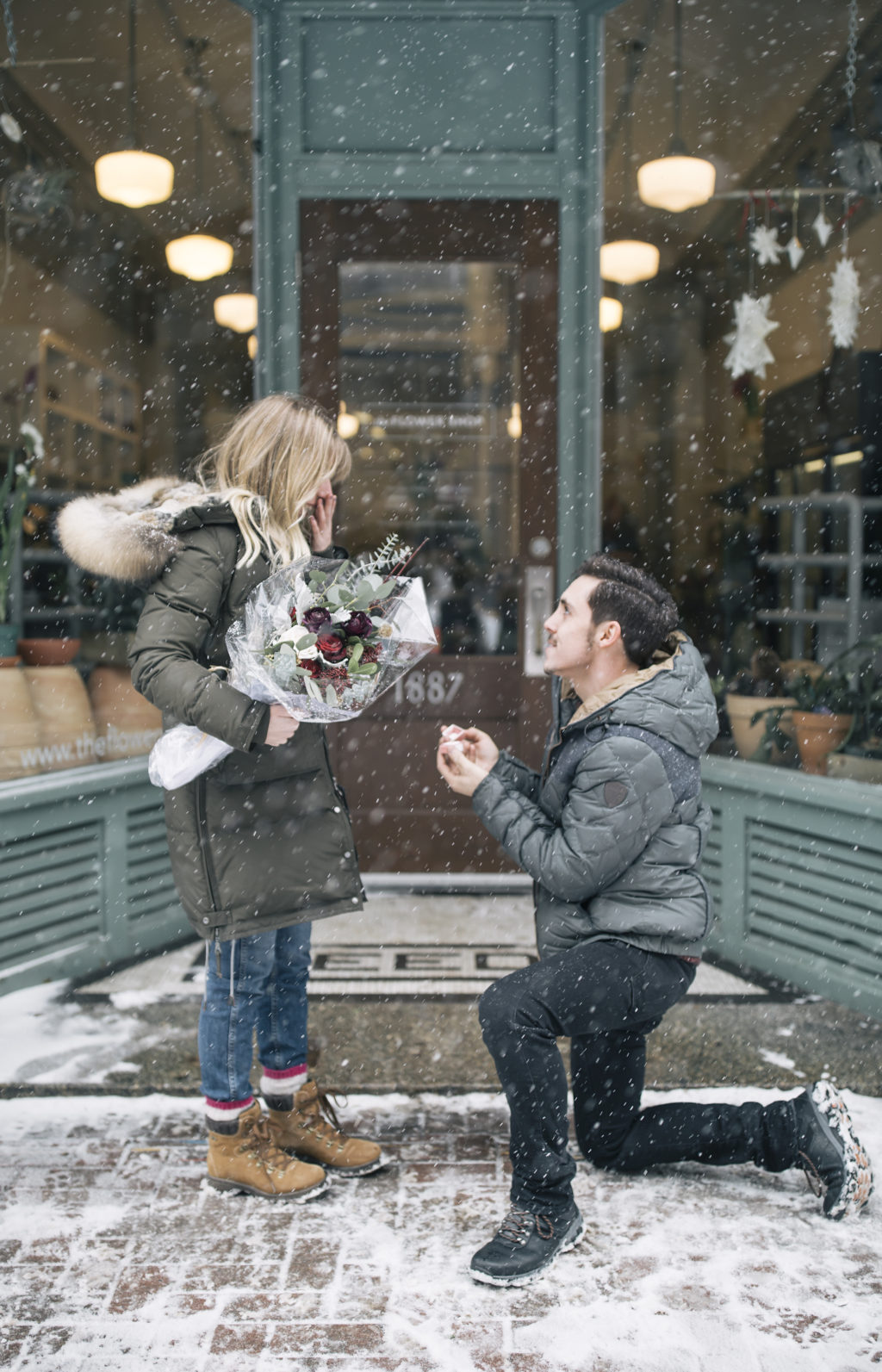 Do you remember the end of Monday's blog post where I mentioned that last Saturday would be a day I wouldn't soon forget!? Well, as you might have already guessed from the photo…WE'RE ENGAGED!!!! I have been dying to shout it from the rooftops since last Saturday but Jamie and I both decided to wait until we told all of our loved ones and of course we wanted the happy emotions we are feeling to sink in (not that they have….I am still on cloud 9!) before we shared anything on social media.
Saturday was quite literally the best day of our lives (aside from adopting Milo, of course) and what made it even better was that it was the most normal day ever….aka I was not expecting this to happen AT ALL. If you read Mondays post I had mentioned that our day started like most of our days, shooting outfit photos. The night before (Friday) I had asked Jamie if he could pick me up early because the weather was going to get severe in the afternoon and I wanted to shoot Mondays outfit post (I was behind) as soon as possible. He happily agreed and picked me up at around 10:30 that morning. Because my sisters and myself also wanted to go to the Wishbook pop-up shop that day, they asked us if they could meet us downtown with my mom after we were finished shooting (my mom and my sisters had no idea this was going down).
After Jamie and I were finished taking photos we ducked in to Weird Harbour coffee to wait for my mom and sisters to arrive and to warm up. We had the small coffee shop mostly to ourselves and while we were drinking our coffees we were making small talk with the awesome owner and shooting even more photos. When the photos were complete it started snowing so we spent a few minutes just staring out the window watching the cars on the street pass by. Jamie was rubbing my back and kissing my head and it was just a really romantic coffee date but nothing out of the ordinary.
I asked Jamie if he would want to take a photo together when my sister arrived and he said absolutely before deciding that he needed to run out for a minute. While Jamie was gone my mom and sisters arrived and got their coffees to-go. Jamie was taking a while so I ended up calling him to say that we'd just meet him at the pop-up shop. My mom, sisters and myself met up with Jamie who was holding a bouquet of the most beautiful flowers, which again didn't make me suspicious because he is ALWAYS doing romantic things like that. I just figured because we were having such a lovely day that he was being a big mush.
Once we were all together we headed into the pop-up shop. We just browsed around the store admiring all the beautiful things and Jamie was acting completely normal, even though he will admit he was freaking out on the inside waiting for the perfect moment to pop the question. After Wishbook we wanted to pick up some flowers for my grandma back at The Flower Shop, so we started walking over and I told Jamie I wanted some photos of us and of my flowers, and my mom told my sisters and I that she too would like some family photos (none of this was Jamies doing). We snapped some shots of my family together and then Jamie and I. After about a minute of snapping couples photos I assumed that we were done and went to walk away but Jamie gently grabbed my arm and pulled me back. The next thing I knew my high school sweetheart and the love of my life was down on one knee asking me to marry him.
I was in complete and utter shock, while my sister Rae was snapping her little heart out. It took me a minute to figure out what was going on but after I realized that this was really happening I leaped on Jamie smiling, crying, yelling…I don't even know. I didn't even say yes or let him put the ring on my finger until my mom chimed in (what else are mothers for?). I was so full of emotions that I don't think I could ever put it into words. Jamie gave me the biggest surprise of my life and in an instant made me happier than I had ever been which I didn't think was possible because he already makes me so dang happy.
So, that's our proposal story! I'm sure there is so much more that I could write but I'll spare you the sappy details (unless you want to know more about anything, just ask!). Jamie and I are both so completely happy and excited for this new chapter of our lives and I am sooooo thrilled to be able to take you on it with us. While I will be popping in with 2 posts before the new year I am signing off until after Christmas for certain. I just wanted to share with you our little love story and wish you all the very merriest of Christmases. I hope your holiday is filled with love surrounding you in all the ways that it can. Merry Christmas. xx