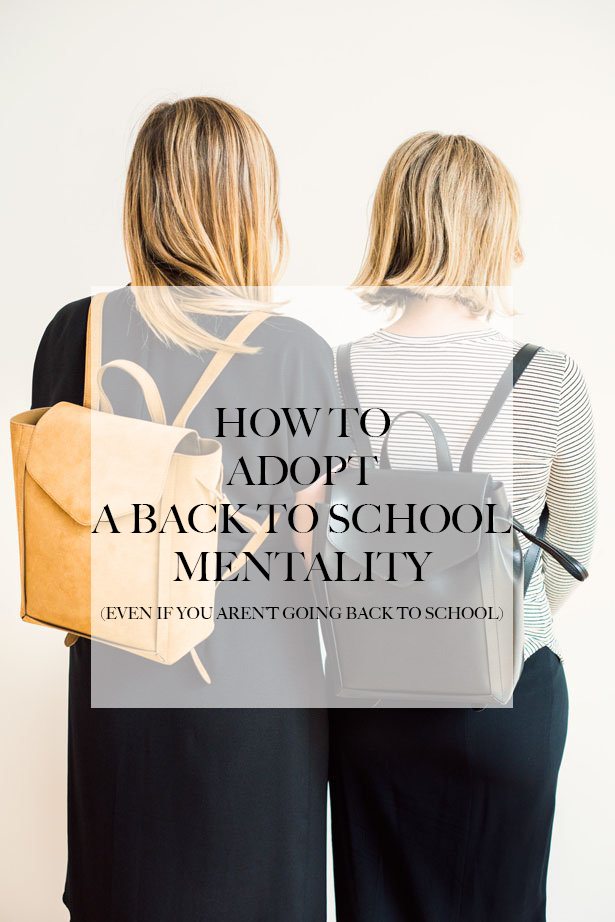 Happy Tuesday everyone, and welcome back from what was officially the last weekend of summer.
We took yesterday off and spent our day at the beach (well, the lake) soaking up the sun. It was really the perfect way to give summer a proper farewell. With that being said I ALWAYS find it difficult to get myself back into a routine after slacking off a bit during the hot months (hello mid day paddle boarding trips and patio drinks). However, I've decided that starting today I am officially getting myself back into the swing of things and thankfully Blare June is sharing 5 tips on how to have a back to school mentality even if you aren't headed back to school. I REALLY needed this post so I hope you all find it as useful as I did.
Now that Labor Day is over, summer is officially coming to an end…cue the tears. Although some of you may be taking your cute butts back to grade school or college this week, many of us are no longer living the student life (oh how I miss my 20s). There is something to be said about heading back to school each September with endless opportunity ahead. Whether it is trying out for your school's soccer team, moving away from home for the first time or discovering what you actually want to be when you 'grow up'…. starting a new chapter is always exciting.
Besides being the best month for style, September is just another month of work that flows from August and into October for me. This year, I want my September to feel as exciting as it once did. Below are 5 simple ways you can get back into the school mentality….even if you aren't an enrolled student this Fall.
1. Set Your Alarm: If you work from home and are able to schedule your own work hours, then taking a little extra shut eye on the occasion may be an option. Like any student, making it to your morning class (especially in the first month), is important. This September, I plan to set my alarm and rise and shine regardless if it is a workday or not. Whether it is to head to a morning work out class or to run errands, I plan to use my mornings to be productive this September.
2. Study Time: Although you may not have studying to do per say, there is always work to be done. Unfortunately, for students, the work is not fully completed once the bell rings for the day. There is often homework or studying that has to happen after hours. This September is the perfect time to start scheduling 30 minutes to 1 hour of work into your evening schedule. I am not saying to take your work home (I am all for a work life balance) but maybe answering a few emails to friends or scheduling your appointments for the month nightly. Scheduling time in your evening to get these tasks completed will not only free up time the following day but it eases any unneeded stress.
3. Back To School Shopping: Work may flow from one month to the next, but that doesn't mean you can't engage in the perks of heading back to school. We all know too well the thrill that is back to school shopping. September is the month of fashion: magazines, trends and fashion shows…so why miss out on such an exciting ritual? Treat yourself to a few pieces just as you would have before starting school yearly and feel good as you head to work this Fall
4. Reunite With An Old Friend: After summer break, it was not uncommon to be excited to head back to school to see your friends. Similar to the days of school, the summer is often jam packed with outings and weekends away. September is the perfect time to reunite with a friend whose schedule did not align with yours this past season. Make plans to grab a coffee or hit up your favorite shop because reuniting with our friends is not only important….it's needed.
5. A Good Read: Being a working gal, you have the luxury of choosing what books you would like to read and which ones to toss. If cell biology or social psychology is not your thing, then heck, don't read it. Take time this September and get into the swing of reading nightly. Whether it is a great romantic novel or the latest trendy celebrity biography, reading before bed is a great way to escape what has happened in the day and bring you to a land of fantasy and inspiration



Website: Blare June
Instagram: @BlareJune
Photo Source: Loeffler Randall