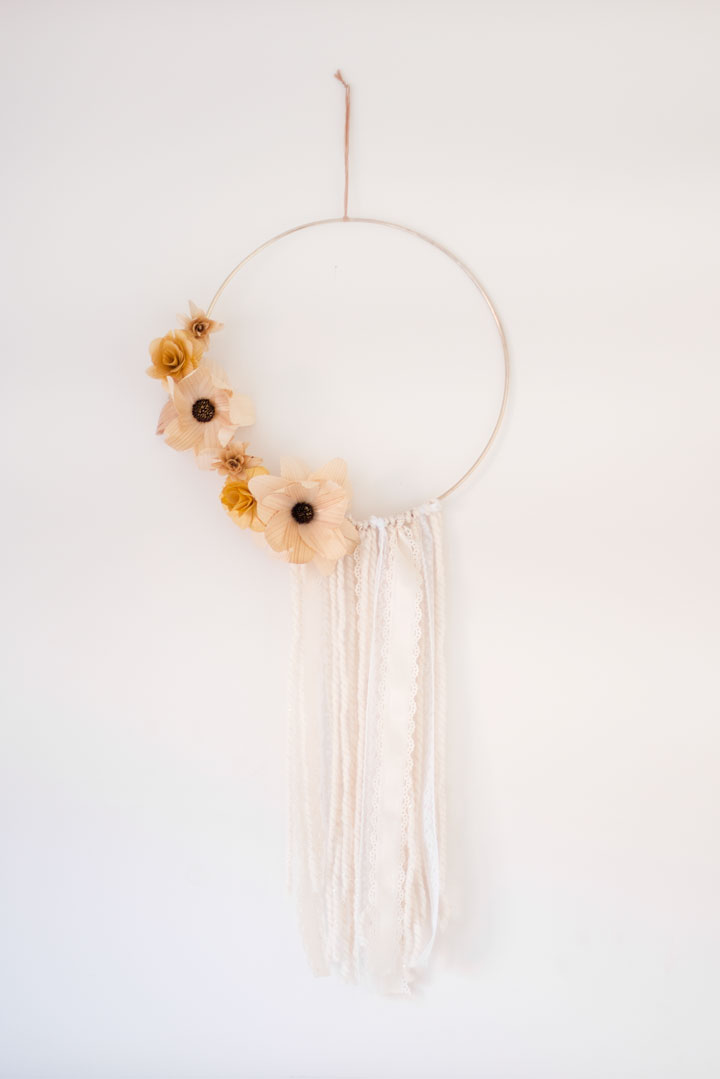 I feel like it's been quite some time since I've made a DIY that I'm this excited about.
The idea for this wreath came to me after we recently cleaned out our storage locker and I found this wreath that I made las year for a DIY event hosted by my friend, Melissa. Though I love it, it is a little bit too early to be pulling out the holiday decorations and so I decided to make a fall meets boho version of the wreath out of wooden flowers, yarn, lace and ribbon. I am absolutely in love with our newest addition to the house and I hope you are too! In my humble opinion, this wreath looks like something you could purchase at Anthropologie. I'm certain your friends won't believe you when you tell them you made it yourself.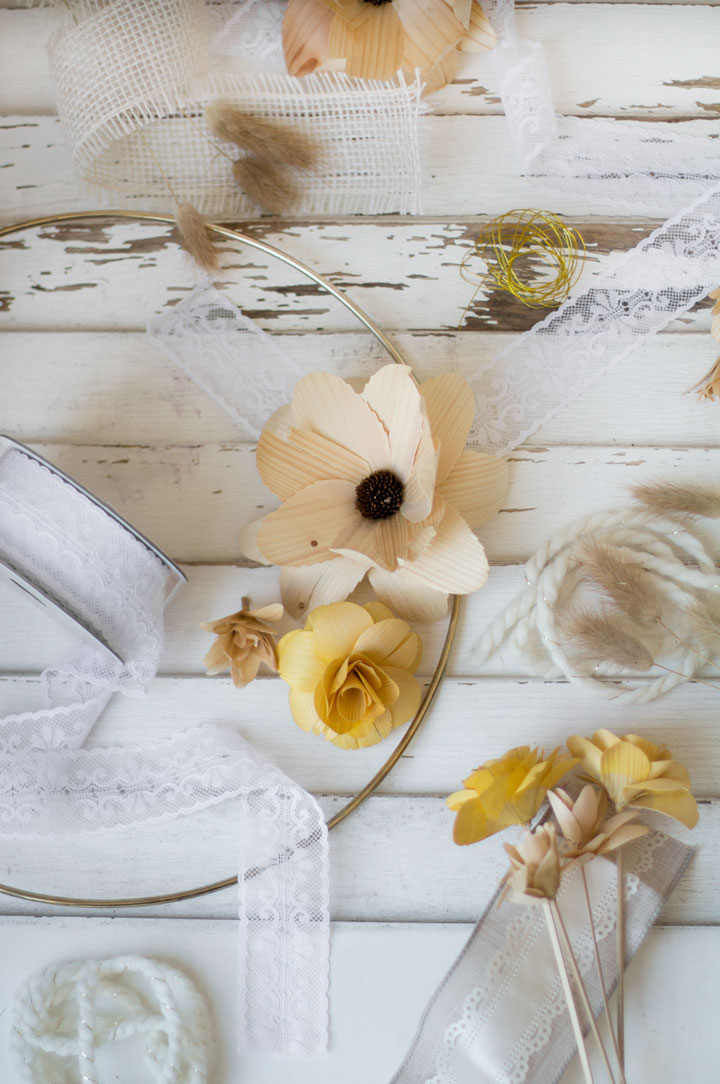 What you will need:
1. Gold macrame ring (you can find them here)
2. Assorted yarn, lace, ribbon, etc. (Mine were all found at Michael's)
3. Faux flowers. You can use real flowers if you like, but the wreath will obviously not last as long. Also, I opted for these wooden flowers as I felt they matched our bedroom but you can choose any type of faux flowers you like!
4. Gold floral wire (found at Michael's)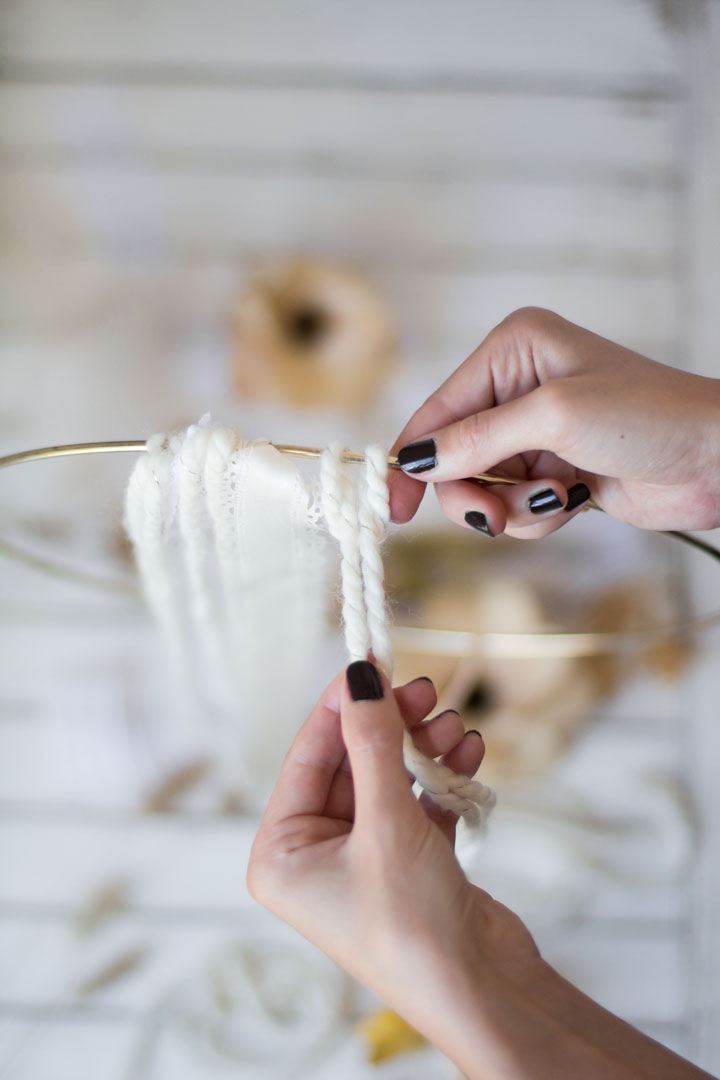 Step 1: First decide out how long you want the yarn/ribbon to hang on your wreath and cut it to size. For the yarn I doubled the length, cut it, folded it in half and then made a loop knot around the ring (see photo above). Because the ribbon/lace is thicker, I simply cut it to the correct size and tied a knot at the top.
Step 2: If you find some pieces long than others you can trim the excess off. I find if some pieces are longer than others it looks okay with this wreath as it gives that easy, boho effect.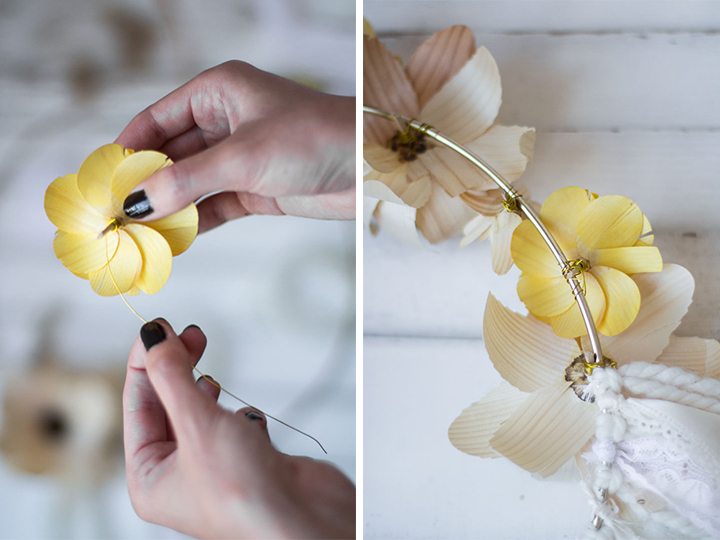 Step 3: Trim your flowers leaving a small piece of stem attached. Tightly wrap your floral wire around the stem and leave some wire hanging out so you can secure it to the ring.
Step 4: Decide where you want to place your flowers and tightly wrap the floral wire onto the ring. Continue to step 3-4 for all of your flowers until you are happy with how your wreath looks. I liked the minimal look of just doing flowers going up on side of my wreath but you can add as many or as little as you like!