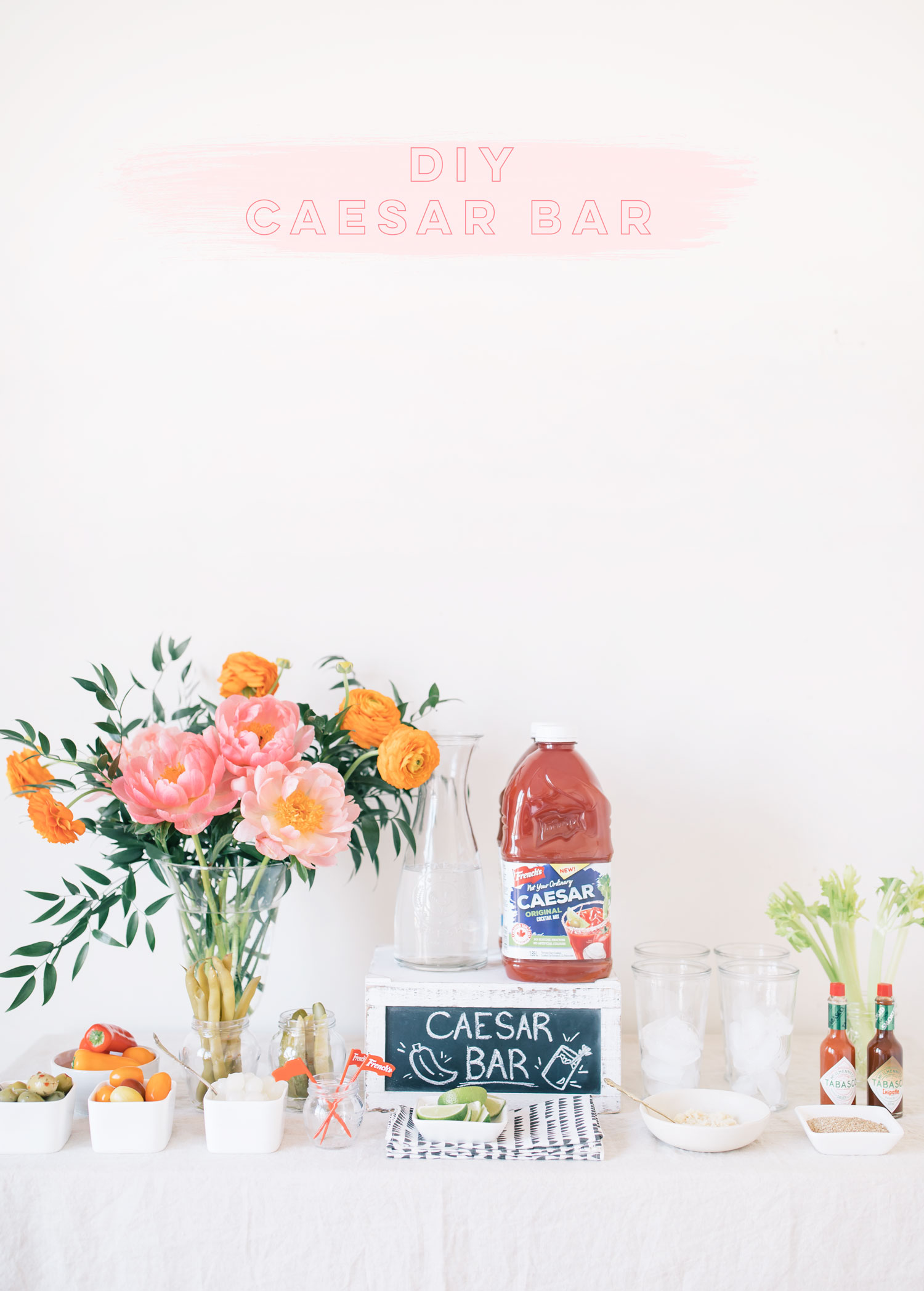 When I was in New York about a month ago, all I wanted after what felt like the longest morning ever was a caesar at the spot we were heading to for lunch. I kid you not, from the event we attended to our walk to the restaurant, all I could talk about was how excited I was to sit down to lunch and sip on my favourite brunch cocktail. The waiter came over to take our drink orders and immediately I asked him for a caesar. He looked at me puzzled and asked: "what the heck is that?". I realized right then and there that I was in America and in America that the caesar is trumped (no pun intended) by the bloody mary. It is truly a crying shame that the caesar is a non-existent beverage in America, but I'll just tag that onto the list of things that make me proud to be a Canadian. After the bloody mary I decided to order fell short, I could not wait to head to brunch the following weekend and enjoy a true Canadian caesar. Around the same time, French's, a proudly Canadian brand, began launching ads about their new "Not Your Ordinary Caesar" mix and me, being the queen of the caesar that I am, became intrigued. Made with 100% Canadian tomatoes and bottled in Canada with no glucose-fructose or artificial colours, this was a caesar mix I could get behind. My sisters are also huge caesar fans so we decided to spend our Saturday building a customizable caesar bar with the new French's "Not Your Ordinary Caesar" mix as the star of the show. There are so many ingredients that can go into a caesar that can affect the way they taste based on what each person's preferences are so I thought that this would be a fun, interactive way to enjoy caesars the way we like. One thing is for sure though, you need a good tomato & clam base and the new French's "Not Your Ordinary Caesar" mix was exactly that. Keep reading to see how we created this DIY caesar bar.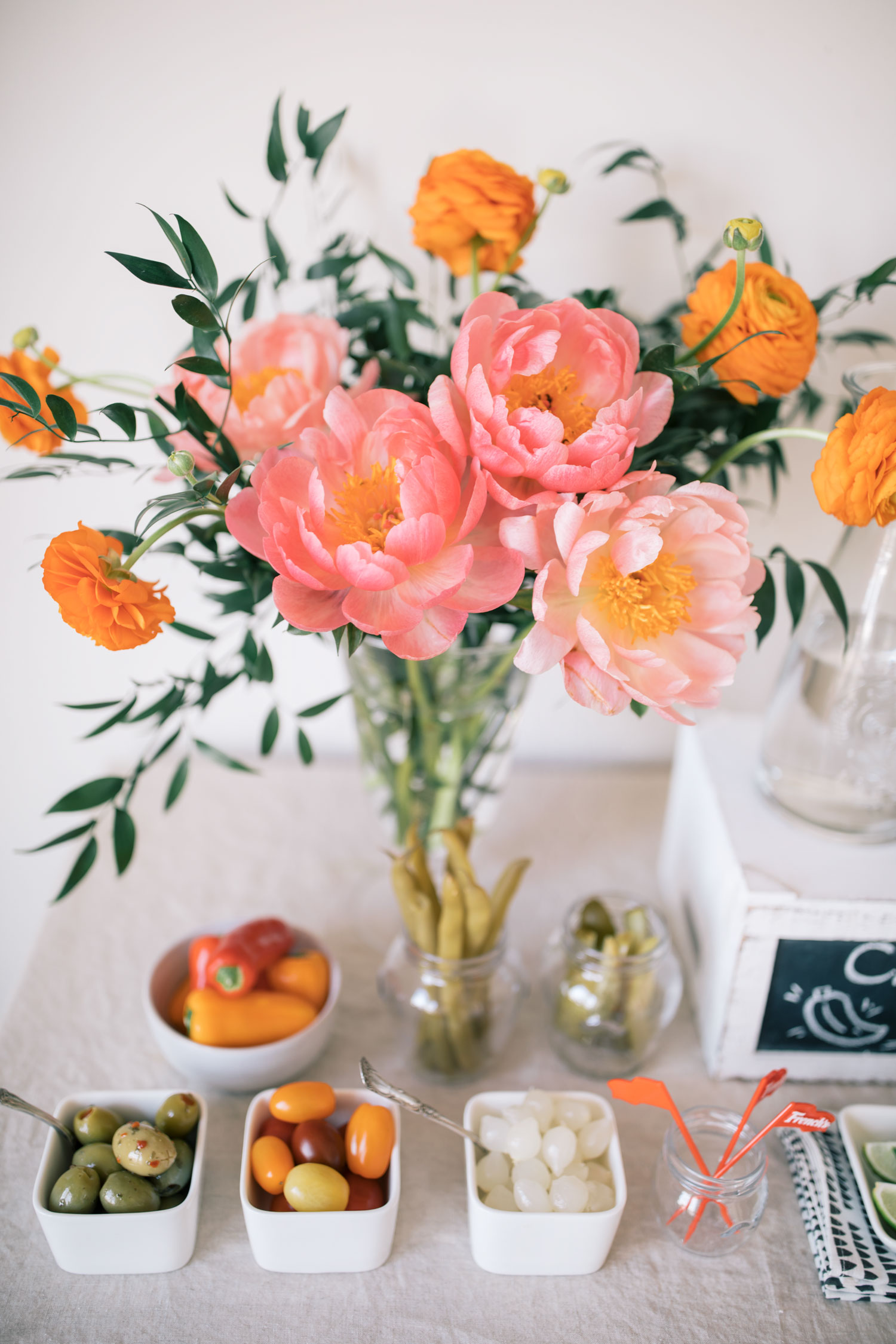 A wide variety of garnishes for our caesar bar was a must. We chose to separate our garnishes in little bowls and jars so that it would be easy to take what we wanted. From left to right we used: mini bell peppers, spicy beans, spicy pickles, stuffed olives, colorful grape tomatoes and sweet pickled onions. I also had a few plastic picks in a jar so that we could easily skewer our garnishes.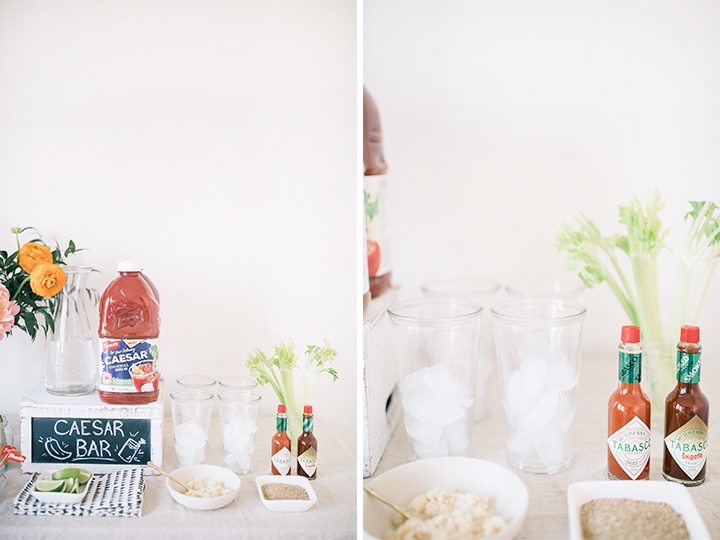 A few other caesar necessities: vodka, limes, grated horseradish, celery, Worcestershire sauce, celery salt and hot sauce of your choice.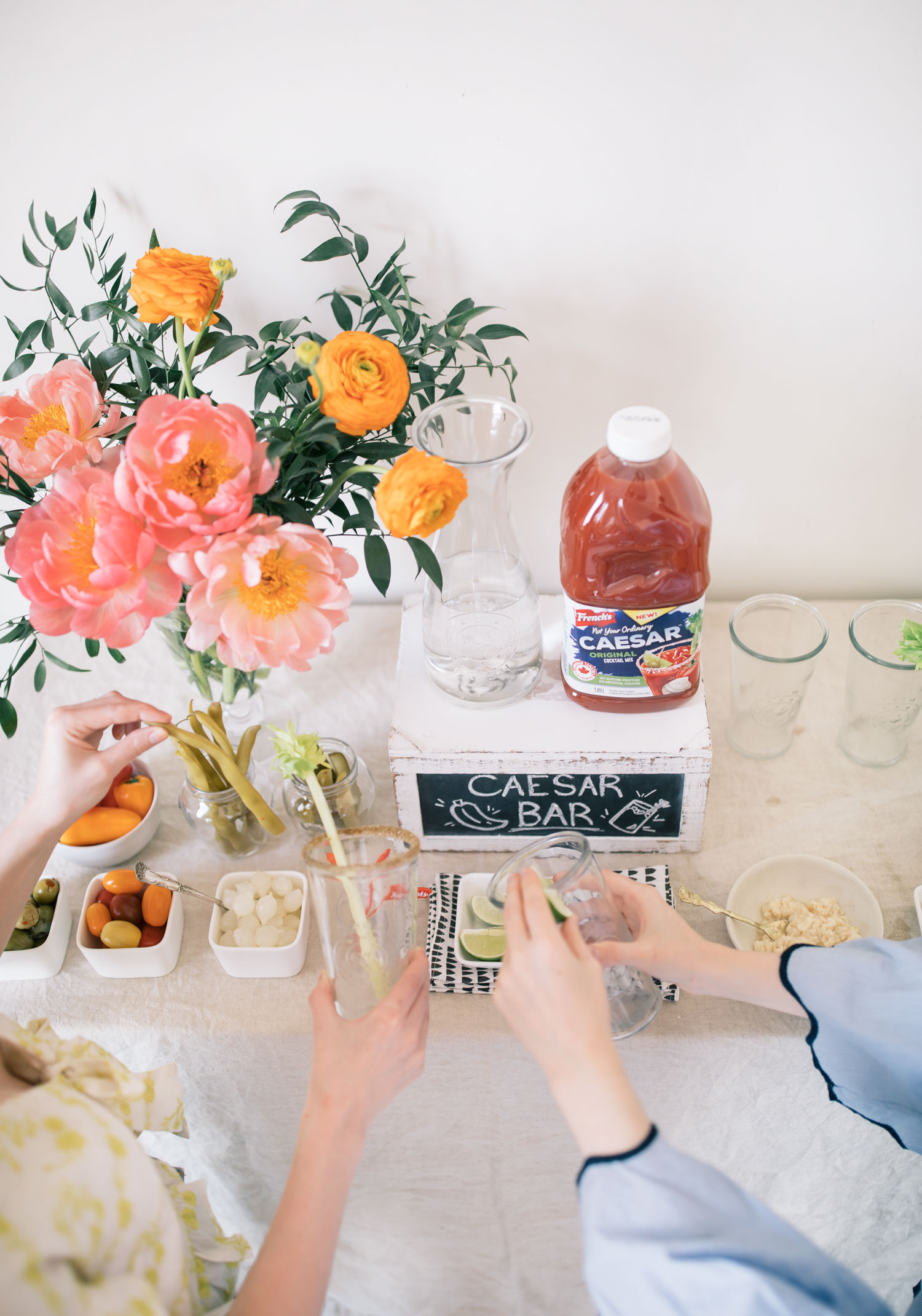 Building your caesar is completely up to you but some basics would be to start by rimming your glass with lime and dipping it into the celery salt.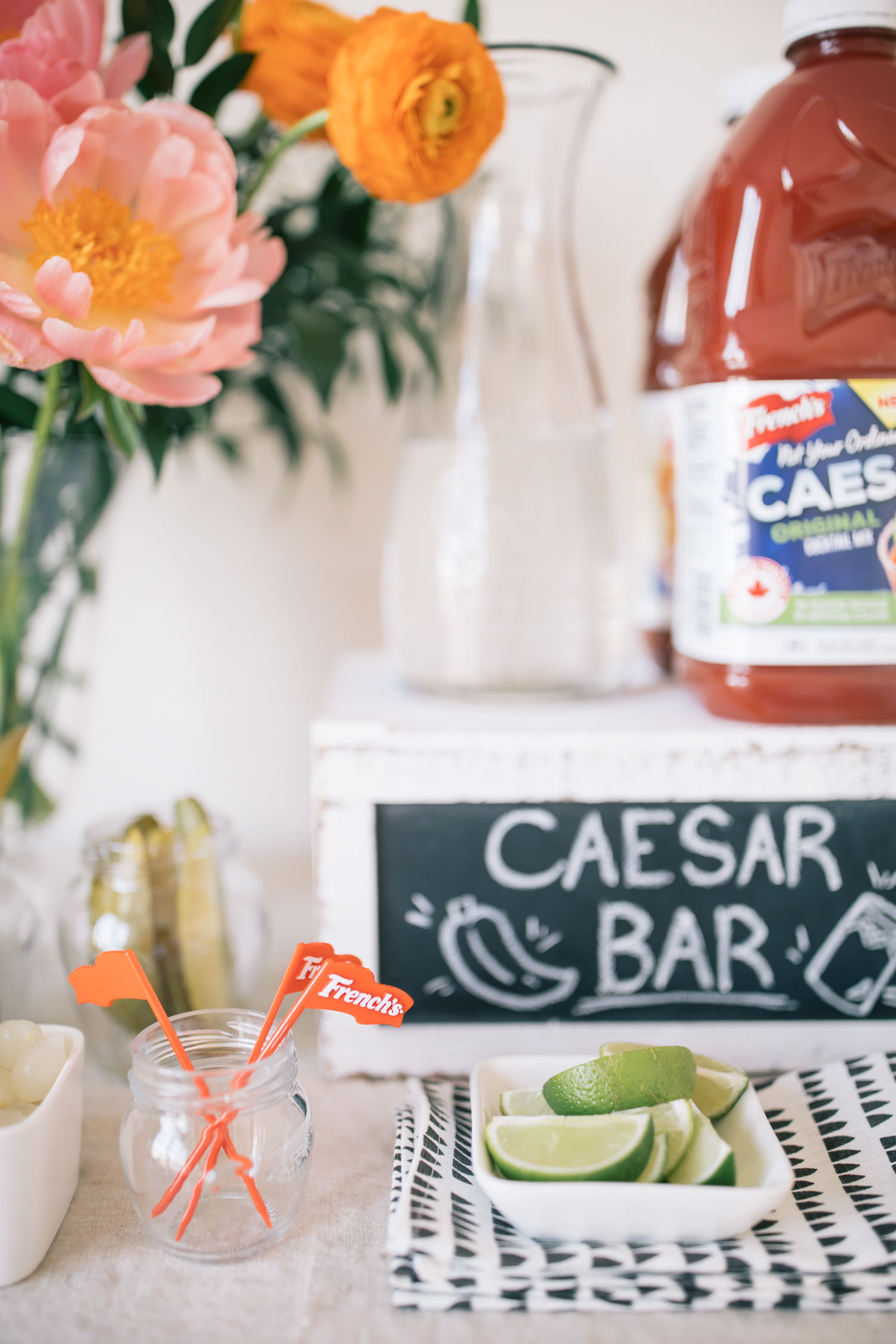 Flowers are always a nice addition to a table, even a caesar bar. I opted to use bright coral and orange flowers as I thought they would play nicely off of the colours found in a caesar.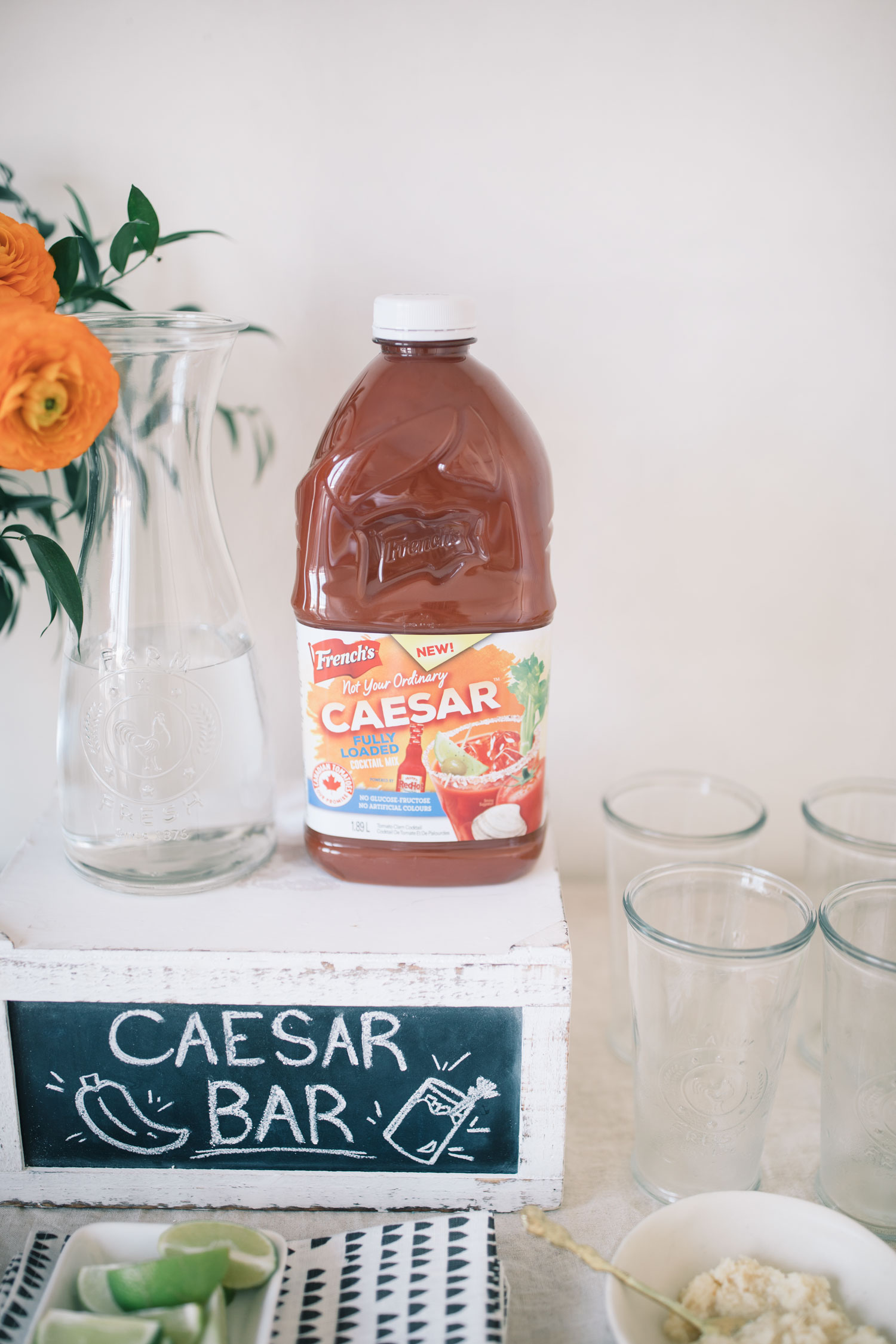 For those that don't like the extra work of adding ingredients like hot sauce to their caesar, French's also offers a fully loaded caesar mix, making mixing up the Canadian cocktail that much easier.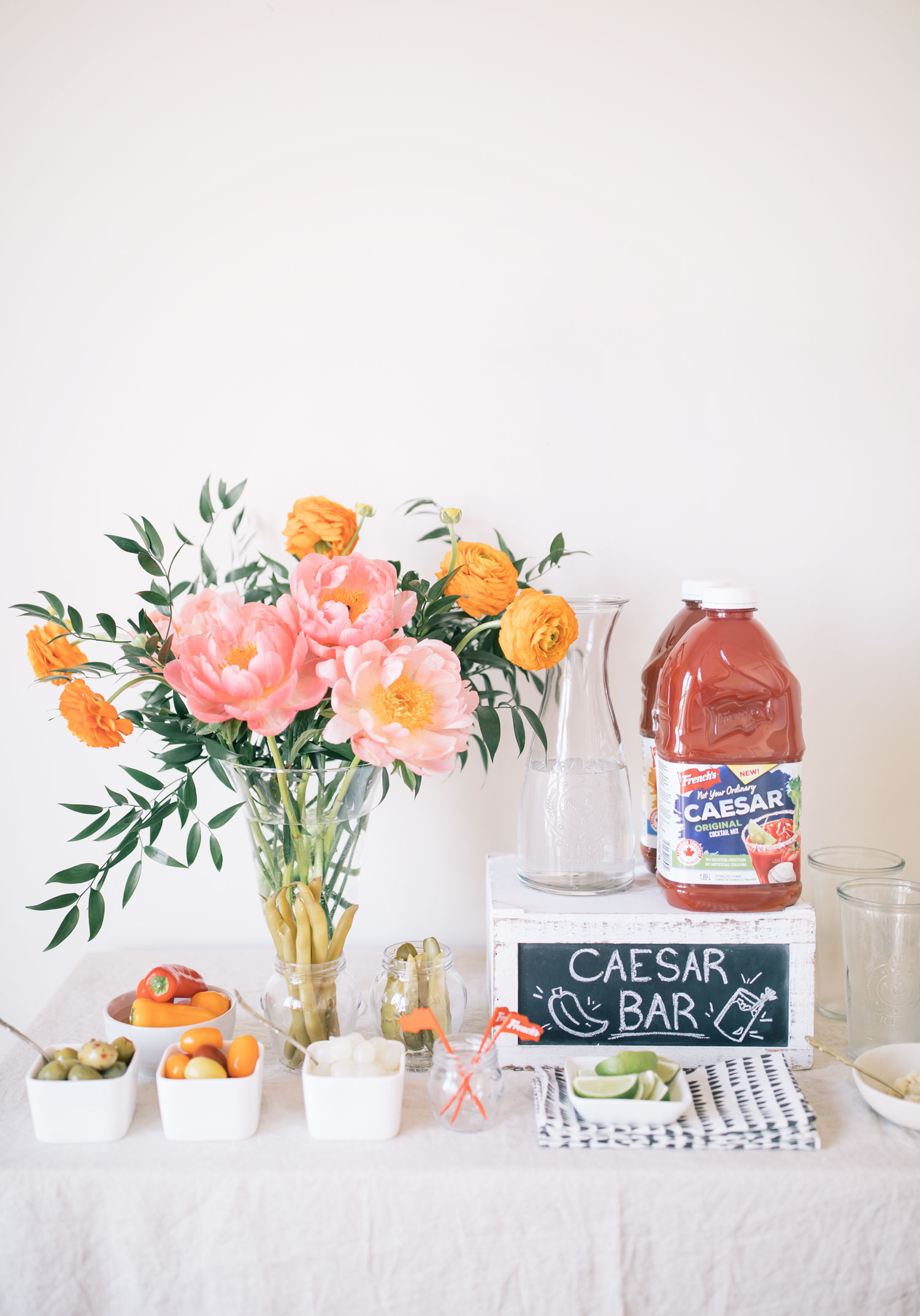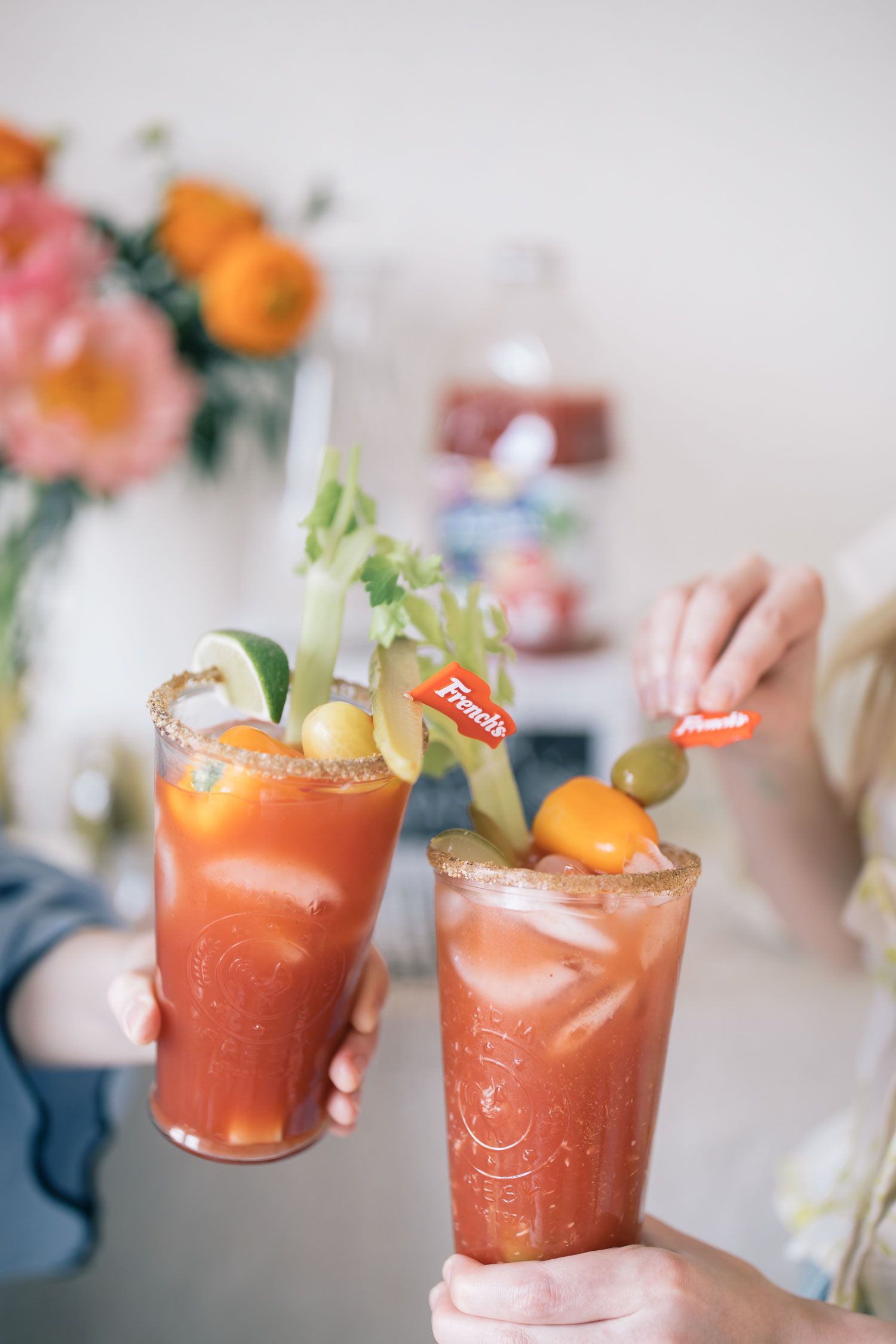 My favourite caesar recipe:
– Celery salt
– Lime wedge
– 1 cup French's Not Your Ordinary Caesar Original Cocktail Mix
– 1 1/z oz vodka
– 3 dashes Worcestershire sauce
– 3 dashes hot sauce
-1/2 tsp grated horseradish
– salt + pepper to taste
– celery stick for garnish
– spicy pickle, spicy bean and an olive for garnish (this is customizable)
-Rim glass with lime and celery salt
-Add ice
-Add Worcestershire sauce, hot sauce, and horseradish
-Top with French's Not Your Ordinary Caesar Original Cocktail Mix, salt and pepper
-Garnish how you like it!
This post was brought to you by French's