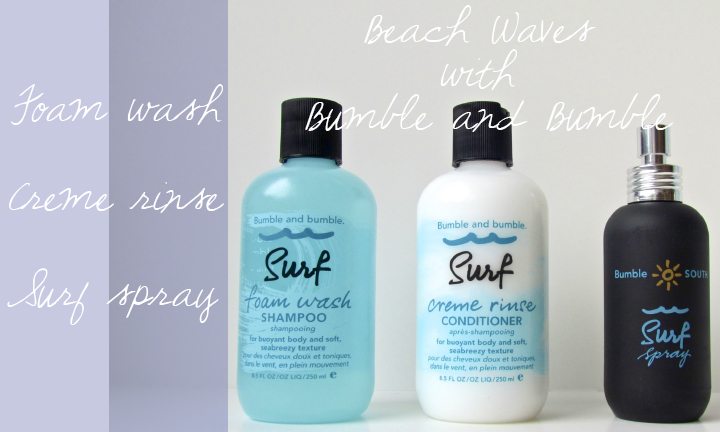 When I heard that Bumble and Bumble was releasing a shampoo and conditioner of their best-selling Surf Spray (12 years later) I was beyond excited. I have been a long time advocate of beach waves and surf spray has always been my go to product for finishing off the look. Now with a whole collection of surf products, achieving beach waves is a breeze.
Here is my step by step for how to get the look:
Ps; You can click on the pictures to enlarge
My natural hair, as you can see, already has some wave and body. My hair usually takes pretty well to products and styling.
Step 1: I worked a small amount of shampoo in to my hair and rinsed throughly.
Step 2: I usually need more conditioner than products recommend as I have very tangly hair. However, the creme rinse detangled my hair pretty easily.
Step 3: After combing my hair I sprayed the surf spray generously. I then combed through again to make sure it was evenly dispersed. Finally, I scrunched my hair with the palm of my hand to build some more body and wave.
This is result of the product after air-drying my hair. As you can see there is more body and wave in my hair. The product leaves your hair with a more gritty feeling like if you were to go into the ocean (this is a good thing). Hair also smells sea breezy which is definitely welcomed. My hair was manageable and tousled looking.
I decided to wrap a few random sections of hair around a 1″ curling iron just to give it a more wavy style. I do prefer this look over the naturally dried look, and it only took about 5 minutes.